How to Choose a Deck Boat Trolling Motor (Plus 3 Solid Models)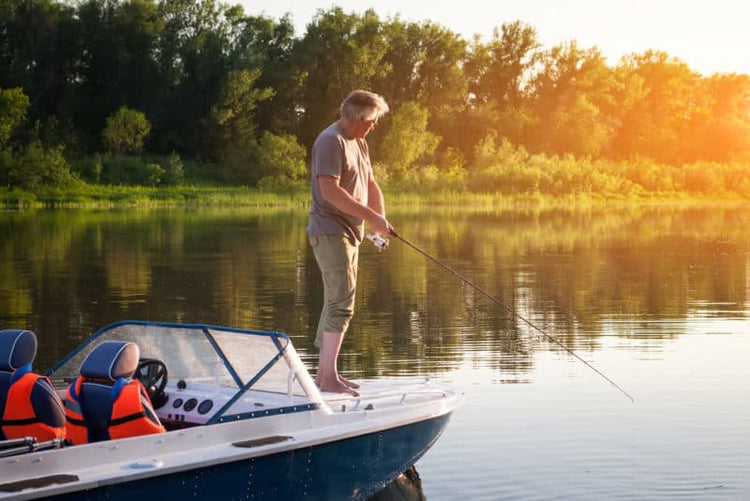 Give a man a fish and he'll eat for a day.
Teach a man to fish and he'll likely invest in a trolling motor! 
Trolling motors can revolutionize the way you fish and even the way you use your boat. Whether you're boating on large open bodies of water or winding rivers, your deck boat might truly benefit from purchasing a trolling motor to call your own.
What are the keys to choosing a deck boat trolling motor? And what are some of the best models? Let's cast out some questions and angle for some answers right here, right now.
Who doesn't love to fish? It's peaceful, requires skill and is an excellent way to reconnect with the great outdoors (particularly during the summertime).
There's nothing like fishing from a boat. The fish are often bigger and better, the air is crisp and clean and you can even kick back and relax a bit with a trolling motor.
Let's say you have the rods, correct bait and even a deck boat to go with it. Now you need the right motor to recreate the prey's movements. That's where your trolling motor comes to play.
Deck Boat Trolling Motors: The Basics
In short, a trolling motor assists you to catch fish by mimicking the way their prey moves about in the water. The term itself is related to the practice where you have multiple lines cast into the water and slowly moving along in hopes of catching prize fish.
Deck boats can be for fishing, but you need a motor with balance: one that has the accurate power to disrupt the water but doesn't scare away fish. You'll mant to have minimal noise and disturbance in the water but still be able to navigate your craft.
| | |
| --- | --- |
|      |  Marine De-Greaser |
Check Price on Amazon - Better Boat's marine de-greaser breaks down and rinses away grease, grime and oil to leave a high-shine finish. It forms a barrier that resists dirt, dust and rust. It's safe for fiberglass, stainless steel, gelcoat, chrome, painted surfaces and more. Use a microfiber cloth to remove black streaks and more.
Choosing a Deck Boat Trolling Motor
When it comes down to basics, there are three essential elements to consider when choosing the right motor for your deck boat: Length, power and width.
These three elements form the basis of just about any trolling motor worth its salt. Let's break down these essential elements into their simplest terms.
The Right Length
First, you'll need a long enough shaft to reach the water. The standard shaft length in trolling motors is 42 inches. For your boat, measure the distance from where the shaft is mounted, all the way to the water. Then add between 16 and 20 inches and select the next closest measurement.
Longer shafts, especially for deck boats, help when you are operating in rough, open waters. This way, the propeller can stay below the water's surface if your boat is pitching and rolling along with the waves.
Avoid any potential disasters, or fishing days ruined, by ensuring you always have the proper measurements.
Plenty of Power
The higher the voltage, the higher your trolling motor's thrust. Motors, on average, are offered in 12V, 12/24V and 36V versions.
Depending on your deck boat's size, you'll want to ensure you have enough power (but not too much that it becomes pointless and to the detriment of your angling career).
When it comes to your motor, it's all about having that just-right amount of power.
Correct Width
A mounting clip is typically the way trolling motors are affixed to a deck boat. When it comes to larger vessels, you need to ensure you have one large enough to meet your needs.
Consider something like this Brocraft Deck Trolling Mount Motor Bracket (Available on Amazon), which is a universal fit across most deck boats and trolling motors with 36-pounds of motor thrust.
Ensure you have the right clamp to keep your trolling motor on your boat or you might be in for a nasty surprise.
How to Mount Deck Boat Trolling Motors
There are two options when it comes to mounting your trolling motor: bow-mounted and transom-mounted.
Bow-mounted motors are particularly useful with deck boats because they're more helpful in large open waters (like a lake or a bay).
Transom-mounted motors allow for more height and angle flexibility when mounted on your boat, which offers overall versatility. However, when it comes to deck boats, you're far more likely to consider a bow-mounted operation. It makes more sense for sizable vessels and is generally easier.
Operating Deck Boat Trolling Motors
What about when actually putting the motor into practice? Deck boat trolling motors have two forms of operation: Foot-control and hand-control.
It's exactly what you're expecting. A foot-controlled trolling motor is pedal-operated and the hand-control is manually operated.
When it comes to your deck boat, consider the foot-controlled trolling motor. Due to the vessel's size, being able to control the motor with feet is far more convenient (and replicates perfectly your deck boat's driving maneuverability).
Solid Deck Boat Trolling Motor Models
After learning a bit more about trolling motors, let's consider more specific models that might help raise your fishing game.
1. Newport Vessels
Check price on Amazon
This trolling motor offers plenty of thrust with a 30-inch shaft. The bonus? It's saltwater compatible (if taking your boat in all types of water). This makes it a strong versatile model and good value for the money.
The key to this motor style comes down to the noise. Your trolling motor should have a soft purr, so as not to scare away the fish. A buddy of mine purchased a motor far too powerful for the body of water. He may as well have dropped a megaphone into the river.
2. Aquos Haswing
Bow-mounted and foot-controlled, this motor is a tad pricier but definitely worth the money. Manufactured especially for deck boats, it allows you to easily adjust the depth (which should come in handy in all types of water and weather conditions).
An additional benefit of this trolling motor model? It helps better navigate your vessel. I always use foot-controlled motors because they help angle my deck boat just right (without worrying about bumping into objects, especially when I'm trying to get into just the right positioning).
3. Minn Kota Maxxum
Designed specifically for freshwater, this model is useful because of the Bowguard 360º technology, which means it's essentially built with a spring.
In the event it hits the ground, it bounces right back up and realigns itself. It also comes with a guaranteed indestructible shaft, which proves it's built to stand the test of time. 
Owning a spring-mounted shaft myself, it's difficult to count the times my friends almost completely ruined their trolling motors by having them shimmy too close to rocks. Not only is the sound enough to split your head in two, but the damage it does becomes costly (to the tune of an entirely new motor).
| | |
| --- | --- |
|     |  Cleaning Wipes |
Check Price on Amazon - Better Boat's cleaning wipes restore and revive color and luster to vinyl, plastic, leather, gelcoat and more. They clean and protect seats, consoles, steering wheels, sunshades and more. A UV protectant prevents fading, cracking and premature aging. 
Get Your Deck Boat Trolling Motor Today
Along with all the other accessories - as well as cleaning and maintenance products like de-salt concentrate and anchor buoys - that'll change your boating life, trolling motors grant you well-deserved peace and quiet while you're out on the water.
Some of the best times I've had on my boat were with my trolling motor. Heading out with the guys, casting a line and spending the day looking for fish while enjoying the outdoors.
A trolling motor can change the way you fish and even your life.
Isn't it about time you invested in your fishing skills?
---