Average Pontoon Boat Weight (With 10 Examples)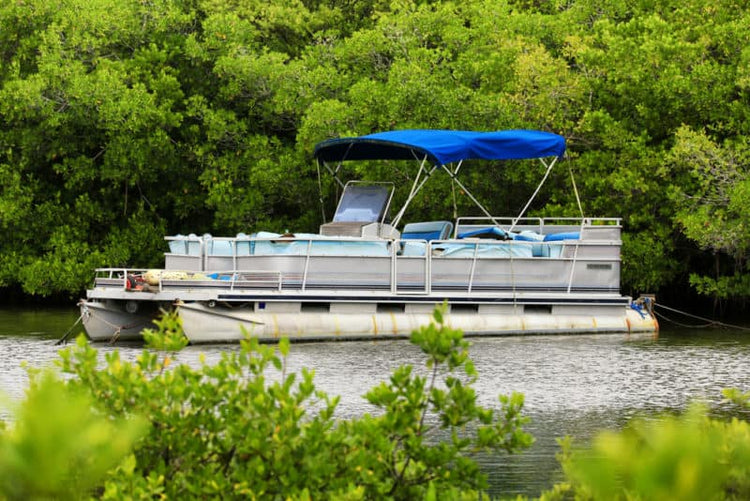 Most pontoon boats weigh around 2,200 pounds (998 kilos), including the motor, and hold around 2,000 pounds (907 kg) of people and gear. 
A pontoon boat trailer weighs approximately 1,200 pounds (550 kilos). As a general rule, you can expect your boat to weigh about 100 pounds (45kg) per foot of boat (including boat, furniture and motor, but not trailer). 
If you're trying to figure out how much a pontoon boat weighs for your pontoon boat lift or to make sure you can pull one in a trailer, then know that an average empty boat with motor and gear on a trailer will weigh somewhere around 3,600 pounds (1,634kg).   
As a general rule for pulling pontoon boats, I recommend a vehicle that advertises a towing capacity of at least 2,500 pounds (1,133kg) more than the actual package weight of the boat, gear and trailer.
In general, I'd say a truck that advertises it can tow 5,500 pounds is adequate for towing most pontoon boats.
Here are a few examples of common pontoon boats and how much they weigh:
A G3 Suncatcher 22' X22RF weighs 3,600 pounds total package weight (with trailer and motor).
A Yamaha 115hp motor weighs just under 400 pounds (181 kilos).
An Avalon Catalina DRL 24' pontoon boat weighs 2,050 pounds (929 kilos) dry weight (meaning it includes the motor but not any gas or other liquids and doesn't include the weight of the trailer or gear in the boat).
An Avalon Eagle 16' weighs 1,350 pounds (612 kilos) dry weight.
A Lowe SS210 20' pontoon boat with 115hp motor weighs 1,860 dry hull.
A Suntracker Regency 254XP3 27' pontoon boat weighs about 3,300 pounds (1,497kg) dry hull and 5,695 pounds (2,583kg) package weight with trailer.
A Sweetwater SW 2086 22' pontoon boat weighs about 1,773 lbs (804kg) dry weight or 2,448 pounds (1,110kg) wet weight.
Filling up a 30-gallon gas tank on a pontoon boat will add 185 pounds (83kg).
Featured Boat Care Product
| | |
| --- | --- |
|     |  Marine Polish protects surfaces against corrosion, algae, UV rays and more. Silicone and marine carnauba wax provide a smooth and shiny surface as it repels water, salt and grimy buildup.  |
Check price on Amazon - Better Boat Marine Polish is perfect for polishing metal pontoons, gelcoat, fiberglass hulls, plastic and more. Combine it with teak cleaner and a microfiber wax applicator sponge set for an all-around great-looking deck. 
Custom Pontoon Boats 
If you decide you want to build your own pontoon boat, this is where it can get tricky to calculate. The weight of pontoon houseboats and even pontoon tiny houses can add up quickly, so it's important to use durable but lightweight materials.
This is especially true when building a pontoon house, because you'll eventually need to determine how many tubes you'll need based on your pontoon tiny house's weight and length.   
Editors Choice: Boat Trailer Accessory
Check Price on Amazon - Regardless of your boat's weight, boat trailer straps and ratchet straps are a necessity. These strong and reliable straps are two inches wide and 48 inches long. They're made from premium-grade marine nylon and have a breaking point of 900 lbs. and a working load limit of 300 lbs.