5 Simple Steps to Build Your Own Custom Pontoon Boat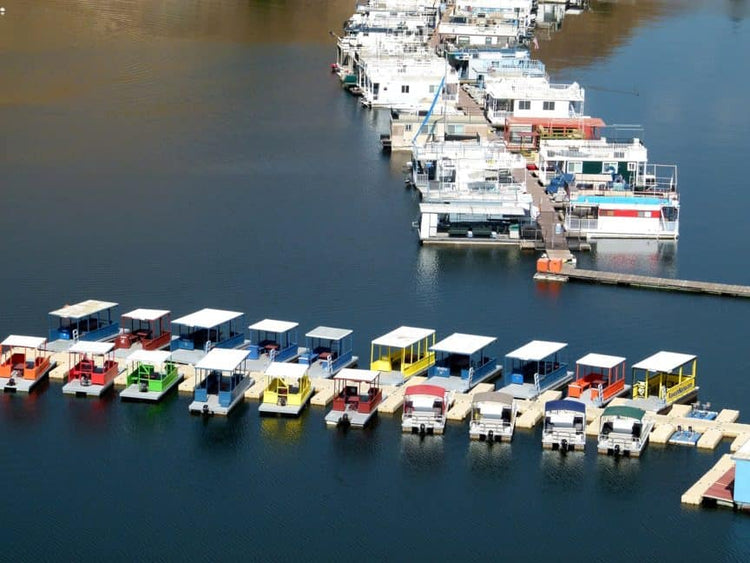 Did you know that, of the fastest boats ever made, a pontoon made the ranks? That's right. As hard as it is to believe, a pontoon boat ranked number five out of the top ten fastest boats. 
Hitting a top speed of 114 mph, Brad Rowland's South Bay 925CR has been described as the "world's fastest pontoon boat."
Equipped with powerful Mercury Promax 300X outboard engines, the pontoon boat set a new world record when it hit 99 knots at the Lake of the Ozarks Shootout in Missouri back in 2015.
You might not expect a pontoon to reach such high speeds, but that's the beauty of customization.
Thanks to the many DIY boat kits now available to boating enthusiasts, you too can build your own pontoon boat and potentially rival Rowland's aerodynamic vessel.
Why Build Your Own Pontoon Boat?
As someone who believes a floating structure should reflect the owner's personality, I know that I'd go down the DIY route if ever I had the chance.
After all, why not?
When you build your own pontoon boat, not only will you gain the satisfaction of completing the project yourself, but you'll have flexibility to build it to the specifications that suit your personal interests, needs and desires.
Furthermore, it's up to you to decide what kind of engine you conceal beneath the shiny exterior of your watercraft, meaning that you can take the reins in terms of horsepower, torque and cruising range.
We've previously discussed ways to personalize a boat with pontoon accessories, but this is the first time we've targeted the topic of boat building towards all you speed racers out there. From how much the pontoon boat will cost to choosing the correct GPS for your speedy outings, we've got you covered.
Without further ado, let us take you on a literary voyage about how to build your own pontoon boat for high speed leisure.
1. Buy a Kit or Go Full DIY
First things first, you'llneed to determine just how much guidance you require for building a pontoon. Boat-building kits and do-it-yourself (DIY) options provide you with the freedom to bring your ideas to life.
Nonetheless, DIY might require a little more effort and experience on your part. For this reason, a pre-designed kit is a worthwhile choice due to the fact you can put a personal touch on things (minus the confusion factor).
What's more, boat kits tend to be a less costly alternative. Catalogs ought to be studied thoroughly prior to selecting a kit from one of the many manufacturers in the business. Reputable brand names that sell build-your-own pontoon boat kits include:
After choosing and contacting a brand that sells a build-your-own pontoon boat kit, it will be time to choose a model, followed by the aesthetics like panel color, accent color and graphic and fence design (just to name a few).
We'll shine a light on the interior/exterior features later to give you an idea of what options you can expect to be presented with.
This isn't the most exciting part, however, as it's the engine beneath the sculpted exterior that will affect your pontoon's speed and performance.
2. Browse Pontoon Engine Options
A high-speed craft (HSC) won't be capable of skimming the waves as quickly as that South Bay 925CR unless it's equipped with the best possible marine engine and power system.
From engines with fuel efficient electronic fuel injection (EFI) systems to diesel inboard engines with carbureted fuel systems, engines come in a broad spectrum of sizes, shapes and types.
It's not just the speed you should be thinking about when you build your own pontoon boat. It's also the horsepower and weight. You'll have three main engine options to contemplate:
Inboards — Better suited to heavier boats, inboard systems are normally powered with diesel and are concealed out of sight. Pontoons don't use inboard motors.
Outboards — An outboard motor is the typical safe choice for a pontoon boat. Pontoon boats that are outboard-powered tend to have better fuel efficiency, power and speed.
Sterndrives — A combination of outboard and inboard power, the sterndrive type of marine propulsion is perfect for boaters who simply can't decide between the previous two options. This is less common for pontoons, but can offer a smoother ride for bigger and heavier models.
Whether you're doing a spot of DIY or constructing watercraft with the help of a build-your-own pontoon boat kit, you must choose the horsepower based on your water activity preferences.
A 250 to 300 HP engine will typically churn out 55 to 60 mph depending on the load. If you're not planning on participating in tournament fishing, racing or water sports like wake boarding, such colossal horsepower won't be entirely necessary. Keep in mind that approximately 90% of sport/speed boats are fitted with a sterndrive engine.
Avoid under powering the pontoon and focus on finding one that guarantees good performance even under heavy loads. Opt for good torque for towing sports since power is essential for getting those wake boarders up and on top of the water.
3. Selecting a Hull and Construction Materials
Now that you know how fast you'll want to be navigating the waters on your pontoon, you can pay attention to its design. Don't rush into choosing the hull and other major construction materials.
It's surprising just how much of an impact these choices can have on the boat's performance, so do your research before coming to a conclusion here. The hull must suit the pontoon's size and intended usage.
Below, we discuss the four main hulls for fast boats:
Semi-Displacement — These narrow hulls enhance performance at slow and fast speeds.
Medium Displacement — Water is pushed aside when this type of hull cuts through the water. Expect minimal propulsion with this type of pontoon boat hull.
Heavy Displacement — Ideal for long-distance cruising, heavy displacement hulls boast easy motion that allows for comfort when things get a bit rough out at sea.
Planing Hull — Instead of pushing the water aside, this hull skims along the surface, making it perfect for increased speeds.
With your hull chosen, it's time to think about the pontoon boat materials.
Aluminum is an attractive material choice for boaters who want to get maximum power from their vessel. In fact, aluminum construction is lightweight and will stand the test of time.
A chemical-resistant option is ferro-cement, which is a concrete mixture applied to steel wire mesh.
Fiberglass is a top material of choice for recreational pontoon boats and it won't hinder speed.
Composite wood panels will add to the aesthetic appeal and will give a speedboat a classy appearance.
4. Interior and Exterior Design
Comfort, functionality and personality are three factors that will come into play for this step. If entertaining is on the agenda, introduce interior elements like grab rails, drink holders and comfortable seating.
Curved corners will improve handling at high speeds. A sculpted exterior structure with surface texturing will turn heads. The surface finish shouldn't be too rough, as this can cause the boat to drag.
Broaden your field of vision with a wraparound windshield. By doing so, you can fixate your attention on where you're going without worrying about water or bugs hitting you in the face.
Many build-your-own pontoon boat kits will also present the builder/buyer with the following interior and exterior design options:
Panel color
Accent color
Interior styling color
Floorplan
Fender system
Docking lights
Ladder
Stereo and sound
Furniture
Flooring
If you feel overwhelmed by the various options available, consider browsing the pontoon package options offered by your brand of choice. Packages might even save you money since they only include the necessary interior and exterior features for a particular purpose such as convenience packages. 
5. Test Drive Your Own Pontoon Boat
With everything complete, all you have to do is take on the role of captain. Use this opportunity to experience how the boat handles, how quickly it gains momentum and how good the fuel economy is.
Should there be any problems, don't be afraid to seek advice from a professional, whether it's the person who sold you the build-your-own pontoon boat kit or a boat repair specialist.
6. Maintaining Your Pontoon Boat
Don't forget to inspect the propeller pre-launch and always wash the salt residue off your boat with boat de-salt and a soft-bristle brush after cutting through the water.
Let's not sidestep the subject of motor maintenance, either. Periodically look for damage(s) and leaks near/on the fuel line to reduce the risks of a leak or corrosion occurring. Use a top-quality marine degreaser to whisk away those inevitable drips before they stain or damage your pontoon boat.
Remember, the better you maintain your outboard motor, the longer your high-performance boat will be rivaling other vessels with its Va Va Voom.
 Featured Boat Care Product
| | |
| --- | --- |
| | Boat Soap will quickly wash away dirt, grease, grime and other inevitable drips and drops to keep your pontoon boat sparkling clean. |
Check price on Amazon - Better Boat Boat Soap is an all-purpose cleaner designed to clean everything from top to hull (or pontoons, as the case may be). It quickly breaks down grease and grime, and it's 100% biodegradable. The fish will thank you.   
Final Thoughts on Building Your Own Pontoon Boat
Tracking down a supplier of the highest quality materials and an accelerated motor will ensure the finished result is a real flying machine.
You don't have to source everything directly and build the vessel from scratch to accomplish the task of boat building, though.
Kits are an ideal alternative to DIY when you build your own pontoon boat simply because they're cost-effective and don't limit your ability to personalize the craft.
---