The Adrenaline Junkie's Guide to High-Performance Pontoon Boats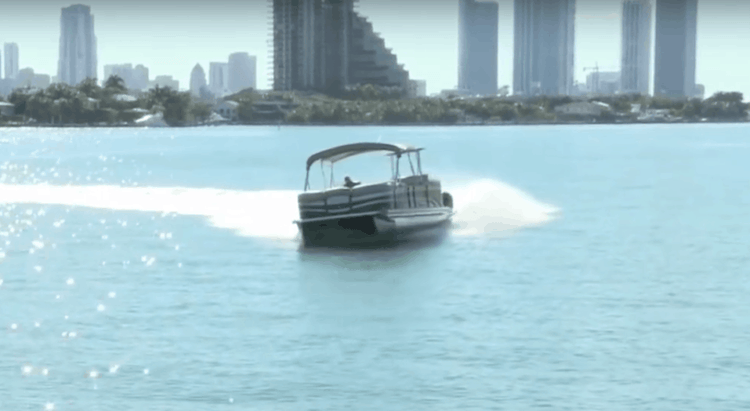 Back in the year 1951, a man named Ambrose Weeres changed the future of boating by inventing the popular pontoon boat.
While he might not have been thinking about the luxurious aspect when he came up with the idea of this stable alternative to a traditional fishing boat, the pontoon boat has come a long way since its early days.
The Minnesotan boating enthusiast managed to redefine modern boating with his creation, and this wonderful style of watercraft has evolved in more ways than one. Handling and speed are the two main focal points of the pontoon industry.
If you aim to choose the best type of boat with confidence, you ought to consider these elements. If you consider yourself a bit of an adrenaline junkie or someone who gets a thrill out of gaining traction on the water, why not invest in a high-performance pontoon boat?
Prior to purchasing a high-performance pontoon boat, take a moment to learn more about what makes a vessel of this kind unique.
What's a high-performance pontoon boat?
A high-performance pontoon boat is a vessel with a bigger engine. Boaters who are keen to hit top speeds on the water might invest in this family-friendly watercraft, which is easy to dock, simple to navigate and miraculously low-cost to insure.
That's right, high-performance pontoon boats tick the box for affordability too. Don't sweat it if power is of importance to you. Even if your pontoon boat is equipped with a beastly engine, funding your hobby will still be relatively inexpensive when compared to buying a speedboat.
The aluminum tubes at the front of a high-performance pontoon's forward end can move through the water efficiently at high speeds. While some fast pontoon boats will have an inboard-outboard engine - which is rare for a pontoon boat, regardless - most others are fitted with a rear-end outboard motor.
The gearbox, internal combustion engine and propeller will usually be contained in a single portable unit.
 A power-driven craft will look the same as a regular pontoon with a smaller engine. However, it will likely feature planning technology to aid you in plotting your voyage at top speeds.
What's a high-performance pontoon boat used for?
The uses for a high-performance pontoon boat are as diverse as the species of marine life you'll be gliding over when you're taking on the role of captain. Just like a pontoon with a small engine, high-performance pontoon boats are suitable for use on barges, hovercrafts, seaplanes, floatplanes, docks, rafts and even airboats.
Despite the fact that their being lightweight makes them susceptible to choppy waters, the recreational investment will usually offer a smooth ride.
Some of the main motivations of a high-performance pontoon captain include:
A high horsepower engine will be snuggled beneath the sleek exterior of a fast pontoon boat and will make it capable of speeding across rivers, lakes and ponds (not something we usually imagine first when thinking of pontoons).
This kind of powerboat can be used as a runabout, as well as for perfecting your pontoon steering and handling skills.
Towing sports lovers will be happy too, as these sports are made easy when you're in command of a high-performance pontoon vessel, which might be equipped with single or twin engines.
Featured Boat Care Product
Check Price on Amazon - Better Boat's Metal Polish removes oxidation, stains, surface rust and tarnish to keep those pontoon tubes bright and shiny. It's safe for chrome, aluminum, stainless steel and other marine metals. It works great on rails, ladders, cleats and even appliances. Use a handy microfiber cloth to polish to a gleaming finish. 
5 High-Performance Pontoons to Satisfy the Need for Speed
Gone are the days of pontoons with slow-speed platforms. Let's step back in time to the early 1970s for a moment. During this time, a 140-horsepower engine was installed in one of the old Harris Flotebote pontoons. This was the beginning of major revelation for 'toon engineering.
However, don't expect extreme HP from every pontoon. Most models are quite mellow and, in order to find a fast pontoon boat, you should familiarize yourself with the best models.
Below, I'll discuss the five best types of pontoon boat for high performance in my book.
Once described as the "world's fastest pontoon boat," the South Bay 925CR is fitted with three Mercury 300 boat engines.
This engine modification gives the vessel unbeatable power despite the fact that the pontoon has a shape that wasn't really built for high performance purposes.
You'll probably hear this boat before you see it cutting through the waves.
A sport model that seats 10 people comfortably, the South Bay 925CR is equipped with navigation LED lights, steel spring suspension seating, an eight-gallon freshwater tank, vinyl flooring, an AM/FM radio and a bold sound system designed that spits out music from four speakers.
What you really want to learn about is the motor though, right?
Well, this pontoon boat's source of power is a 3.2-liter V6 powerhead engine that churns out 300+ HP. The shaft lengths and multiple gear case options allow for maximum performance. Add to this the 20-stage fuel injection system and the 60-amp alternator, and you've got a pretty beastly boat.
Luxury and power go hand-in-hand with this pontoon boat. Admire a wide field of vision from the helm, and zoom around the water at a top speed of 52 mph.
You can reach speeds of 30 mph in just over five seconds when you're steering this pontoon boat, which seats up to 12 people.
Perfect for entertaining, the Premier 290 is designed with supportive Flexsteel cushions.
Concealed beneath its pristine exterior is a Twin Mercury 300 HP Verados engine and thanks to its central command display and GPS chart plotter, exploring the waterways at high speed will be a breeze.
A triple-tube bottom pontoon with reclining Flexsteel helm seating, the Powertoon Xtreme 2800 has Verado power steering and patented integrated steps. These steps make it easy to board the Xtreme after water skiing or swimming.
Its most economical cruising speed is 24 mph. The pontoon's fuel efficiency hits 7.80 gph (gallons per hour) at this speed.
The perfect match for high speeds is loud music. Turn up the volume and listen to your favorite music blasting out of the premium stereo subwoofer and powerful amp. You can connect your playlist with the CD drive, MP3 interface or iPod connection.
Another speedy pontoon boat from the PlayCraft range is the PlayCraft PowerToon Xtreme, which hits top speeds of almost 60 mph.
Fancy an efficient ride in a stylish and super sporty type of boat? If so, the South Bay's Super Sport 925 won't disappoint.
This isn't your average pontoon boat. With its white, green and black accents, it really does catch the eye of passersby.
You can opt for one of the Sports Packages for extra power, but this isn't essential, since the South Bay Super Sport 925 can reach 30 mph in just 5.8 seconds.
Its top speed is just short of 59 mph and, thanks to the independently moving engines, the vessel can be maneuvered around busy docks with ease.
The roll-formed air underdeck skin and 52-inch nose cones make a big difference to the airflow and fuel efficiency.
Take the boat out at night and enjoy cruising around with underwater LED illumination.
Offering ultimate performance, speeds of more than 30 mph and a range of amazing features, the X-Plode V-Toon is just one of many fast and trendy pontoon boats from the Manitou range. It's available in a variety of colors and floor plans.
Unwind on the swim platform's EVA deck padding or kick back on the vinyl couch, which is six feet wide. The fiberglass seating, fiberglass sidewalls, stainless steel bow gate and aluminum panel-fence build aren't the only reasons to invest in this type of boat.
Eye appeal aside, the X-Plode V-Toon combines a smooth ride with top-notch technology and a powerful engine. You could say that this pontoon is in a class of its own.
The Sport Handling Package (SHP) churns out 350 maximum HP, or you can opt for the VP, which churns out 150 maximum HP.
Some added highlights include the Teleflex SeaStar power-assist steering, wide positive angle lifting, ski tow bar, lift gates and GPS Speedo gauge. It's even possible to build your own boat and choose a desired length!  
Now that you're aware of the best pontoon picks for performance, you ought to prepare some questions ahead of the all-important purchase. Aside from asking, "What's the primary purpose of the pontoon model?" take it upon yourself to assess the amenities, query the price and ask about the size of the deck.
A knowledgeable salesperson will be able to resolve your boat-related queries, which will ease your mind ahead of investing in a power-packed vessel.