How to Polish Pontoons for a Mirror Finish (And make it last!)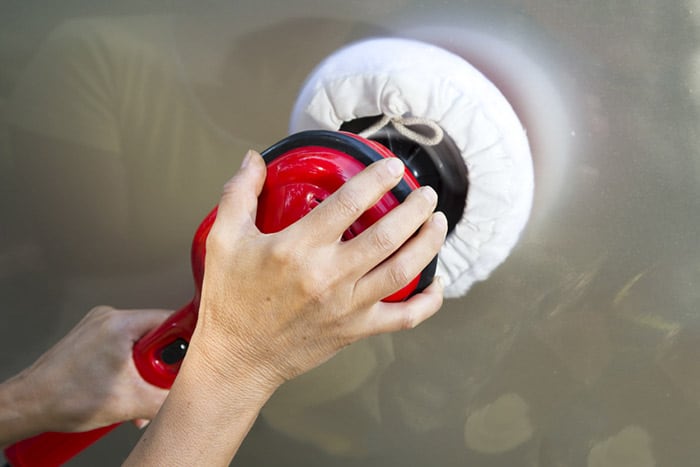 It's funny how pontooners get about shininess of their pontoons. Despite the fact that it makes no difference in durability, and the fact that you'll end up needing to shine them up again before too long (not to mention the the fact that half of them are below the water line), we still like a mirror-like finish on our pontoons.
In this guide, I'll show you the best practices for polishing your pontoons so they look their best out on the water (even if you can only see half of them).
If you take your pontoon boat to your dealer and ask them the cost to give you a mirror-like finish, the price is usually around $400 (US). You're saving a good chunk of money by doing this project by yourself. It's not very hard, just time consuming. 
Expect the project to take about 3 hours start to finish (depending on the size of your boat and how many breaks you take). This is a good time to take advantage of any juvenile labor you might have lounging around in the house.
Step 1: Prepare the Pontoons
The first thing you'll need to do is remove any algae or buildup on the pontoons. For those of us who trailer our pontoon boats, this won't apply. For those who leave the boat docked or at the marina for extended periods, there's likely to be some buildup and will need to be cleaned.
This is especially true for saltwater pontoons because of the salt deposits, so a boat de-salt concentrate is an excellent choice. If there is no visible buildup on the pontoons, then a simple pressure wash with water will do fine. If you don't have a pressure washer, then just do your best to wipe down the surface with a wet rag as you spray.
Step 2: Apply Cleaner
Boat cleaner won't actually polish the pontoons, but it does make the polish last longer. A freshly scrubbed and algae-free surface tends to hold boat polish and wax longer than one with bits of barnacles all over it.  
Go over the entire boat working in sections. Spray off the cleaner thoroughly with a hose. You may want to get a wet rag or scrub brush and rub as you spray to be sure it's all sparkling clean.
Editor's Choice: Boat Soap
 Check price on Amazon - Better Boat Boat Soap comes in a concentrated formula designed to remove tough stains, grease, mud and marine debris. It's 100% biodegradable, so there's no need to worry about harm to the water or other environmental factors. You can even use it to put a sparkly finish on pots and pans (along with nearly anything else).
Step 3: Buff
If you just want your pontoons clean, you can skip this part. You may have your finish done with step 2 and you'll be ready to apply the boat polish. However, if you want that mirror-like finish on the pontoons, then this is the step that will give you the best results.
First, you'll need a polisher. Get a Makita, get a Dewalt, get what you want, but remember that some of them are a little overzealous and can put circle marks on the boat if you aren't careful. A good choice if you're in the market is this one from Porter Cable.
If your pontoon boat is on the small side, you could get the cleaning job done with a microfiber wax aplicator set, which includes two large buffing microfiber cloths, three round foam wax applicator pads, three microfiber applicator pads, a grip handle and a storage pouch.
Using wool or other similar pad, go to town and start polishing them 'toons! Work in small sections and be careful about the pattern you polish in (for example, not straight up and down lines). That way, the marks don't show.
Use a nice swirly "s" pattern to blend in your movements. This part of the job will likely take about 2 hours on a standard size pontoon boat. You don't realize just how much surface area there is to cover until you get started.
Editors Choice: Microfiber Wax Applicator Set
 Check Price on Amazon - This 9-piece microfiber wax applicator set helps provide a professional buffing job to pontoons, hulls and other boat surfaces. Use with boat wax, polish, teak sealant, buffing compound and more
Step 4: Apply Cleaner (Again)
At the risk of sounding redundant, you'll need to re-do step 2 with another round of boat cleaner. You can't leave any polishing compound on the pontoons at all or else it'll get sealed on there and look terrible.
To be honest, I actually enjoy this process of soaping down the boat and spraying it. Blame it on the fun of a water battle on a hot summer day and all those cool garden hose nozzle spray patterns. To each his/her own, though.
Since this is the last step before the Shark Hide sealer, be extremely thorough to be sure that the entire surface is cleaned off and rinsed very well.
Step 5: Apply Marine Metal Protectant
Pontoon sealant protects the metal (whether it's aluminum, stainless steel, brass or bronze) from UV rays, saltwater damage, bird droppings, algae and more. Plus, they'll really sparkle while underway. 
Just about every pontooner who does this job uses Shark Hide. For some pontoon boat owners, this is step #1 before they ever put a new boat in the water.
Shark Hide comes with instructions, but it's very vague on how much to mix of the solution with water. Most pontooners choose about 3 parts water to 1 part Shark Hide. Other brands of marine metal protectant include: Better Boat Marine Metal Polish Seal-Brite, Marine 31 and Star Brite.