5 Best Pontoon Boat Grills (Unbiased Review)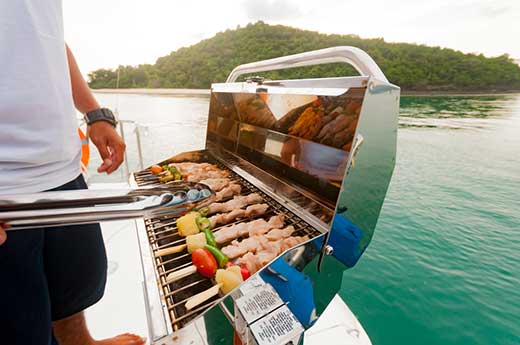 Grilling on a pontoon boat is the greatest joy any pontoon boat owner can have. It's the ultimate manly feast coupled with the ultimate relaxation. Made specifically for toons with square rail mounts, there are some great grills and there are also some lousy ones.  
The trouble with finding a marine grill is that the manufacturers usually take cheap grills that don't work well, even on land, and put them in an environment where there is high wind that puts out the flame and water that causes rust. They call it a marine grill and triple the price. Ugh!
A good grill heats evenly, stays lit even when the pontoon boat is moving, quickly and easily attaches to square railings and stays clean and rust-free. You can even combine it with a rod holder cutting board for the ultimate grilling set-up. 
Here are some of what I found to be the best BBQ grills for your pontoon boat. 
5 Best Pontoon Boat Grills
Our #1 Choice: Cuisinart Grill with Arnall's Brackets
Check Price on Amazon Our favorite pontoon boat grill is the Cuisinart Grill that comes modified with Arnall's Brackets. This is a winning combination.
The Cuisinart portable grill is the highest rated inexpensive grill on Amazon, and Arnall makes a great (and more importantly, secure) bracket for holding the grill. Reviewers of this grill really like the fact that it is rust-resistant, has a strong bracket and is reasonably cost effective.
There have been some issues in the past with the igniters on the Cuisinart grills, so it's probably best to assume that it won't work and just keep a lighter stored in the grill when not in use. That way, it's always available to start the old-fashioned but reliable way.
Option #2: Arnall's Bracket and Your Own Portable Grill
Check Price on Amazon If you already own a portable grill that you like, or want to choose something other than the Cuisinart grill, you can buy Arnall's pontoon grill bracket sets on Amazon and put your own grill on it.
The holes in the bottom of grills are non-standard, so it will probably require grabbing your drill and punching four quick holes in the bottom of your grill so that the grill can be attached to the brackets. That shouldn't be more than a 10-minute job.
Option #3: Springfield Deluxe Propane Grill
Check Price on Amazon There is really only one reason to love this grill--the mount! Having a traditional pedestal seat mount for a propane grill is the perfect solution for some pontoon boat owners.
In my pontoon, I have a pedestal seat that kind of gets in the way as I'm walking around, so having a grill that I could stick in that spot when I want to cook is an excellent solution. Obviously, you could also just drill a hole in your deck and put this pedestal mount anywhere you choose.
The trouble with this option is the grill itself, which gets horrendous reviews for failing to stay lit and cooking evenly. I've been considering just going to Home Depot and buying a metal pole to fashion my own pedestal mount for a grill.
Now if only there weren't so many good college football games on TV that prevent me from doing my projects! 
Option #4: Magma Marine Kettle Gas Grill with Hinged Lid
Check Price on Amazon This is the best looking grill on this list, but unfortunately, the reviews paint a not-so-rosy view of its functionality.
First of all, the slick-looking bracket is sold separately, but I wasn't able to find it on Amazon.
One reviewer said this grill is so bad, "[it] would not be fit for cooking roadkill in a post-apocalyptic refugee camp."
Now, having never been in a post-apocalyptic refugee camp, I can neither confirm nor deny that claim, but it's not making me any more likely to buy this grill.
Option #5: Kuuma Stow and Go 160 Propane Grill
Check Price on Amazon By option 5, we're really starting to scrape the bottom of the barrel. This looks like a nice grill, but the reviews aren't great and there is no mount at all. I really only include this grill on the list because it's an example of a grill with no mount.
For some pontoon boat owners, this is the best choice. Some boaters prefer to simply store a small grill under a seat and put it on the table when it's cooking time. Just be sure not to melt the table!
How to Clean your Pontoon Boat Grill
Once you've picked out the perfect grill and hosted a slew of pontoon parties, you'll probably need to clean it. Regardless of your grillmaster skills, there's just no way to avoid some of those scorched burgers and hot dogs. 
Stainless Steel Scrubbers
For quick and relatively easy (just add elbow grease, right) clean up, I recommend stainless steel scrubbers. These handy little balls are made of marine-grade stainless steel and come with a teak handle to really get a good grip.
They're designed for teak decks, but they work great for metal surfaces such as outdoor furniture and that grill you just bought. You can even use them on pots and pans. We boaters love our multi-use products, don't we?
Scrub Brushes
Nylon scrub brushes are another option for cleaning pontoon boat grills. Scrub brushes feature heavy-duty nylon bristles, a comfortable grip handle and a hang hole to keep it up off the floor. This cool tool is available with a long or short handle. 
Boat Scuff Erasers
If you're the type who likes to keep their grill nice and shiny at all times, you'll want to buy a bunch of these handy little bars. Boat scuff erasers are one of the best ways to quickly wipe away dirt, grease and scuff marks. Just add water and a bit of that elbow grease.
You may want to buy several as you'll probably end up swiping them to use at home around the house. Such are the problems of a great product! 
 Check Price on Amazon - Better Boat's metal polish keeps stainless steel, aluminum, chrome and other metal surfaces sleek and shiny. It cleans, polishes and protects everything from cleats, railings and ladders to appliances, motorcycles and more.