The Sturdiest and Safest Boat Ladders to Mount on Pontoons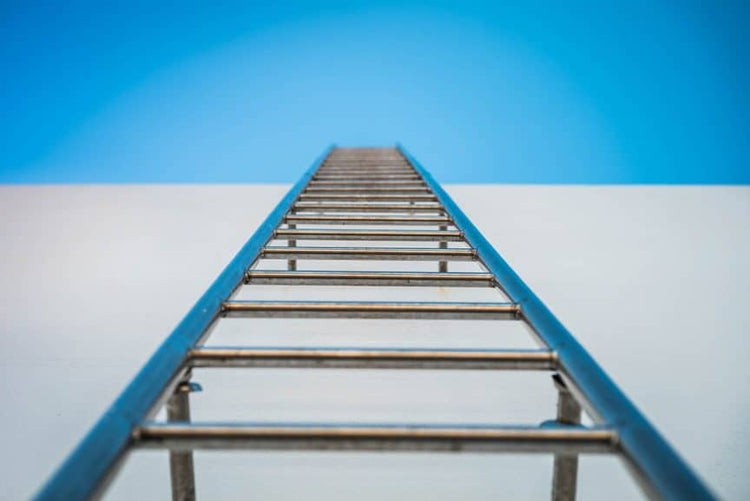 A ladder is a must for your pontoon. It's a matter of safety, legality and plain old convenience. It's a downright practical thing to have, whether for the on-boarding of overboard passengers or to simply meet boating law requirements in your state.
Plus, at some point, somebody on your pontoon is going to want to take a swim and I imagine they'll want to get back in the boat again too (and without a whole lot of hassle and flayling of limbs to do so).
Having a quality ladder is going to make getting out of the water a whole lot easier. To accommodate everyone who rides on your 'toon, it's important to make certain that your ladder is long enough that it extends below the surface of the water.
Be sure you have at least two rungs underwater. Unless you're limber and can reach a high rung while also bobbing along in the water, four would be even more comfortable.
No matter what, the handrails and rungs should be thicker rather than thinner, allowing plenty of gripping room and hopefully a non-slip surface with good traction for wet hands and feet.
Even if you've got the longest arms of anyone you know and don't need the ladder to go too deep underwater for you to reach it, longer is better for any potential guests you'll have on board who aren't so lanky.
Beyond length, there are other things to consider when purchasing your pontoon ladder. We'll start by looking at the various options out there.
Types of Pontoon Boat Ladders
Permanent or Removable Ladders
When you decide on a ladder, you can decide whether you want to permanently mount it or have a removable ladder that can be moved across several platforms or sides of the pontoon boat.
Permanent ladders have their benefits. You never have to fetch it in emergency situations, and it can be dropped into the water quickly. It doesn't take up any storage space under your benches where you might want to keep life jackets, boat fenders, dock lines and anchors handy.
Removable ladders can take up some storage space. Many are capable of folding flat and being compact, which minimizes the space needed to stow them away. They're usually lightweight and, even though they're designed to be removable, they can be installed and left in place as semi-permanent ladders. Remember that, because the bottom rungs aren't constantly sitting in the water, a removable ladder will last longer.
Folding Ladders
A folding ladder is arguably the easiest type to use. You can slide this ladder up into its mounting hardware when you're in the water and simply fold it up when you leave.
The RecPro marine 4-step folding ladder has mounting slots for the gunwale and unfolds to rest on your 'toon with a set of plastic legs.
When not in use, you can use its built-in clip to fold the rungs up and hold them in place.
This
JIF Marine angled folding ladder
is a popular model due to its large and slightly angled stairs. Thanks to its slight incline, swimmers have an easier time climbing up onto the deck.
Under-Mount Ladders
You'll find that most under-mount ladders are placed in the front of the boat under the bow. The Extreme Max under-mount pontoon ladder is made of aluminum and attaches to your pontoon under the front deck.
It stows easily with a rubber strap when not in use. When you're ready to use it, you can deploy it by unhooking the strap and sliding the rungs out into the water.
These grooved rungs have excellent traction, making it easy to grab onto for both kids and adults.
Another option is the
Garelick/Eez-In under-mount sliding ladder
. It's designed for installation under swim platforms or under the deck at the bow.
Telescoping
Telescoping ladders are meant to be permanently installed on your pontoon. Two stainless steel ladder options that are great for ocean waters are
Amarine-made 3-step
or
4-step telescoping ladders
.
Dive Ladders
Dive ladders are recognized by their unique design of a single central rod with rungs on each side, as opposed to rungs in the middle attached to two left and right braces.
If you do a lot of diving in your lake or have shallow ocean waters and go swimming, snorkeling or any diving activities, these are perfect for your excursions.
The rungs are placed to easily climb while wearing finned feet. You can attach this Garelick/Eez-In Under Platform Double Tube Telescoping Ladder to your diving or swim platform.
Ladder Materials
Like many items and accessories on your boat, the material a ladder is made out of is an important deciding factor. Do you take your pontoon boat in saltwater or does it stay in freshwater lakes?
Much like the considerations you'd make for your pontoon trailer, you should keep this in mind. Salinity could rust or corrode your ladder over time if you choose a material inappropriate for your needs.
Aluminum
Aluminum is the more common and popular ladder. This is probably due to it being the less expensive option of the two materials. It's a lighter load to carry on board as well as lift to and from the mounting hardware on your platform.
However, due to the weight, they can also flex and bow under significant weight. If heavier people will be using your ladder, you'll want a stronger material.
Stainless Steel
Stainless steel ladders are more expensive, but also the best you can buy. Unlike the lightweight aluminum ladders, they're sturdier and can handle the weight of a heavier swimmer climbing up. They also have a higher corrosion resistance (a big plus if you're boating in salty or brackish water).
How to Mount Your New Pontoon Ladder
Most pontoon owners have a tough time deciding where to mount and attach their ladders, especially taking into consideration the location of your pontoon's diving platform, which can be located on the bow or stern of the boat.
On the Bow
At the bow, you have two choices: You can either install a removable hook ladder if the bow has a diving platform, or you can install a center under-mount that goes between the 'toons.
At the Stern Entry
You can place an under-mount ladder at the stern on one side of the engine. This is a better place for your ladder if you love to ski or go tubing as it's accessible for an exhausted passenger to climb on board.
On the Gunwale
Gunwale ladders, also known as side-mount ladders, are the more common ladder type. Referred to as a side-mount ladder, you'll recognize these by their hook-like shape.
They latch to the side of the pontoon over the gunwale, where the pontoon usually has at least one side gate entrance.
Some owners also find side mounts helpful to be able to grab the pontoon sides for support when coming out of the water. Most install a removable system for the side-mount ladders because they can conveniently lift off the gunwale when docked.
Take note, though, that removable ladders can't be deployed while you're in the water.
Featured Boating Product
| | |
| --- | --- |
|   |  Grip Tape |
Check Price on Amazon - For a safe surface, Better Boat's grip tape is the best bet for ladders, ramps, boat decks, pool decks and more. It adds an industrial-grade layer of traction to wood, concrete, metal, fiberglass, linoleum and much more. Tape is extra wide and comes in black or white.  
Extra Ladder Hardware and Accessories
Other than the ladder itself, here are a few extra accessories that could come in handy in terms of easy mounting capabilities or just overall safety.
Hinge Guard
If you have kids, or even pets, this is a great additional accessory. It covers the hinges of the ladder, making it a nice safety feature.
They usually have a rounded top that prevents you from getting cut by sharp edges of metal. More importantly, the hinge guard prevents the fingers of small children (and yes, even adults) from becoming pinched.
These must not have been invented when I was a kid, because I remember a few really awful pinches myself. They're also typically made of a marine-grade composite, so they'll have no problem withstanding freshwater and saltwater.
Boarding Handrail
There may be a place you decide to place the ladder that may not have a way for your passengers to lift or guide themselves out of the water. In this case, I would highly suggest a boarding handrail. Especially if you lack upper body strength. Most boarding handrails are made for docks as well.
Mounting Cups
Mounting cups
are nice additions for quick mounting and removal of your gunwale ladder. The idea is that your removable pontoon ladder hook ends drop into the cups.
Keyhole Mounts
A lot of owners find it tricky to decide where to mount their ladder. I say forget the worry and use this easy release keyhole mounting system in two different places on your pontoon.
That way, you can guarantee the option of placing a ladder at the safest spot on the pontoon, closest to your swimmers.
Stainless Quick Release Hardware 
This is for quickly mounting and un-mounting your ladder. But more importantly, it means you can mount your ladder in multiple locations.
Say you want one at the gunwale and the bow's platform. Similar to the keyhole mounts, you can get this additional hardware for flexibility.
Another ladder to take into consideration is one for your pets.
Take a look at the Paws Aboard ladder mentioned in Pet Meets Pontoon: 10 Important Steps to Keep Your Pets Safe on the Water. This is perfect, especially for senior pets.
Also, if you're thinking of purchasing a pontoon boat in the near future, remember that the price range for a ladder can cost anywhere from $200 to $500.
It's important to factor this into your pontoon boat's overall cost. Regardless of that price, the ladder will be well worth it. Your water-loving passengers will thank you.