The Pontoon Boat Show Guide: How to Find, Attend and Enjoy Local Shows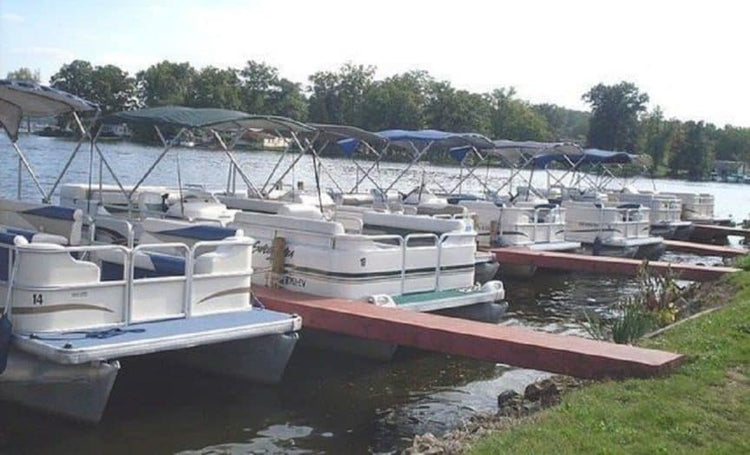 Whether you're looking to purchase a new boat or you're just suffering from winter blues and dreaming of the water, I highly recommend that you get yourself to a boat show.   
Since I've attended a variety of boat shows over the years, I've learned how to best navigate these events and use my time wisely. When you know what to do, a day spent at a show can be both fun and productive.
Attending a boat show is a great way to ogle all the latest pontoon products, watch live demonstrations, share the boating lifestyle with others and also get a great feel for any possible purchases.
The Many Reasons to Attend a Boat Show
Get a Feel for Pontoons
All hands on deck. If you're curious about pontoon boats and still debating if they're right for you, the first thing I'd suggest is a visit to a local pontoon boat show so you can get a sense of the 'toon world's culture.
When you're trying to make a final decision about which pontoon to purchase, shows let you observe your options much better than viewing them online alone. Even with no plans to buy or purchase a boat, boat shows can be a lot of fun!
Floor Plans Are Difficult to Visualize
I always find the floor plan of a boat hard to visualize by looking online or through a catalog. To grasp the layout of a boat, it's better to be right on the deck where you're able to touch and feel the materials and get a sense of the space. This is enormously helpful to decide on the size of pontoon that's right for you, too.
Meet and Greet Local Dealers
When you choose a local boat show to attend, you can usually find a directory on the show's website of the vendors that will be on the floor. Take for example the boat show I attend: The Atlanta Boat Show. Locate the Exhibitor List on the site to find local dealers you should approach if you're in the market for a boat.
Fun for the Whole Family
Going to a boat show might release your inner child. But if you're a parent and have kids, don't be afraid to bring them along as well. Some shows have specialized activity areas with things like face painting and crafts. Sometimes there are even professional babysitters on hand.
Seminars and Educational Opportunities
One really great thing about boat shows is the wide range of seminars and learning opportunities they provide. You can find anything from fishing demonstrations to workshops on engine maintenance. Take advantage and educate yourself—you never know when this information might come in handy.
I'll admit that reading something online is different than seeing it firsthand. Your brain will retain it a whole lot better if you see it in action.
Also, be sure to double-check the event schedule. Chances are an event may not be available every day and you could find yourself disappointed if you miss the scheduled days.
Discover Great New Products
Even though it's a boat show, there are usually boating-related vendor booths. You'll be able to check out new (or new-to-you products) to make boating life easier, safer, cleaner or more convenient. I discovered a cool piece of gear for holding smartphones, tablets and more in a secure position (for purposes of navigation and such) at the most recent show I attended.
Featured Boat Care Product
| | |
| --- | --- |
|     |  Boat Soap |
Check Price on Amazon - Better Boat's boat soap keeps your boat clean and shiny from bow to stern. It's 100% biodegradable and safe for the marine environment. It removes dirt, grease and grime and rinses away to leave a residue-free finish. 
How to Locate a Boat Show Near You
If you're in the market to buy, I recommend going to at least two shows. The first one will be to get your feet wet and casually check out each manufacturer's product.
The second will be to take the helm and test drive a few pontoons after you've narrowed your selection down to a few winners. If you can't find a local in-water boat show, talk to dealers at the first indoor show and ask how and where to get behind the wheel to test drive.
Here are a few websites to search, both nationally and internationally:
Types of Boat Shows
Indoor Boat Shows
Most indoor boat shows, especially for pontoons, are scheduled for off-season months between January and April. Due to the lull, manufacturers take the opportunity to start launching their newest, shiniest models.
But because it's winter, most venues are also indoors. The main disadvantage of an indoor boat show is: You can't test drive.
In-water Boat Show
Most in-water boat shows take place in the early spring and fall. Some are intended for much larger boats like mega-yachts, sailboats with tall masts and others of this variety, but that's not to say you can't find watercraft and pontoons.
Just do your research first. Don't pay for show tickets only to discover there's not a single pontoon at the docks. 
Also, if you do attend an in-water boat show, prepare for the weather. I've been to outdoor shows where it rained for an entire day, and I left with wet clothes and soaked brochures and business cards.
Walking docks and piers with umbrellas becomes a bit cumbersome. I suggest dressing appropriately by wearing a hat and packing a poncho and more foul-weather gear.
How to Prepare Yourself for a Boat Show
Know Which Type of Pontoon Is Right for You
Ask yourself what you want out of your pontoon. Would you enjoy skiing and tubing the kids around? Are you a fisherman and need something utilitarian? Or do you entertain friends and family and are looking for more of a cruiser?
If all this hasn't crossed your mind yet, take a look at our guide to choosing the best pontoon for you in order to get a better grasp on this.
Research Which Manufacturers/Models You Like (Both Boat and Engine)
Discover which pontoon manufacturers you lean toward. Go online first and peruse their models, taking notice of overall aesthetics and practical capabilities.
Start narrowing the makes and models down to only a few favorites. The engine deserves its own research. Pay attention to each engine's maximum horsepower and figure out how fast you'd want your pontoon to go.
At the show, you'll find that most dealers sell their pontoons with one, maybe two, types of motor manufacturers. That's because they usually have an on-site mechanic who specializes in those engine types.
That doesn't mean the pontoon boat you want can't be specified to carry another engine brand. You do have an option and you'll need to know ahead of time what you'd prefer to power your pontoon.
Learn About Total Ownership Expenses
Calculating the total cost of ownership is a crucial step. Besides the cost of a pontoon boat itself, know what you're getting yourself into. This includes things like maintenance, docking fees, storage fees (and cover), insurance, trailering and gear such as anchors, dock lines and fenders. 
Where Will Your Pontoon Be Stored?
Don't buy a pontoon boat to find out that it's too big. It's important to measure your slip and know the space intended to hold your boat. It shouldn't be a snug fit either, there should be ample space for maneuvering with your dock lines, boat fenders and dock bumpers. 
| | |
| --- | --- |
|     |  Boat Fenders |
Check Price on Amazon - Better Boat's fenders provide protection from docks and other boats. Made of marine-grad and UV-resistant vinyl, they have a ribbed design that prevents rolling around. 
What to Look For at Boat Shows
First and foremost, you'll need to pay close attention to each manufacturer's product quality. You'll also want to take into account your needs and personal preferences.
Fabric and Flooring Materials
Would you prefer vinyl over a carpeted flooring? Vinyl is easier to clean, especially if you go fishing frequently.
A carpeted floor has been known to have better traction but captures more dirt and sand.
Furniture Arrangement
Just like shopping at a furniture store, take a seat to see if it's comfortable. Also, is there enough seating for your entire family and guests?
Do you like soaking up the sun. If so, is there a place to lounge?
Welding
Does the welding look well-done? Does the boat look well-constructed and tightly sealed? Place your hand on the railings and put your body weight against them like you would when climbing in and out of the water.
Gadgets and Electronics
Does the boat come with fishfinders already installed? Does it come with any other valuable gadgets to make the boating life easier? Don't be afraid to play with the electronics.
Get a good feeling for the speakers if they're included (if not, they can be added).
Boat Care Product
| | |
| --- | --- |
|     |  Exterior Cleaning Kit |
Check Price on Amazon - Better Boat's exterior cleaning kit has all the tools you need to keep your boat clean. The set comes with boat soap, a soap foam gun, a sponge, a boat eraser and two microfiber cloths. 
General Questions to Ask
What comes standard? What does the price include? You may have to upgrade for certain bells and whistles you see on the boat show model. Don't just assume what you see is what you get! You can also negotiate your price down later if you remove unnecessary items and upgrades.
What is the speed of the pontoon? This is to get an idea of how heavy the pontoon is and what types of materials are involved in its construction.
How long is the warranty? A good average should be 10 years for the boat's structure, 3 years for carpet and upholstery, 5 years for the engine and 1 year for electronics.
What's the manufacturer's reputation like? You want to know how long they've been in business, and you should also find out if the company has ever been sold.
How to Get Through Boat Show Negotiations
Negotiate Quotes from Several Dealers
On the last day of the show, return to the dealers who carried your favorite models. Doing so on the last day is important if you're looking to buy a new boat.
Some dealers have a quota to meet before the end of the show and will work getting the price down for you a bit harder.
Get a Better Deal on Last Year's Model
Out with the old, as they say. At the boat show, what you see is the latest and greatest. But like cars, dealers want to get rid of old inventory.
Ask dealers if they have inventory for the previous year's models. They might have something back at their private showroom, or even know a guy looking for a trade-in.
There's nothing wrong with being open to something older or used. There could be a huge difference or no difference at all. And then there could be a difference that you don't care about, so last year's model will work great for you as it is.
Don't Feel Pressured! Be Prepared to Walk Away
Dealing with salesmen can be stressful. But try to play it cool and be respectful of each other's time.
You might feel on cloud nine and eager to make your purchase, but resist the temptation of pulling out the checkbook and signing before you're completely sure it's the right call.
Checking Out the Prices of Older Models
When you get home, compare prices of older models. Even last year's model could be significantly more affordable. Check ABOS Marine Blue Book, NADA Guides and websites such as BoatTrader and Boats.com to find the current boat values.
Someone could be eyeing the latest brand spanking new boat. You could luck out when they want to trade in their one-year-old models. Overall, have fun and don't get overwhelmed!
You might find yourself at the end of the day with a permanent poker face or a headache from the amount of information you learned. Talking to dealers and salesmen can be an exhausting experience.
Try to remember that everyone is there because they enjoy being on the water. Find your dream boat, and start looking forward to those summer days.