3 Inflatable Pontoon Boat Slides, Compared and Reviewed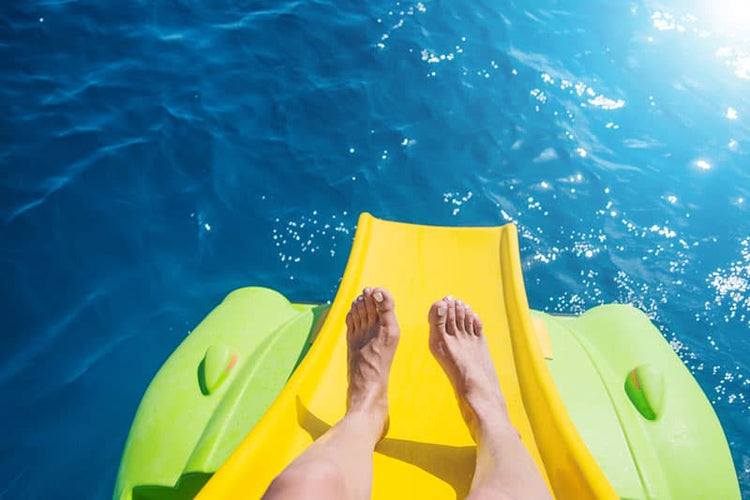 Thinking of adding a new inflatable toy to your collection? Already have one too many towables? Then get your family a pontoon boat slide! 
One of the most fantastic pontoon boat accessories you can get for your pontoon boat, it'll ensure you stay cool each summer season. Pontoon boat water slides are great fun for the whole family and a winning idea to entertain kids or put on a top-notch pontoon party.
And yes, even adults can get in on the fun. The slides can be inflated and deflated easily and taken anywhere you go on vacation or long-haul your pontoon for the season. Whether you wanna break for lunch or drop anchor in a cove, it can turn your pontoon into a water park.
Not only that, but slides make for excellent luxurious pontoon gifts for a fellow 'tooner in your life. It's a timely toy to give!
Meet the Pontoon Boat Slides
1. Aquaglide Freefall Pontoon Slide
Check Price on Amazon
Construction Materials
Designed especially for pontoon boats, although some reviews do mention being able to adapt to power boats, this slide has excellent reviews.
With an attractive design, molded handles and welded footsteps for boarding, this slide is super heavy duty. I'd describe the slide as more of a piece of pontoon boat equipment than an add-on toy water toy. Constructed with UV-coated PVC, it's truly commercial-grade and made to last.
The heavy-duty webbed straps have stainless steel anchor rings, and they're standard and replaceable should they become lost or broken. These attach securely to your pontoon boat, making sure it doesn't act more like a water tube than a slide.
Plus, this set-up makes it more stable as the slide fits tightly and gets locked down sturdily. It inflates to 120" long by 42" high. At around 35" wide, it's nicely designed to fit inside the front deck space of most pontoons by clearing over the bench seating.
Once inflated and cast over the side, the slide will give you an exciting five-foot drop into the cool waters below.
Pros
This one is extremely well constructed. With a 200 lb. weight capacity, even adults can enjoy it without fear of popping a seam.
Included in the purchase is a 12-volt turbo pump to make sure it inflates fast. When you're ready to take a dip, just attach it and let it blow itself up. You'll only have to wait about two to three minutes.
Cons
It's a bit bulky and heavy. Although it does easily deflate and roll up to store (it's approximately 36" x 26" x 15"), it's still not tight enough for some picky pontooners who prefer all the space they can get for dock lines, fenders and anchor buoys.
This being said, one of the biggest disadvantages is the lack of a storage bag.
For me, it's pretty annoying having to lug a giant plastic slide around. Of course, you can always invest in a carrying bag on your own, but it's an added cost to consider.
2. RAVE Sports Pontoon Slide
Construction Materials
This pontoon boat slide has commercial-grade construction materials. It also offers central air chambers, which provide added stability and bounce resistance. It has four molded vinyl steps and two assist handles that have been inserted into the plastic ladder side, which comes in handy for climbing to the top.
Pros
This pontoon boat slide comes with a 12-volt high-pressure inflator, which operates from the pontoon battery. It deflates and compacts fairly well to roughly the size of a sleeping bag. One great feature!
It can fit over the side of a gate, as opposed to some slides (like the first option), that can only fit over a foredeck bench.
Now, some pontooners might be thinking: "Does this mean it'll hit or collide with my bimini top?" Well, even close to the bimini top edge, it does not come in contact even with a double bimini shade.
Oh, and it has a nine-foot sliding surface! That means fun is guaranteed.
Cons
Once again, same as the first slide, this one doesn't come with a storage bag. Your best bet? Simply store it away in a cooler, duffel or even under the seat.
3. Sportsstuff Spillway Pontoon Slide
Check Price on Amazon
Construction Materials
This pontoon boat slide has four molded steps for climbing up, plus two molded handles you can push off (for extra momentum and bigger splashes on an eight-foot slide).
The material is heavy-duty UV-treated and reinforced PVC made of 1,000 denier polyester. The seams are hot-air overlap welded for extra durability.
To keep the sliders centered and straight, the manufacturer added raised inflatable safety chambers to both sides.
Pros
This pontoon boat slide looks sporty and adventurous. It kinda reminds you of an actual emergency spillway with its bright reds and caution stripes. As an adult, you might care less about its appearance, but kids have stronger imaginations.
Materials are heavy-duty and made to last a lifetime (if properly stored and maintained).
It's designed to fit directly over pontoon benches and strap in place over an unobstructed side railing. Instead, I'd recommend placing up front on the pontoon nose and strapped to the logs. Although this recommendation only accounts for two straps, you can add a few eye bolts to the rail to secure the other pair. This saves on seating space if you have a large group of family and friends on board.
Cons
This product not only lacks an inflator, but it requires a special type of valve adapter. At first glance, I wanted to mention that if you already own an inflator for all those other towables you play on, this is no big deal. But to invest in another type of valve adapter just seem excessive. The manufacturer's instructions suggest an H-valve (Halkey-Roberts) adapter.
If this inconvenience is no biggie, instead of purchasing the special air pump on Sportsstuff's website, you can find inexpensive adapters like the one mentioned below (keep reading).
Beyond that, it inflates in approximately five minutes, which is tolerable but a bit slower than the other slides.
Featured Boat Care Product
| | |
| --- | --- |
|     |   Vinyl Cleaner |
Check Price on Amazon - Better Boat's vinyl cleaner deep cleans vinyl, leather, plastic and rubber. It removes tough grease and grime and restores vinyl on pools, boats, RVs and other items. 
Tips for Inflating and Maintaining Your Pontoon Boat Slide
Bring your own pump. Though two out of the three slides here come with their own pump, you might run into a situation where you lose your pump or even clumsily drop it into deep waters and are in need of a replacement.
If this happens, check out the AIRHEAD Air Pump (check price on Amazon) It works just as well with an inflator you likely already own. It has great ratings (and appropriate valves for all toys).
Choose your location wisely. Be certain to locate yourself in a quiet cove or somewhere that's protected by winds. These slides are giant inflated balloons after all.  
Keep an eye on the water depth. Always practice safety and anchor your pontoon past shallow waters and with enough depth. I mean, where's the fun in a slide if you can't make a splash?
Get it wet. As with any water slide, make sure to splash water on it or take a dive first. On a dry slide, your derriere will squeak and squeal the whole way down. When dealing with PVC plastic, a dry slide may even burn your skin. Once your bathing suit or swim trunks are wet, you're good to go!
Take care with storage. To extend the life of these slides during the off-season, store them away in a covered area like a basement or backyard shed. You can clean them with mild soap or boat soap and dry them completely with a microfiber cloth before rolling loosely and placing them in an insect-proof and rodent-proof container. A few mothballs in the container couldn't hurt either.
So, ready to slide into those warmer months?
Inflate one of these babies, and you'll be all set to have a blast on the water.