Pontoon Decals: Graphic Types, Plus Steps for Application and Removal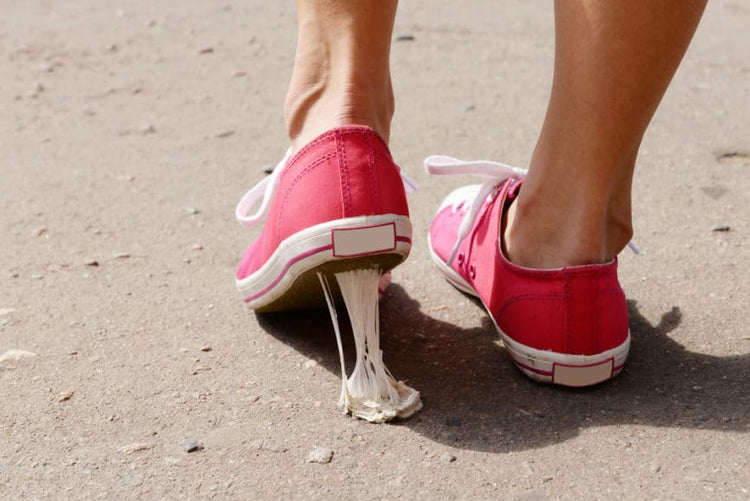 Pontoon decals can get you into a sticky situation (see what I did there?).
Can't decide which decals to put on your pontoon? Are you unsure of which decals are legally required in your state? Or maybe you're having trouble sticking or un-sticking a chosen decal.
Well, we've all been there and done that. So, whether you're applying your registration numbers, a custom boat graphic or striping, we've consolidated our knowledge on this topic to make sure you're covered.
We'll walk you through some top options for decal types, give you the steps to apply your vinyl decals without any wrinkling or bubbling and help you get old decals unstuck.
Registration Numbers and Validation Decals
Your state registration and validation decals are required by law, and there are specifications you'll need to keep in mind to display them properly.
Registration Specifications
Letters and numbers must be 3 high and vertical block font (typically Arial black).
Letters and digits must be separated by hyphens or spaces (Ex: GA-5619-ZW or GA 5619 ZW). Find a marine decal manufacturer, then check to see if they create pre-spaced registration decals. In all likelihood, they do. Otherwise, you'd have to stick the letters on individually and you don't want that.
Lastly, the color of the registration must stand out in contrast to the color of your boat.
Proper Placement
Your order will arrive pressed between a transfer paper and backing paper, which allows you to press the letters onto your boat basically like one big strand of tape.
Place the registration decal in any position, but just be sure it's on both sides of the bow. In fact, most places sell registration decals by the pair with this setup in mind.
Types of Custom Pontoon Decals
Boat Name
Since it's tradition to name boats, a lot of owners choose to name their 'toon and display the name proudly. A boat name is one of the most common custom decals ordered.
Forget block lettering, this is where you can have fun! You 'll find many script fonts available online, like a nice white center with chrome outlining.
If you 're feeling extra creative, you can create one in any font you want with computer software and upload it as a graphic image. Another fun application is using glow-in-the-dark or reflective tape vinyl, similar to these examples from StreetGlo.
Stripes (or Striping) 
Striping is the name of the swoosh-like vinyl marks you see on the sides of pontoons. If you don 't like the striping your pontoon came with, you can easily remove it and replace it. You can customize these to be anything or any color you want SUCH AS solid color striping
Life Ring
An additional item some owners choose to decal is a life ring This guarantees it makes its way back to the rightful owners if it's ever lost or borrowed. My family and I place one at the end of our dock for visiting friends to find us.
Since they'll be placed on a round object, it might take a few extra steps to ensure the decal letters are angled nicely.
General Decorative Graphics
You can also place a decorative graphic on your boat to make it stand out from the crowd. At our lake, I 've seen anything from pirate skulls to fish to American Boat Flags. Whatever floats your boat! 
Applying Pontoon Decals
Clean and Dry Surface
Start by washing the chosen application area with a soap, such as boat soap, and water solution. Be certain to remove any salt, scum or other buildup. After it's fully clean, rinse with a hose and dry. You 'll want to use a fresh, clean towel something like microfiber works great to polish and remove water spots.
The next step in preparation is to spray an alcohol solution (70% isopropyl-based) around the entire area, wiping down with a second towel. Be sure to choose a day without much of a breeze, otherwise you 'll be fighting flapping paper and vinyl the whole way.
It 's important to not try to do this in the heat of summer with high temperatures. You could do this in spring around the time you take your boat out of winterization.
Featured Product
| | |
| --- | --- |
|    |  Chamois Cloth |
Check Price on Amazon - Better Boat's chamois cloth is durable, soft and lint and scratch-free. Use for cars, camping, RVs, pets and more. 
Mark Center Position
After the area is prepped, grab a grease pencil and tape measure. Draw a few dots to create a rectangle that suits the dimensions of your decal. Measure from the left side to the right to find the center.
Mark this center above the application area. Take your graphic and gently bend it lengthwise to create a light crease. Then align the crease (which temporarily marks the center) with the grease pencil mark you made on the hull in the previous step. Don't worry too much about the exact position. You 'll be adjusting it slightly in the next step.
Tape and Hinge Graphic
Next, you'll position the graphic more exactly. Use the rub rail as a guide, spacing tick marks with the grease pencil along a top reference line.
Some use the hinge method, where they tape off the top or sides of a decal, peeling away the entire piece of paper at once.
I find a better way is to not tape a side, but the center dividing the spaces into two. My husband, once a sign shop technician, applied much larger decals to vehicles and shop windows. He recommends this method because it makes it easier to spread the vinyl straight.
Featured Product
| | |
| --- | --- |
|       |  Silicone Squeegee |
Check Price on Amazon - Better Boat's silicone squeegee gives a streak-free finish. It removes water with one swipe and won't scratch surfaces. The soft-touch silicone blade is flexible with a heavy-duty handle.  
Cut Away Backing and Press It Down
Being careful not to stretch the vinyl, peel away the backing and use a pair of scissors or blade to cut away the top paper. Using a squeegee, press the vinyl against the fiberglass. If you see the decal forming wrinkles, use the transfer paper to pull it away, reposition it and pat it back down.
If you find some small pinhead bubbles here and there, don 't fret! Take a sharp blade and make a small prick in the vinyl.
This will release the air trapped beneath, allowing you to rub and smooth it out.
Peel Transfer Paper
At this point, you can remove the tape and peel away the transfer paper. It 's best to peel it away at a 45-degree angle and almost touching parallel to the boat.
You may find you need to peel away the backing of certain letters such as A, P and O and anything with an unattached vinyl piece. Some I 've spoken to suggest using a Seal-It Pen, which keeps the edges from peeling up. You just run it along the edges to create a thin layer of extra glue.
One last tip! Wait at least 24 hours for the decal and its adhesive to fully stick before you take your boat anywhere near the water!
Letters are much easier to place. However, it does get trickier with a larger decal and a rounder surface. It's more than likely you 'll need to use the pin prick technique on bubbles and smooth a few surfaces out.
Tips for Applying Striping
Striping is a much larger graphic, but don't be intimidated. Just start by taking it in sections, marking every 2-3 feet along the top edge.
Next, take the first 6 inches of backing paper away from the start of the striping, pressing the adhesive side down. You 'll remove the backing paper repeatedly a few feet, moving in long sections from one side to the other.
Like any graphic, you 'll take a squeegee and run it along the length of your striping, pressing the adhesive down even smoother. Also, be sure to trim the striping around panels, vents and hatches.
Removing Decals from Your Pontoon
There are many reasons you could eventually find yourself needing to remove a decal: The sale of a boat, the change of state, changing registration or even just an update to your boat 's graphics.
You can pay someone to do it for you, who will usually provide a quote for removal of the old graphic and replacing with the new. Should you choose to remove the graphics yourself, there are few different methods to be aware of.
Regardless, it'll take some real elbow grease. You may want to start the process with a little boat soap and water, which is the safest method for decal removal. The mixture will help dissolve the residue and prevent the decal from reapplying itself as you follow through the next steps.
Apply Heat
You can apply heat with a hair dryer or heat gun. But be careful not to damage the gel coat, as it can bubble up and blister if the air is too hot. Remember: If it 's too hot for your skin, it 's too hot for your topcoat!
Peel Off
When you have the surface heated, carefully and slowly peel back the old decal. You may be able to do this with your nails, but if not, try a razor blade just to get started, taking extra caution not to scratch the fiberglass.
Take your time. After you 've pinched a solid grip, you should be able to finish this step using only your hands. Keep the heat applied. This will ensure little to no sticky residue left behind, making the following steps go a lot smoother (pun intended).
Spray Adhesive Remover
Goo Gone Adhesive Remover Original Spray Gel - Removes Chewing Gum, Grease, Tar, Stickers, Labels, Tape Residue, Oil, Blood, Lipstick, Mascara, Shoe Polish, Crayon - 12 Ounce

 

 
It 's nearly impossible to not have a little bit of sticky residue remaining. Some recommend taking a cloth or rag and using a substance such as GooGone or a simple mineral spirit or cleaning alcohol to help rub the rest off the surface.
Wipe Surface Clean
After you've removed the decal and adhesive, you 'll more than likely find an imprint where the decal once was. A good buffing job will blend the outline and exposed areas back to an original looking gel coat.
It might be unsightly at first, but after a while, you 'll never notice it. There are a few good buffering compounds out there.
The manufacturer 3M makes a Super Duty Rubbing Compound and Finesse-it Marine Glaze that I know many boat owners swear by. This two-step process helps remove light oxidation. 
If you need help with your 'toons, take a look at our guide to polishing pontoons. Also, if you 're searching for a well-rounded collection to DIY your pontoon decal, I recommend an amazing deal for 7 bucks. It 's a professional vinyl application kit that consists of felt squeegees, Lil Chizlers and razor blades.
And that's a wrap! Once you've gotten your own decals and followed these application steps, sport your new pontoon decals in style.
Take your newly-decorated pontoon for a spin. You'll love having a boat that reflects your personality and style.