Gone Fishin': 5 Pontoon Fishing Accessories for Reel Fun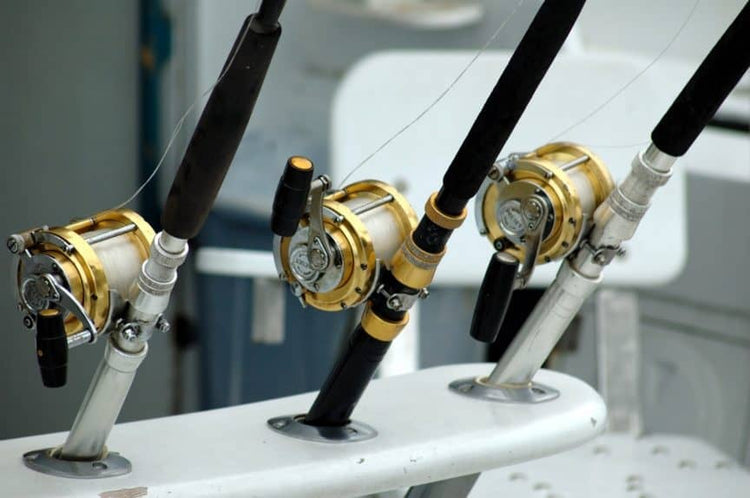 You're drifting slowly in your pontoon at dawn on crystal clear water that's so calm it looks like glass.
You have a fishing rod in one hand, a mug of coffee in the other and you're taking it all in as the sun begins to rise over the horizon. Sounds like heaven.
For anyone who loves to 'toon and fish, I'm going to share the five different pontoon fishing accessories I always have on deck and how they make fishing a breeze in my favorite vessel.
We're talking trolling motors, livewells and baitwells, fishing rod holders, depth/fish finders and fishing chairs.
You'll soon see how they can each help you have a relaxing and pleasant fishing experience on your pontoon boat. So, sit back and enjoy the ride as we cruise through each of these wonderful pontoon fishing must-haves for the summer.
1. Trolling Motors
For those of you who are new to fishing, a trolling motor is a removable motor that allows you to troll the pontoon slower than your regular motor while having your hands free to fish.
It's controlled by a remote control or foot peddle. When I say removable, I mean you can take it off and put it back on with ease every time you use it. I love this feature because it allows you to have the extra space when you aren't fishing and are just cruising with the family.
A trolling motor is also battery powered and can be recharged by plugging it into an electrical outlet. Most fishing enthusiasts will tell you there are other benefits to trolling. Trolling motors allow you to get into areas where your bigger motor can't go.
You can raise your bigger motor out of the water when using the trolling motor in shallower water. Depending on the type of fish you're looking to catch, trolling your lure in the water can be a great way to simulate the natural movement of live bait, increasing your potential for reeling in a big one.
One popular trolling motor brand is Minn Kota (Available on Amazon). I personally have experience using a Minn Kota and I can say it scores big points for durability and longevity in my books.
We've had ours for years and it remains a great addition to our pontoon fishing experience. I always suggest that you do your research and decide what's the best option for your individual fishing needs and price point.
You can read more about specific pontoon trolling motors by clicking here.
2. Livewells and Baitwells
These babies are more than just tanks full of water, they're nifty containers (five gallons is standard) that can be portable or built into your boat.
Built-in livewells are excellent features because they can be filled directly from the lake or ocean (and some livewells can also be installed with this feature).
The purpose of a livewell/baitwell is to keep the oxygen flowing in the water, so the fish or bait stay alive while you fish.This is particularly useful for catch-and-release fishing tournaments where your score depends on the total weight or size of fish count that are eventually thrown back into the water.
I love livewells because they promote responsible fishing in areas that have conservation laws and rules about how many fish you can keep. You can keep fish as you catch them and then release the ones you don't want as you upgrade on your catch.
Brand Options:
Another cool option is this Moeller livewell boat seat to store your live bait or fish in style. You can also look into built-in pontoon livewells that come in fishing packages when you buy a new pontoon, which I'll be talking about at the end of this post.
3. Fishing Rod Holders
Yep, its name is pretty straightforward: This cool device connects to your pontoon, holding your fishing rods and allowing your line to stay in the water while freeing up your hands. Fishing rod holders are great for pontooners who love to fish with more than one rod in the water.
This, of course, would increase your chances for catching your dinner, but I would definitely check the rules in the area where you're fishing. Many lakes, rivers and bays have stipulations on how many rods you're allowed to have in the water at once (depending on what you're fishing for and what's in season).
There are many different kinds of rod holders and brands. Depending on the type of fishing you want to do, I recommend making sure your holder matches the strength of your rod and will stay firmly in place when 'the big one' takes the bait.
There are many others, so be sure to check out Better Boat's full pontoon rod holder reviews.
Bonus Product: Better Boat's rod holder cutting board is an excellent accessory to prepare fish without getting gunk all over the kitchen floor. It's made from marine-grade polyethylene, it's UV-resistant and fits right into the rod holder. There are three drip-proof sections to store fillet knives, hooks and other tools. 
Brand Options:
4. Depth Finders and Fish Finders
This cool gadget allows you to see the depth of the water and the probability of fish around your boat. It also measures water temperature, shows you elevation changes in the sea-bed or lake-bed and measures the distance to the shore.
Depth/fish finders hook up directly to your pontoon. Some models also offer a GPS system as well, which I love when exploring new areas because it lessens my chances of getting lost when all the inlets and islands start looking alike (yep, I've been there).
Brands include Garmin, Lowrence and Humminbird among others and can range in price substantially. I would review your depth/fish finding needs or take a look at this great Fish Finder Buyer's Guide for pontoon boats and BetterBoat's fish finder GPS combos post before deciding which finder is best for you.
However, I use the Garmin 95 with chirp technology (Available on Amazon). The feature I love the most is its clarity. It gives you an accurate picture of what's beneath the surface.
5. Fishing Chairs and Leaning Posts
Not just your average chair, these chairs are removable, form fitting and very comfortable.
They're specifically designed for fishing and swivel in all directions, offering flexibility for accurate casting. We have two on the back of our pontoon boat. I love that I have the option to fish off the back of the boat while my family enjoys the scenery on board.
There are many options for buying these chairs and many pontoon boat brands make them. You can find the right chair for your pontoon online at Overton's, BassPro or Savvyboater, just to name a few options.
Another comfortable, nay luxurious, accessory to have on board is a leaning post with fishing rod holders, like this top-of-the-line item by Neptune (check price on Amazon).
And well, there you have it. Great accessories for a relaxing day of fishing. All these fishing accessories are solid additions to your pontoon boat.
However, if you love to fish and you're in the market for a brand new pontoon boat, you can buy a pontoon boat with a fishing package, which features already built-in accessories.
Some great examples of new pontoon boats with built-in fishing accessories are the Lowe Ultra 182 Fish and Cruise pontoon boat or the Sunchaser 8522 Cruise-n-Fish.
Before you choose a model, check out our best tips for buying a new pontoon boat by clicking here.
Featured Boat Care Product
Check price on Amazon - Keep your fishing, or any other type, boat clean and shiny with Better Boat's top-quality boat soap. It quickly and efficiently washes away dirt, grease, grime, fish guts and other detritus from decks and surfaces. Rinse off with a garden hose and nozzle for a residue-free finish. 
An extension rod and mop or scrub brush is a great way to get to the hard-to-reach places on the deck and hull.  
No matter how you fish, always adhere to the fishing laws and get that fishing license if you need one. Not only could you be in huge trouble and incur fines and even criminal charges (yes, really), but it's important to respect and preserve our wildlife.
I'm a huge supporter of maintaining our natural environment. I believe fishing laws exist to protect the future of our fragile aquatic ecosystems.
I hope this post helps you to reel in a good catch on your pontoon boat! Wishing you all a beautiful day of 'tooning and fishing out there on the water.