14 Perfect (and Affordable) Pontoon Holiday Gifts for the Boating Enthusiast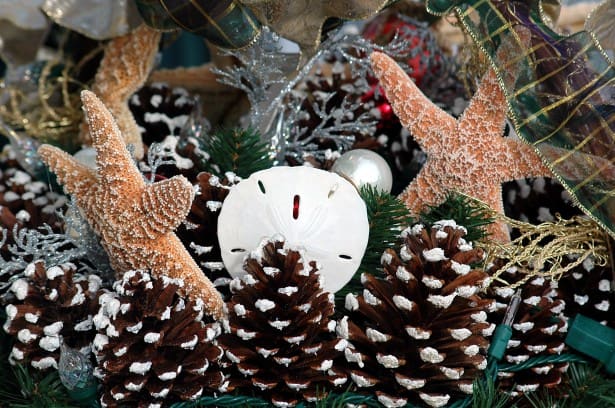 The holiday season is upon us! If you know someone who loves their pontoon or if you'd like to give someone a big hint about what you'd like to receive here are 12 perfect little gifts that can't go wrong.  
Whether you're looking for small and simple stocking stuffers or larger, more substantial gifts, you'll want to take a look at this collection. Luckily, we've found plenty of inexpensive gift ideas out there that will mean the world for your pontoon-loving loved ones.
For bigger gifts that are guaranteed to make jaws drop, you can explore this other fantastic list of dream gift ideas. There's something for every tooner!
All right, let's get into the gifts. 
EDITORS CHOICE: Boat Erasers
| | |
| --- | --- |
|     |   Boat Erasers |

Check Price on Amazon The amazing erasers from Better Boat allow you to easily clean scuffs and marks from your pontoon. This is the best way to get those hard-to-clean marks quickly from your seats, console, bimini tops, deck or even around the house. Stop getting upset when your friend scuffs your boat and get these Boat Erasers to get rid of the marks. You can thank me later and find the Boat Erasers on our site as well.  
1. RTIC 30 oz. Tumbler
Check Price on Amazon - Let them keep their favorite drink chilled all day long. With double-wall vacuum insulation, this tumbler is capable of holding ice up to a full 24 hours. It can also keep drinks such as coffee and tea piping hot during early morning fishing trips.
This 30 oz. tumbler is stainless steel, but it can also be enameled in a variety of colors from black, teal and white to pink and camo. And it fits most boat cup holders with one universal size. 
2. Pontoon Tee Shirt
Check Price on Amazon - Don't give an ugly holiday sweater! Instead, give them this "I'd Rather Be Pontooning" tee shirt. It's only offered in white at the moment, but it comes in a good variety of sizes. Simple, but with a strong message.
3. Pontoon Boat Ornament
Check Price on Amazon This is a great stocking stuffer or small gift for new and seasoned pontoon boat owners alike. You could even gift this to your young children to commemorate their first years on the water, and then hang it on the tree together for years to come.
This Kurt Adler tree ornament will stand the test of time. It's made of resin, which is more durable than glass, so it's not easily breakable. It also measures approximately 3" and will stand out nicely on a tree.
Even better if you're saving to buy a pontoon boat for the family to play with next summer season, this ornament can drop a subtle hint.
4. Captain Ball Cap
Check Price on Amazon - This captain hat is the perfect gift for military leaders and for those who just captain their own boat. Styled in a black acid-washed denim appearance, it's comfortable and made of 100% breathable cotton.
The bill is stiff and pre-curved, with an adjustable buckle closure, making this a unisex cap that fits up to XL size.
5. DeckMate Boat Tool
Check Price on Amazon - Like a Swiss Army knife for boaters, this tool will come in real handy! Multifunctional and all-in-one, it comes complete with two deck keys, a shackle key, a zipper pull, a screwdriver and a hex driver. Plus, it has a lanyard to keep it tied around your wrist so it'll never get lost in the water.
6. Lake Hair Don't Care Cap
Check Price on Amazon - Designed for ladies but fun for everyone, this "Lake Hair Don't Care" cap keeps wind-blown hair from getting totally tangled! Perfect gift for wives, girlfriends and daughters, this cap has a curved bill and adjustable Velcro rear tab for comfort and one-size-fits-all flexibility.
With a mesh back for those really hot days out on the water, it also offers full sun protection. It has vintage, distressed details and is embroidered with an anchor that comes in purple, pink or teal. Also, this item is proudly designed and embroidered in the USA by Katydid.
7. Pontoon Flip Flops
Check Price on Amazon - Slip into something more comfortable with these durable sandals. These flip-flops come in men's, women's and kids' sizes. The tops are made of soft polyester with a printed pontoon graphic.
They also come in a variety of different strap colors, including black, pink, Caribbean blue and orange. You could get a pair for every member of the family!
8. Fishing Rod Holder
Check Price on Amazon - This gift could work for anyone who loves to fish or who wants to share their love of fishing. Whether you're a grandpa looking for a gift for your grandson or a dad looking to bond with your daughter, this is a nice option to consider.
This simple rod holder keeps your hands free while you fish. Unlike a lot of rod holders, it isn't made of plastic which could break if you catch the big one. Plus, there are no tools or clamps needed. The bracket fits the common 1 ¼ square pontoon railing size.
If you're concerned about the metal scratching the rail, some reviews mention putting a softer item (such as cardboard) beneath it as a barrier. Although it's an inexpensive gift, it will serve to create years of memories out on the water. If you're looking for something more specific, or shopping for someone picky, take a look at BetterBoat's more in-depth reviews here.
9. Pontoon Boat Grill
Check Price on Amazon - There's nothing like being able to barbecue while you're out for a long day on the water. If you're looking for a more substantial gift, this portable Cuisinart grill would make a favorite gift for any BBQ master or fisherman. It mounts easily and securely to the railing (without tools) and with pre-installed brackets.
Only weighing 18 pounds with a locking lid and carrying handle, this grill can go anywhere. You can even carry it to a picnic outing at the park or tailgating at a game.
It has a stainless steel burner and drip tray and 145 inches of grill surface cooking area to cook for every family member or guest who's hungry after a full day of boating. If this BBQ grill isn't the perfect match, take a look at the ones featured on BetterBoat's portable grill reviews.
Looking for an accessory to add to your grilling game? Better Boat's rod holder cutting board is just the right item. Use it to filet fish or prepare hot dogs and burgers (preferably not at the same time). It has several trays and knife holders for safe and convenient storage.
10. Chums Floating Keychain
Check Price on Amazon - Chums is a household name... at least for those who enjoy water sports. These foam flotation devices come in a variety of sizes to hold a variety of weights. They even carry sizes to float a waterproof camera.
Shown here is a smaller size that can hold up to two keys, whether they're for a pontoon or a dock lockbox. It's made to slip on over your wrist. Chums has a huge variety of products to explore for more gifts:
Floating, waterproof camera case
Floating marsupial wallet
And for the water-accident-prone fellow who needs all of the above a complete bundle of handy, waterproof flotation bags and containers. But remember, it's always a smart idea to test the flotation device in shallow water first!
11. Dry Bags
Check Price on Amazon - Santa should pack his toys in this dry bag. Made for all-weather protection, this watertight DrySak will keep your gear perfectly dry, even if it rains. Place towels, clothes, air horns and paperwork inside and away from the elements. 
This DrySak comes in 500-denier polyester and has a quick-access and splash-proof outer zip pocket for storing small essentials, like keys and wallets, without digging everywhere to find them.
There's a removable and adjustable strap so you can carry it around over your shoulder. Available in 10-liter and 20-liter sizes, it also comes in six colors so you can be sure to match your boat. Oh, and if it ever falls overboard in the water at night, there's a reflective trim around the pocket zipper to help spot it in the water.
12. Floating Phone Pouch
Check Price on Amazon - Whether you're clumsy or not... accidents happen to the best of us. And dropping an expensive phone into the water, or even getting it splashed, is no laughing matter. This CaliCase uses 2 layers of high PVC plastic for waterproof protection.
The best part is you can actually take photos and video underwater (in a clear double-sided window) as it's Waterproof IPX8 Certified up to 100 feet and it includes a flotation device.
Most importantly, these cases fit most phones and have enough wiggle room to use it without having to take off your everyday case. You can keep your wallet, keys or any other valuables inside as well.  
13. Boat Flag
| | |
| --- | --- |
|       | Boat Flag |
 Check Price on Amazon - Better Boat's boat flag gives a touch of American spirit to a boat or deck. It comes with a pole for rails or a dock. It's 12" X 18" and is double-sided and tear-resistant nylon. Stainless steel screws and reinforced grommets are resistant to UV rays and saltwater.
14. Chamois Dry Towel
Check Price on Amazon -  Made from sponge-like synthetic chamois fabric, Better Boat's dry towel is scratch-free, lint-free and super soft to quickly soak up water. It's a handy 17" X 25" in size and perfect to use for boats, tents, cars and pets. 
We hope you've found a few ideas for gifts! But if you're still searching and haven't already found what you're looking for, go check out our other posts for more inspiration. Check out the entire section of Boat Cleaning Supplies and our Boating Accessories for a larger variety of products.
To all our BetterBoat friends, have a Happy Holiday!