I'll Take 'Pontoon Stuff' for $200, Alex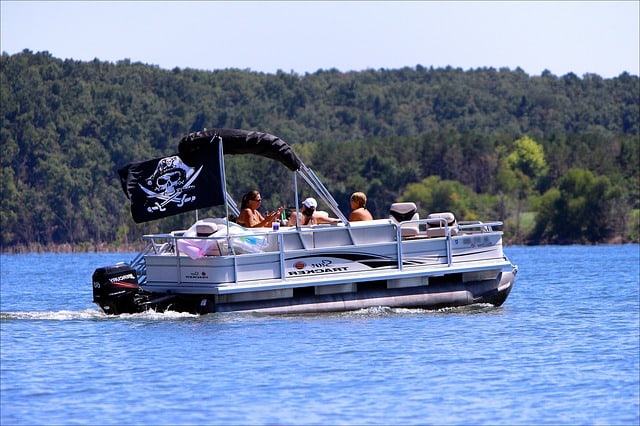 Have you ever wondered how many pontoon accessories are listed on Amazon? It's a good question, however it really depends on how you pull up your search.
"Pontoon accessories" alone brings up more than 10,000 items, with most being under $200. So, the question really is: What are you searching for, and what do you actually need?
And, if you stumble across something really cool for you or your boat,you're probably gonna want that too!
How much pontoon stuff do you need?
The answer is: All this and the kitchen sink! Sometimes I look around and think "Good Lord," we're just going out for the afternoon. Don't you sometimes wonder what the Skipper on Gilligan's Island thought when his guests were boarding his boat for the four-hour cruise? Those day-trippers packed enough to last through three seasons!
Having all the little extras is nice (as long as you're not tripping over everything). Your family or guests will think you went above and beyond for the extra towels, wipes, koozie holders, sunglasses and more.
Search methods to find what you need and save time
When searching on Amazon for items that you may need, save time by using keywords in the search engine at the top. Remember that the more detailed you are, the less items the search will produce.
By using just a few keywords to describe the item, it's more likely it will pull the bulk of that general description. An example would be searching for the exact product you're needing like:
If your search goes like this:"Cypress Cay Seabreeze SL 230 white captain boat seat with stripes, Amazon will pull up 69 results, and not all of them will be seats.
Whereas, if you search "pontoon seats,  you get more than 743 results to choose from. This gives you a larger variety of seats to explore plus the hardware you may need to install them. Definitely a winning Daily Double hit. 
Worth the Review
I find the reviews on Amazon can be very helpful when choosing a product. As an example, a reviewer may say that he likes the product but also adds in not to forget to order the extra part needed to install it. Little hints like that are always helpful. 
Take Inventory
You may already have a mental inventory of what you have or need on your boat, but it doesn't hurt to have a list. This way you know what's in storage and what you need to get or replace for the next trip out on the water.
Fun Pontoon Stuff You Just Gotta Have
Call me crazy, but I love having a small organizer right next to me for all my stuff (keys, phone, drink, glasses, etc...etc...) while I drive the boat. The Kenimoto Boat Organizer  is the perfect little storage bag to keep stuff neat and in place.
It has pockets to hold tools, a water bottle, sunglasses or anything else you might need. Use marine-grade hook and loop fasteners (read: Velcro) to attach to a wall or control panel on the boat. 
Okay, keeping organized isn't everybody's idea of fun must-have items, so consider some fun games to play on your pontoon boat. Between basketball, volleyball and cornhole, you'll discover lots of great ideas on games for all ages to play in the water or on your boat.
Pontoon boating is as American as apple pie, and there's nothing like seeing our American flag flying from the boat rail. Don't have one yet? You can get complete kits through Amazon.
All different sizes and styles are available, but I like the embroidered stars US flag kit. It comes in 12x18 inch or 16x24 inch, and includes the flagpole and stern lights.
Pontoon Stuff for Safety
Who doesn't need a 148-piece medical kit? Without a first aid kit, you could be in serious jeopardy (pun intended). If you don't have one for your boat, the All-Purpose Waterproof First Aid Medical Kit is the perfect size and has everything you need.
Along with being waterproof, it's compact and includes a wide array of necessities such as bandages, tweezers, a whistle and scissors. Maybe you need one for your RV or home? Like the old scout saying goes, "It's always best to be prepared."
While we're on the subject of safety, what about foot protection on the boat? Slippery surfaces on deck and beach areas (which may also be rocky, mucky or just hazardous for bare feet) are good reasons to check out the assortment of water shoes that Amazon has for the whole family.
From slip-on styles and neoprene to lace-up versions, I'm sure you can find what suits you and your family's needs for foot protection and comfort.
Check Price on Amazon - Better Boat's air horn can emit a blast that can be heard up to 1/2 mile away. It's small and compact enough to stow in a boat console, jet ski or kayak. 
Pontoon Stuff for Repairs
Time to repair your captain chair(s)? You can actually buy one cheaper than trying to recover your current one (funny how that happens). 
The Leader Accessories Pontoon Captain Bucket Boat Seat is the real deal. This durable and firm captain's chair is getting great reviews, and it looks amazing too. 
Made of marine-grade water-resistant vinyl, it's ergonomic and available in different colors (all the better to match your boat). Be sure to check the sizing chart to make sure it's the right fit for your boat. 
Be sure to check your boat ropes for repair or replacement. Whether it's anchoring, docking or towing line, marine rope is essential to all types of boats from pontoons and runabouts to ski boats, trawlers and even fishing kayaks.
Time to add or replace your pontoon boat Bimini top? There's a variety to choose from on Amazon. Best of all, it can be shipped right to your door!
Check out the Vortex Royal Blue Square Tube Frame with 4 Bow Bimini. It's 8 feet long by 91-96 inches wide and comes as a complete kit with a five-year warranty.
It's UV and mildew resistant and offers a whole lot of shade out on the water. At around $295, it's a tad over the $200 category, but shade is one of those things that you just can't put a price on. 
 Check Price on Amazon - Accidents are bound to happen. Better Boat's fabric repair tape fixes rips and tears in awnings, sails, tents, bimini tops and more. It's weatherproof, strong, durable and safe for use on vinyl, leather, canvas and plastic. 
Pontoon Stuff for Upgrades
Having lunch (or any meal for that matter) on the boat is the best. Grilling on the boat? Super huge upgrade from that cold sandwich.
With the Cuisinart Grill Modified for Pontoon Boat with Arnall's Stainless Grill Bracket, you can grill your favorite burger, chicken or even the fish you just caught!
Cuisinart is a name brand you can trust and has the reviews to back it up. Just a little over $200, but well worth it. Upgrade your next pontoon cruise with a lakeside grilled dinner for family and friends.
 Editors Choice
Before you get to grilling, a rod holder cutting board is super handy for filleting all those fish, or just for a stable surface to prepare burgers and hot dogs. Better Boat's cutting board fits right into the rod holders on your boat and has slots for knives and other utensils. 
Pontoon Stuff for Storage
You're halfway through the summer and what condition is your boat cover in? There are a variety of pontoon boat covers available on Amazon to fit your needs, including the MSC Trailerable Pontoon Boat Cover 300D.
Very affordable at $119.98, it comes in different colors and is UV resistant. Protect your investment by keeping your boat covered.  
Pontoon Stuff for Cleaning
Keeping the boat clean and ready to go is important for maintaining your boat while in use or when it's in storage. Check out this article "Sparkle and Shine: The Best Boat Cleaners for a Ship-Shape Vessel for great products to protect your boat.
A few products to keep on your boat care list include:
Novelty Pontoon Stuff
I recently searched Amazon for pontoon novelty items and it pulled up 1000 results! Do we really need a T-shirt that says "What Happens on the Pontoon Stays on the Pontoon? Of course we do!
Personally, I like the one that says "Pontoon Queen - Classy Sassy and a bit Smart Assy."
I also came across some cool lights for the boat. The RoLightic LED boat light kit, Marine Pontoon Lights are waterproof and change colors. Do I need them, no! But they would be super fun to have.
Novelty or Must-Have Pontoon Stuff
It's not a game of whether purchasing your new pontoon stuff saves you time or money, or if it's a novelty or must-have item. It's the pride of boat ownership and the experience and memories you create while boating that makes it all worth it.
Take a cruise through a search on pontoon stuff and check out all the cool new items listed. You never know what you might find that will be exactly what you've been searching for!  
---