Pontoon Windshields: How to Choose a Windshield, Rain Shield or Enclosure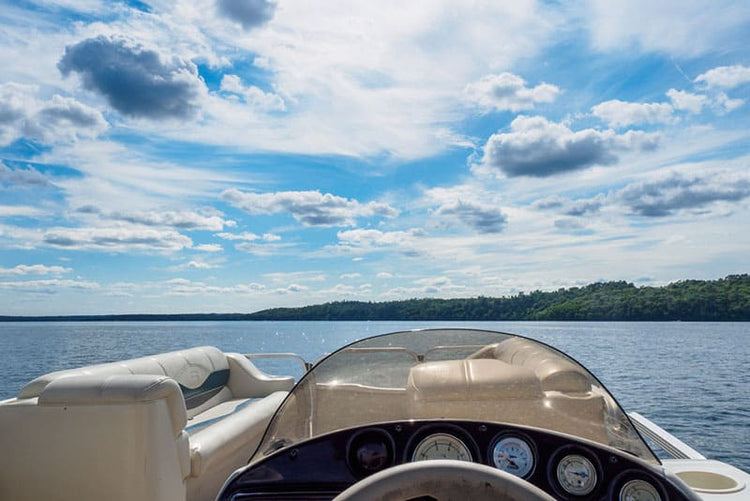 The windshield is a surprisingly important piece of your pontoon boat. Just think how much harder it would be to navigate turbulent waters and ride against heavy winds and rains.
In the old days, you had to head to your local boating shop to replace your windshield and gather all the marine soaps and other materials to clean and protect it.
Nowadays well, you'll probably still want a professional touch for the actual material choice and windshield installation. But DIY types can find everything they need online, and everyone else can grab their smaller additional accessories on the internet too.
Here, we'll walk you through choosing the right pontoon windshield if you're going DIY, how to choose a rain shield (if you're going a little smaller) and how to maintain all of these things for the long term.
The Guide to Pontoon Windshields
1. Go with the Classic Plexiglass Windshield
To start, you'll need to focus on getting the right pontoon windshield for your particular boat. You want to clearly see through your windshield, stay protected from the elements and debris and have something that's built to last.
Marine Mooring is a brand most boaters already trust, so that's what I'll recommend. They've created numerous pontoon accessories, including this plexiglass windshield. The measurements are 3/16" and it's the right fit for most standard pontoon center consoles.
These striking windshields add a custom look to any pontoon, so they allow you to stand out among other avid boaters on the water. You may have a particular preference as to how a windshield should look on your pontoon, so find what works best for you.
If you've got the tools, the skills and the time, you can use any plexiglass sheet of choice (like this heavy-duty option on Amazon) to cut, bend and install your own custom pontoon boat windshield.
With a little know-how, you can even install window wipers (check prices on West Marine) on your pontoon windshield. If the windshield is installed on your center console, make sure you have a center console cover to protect the whole kit and kaboodle, like this Taylor Made option (check price on Amazon).
For a T-Top, you'll need a specially-cut option,
like this one (check price on Amazon)
.
2. Consider a Bimini Top Rain Shield
Rain is an inevitable form of weather we face throughout our entire boating lives. A few unfortunate boating days are bound to turn rainy, wet and even fierce. It's our responsibility to make sure we're taking all of the necessary precautions to maintain proper visibility. One cool option is to hook a rain shield up to your T-Top.
For example, if you've got the Dolphin Pro2 T-Top (check price on Amazon), a very popular option for center consoles, then you can pair it with the fitted weather enclosure (check price on Amazon).
If that's not your particular T-Top, then you can try out this universal rain shield by Oceansouther. There's a huge variety beyond this offered by Marine Mooring.
Their full pontoon enclosures and rain shields will keep you and everyone else on board safe and sound in a rainstorm. The Marine Mooring rain shield is made with 20-gauge, clear, marine plastic and gray polyester framing.
It attaches easily to your existing Bimini or hard top with turnbuckles and snaps. It's difficult to move, even by the most ferocious weather conditions. You can also consult our full guide to pontoon enclosures.
3. Get Your Replacement Windshield Support Bars
Once you've got your plexiglass pontoon boat windshield, it's time to ensure it's well supported. The last thing you want happening, when trying to get back to the marina in a rainstorm, is for your windshield to become unlatched. Nobody wants to go home in a messy soggy pontoon.
Make sure you have replacement windshield support bars on board for those "just in case" moments. They're made of anodized aluminum with nylon fittings, chrome-plated zamak feet and sold in single units. The standard bars are 16 inches in length, but they do come in various sizes.
These are often overlooked, but if there's one thing I've learned by going through repairs, it's this: an ounce of prevention is worth 10 gallons of rainwater flooding your deck.
4. Arm Yourself with Glass Cleaner
Remember, keeping your windshield clean is half the battle when fighting against the elements.
Did you know that being caked with an excessive amount of dirt and grime can make your windshield susceptible to cracks and breaks? It's not just about avoiding having a dirty windshield the captain can't see through, it's about having a cracked pontoon boat windshield that needs to be repaired or replaced. 
Yup, you can fix a cracked windshield with a little elbow grease.
But it's better to avoid having to be this creative. First things first, get yourself a windshield cover. Whenever the windshield is not in use, cover it right up. This TruXedo windshield cover (see on Cabela's) is a cool functional option for larger boat windshields.
While you're towing your boat, be sure to keep your windshield protected from rocks that kick up from the road and from underneath your car's tires. The Kikn' Rox Rock Shield is a handy invention to do just that. It's relatively inexpensive and comes in a few different formats such as aerosol, wipes and spray. Each has its own unique purpose.
The aerosol application cleans all glass surfaces, including your windows, and it may be used on plastic, which means you're able to clean your rain shield with this cleaner too.
The package I've linked you to above comes with a little hand cloth, but I'd also recommend a chamois cleaning cloth or a reach cleaner. It makes cleaning that much easier if you've got a large windshield on your pontoon boat or if you happen to be short.
Another handy option is a boat squeegee and sponge.  
Featured Cleaning Product
| | |
| --- | --- |
|       |  Boat Squeegee |
 Check Price on Amazon  - Just like what you use on your car windshields, Better Boat's boat squeegee has a sponge on one side and a squeegee on the other to loosen dirt and then wipe it away. It's also collapsible and easy to store.  
| | |
| --- | --- |
|   |  De-Salt Concentrate |
Check Price on Amazon - You'll also want to consider saltwater on your windshield. You can use a de-salt concentrate to break down and remove salt deposits. It's also great for flushing inboard and outboard engines.
| | |
| --- | --- |
|      |  Waterproof Spray |
Check Price on Amazon - While we're on the subject of maintenance, let's talk about waterproofing. If you have a canvas rain shield, you'll want to use a product like Better Boat's fabric waterproofing spray. It adds a water-repellent barrier. Water beads up and wicks away on canvas, polyester, nylon, leather and more. Use on bimini tops, boat and car covers, rain shields, tents and even shoes.
So, you've got all of the windshield options and accessories you need, my friends. All we're looking to do is boat safely along and keep our pontoons looking clean, sparkly and shiny. And maybe keep the bugs out of our teeth along the way.
Making sure you have a sturdy, clean pontoon boat windshield and the accessories to maintain it is the best first step to achieving all of these things.