Ice, Ice Baby: The Best Boat Coolers for Every Boater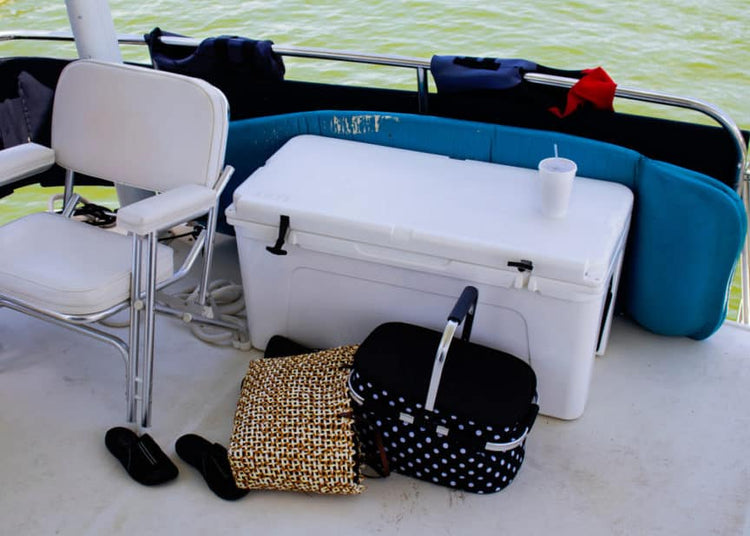 What's the best way to chill out on your boat? That's easy, by owning one of the best boat or marine coolers on the market!
It's a fact: while you're on your boat, the last worry you need is the temperature of your drinks. But all it takes is one sip of a warm beer, a steaming hot swig of lemonade or an iced coffee that tastes more like a hot chocolate to know the chilled life is the only life for you.
Even if you're ice fishing, or on a cold-weather fishing trip, I can say with confidence no one likes a warm beer in the boat drink holder. With endless options, such as coolers specifically tailored to kayaks and even floating coolers, which do you choose?
That's why I wanted to showcase some of the best boat and marine coolers on the market. And even break down what goes into them and what you should be mindful of in your search.
Featured Boating Product
 Check Price on Amazon - Better Boat's cutting rod fits conveniently into a rod holder and adjusts to any angle. It's a terrific surface for cutting fish or serving food and drinks. There are even knife slots for added safety.   
The Key Features of the Best Boat Coolers
It might seem obvious, but it all starts with one thing: keeping everything cool. Keeping cool comes down to several factors. And let's face it, sometimes a higher price tag doesn't mean a better product.
Put simply, the best boat coolers on the market are often defined by a handful of varying key features. Let's run through each of them right now.
Seal & Thickness: Keeping ice cool is a must. While most cooler brands claim they're up for the task, the seals and wall thickness are two big-ticket items to consider. Look at the lid construction and any seals. How thick are the walls? Regardless of the model, these are two main factors for a cooler's efficacy.
Sturdiness: Your cooler needs to stay in one place at all times, especially in rough waters. Wheels are great for portability, but ensure they can lock in place. Also, check if the cooler has non-slip protection and if it's weighted to not spill over at the smallest waves.
Security: On the same lines, a lock is a great method of securing a cooler on board. But you should also look for a tight locking mechanism to keep cold air inside. A lock will also be commensurate with the lid (so it doesn't fly off in the wind).
Capacity & Weight : You don't want your cooler to cause your boat to tip, so weight is key. But you also want to find a balance to ensure you have enough capacity to carry whatever you need, including drinks, lunch, your fishing haul and more.
Drainage: This is one of the last and essential features to consider in a boat cooler. A cooler's drainage capability is important because it allows you to drain your cooler of any water at the end of your trip. Does it have a plug or will you have to muscle a chest of water and maybe even fish to tip it over?
Additional Cooler Considerations
On top of the important key features needed for a high-performance boat cooler, consider these additional elements.
Design & Shape: It helps to explore various designs and shapes. If you want the best boat or marine cooler to match your boat, the way it looks may play a pivotal role in your purchase. 
Seating: Because coolers can often take up a lot of room, I often think of them as an additional seat. That's why, from fishing boats to deck boats, having a cooler serves as a key part of the furniture on deck. Even if I don't want to necessarily sit on it, it's important to be mindful of the space it takes up. Coolers, depending on their size, can constitute an entire passenger on your boat.
Intention of Use: Consider how you intend to use your cooler. Will it be used to house drinks, bait or ice for your catch of the day? If it's to be filled halfway through your trip, it may need extra room to fit your catch as well. I'm particularly fond of coolers with built-in cup holders. 
| | |
| --- | --- |
|     |  Anchor Buoy |
Check Price on Amazon - Better Boat's anchor buoy makes it easy to find your anchor when you're ready to pack up and head back to the dock. It's made of marine-grade durable vinyl in a bright orange color. It comes with a buoy, a ring and clip, a rope and an inflation pump. 
The Best Boat Coolers for Every Boater
To help you find the best boat or marine cooler for your needs, I broke them down into two types:
Heavy-duty coolers for larger boats/parties
Coolers suited for smaller vessels like fishing boats
This way, you can compare each model to discover the best boat cooler for you.
Best Heavy-Duty Boat Coolers
I really appreciate the overall sturdiness of this model. Not only is the lid capable of holding a great amount of weight, but the overall shape and construction is portable, strong and can hold up to 84 cans.
This is a great option, in my opinion, for a mid-sized boat.
Weight: 14.8 lbs
Size: 23' x 18' x 18'
Ice Retention: 5 days
Special Features: Closed lid supports 250 lbs
Looking for more of a party cooler? This option is great for those looking for more of a budget choice.
It's fairly large and comes equipped with handles for easy transportation. It also comes with a fish-measuring lid. This is a great option for larger fishing boats, especially for those who don't want to break the bank on their next purchase.
Like many hard-sided coolers, this can be wiped down with boat cleaner wipes or a spritz of vinyl cleaner if it ever picks up that inevitable stain, splash or spill. 
Weight: 7 lbs
Size: 24' x 13.6' x 13'
Ice Retention: 5 days
Special Features: Fish measuring lid
While a bit on the unorthodox side, I love this model for its ability to immediately become the life of the party on any boat.
I think this is a great option, not necessarily for day-to-day use, but for hosting a party on a deck boat or pontoon boat. It's big enough to fit plenty of drinks, even a pony keg, and the insulation keeps things cool even if the top is uncovered.
Weight: 17 lbs
Size: 22' x 22' x 18'
Ice Retention: 12 - 24 hours
Special Features: Lid sold separately
This is an option for those who take the temperature of their drinks seriously. Featuring a rugged design, as well as seven-day ice retention, this cooler is huge.
It also features bottle openers on each side as well as tie-down points to ensure it's secured. This is a great option for those who really want to go all out.
Weight: 47.6 lbs
Size: 36.9" x 21.2" x 18.4"
Ice Retention: 7+ Days
Special Features: Bottle openers
I appreciate this model because of the brand-name appeal as well as the construction that makes it close to indestructible. Its durability makes it not only a great long-term investment, but it speaks to the seal and the ability to retain insulation.
On top of that, it comes with these never-flat wheels, perfect for loading on and off your boat, as well as two inches of insulation to expertly keep its cool.
Weight: 43 lbs
Size: 28.2' x 18.6' x 19.5'
Ice Retention: 8 days
Special Features: Rotomolded construction
Best Boat Coolers for Smaller Vessels
YETI remains a trusted brand name in the industry, and I'm a big fan of this model. Most soft-sided coolers you find lack a lot of great insulation, but I was surprised to learn this one is 100% leakproof.
It even has a waterproof outside that's resistant to mildew, damage and anything else. It's sturdy, yet economical, which makes it the perfect fishing buddy.
Weight: 5 lbs
Size: 15.8" x 10.2" x 12.6"
Ice Retention: NA
Special Features: Capacity of 16 cans (plus ice)
Here's a basic option for those who want a boat cooler they can trust. This cooler has a lot in the way of capacity, is super portable (with a shoulder strap included), is made of lightweight fabric and is collapsible for easy storage.
It's easy to carry around and, while it may not be 100% reliable in terms of leaks or ice retention, it's still a strong option without breaking the bank.
If you're worried about soft-sided coolers getting wet and coming down with a case of mold and mildew, use a quick spray of Fabric Waterproofing Protector Spray.
Weight: 1.6 lbs
Size: 12" x 8.5" x 8.5"
Ice Retention: NA
Special Features: Bottle opener
This is a great middle-of-the-road option that's also somewhere between a hard-sided and a soft-sided cooler.
Manufactured by Coleman, this cooler features 36-hour ice retention as well as capacity for 42 cans. It has a reinforced bottom to add durability (which you don't always see in coolers). I appreciate this option for a boat that has a little bit more size.
For the occasional spill or stain, boat cleaning wipes are a quick and easy way to keep your soft-sided coolers looking sleek and sporty. 
Weight: 3.4 lbs
Size: 18.5' x 10.6' x 14.2'
Ice Retention: 36 hours
Special Features: Shoulder strap
This is a serious option for those who want to go all out. If you're interested in a soft-sided cooler at a hard-case price, this cooler by Pelican is a great option for those who love functionality but are lacking in space.
A great option for smaller fishing boats, kayaks and canoes, this cooler has incredible durability and is 100% leakproof. On top of that, it has an anti-slip base to ensure it doesn't go anywhere while sitting on deck.
Weight: 7 lbs
Size: 17' x 10' x 13.5'
Ice Retention: 2 days
Special Features: Anti-slip base
Stay Cool On Deck Today
As you can see, coolers can fit just about any price range and any style of boat. They can also cater to your specific needs. So while it may seem daunting to choose, when you finally find the best marine boat cooler for you, it can be quite rewarding.
Whether you set sail on a party barge or simply kick back and cast an anchor line, the ideal cooler can offer many benefits on your journey.