The Best Boat Hatch Covers for Storage, Light and Ventilation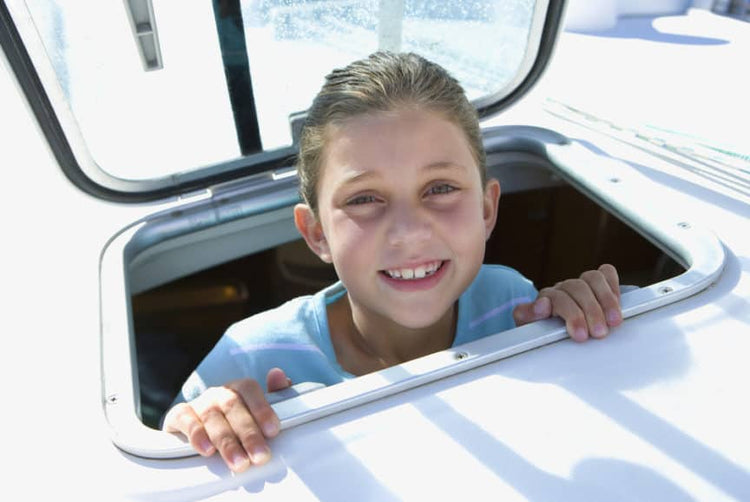 Are your boat hatch covers faded, peeling or leaking? Are they constantly falling open?
Have you constructed an elaborate bungee cord system to keep it closed?
Whether you have a sailboat, a liveaboard trawler or even a fishing kayak, boat hatches offer convenience and comfort factors for everybody on board. If your boat hatch covers have seen better days, it might be time to do some replacing.
Fortunately, replacing boat hatch covers is not a terribly expensive procedure, compared to the many other things that can happen when you own a boat.
Read on for some hints and tips on choosing the best boat hatch cover for your boat.
What Is a Boat Hatch Cover?
A hatch is a place on a boat for storage, light or ventilation. Most people think of the window at the front of the boat, right above the V-berth, as a hatch. I like to call it the star-gazing window (but it's technically a hatch). 
Built-in storage containers like live wells are also called hatches. Electric/fuel line access openings are also known as hatches. The cover is, quite simply, the lid that you open and close.
A whole hatch system consists of trim, O-rings, support poles (like cam latches) and an optional screen (for window use).
Uses for Boat Hatch Covers
Access for storage
Live well coverage
Protect electric and fuel lines from water and weather
Windows/Ventilation (you can even install roller or pleated shades to block light)
Featured Boat Care Product
Check Price on Amazon - Better Boat's de-salt concentrate breaks down and flushes away salt deposits from inboard, outboard and jet engines. Use on dive gear, fishing rods, decks, patios and more. It's 100% biodegradable and won't harm the marine environment.  
Features of Boat Hatch Covers
Corrosion Resistant
You'll want to be sure to choose corrosion-resistant or non-corrosive materials that can withstand saltwater and marine conditions.
Vertical or Horizontal Use
Depending on where the hatch is, it can be positioned either vertically or horizontally. Boat hatch covers come in either style.
Trim
Well-sealed trim prevents leaking, either from outside elements getting in, or inside contents spilling out (such as with live wells). Do you really want a bunch of bait water leaking out all over your boat deck? No, the answer is no, you do not.
Shape
Boat hatch covers come in a variety of shapes: square, round or rectangular. A long rectangular one is good if you're planning to store water skis, fishing rods and floating water mats. Small square ones are perfect for storing electronics. Larger square ones are good for anchors and anchor rope.
Material and Construction
Boat hatch covers are typically made out of aluminum or polycarbonate. Aluminum is a bit heavier than polycarbonate, but both are durable, corrosion-resistant and hold up well in marine conditions.
Low-Profile
If the hatch is on the floor or interior sides of the boat, where people will be walking, you'll want to make sure it doesn't stick out too much.
Additionally, window hatches on the deck (like for a V-berth) shouldn't be so tall that people trip over them.
Types of Window/Portlight Boat Hatch Covers
For windows, there are several types of boat hatches.
Flush:  The flush-style boat hatch cover sits flush against the surface of the boat, whether it's on the deck or the sides.
Low-Profile:  A low-profile design is lightly more elevated but still close-fitting.
Medium Profile:  The medium profile has more of an edge and a taller pronounced look.
High Profile:  A high-profile hatch is definitely noticeable. It's a good choice for a side window. It wouldn't be a good idea for floor installation.
Pilot Hatch:  The pilot hatch type is usually found in cockpits. It slides back and forth rather than staying open with a cam arm.
The Best Boat Hatch Covers
SEAFLO Circular Non-Slip Inspection Hatch
Check price on Amazon
This inspection and access hatch cover has a heavy-duty and detachable cover with a non-slip surface. It's resistant to UV rays and is easy to open with just a twist. It's also available in smaller sizes.
Type: Flush
Shape: Circle
Dimensions: 9.8 x 8
Tempress Cam Hatch Without Lock
Check price on Amazon
Designed for heavy traffic areas, the Tempress Cam Hatch is tough and water-resistant. It's made of strong and durable polypropylene with a gasket for a water-tight seal.
There's a positive locking system that won't pop open. What's really great is that it's strong enough for people to stand on it, which makes it acceptable for deck floor use.
The lid has squeeze-twist handles and is removable.
Type: Low-profile
Shape: Rectangular
Dimensions: 10 ¾ x 15 1/8
SEAFLO Marine Boat Deck Access Hatch and Lid
Check price on Amazon
The SEAFLO Marine Boat Deck Access Hatch is designed for internal or external installation on a flat surface. It's made of heavy-duty UV construction with a reinforced lid and non-skid surface.
The lid hinges to 180 degrees for extra wide access.
Type: Low-profile
Shape: Rectangular
Dimensions: 23.9 X 13.9
Taylor Made Products Ultra III Boat Hatch with Trim Ring
Check price on Amazon
This window/ventilation hatch has tempered safety glass that's scratch resistant and super clear for all of the star-gazing.
It has security locking handles and positive lock riser arms to easily raise and lower. The trim ring is included, and it has pre-drilled mounting holes.
Type: Low-profile
Shape: Square
Dimensions: 12 3/8 x 12 3/8
YaeMarine Rectangle Portlight Window
Check price on Amazon
I really like the stylish design of this portlight. It has non-corrosive parts and a durable rubber seal as well as ABS anti-aging and anti-ultraviolet construction. It'll stay looking good for years.
The click-in construction makes for an easy installation process.
Type: Medium profile
Shape: Rectangular
Dimensions: 15 ¾ x 7 7/8
Lewmar Size 40 Ocean Series Hatch Flange Base
Check price on Amazon
The Lewmar Ocean Series has a corrosion-resistant anodized aluminum frame. The lower frame is a bit higher, which helps to keep water out even when the cover is open.
It has a handy knob for opening and lockable internal and external handles. Friction levers keep the lid open up to 95 degrees.
I really like the acrylic lens with its pretty blue tint.
Type: High profile
Shape: Square
Dimensions: 20 1/16 x 20 1/16 x 1 1/16
Accessories for Boat Hatch Covers
Waterline Design Bug Screen for Hatches
Check price on Amazon
Don't invite mosquitoes and their buggy buddies to your boat bash. This net is fast and easy to cover up an open hatch.
A lead weight band keeps it in place. This allows you to enjoy cool breezes without the biting insects.
Tempress Hatch Liner
Check price on Amazon
Now that you've gotten your boat hatch covers all, well ... covered, how about the hatch liners? This liner simply drops into the opening and snaps to the flange. 
It's a great place to store extra towels, phones, air horns, cameras and electronics. It could also be used as a livewell.
Lewmar Eclipse Roller Shade
I like a good sunrise as much as the next person, but sometimes it's just a little too early for that much light.
This low-profile roller shade is the perfect option for when you want to block out light for sleeping or just plain privacy. It's made of 100% blackout material. It's also easy to clean and water repellent.
The fly screen mesh is durable and provides airflow without letting in the insects. Simply slide the shade closed when you're ready to block out the light.  
Hopefully this has helped you with your boat hatch cover concerns. It doesn't take long to replace them, and the difference can really update the appearance of your boat. Happy boating!
---