Going Up? The 6 Best Bosun's Chairs & Climbing Harnesses Tweet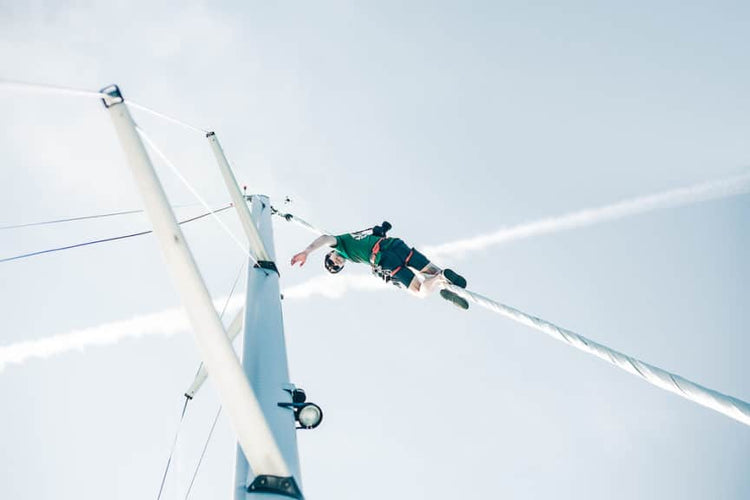 Whether fixing sails or doing repairs on the mast, scaling such heights is not for the faint-hearted.
While it may be an adrenaline rush for some, others (like myself) are terrified of height. For those who willingly volunteer for this task, how do you do it? With one of the best bosun's chairs or harnesses available, that's how.
Sometimes known as a boatswain's chair, the bosun's chair is a practical way to climb a mast in the safest possible manner. However, there are differences between harnesses and bosun's chairs, so I wanted to share everything that makes them unique so you can make an informed decision about which one suits you best.
Think Safety
Okay, so it's time to go aloft. But first, there are some things you need to consider. Always think about the safety aspects, even if they make the task slower.
Efficiency doesn't always equal fastest. You have to plan this carefully, especially given the heights involved, so think slow and steady to win the race.
Wear Proper Clothing
The importance of wearing the right clothing cannot be stressed enough and is the smartest choice you'll make.
With the potential for the skin to become nipped or chafed, choose long sleeve shirts and try not to wear shorts. I get that often you will be out on the hottest days to take full advantage of the warmer weather.
Think of it like this: professional workers wear protective overalls no matter what the weather. And they do it because it protects them from harm.
Choose Protective Footwear
How many times do you see sailors on the deck of their boats in summer footwear?
And while the sunshine lifestyle fits the image of shorts, shades and sandals, you should avoid climbing a mast with improper shoes that could endanger your life.
Think: sneakers, running shoes or even a good pair of deck shoes. Basically, you should be wearing anything that has a good grip on the sole.
Be Secure in Your Seat
Secure yourself in good and tight. Even if you think it's so tight you might lose circulation in your legs. The last thing you want is to fall out while you're up the mast.
Also, make sure you have an additional safety line other than the halyard.
Make it a Two-person Job
I get that sometimes, like me, you're happy to set off on a solo trip. If that's the case, ignore this bit of advice.
If there are crew on board, get them involved. One person could hold the safety rope or help hoist you. The point is, if anything were to go wrong, they would be a helping hand.
Secure Your Tools
When you fail to secure tools, you not only pose a safety risk to anyone below on the boat's deck, you also run the risk of not completing the job because you lost a vital piece of equipment.
Another thing to think about: falling tools are likely to end up at the bottom of the ocean.
Keep the Area Below Clear
To be double-safe, make sure anyone holding the line does not stand directly beneath your chair or harness. As mentioned, falling tools are deadly from a great height.
Bosun's Chair Vs. Climbing Harness
On the surface, you might be thinking there's little difference between the two, but look a little closer and you'll see their variances.
Bosun's Chairs
Bosun is short for Boatswain. History of the term stretches back to the earliest days of the Navy. The Bosun was the ship's officer in charge of equipment and crew. This officer was responsible for overseeing repairs to the rigging, masts and sails. Hence the term "Bosun's Chair."
Modern bosun's chairs are nothing like the old ones, where often the chair was a plank of wood attached to a halyard. There were no safety features or buckles and padding. Comfort and safety are seemingly modern concepts far removed from our ancestor's thoughts.
Advantages of a Bosun's Chair
In essence, bosun's chairs are designed for use on a boat for all those repairs that require you going aloft. Built for the purpose, they offer stability at height with comfortable seats and additional padding.
They're designed with safety in mind, and they come equipped with tool pouches and pockets so that once you're up there, you can get on with the job. You could even use no-slip grip tape to make sure you have an extra secure grip on the matter. It sticks to metal, vinyl, wood, concrete, and fiberglass.
Climbing Harnesses
Harnesses, on the other hand, are designed for many uses. From rock climbing to commercial window cleaning and building repairs, it makes them useful in many different situations.
It can be especially useful on a monohull sailboat or catamaran with a tall mast. They're light, easy to store, offer better maneuverability and are generally cheaper than their bosun chair counterparts.
Ultimately, it's a multi-use tool to keep you safe. The bonus is that once at the desired height, your harness allows unrestricted movement to adjust positions or explore other areas of the sails or mast. Plus, with harnesses, you often get a higher load capacity. 
Advantages of a Climbing Harness
Harnesses are light, nimble and easy to work with. They give you greater maneuverability in tight spots while never compromising safety.
Developed over many years, they're tried and tested in the world of rock climbing. So, if they're good enough for those guys, who am I to argue.
Harnesses may lack the tradition of the bosun's chair, but some of today's boaters prefer the harness when climbing masts.
The Features of a Bosun's Chair
Wooden Seat:  Having an actual seat to park your rear-end on is the main difference between a harness and a bosun's chair. And what a difference it makes too! You feel more secure as you sit, rather than being suspended in a harness. It also means you can work at heights longer because it's more comfortable.
Extra Padding:  Bosun's chairs are designed with comfort in mind. They're practical, but you get lots of extra padding and supports that you just don't get from a climbing harness.
Waistbelt:  This provides comfort and security and should keep you in your seat. Waistbelts are adjustable, to accommodate people of all shapes and sizes.
Thigh Straps:  Rather than employing leg loops, the bosun's chair typically has a strap that secures thighs in place. It's designed so you don't slide out from the chair.
The Features of a Climbing Harness
Waistbelt: This should provide comfort and security. It should be adjustable and fit tight around your waist.
Leg Loops: These are usually adjustable for different sizes and padded to give the most comfortable experience.
Gear Loops: This is where you attach tools and equipment. They're typically constructed from durable plastic or webbing, and shouldn't be used for attaching safety lines. As I've already mentioned, it's vital that when you are aloft, your tools remain secured.
Belay Loop: This is the strongest point on the harness and the only part of the equipment that has been load-tested. It's where you would connect safety lines or halyards.
Tie-in Points: These are two loops that attach to your belay loop. Used to secure the rope, they're strong. Many can handle loads up to 3,100 lbs.
The 6 Best Bosun's Chairs & Climbing Harnesses
The 6 Best Bosun's Chairs
This Harkens bosun's chair has one and a half-inch padding on the wooden seat to ensure that you have the most comfortable experience.
It has extra-wide pockets for your tools and equipment as well as an adjustable safety belt. It also has a high backrest for prolonged use and an additional D-ring attachment on each side of the chair for more substantial tools.
It isn't the most affordable bosun's chair on the market, but when it comes to your safety, it's the best at its job.
Material: Polyester Canvas
Load Capacity: 220 lbs
This Black Diamond chair lies on the more affordable end of the spectrum. While it doesn't have thigh straps or an adjustable safety belt, it's geared more towards universal usage.
Still, it does do the job, especially if you're a confident sailor and comfortable with climbing masts. However, Black Diamond states that it's not a safety device (hence the lack of load capacity). Therefore, it should absolutely be used in conjunction with a safety climbing harness.
It's a basic bosun's chair, but many out there swear by it.
Material: Not Stated
Load Capacity: Not Stated
For me, this Lalizas chair is the pick of the bunch. It's affordable, without being cheap, and has all the tool storage you could want. It even has an attachable Velcro tool bag and reflective tape to aid your visibility.
This model doesn't come with a rigid chair, but Lalizas states it can be retrofitted for added comfort.
The backrest and adjustable waistbelt hug the contours of your torso to give added security and safety. When you're done, it folds away into a storage bag.
Material: Reinforced Nylon and PVC
Load Capacity: 300 lbs
This Crewsaver bosun's chair has an adjustable waist and thigh straps to aid security. Like the Lalizas, it comes with an additional tool bag for extra storage.
The wooden seat is removable, allowing the chair to be used with or without. As for the cost, this one is very affordable. It's priced at considerably less than the Harkens chair.
Material: PVC Coated Nylon
Load Capacity: 220 lbs
Like the Black Diamond chair, this Gemtor product lacks a load capacity because the company states it should be used in conjunction with a safety harness. That said, this is more like the traditional bosun's chairs of old with a straightforward design.
It has a one and three-quarter-inch body belt to strap you in place, but what it lacks is any type of thigh straps. Again, if you are an experienced sailor, this bosun's chair will not present any problems.
Something to consider is where you plan to store it, as it's by far the bulkiest chair on the list.
Material: Polyester Webbing and Laminated Wood
Load Capacity: Not Stated
This bosun's chair combines all the advantages of a traditional chair with the safety features of a full-body harness.
This product is intended for use in the oil and gas industry where heavy-duty wear and tear are typical. So it will be the perfect model for you to get aloft on your boat.
It has a seat sling with a rigid board, tongue buckle leg straps, built-in lanyard keepers and a unique no-tangle design.
The only downside is the eye-watering price. At almost two and a half times the cost of the next dearest chair, this is the chair for hardened ocean sailors.
Material: Webbing and zinc-plated steel
Load Capacity: 420 lbs
 Featured Boat Care Product
| | |
| --- | --- |
|    |  Teak Cleaner restores gray and weathered teak with no sanding required.  |
 Check Price on Amazon - Better Boat's teak cleaner restores, cleans and removes stains on patios, decks, trim and indoor and outdoor furniture. It won't harm surrounding areas such as fiberglass or gelcoat.  
The 6 Best Climbing Harnesses
This Kissloves full-body harness has a single movement adjustable waist belt as well as multiple anchor points.
It has leg, shoulder and back padding for comfort. Plus, it even comes with equipment rings to attach tools.
The fabric is a breathable and quick-dry mesh. The design evenly distributes your weight for optimal maneuverability and safety.
The price is pretty awesome too, retailing at less than comparable models.
Material: Nylon webbing
Load Capacity: 330 lbs
PETZL Corax Harness
This is a lightweight harness that comes with large tool loops to attach the equipment you need when up the mast.
As with most harnesses, it's actually designed for rock climbing or commercial uses. But all that technology and innovation makes them ideal candidates for mast climbing.
This harness has adjustable leg loops and double-back buckles to quickly adjust and center the harness. It's suitable for both extreme heat and cold weather. Price-wise, this harness is a steal.
Material: Polyester webbing
Load Capacity: NA
This Sushiyi harness is excellent value for money, retailing at less than you'd expect. It has a massive load capacity and comes with three adjustable buckles to set the right tension for the legs and waist belt.
The back supports are extra-thick, meaning that you can hang in position for longer. For even more added comfort, the leg and waistbands are padded.
Tool rings are available, and because it's a half-body harness, your upper torso is free to maneuver without restriction.
Material: Polyester
Load Capacity: 661 lbs
This Warthog harness is also a great value for the money. It has pass-through leg loops and dispenses with a waist belt, opting for a chest band instead.
The anchor point is on the rear, and the design is lightweight and comfortable to wear. It means that while you're climbing, there are no restrictions on your movement. Overall, this full-body harness is a standout candidate for mast repairs.
Material: Polyester Webbing
Load Capacity: 310 lbs
Luhker Climbing Harness
Like the PETZL harness, this Luhker has double-back buckles on the waist and leg loops for one-movement adjustability. It's lightweight and by far the most affordable harness on the list. It's an excellent option for those with a budget.
There is a one-size-fits-all tool ring, and the waist and leg loops have been lined with breathable mesh for working in hot conditions.
Material: Webbing
Load Capacity: 507 lbs
HandAcc Climbing Harness
Okay, so the first thing you'll notice about this harness is the weight capacity. If you're on the larger side, like me, it's comforting to know this harness will lift a rhino.
Whatever configuration you want, this harness has it. As a full-body harness, it comes with a back, two sides and a front connecting ring. With a detachable harness, it can create three separate configurations from one: a waist harness, a chest harness and a full-body option.
Material: Polyester
Load Capacity: 4,850 lbs
Mast Climbing Accessories
To climb, you'll not only need the best bosun's chair or harness. You'll also need a mast climbing system complete with ascenders and rope.
This hand ascender is designed for use primarily in the rock climbing world, but it has multiple applications like rigging, mast climbing and commercial purposes.
It works by gripping the rope via sharp teeth that release as you climb but lock in place when you want to stop. It has a maximum load capacity of 688 lbs and is constructed from aluminum alloy.
The rubber grip helps to keep you in control, and the thumb release lets you operate the ascender efficiently.
When going aloft, it's always a sensible option to wear protective headgear. This PETZL ventilated helmet is perfect for that job.
It's durable with shock-absorbing safety features, as well as a safety chin strap to secure in place. It's lightweight and comfortable to wear.
When you consider the D-ring stops you from plummeting to the boat's deck, it puts everything into perspective.
This set of carabiners has a load capacity of 6,744 lbs and is constructed from high-strength aluminum-magnesium alloy. This set also comes with a figure-eight descender with a load capacity of over 7,000 lbs.
Final Thoughts
Climbing a mast is not for the faint-hearted, especially if it's your first time. So, wouldn't you want to mitigate any risks to injury or worse?
Think safety and think about whether a safety harness or a bosun's chair is the right choice for you. I prefer the freedom and maneuverability of a harness, but that's down to personal experience. Some might like to know they have a rigid seat to park on as it gives them the feeling of greater stability.
Whichever system you choose, make sure to take care while on the mast. Always wear sensible clothing and protective gloves.
Above all, remember: slow and steady wins the race.
---