The Best Dog Life Jackets to Preserve Your Pooch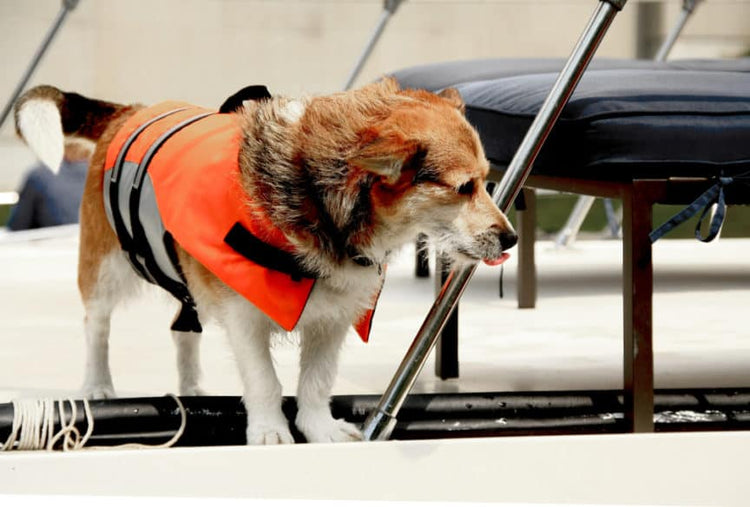 Having a dog as a companion on your boat is very rewarding. I go everywhere with my King Charles Cavalier, Eric.
He's at home on the boat and knows the environment, however, when it comes to water, he does like to fall in. In fact, Eric has fallen in the water no less than four times in the last year alone.
So, what dog water safety precautions can I take to make sure he's safe from drowning? We spend a lot of time worrying about the human crew on board, but just as much thought should be given to the four-legged crew members.
Let me introduce you to some of the best dog life jackets.
Not All Dogs Can Swim
Many people believe all dogs can naturally swim. But while mostly true, in my experience with my own dog, it's not. In fact, he can't swim at all.
The last time he fell in, I only realized when I saw his face poking out of the water. Almost completely submerged, he showed no signs of any swimming ability.
It was ironic on that occasion he didn't have a life jacket. We were anchored by the bank, simply able to step off the boat. With no more than a six-inch gap to negotiate, I wrongly assumed he would be safe.
There are other factors at play that could hamper your pooch's chances of swimming to safety. Water temperature, for example. Extreme cold affects animals in the same way as humans. Movements become labored and they lose energy rapidly.
If the temperature drops below 45 degrees Fahrenheit, there's a good chance your dog will feel some adverse effects and hypothermia. This is not such an issue in warmer seas and lakes, but in northern waters where temperatures are lower, you must be aware.
Plus, if the water conditions are rough, be aware your dog is at a higher risk of drowning. And if your pet falls in, how do you spot them in the water?
It can be challenging to spot something on the constantly moving surface, especially if your dog has brown or dark-colored fur.
Dog Life Jackets Save Lives
As boaters, we understand the risks of boating and how to mitigate those dangers. And we do this by employing safety devices to aid us in times of peril.
So why not employ the same dog water safety considerations for your dog with a doggie life vest? After all, aren't they important family members too? Treat them as equals and keep them safe.
The cost of a pooch preserver is relatively modest, with most costing between $30 - $80. So you have no excuse to not invest in one for your dog.
Measuring Your Dog for a Life Jacket
Sizing a life jacket for your specific dog is crucial, especially to be effective at saving a life.
You don't want the jacket to slip off your pet. Also, you don't want your furry friend to wriggle free, which has been known to happen, especially if the life jacket is too loose.
Similarly, if the life jacket is too small, your dog is at risk every time you set sail.
Here are areas to measure on your dog to find a proper fit:
Length: Measure from the base of your dog's collar to the base of their tail.
Girth: Measure the widest part of your dog's chest, just behind the front legs.
Neck: Measure around the neck, where the collar sits.
Most dog life jackets come in standard sizes of small, medium and large. But if you have a paunchy pooch, like mine, make allowances for the girth and neck width.
Key Features of a Dog Life Jacket
Bright Color: As we mentioned earlier, spotting a dog in the ocean may not be as easy as it sounds. For this reason, dog life jackets are typically brightly colored to make them stand out. Orange, red, yellow and even pink are commonly used colors.
Grip Handle: When your dog falls into the water, you need some way of gaining a grip to lift them from the water. Many dog life jackets have a large, heavy-duty handle located on the top of the preserver for that very reason.
Reflective Strips: Reflective strips help you spot your pet in the water in the dark or in overcast weather conditions. This is a lifesaver when nighttime sailing.
Neck Floats: The whole point of a life jacket is to keep your dog on the surface of the water, but if it tires, it's easy for the dog's head to slip under. Neck floats prevent that from happening.
Belly Straps: Belly straps keep your dog secure in the life jacket, even when they try and wriggle free.
Anchor Point: Having a high-strength D-ring on the life jacket is a crucial water safety feature. It gives you a means of securing your pet and stopping your dog from falling in the water.
The 6 Best Dog Life Jackets
This EzyDog life vest comes in five sizes, ranging from extra-small to extra-large and comes in green, red and yellow for better visibility.
It also has high visibility reflective piping, a grab handle and is constructed from durable polyester. The EzyDog claims this device gives your dog 50 percent greater floatation compared to most of the competition, and it has been ergonomically designed to be comfortable.
Material: Polyester
Colors: Red/Yellow/Green
Sizes: 5 Sizes (XS-XL)
This model only comes in two color choices, orange and pink, but it has a grab handle and neoprene belly straps that are adjustable and super-comfortable as well as a neck float to keep your dog's head above the water surface.
What makes this life jacket stand out is the price. It retails at a fraction of the cost of the competition, so it's a great budget option.
And because it's cheap, it doesn't mean you get less for your money. It even comes with reflective piping for increased visibility at night.
Material: Nylon
Colors: Orange/Pink
Sizes: 5 Sizes (XS-XL)
Like all the others listed, this life jacket has a grab handle, a D-ring, reflective strips and neck floats. But in addition, it also has a breathable mesh belly guard to allow for water to drain faster and your dog to dry quicker.
The material is also quick-drying and is fade resistant. The straps are fully adjustable and it even has quick-release buckles.
The price is competitive, and it comes in so many color variations that you'll be stuck for choice.
Material: Neoprene
Colors: Blue-Yellow/Grey Camo/Neon Yello/Pink/Pink Polka Dot/Racing Flames/Red/Nautical Dog
Sizes: 6 Sizes (XXS-XL)
This Vivaglory is comfortable to wear and less bulky than other dog life jackets, meaning it's buoyant without restricting your dog's movements. As with other models, it has quick-release buckles and is fully adjustable.
Price-wise, this dog life jacket is excellent value for money at a fraction of the cost of others. What makes this model different is its double grip handle, which is better for larger dogs and makes it easier to lift them from the water.
Material: Neoprene
Colors: Blue/Orange/Red/Pink/Yellow
Sizes: 5 Sizes (XS-XL)
Like the Paws Aboard life jacket, this one has a mesh belly guard to allow for better drainage and quick-drying. Also, the nylon is ripstop, so it's extremely durable.
These life jackets are comfortable, and they inject a little bit of fun with shark, mermaid and crocodile designs. The shark life jacket even has a fin!
There are features such as a grab handle, secure D-ring and adjustable straps. The price is competitive, retailing at a lot less than similar life jackets.
Material: Polyester/Nylon/Mesh
Colors: Blue/Blue Polka Dot/Camo/Orange/Pink/Pink Polka Dot/Yellow/Crocodile/Mermaid/Shack
Sizes: 7 Sizes (XXS-XXL)
Unlike other life jackets, this Ruffwear is the same price no matter what the size. However, you're paying a premium compared to the competition.
It comes in four colors, has closed-cell foam pads to keep your dog in a swimming position and has reflective strips for increased visibility. It even has a loop, located behind the grip handle, for attaching a beacon.
The telescopic neck closure ensures a snug but comfortable fit, and it has easy on/off side-release buckles.
Material: Webbing
Colors: Blue/Red/Yellow/Orange
Sizes: 6 Sizes (XXS-XL)
Featured Boat Care Product
Check Price on Amazon - Super soft synthetic strands provide a lint-free finish to your boat deck or any other surface. Used with an extension rod, it's perfect for gettting those hard-to-reach places or soaking up wet spots on the deck. Use on gel coat, vinyl, fiberglass, metal, wood and glass.  
Final Thoughts 
Dog life jackets are a necessary investment if you have a dog on board. That's a fact. I would never forgive myself if something happened to my dog while he was on my boat. And for a small price, a doggie life vest will keep your pooch safe.
Of course, the best way to ensure your dog comes to no harm is to keep them inside, but I understand dogs are curious and want to be at the center of the action, so that might not be possible.
For the sake of your conscience and the safety of your much-loved pet, practice good dog water safety and get a dog life jacket today. It could be the smartest money you spend.
---