Need a Lift? The Best Hydrofoils for Outboard Motors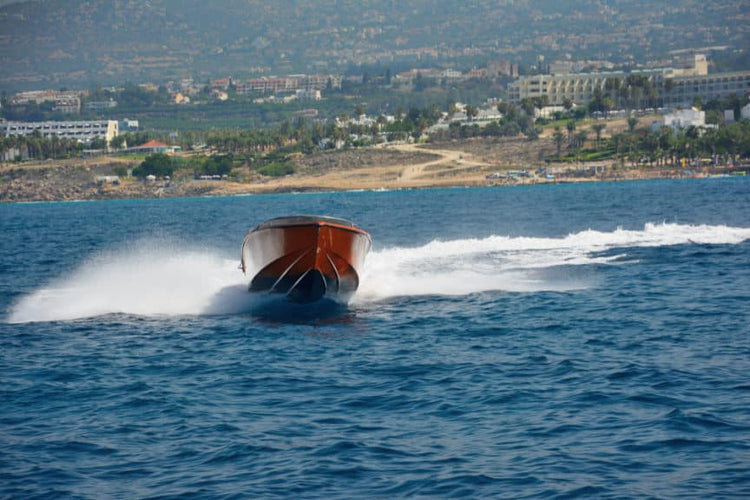 Countless gadgets and tools that improve experience on the water are available to boaters. While some of these gadgets are more for show and others for convenience, a rare few truly make boating performance better. Say hello to the hydrofoil.
Admittedly, it doesn't look like much, but this little device could revolutionize your boating life. That's why I decided that I couldn't ignore the best hydrofoils or "whale tails" for outboard motors and wanted to shout about them from the rooftops.
As I live on a boat, that would be impossible, so the only other way I can spread the message is to write about them instead.
What Is a Hydrofoil?
A hydrofoil is a device that reduces the drag on your vessel by elevating the boat in the water as it gathers speed. The faster you go, the more lift the hydrofoil gives.
The most common shape is a triangular design (a bit like a whale's tail fin). It bolts to the outboard motor (typically just above the propeller).
The best hydrofoils or "whale tails" for outboard motors are typically made out of heavy-duty marine-grade aluminum with stainless steel hardware. A quick spray with marine degreaser and a rub-down with a microfiber sponge set will get rid of any grease, grime and dirt it happens to pick up.
QUICK OVERVIEW: Our Top Picks for Hydrofoils For Outboard Motors
What Are the Benefits of Fitting a Hydrofoil?
Boats can sit heavy in the water. As you accelerate, this creates drag. We know that hulls are designed to cut through the water the same way that cars are designed to reduce drag in the air. But it doesn't completely eliminate that resistance.
Fitting a hydrofoil will lessen this effect by lifting your boat as you increase your speed, which also has more advantages:
Improved Fuel Consumption - With less drag on your boat, there's less strain on the motor and reduced fuel consumption.
Performance Boost - Fitting a hydrofoil to your outboard motor increases the acceleration and boosts the power.
Better Handling - Fitting a hydrofoil is the increased responsiveness of the motor and the handling. Turning the boat will be a breeze too.
Increased Motor Longevity - It doesn't take a genius to work out that if your outboard motor is working less vigorously, it's a lot less likely to break down. You'll save on repairs too!
Boating is an expensive hobby. Ask anyone what "Boat" means, and they'll tell you it stands for "Break Out Another Thousand."
As boaters, we are always looking for ways to save money. This little device is one answer to reducing costs and boosting performance.
How Does a Hydrofoil Work?
Ever heard the term Fluid Dynamics? It's what smarter people than me use to describe the effects a hydrofoil creates. In essence, the speed that water moves over the top of the hydrofoil travels faster than the water passing along the lower part of the foil. This creates a drop in pressure, which then generates lift.
The process is in stark contrast to how a boat without a hydrofoil behaves at speed. As the boat accelerates, the hull increases pressure drag, meaning that more power is needed to maintain momentum, which then burns more fuel.
Known as the "angle of attack," the angle of the hydrofoil is essential. By adjusting the angle, the performance of the foil can be increased or decreased. With even the smallest change, the lift factor rises dramatically, but the drag increase is minimal.
What you should be looking for is to optimize the lift to drag ratio. As you increase the angle, you should be mindful that you are increasing the risk of stalling.
Featured Boat Care Product
| | |
| --- | --- |
|     |  Boat Soap keeps your boat surface clean and shiny. It's 100% biodegradeable for use in marine environments.  |
Check Price on Amazon - Better Boat's Boat Soap cuts through dirt and grime above and below the waterline. Use a hose and nozzle to rinse away suds, leaving the surface residue and slip-free. For a quick clean-up, an extension rod and mop head are excellent options. 
Does the Size of My Boat Matter?
You can fit a hydrofoil to any size vessel. They are commonly used in commercial shipping, by the Navy and by ferry boats.
The benefits are the same regardless of the size of vessel you have. So, if you own a RIB or a dinghy and think a hydrofoil won't benefit you, think again. It can turn your little boat into a dynamic, agile and faster craft.
The smaller the boat, the more significant the impact. You'll notice the difference instantly after you fit a hydrofoil.
The 6 Best Hydrofoils for Outboard Motors
This SE model is suitable for 35 to 300 HP engines and comes with the mounting kit to secure it to your outboard motor. It also has patented Turbo Tracs - a series of crescent-shaped grooves on the rear underside that improve drag.
This is a lightweight, at just 17 inches by 14 inches, and quite compact foil. There are two nice color options of white and metallic gray, but the low cost is something that caught my eye.
Material: Polypropylene
Mounting Kit: Yes
Dimensions: 16" x 19" x 1"
Weight: 3.85 lbs
This Stingray hydrofoil is very clever because it catches the wash from your prop to give you added thrust. It also stabilizes the boat as it moves through the water.
If you, like me, are less than skilled at DIY, this foil comes with an easy to fit 3-point locking system, which removes the need to use a drill. It couldn't be simpler! Also, this Stingray will accommodate motors up to 300 HP.
Material: Resin
Mounting Kit: Yes
Dimensions: 20" x 24" x 7"
Weight: 5 lbs
The first thing you'll notice about this Davis Doel-Fin Hydrofoil is that, unlike the one-piece models featured so far, this is a two-piece design. It comes with a complete mounting kit, but it does require some DIY skills to attach it to your outboard.
While there is no mention of the maximum size motor this hydrofoil fits, many customers have successfully bolted it to a 200 HP engine. The other thing to note is this hydrofoil is ultra-affordable. That's not a phrase I'm used to saying when it comes to boating accessories.
Material: Synthetic
Mounting Kit: Yes
Dimensions: 14" x 16" x 11"
Weight: 1.8 lbs
This Starfire has a patented contour to produce maximum performance and is super-easy to fit to your motor. Marine Dynamics claims there are no drill-holes needed, and it can be fitted in under five minutes.
This hydrofoil also has an inverted concave trailing edge for better drag. If you have an outboard motor of 40 HP or above, this would be a great addition.
The Starfire is priced somewhere in the middle, so while it isn't the bargain of the century, it won't clean you out financially.
Material: Synthetic
Mounting Kit: Yes
Dimension: 21.5" x 2" x 20"
Weight: 2.98 lbs
Like the Doel-Fin, this Attwood model is supplied in two pieces that bolt to either side of your motor. Like the Doel-Fin, it's super-affordable at a few dollars more.
What sets this apart is the design of the wings. They reduce drag, as do all hydrofoils, but the Attwood does it at lower speeds. This means that you'll achieve plane quicker, and it will be more sustained. This is great news if you tow waterskiers as they will be pulled out of the hole faster.
Material: Molded Resin
Mounting Kit: Yes
Dimensions: 8.5" x 12" x 8.8"
Weight: 1.83 lbs
Like the Stingray, this Whale-Tail Hydrofoil uses the wash from the outboard motor to enhance the lift. It does this by extending out beyond the propeller to capture the churning water.
This hydrofoil can be fitted in under 15 minutes but does require a degree of skill to achieve it. This added lift makes it an ideal choice for boats like mine that are bow light.
Material: Marine Grade Aluminum
Mounting Kit: Yes
Dimension: 15.5" x 13.5" x 1.2"
Weight: 3.31 lbs
Get Yourself a Hydrofoil for Your Outboard Motor
If you care about performance, drag, handling, safety, speed and fuel economy, what are you waiting for? Go out and buy a hydrofoil.
This little bit of kit will revolutionize the way you use your boat and make it a whole lot more fun to use. If you aren't interested in the speed, think about the safety. With a hydrofoil stabilizing your boat, you'll get a better view over the bow because of the lift.
You'll also get less cavitation and better handling, which has to make the vessel more stable. It's really a win-win situation! I cannot see any downsides to fitting a hydrofoil or "whale tail" to your outboard motor. That's it. I'm a fan. Full stop.
---