Fill 'er Up (With Air): The 6 Best Inflatable Catamarans for Fishing, Fun and Portability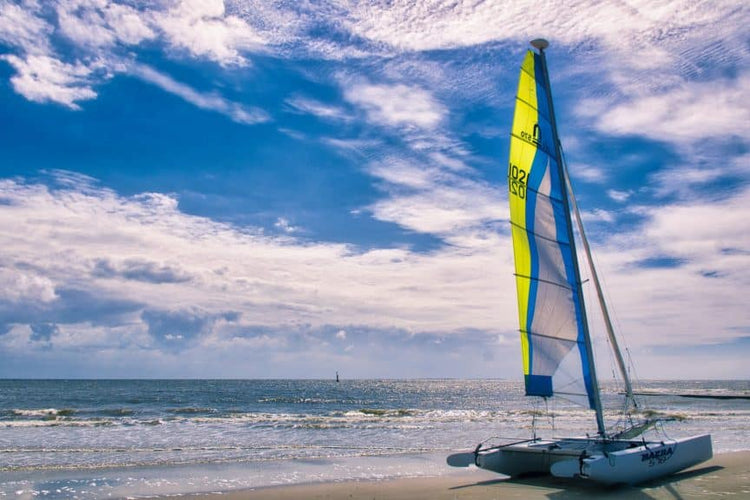 From the wooden rafts of Polynesia to the 60s surf culture of the Hobie Cat, catamarans (or simply cats) have been a fun way to enjoy the local lake, ocean or bay. 
That seemingly effortless way they glide across the water is both relaxing and exhilarating. What's not relaxing is lugging a heavy vessel across the sand or investing in an expensive traditional catamaran.
Have you considered an inflatable catamaran? Inflatable catamarans are a less expensive and more portable option to traditional cats. You can even use them as inflatable dinghies and yacht tenders. 
The main design of a cat is 3000 years old and influenced by the Polynesian wooden rafts that made long journeys across the Pacific. You don't have to journey across the Pacific (or even the Atlantic) to enjoy the fun, convenience and diversity of catamarans. 
Keep reading to discover more about inflatable catamarans and how they might be just what you need for fishing, diving or just cruising around the lake.
What is an Inflatable Catamaran?
With a design based on geometry, just like their traditional non-inflatable counterparts, inflatable catamarans offer stability and smooth sailing due to the wide beam and double-hulled tubes on either side.
This isn't your typical full-size dive/snorkel/sightseeing catamaran you've seen in the local marina. They range in size from eight to 15 or so feet and can be propelled by sails, an outboard engine or a pair of oars.
The unique thing about inflatable catamarans is that they, well, inflate, as well as deflate for storage in a car or on a bigger boat. This also makes it easier to carry to and from the water.  
Similar in design to a pontoon boat, inflatable catamarans have actually been called pontoon boats (though they're technically not), along with fishing boats or even inflatable kayaks (which they're really not either).
While they don't have cabins or storage in the tubes like full-size (non-inflatable) cats, they can accommodate anywhere from two to eight passengers depending on size.
Benefits of Inflatable Catamarans
Quiet

Portable

Lightweight

Foldable (like a

folding kayak

)

Fuel Efficient

Wide beam for stability

Small enough to navigate small coves and sandbars
Features of Inflatable Catamarans
Parallel Tubes: Two pontoon-like tunnel-hull tubes, located on either side of the platform, provide stability and flotation. They usually have multiple chambers to make inflation easier.
Wide Beams: Like a traditional cat, this makes it stable for one or multiple passengers whether you're fishing, anchoring out or just cruising around the lake.
Sectional Aluminum Floors: Sturdy aluminum provides a stable surface. Sections make it easier to put together and take apart.
PVC Hulls: The bottoms of inflatable catamarans are usually made out of durable PVC, which helps prevent tension and tearing.
Heat-Welded Seams: Heat welding ensures a sturdy, durable and water-resistant seam that can stand up to saltwater, fresh water and high heat. The high heat factor comes into play if you store it for long periods of time (such as in a garage, shed or attic).
Marine Plywood Transom: Marine plywood is designed especially for wet, humid and marine environments. It makes a strong material to hold a small outboard engine.
Multiple Propulsion Methods: Inflatable catamarans can be operated with outboard engines, sails or oars and paddles.
Uses for an Inflatable Catamaran
Besides use as a small-scale fishing or runabout boat, inflatable catamarans come in handy in a variety of ways.
Tender/Dinghy

Fishing

Rescue

Diving/Snorkeling

Support vessel for watersports such as swimming, kayaking and rowing
Six of the Best Inflatable Catamarans
1. BRIS 15.4 ft. Inflatable Boat
Constructed out of 2000 Denier 1.2mm PVC fabric, this inflatable catamaran is durable and resistant to tearing and tension.
It has sturdy heat-welded seams that are guaranteed to last in saltwater, fresh water and high heat. Reinforced fabric withstands rugged gear like dive tanks and fishing tackle.
A marine plywood transom provides space for an outboard motor (it can handle a 35 HP engine). A deep-V keel with rub-strake protection offers easy planing.
The tube bottoms each have a double layer of fabric that provides protection from sharp rocks, sticks and other debris.
There are five individual chambers, a one-way drain valve with a plug, built-in oarlocks and a strap to secure a gas tank.
It comes with a PVC hull, aluminum floor panels, three aluminum bench seats, two aluminum oars, a carrying bag and a foot pump. 
2. BRIS 11 ft. Inflatable Catamaran
If you're looking for a great cat in a smaller size than the 15-foot BRIS, this 11-foot BRIS is a terrific alternative.
The main tubes and floor fabric on this cat are made out of 1100 denier 0.9 mm PVC. The tubes each have two air chambers, and the floor is 80 mm thick.
A marine plywood transom can accommodate an outboard motor. Tube bottoms have two small fins for better direction. Extra wide rub strakes on tube bottoms allow you to pull up on rocks.
It comes with a foot pump, carrying bag, oars and a repair kit.
3. BRIS 9.8 ft. Inflatable Boat
Whether you're diving, snorkeling or fishing, the heavy-duty 1,100 denier 0.9 mm PVC and polyester support provide resistance to tearing, tension and breaking. The sectional aluminum floor is sturdy and has a corrosion-proof platform.
The transom is covered with triangular splash guards to minimize splashing and protect the transom holders from heat and exposure to UV rays. Getting up on a plane is easy via the deep-V keel with rub strake protection.
This inflatable cat has heat-welded seams, separate internal air chambers and a marine plywood transom.
4. Sea Eagle Inflatable FoldCat ProAngler Fishing Boat
For the fishing enthusiast, the Sea Eagle inflatable cat makes a great alternative to bass boats. Designed for two adults, or 650 pounds, this cat is made of 1000 denier and has quadruple overlap seams, raised oarlocks, rod holders and a motor mount.
Two swivel seats sit up high above the floor, making this cat an excellent choice as a fishing kayak. The casting bar is one of my favorite features for visibility and stability while fishing.
A folding frame provides a stable and rigid floor platform. There are carrying handles at the front and back.
5. Dolphin 8.8 ft. Model SB-270A " 2021 Inflatable Sports Boat
Sleek and contoured, the Dolphin is my pick for best inflatable catamaran. It has more of a sporty look than some.
Created by nautical engineers to provide rear buoyancy and faster planning, it's made of .9 mm 1100 denier reinforced PVC material, which is UV, oil and puncture resistant. Thick PVC holds 8 PSI and provides a stable air deck floor.
Easily portable, it can be assembled and disassembled in about 10 minutes. It has one front and four rear exterior carrying handles.
It comes with a removable seat bag and cushion, two aluminum oars, a carrying and storage bag and two front towing D-rings.
6. Inflatable 1.2 mm PVC 15 ft. Windsurfing Catamaran
We didn't forget the sailors and Hobie cat enthusiasts in the group. This super cute inflatable catamaran comes with two sails made of 3.8 OZ Dacron.
The PVC tubes are 1.2 mm. Each has an air chamber. It can accommodate four passengers and is easily assembled in about 30 minutes.
It comes with a pump and carrying bag but doesn't include oars or a motor.
Accessories for Inflatable Catamarans
Most inflatable catamarans come with things like air pumps and carrying bags, but there are some optional accessories that can add to the life and enjoyment of your catamaran. If you do forget your air pump, don't panic (and save your breath), most marinas have air pumps you can use.
Editors Choice
Check Price on Amazon - Better Boat's mini telescoping paddles collapse down for easy storage and transport. It has a T-grip handle, sturdy locking joints and a high-impact plastic blade that's perfect for kayaks, dinghies and PWC.
As you can see, inflatable catamarans offer a lot of flexibility and convenience in addition to the whole portability factor.
Hopefully this has given you some tips on how to choose the best inflatable catamaran for your lifestyle. Happy motoring, paddling or sailing!
---