Paddles Meet Portability: The Absolute 5 Best Inflatable Kayaks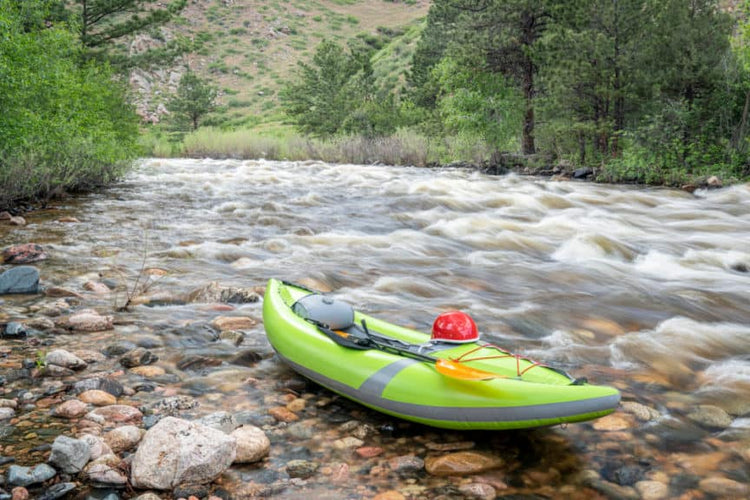 Whether it's to get your adrenaline pumping, cast a line or simply to watch the world go by, kayaking is one of the best boating activities!
That's why, whenever it comes to making kayaking easier or more convenient, I'm all ears. This is especially true for the increasingly popular inflatable kayaks I see more and more. 
In fact, after taking a few for a test drive (or paddle), I feel they might be one of the best investments you can make as a boater. So let's break down why you might want to consider buying an inflatable kayak and check out some of the best out there today.
Why You Need an Inflatable Kayak
Most folks are simply happy to rent a kayak or buy a hard shell kayak. But could there be a happy medium?
Buying your own kayak is easier than renting the well-worn, potentially busted versions at the local boat rental shop.
Keeping a hard shell kayak around your house is hard to move around, easier to ruin and more difficult to transport (you sometimes need a kayak roof rack for your car). Sitting in your shed or garage, it's more like a cumbersome paperweight than a watercraft.
Here's a quick rundown of why inflatable kayaks offer the best bang for your buck:
Easy Storage: Kayaks that deflate are immensely easier to store in and around your home. Most inflatable kayaks even come with their own carrying case, allowing you to store them in your shed, basement or heck, even a hallway closet or car trunk!
Portability: Imagine going for a weekend of kayaking with your friends, and while they're portaging and lifting their kayaks, all you have to do is deflate yours, wrap it up and walk it to your tent. Sound easy? That's because it is!
Built to Last: Thanks to its compact design, everyday damages are much less likely to strike your inflatable kayak. Your kayak is going to be much safer (away from potential destruction via kids or canines) when it's tucked away safely and out of sight.
Featured Kayaking Product
| | |
| --- | --- |
|     |  Mini Paddle |
Check Price on Amazon - Any tried and true kayaker knows it's wise to have extra gear. Better Boat's mini telescoping paddle is easy to stow and could really come in handy if you happen to lose a paddle. It has a T-grip handle and a high-impact plastic blade. It's perfect to keep on board a canoe, kayak, boat or jet ski.
Finding the Best Inflatable Kayak
Available are a whole host of options for inflatable kayaks. But before I profile a few of my favorites, I want to discuss some important considerations to take into account.
It's All About Materials
Most inflatable kayaks are constructed from PVC (polyvinyl chloride). Why's that? It's easily the most cost-effective material available, while still providing a pretty safe ride.
The one major downfall is that PVC is sensitive to UV rays, which causes wear and tear to your kayak in particularly warm-weather climates.
Regarded as the ideal material is Hypalon. While it's more expensive, Hypalon is by far more durable.
Comfort Is Key
Not all inflatable kayaks are designed equal, and that's never more apparent when it comes to seat design. Keep in mind that these are inflatable, so sometimes their unrigid seats are not quite supportive enough and can cause backache.
While this isn't a problem for short trips or younger riders, it leads to a lot of discomfort for older riders or anglers out on the water for hours at a time.
Instead, consider purchasing an extra seat, which you can find in the accessories below.
Featured Kayaking Product
| | |
| --- | --- |
|     |  Sand Anchor Spike |
Check Price on Amazon - Better Boat's sand anchor spike comes in handy when you want to anchor out on a sandbar, beach or in shallow water. Keep on board a kayak, canoe, jet ski or small boat for convenient use. It works well in soft sand or mud bottoms. 
Watch Out for Leakage
Comfort and leakage issues go hand in hand. Quite often, paddlers unintentionally cause damage due to the bare-bones elements of a more basic inflatable kayak.
The same way that a cushion can prevent the keys in your pocket from unintended rips in the material, so can the added benefit of floors to your kayak.
These additional features can minimize the impact of your feet and body on your kayak, which means that multiple uses don't turn into long-term damage as readily.
All Sorts of Sports
Inflatable kayaks come in all shapes and sizes. There are ones specifically designed for fishing, white-water conditions and others best suited for everyday use and adventures. Some even lend themselves better to larger bodies of water like lakes and saltwater bays.
That said, I'll profile the best ones below so you can discover which you need based on your specific boating requirements (and where you like to paddle for fun).
Paddles Meet Portability: The Absolute 5 Best Inflatable Kayaks
What are some of my favorite inflatable kayaks? Let's profile them in this handy list.
1. Intex Explorer K2 Kayak
Check price on Amazon
I'm a big fan of this option for two people, as the design is sturdy. The seats are designed to be comfortable, and it can fit a maximum capacity of 400 pounds.
This is a perfect date-night kayak, and the bright yellow color is excellent for visibility. Keep in mind, though, that a kayak like this is designed for smaller bodies of water (ideally rivers) and even comes with its own paddles, pump and case.
This is a great (and budget-friendly) option for casual kayakers and couples.
Size: 10 foot
Capacity: 400 lbs
Case: Included
Perfect For: Rivers
2. Intex Challenger K1 Kayak
Check price on Amazon
This is another great option for those who don't want to break the bank but want a sturdy option. This kayak is the perfect one-seater and it even includes an additional storage net to keep supplies like a cooler, anchor, air horns, fenders or dock lines safe and out of the way.  
While it's better suited for mild lakes and rivers, the inflatable I-beamelps prevent against punctures. It can comfortably suit someone roughly 220 pounds.
Size: 9 foot
Capacity: 220 lbs
Case: Not included
Perfect For: Lakes and rivers
3. Sevylor Quikpak K1 Kayak
Check price on Amazon
Now, this is an inflatable kayak designed for adventurers! This sit-on-top model is perfect for those who like to traverse open waters.
It has rugged construction elements and a backpack carrying case (which is ideal for long-haul voyages over land). Made out of PVC, the tarpaulin bottom is especially handy when treading occasional rocky or less-than-smooth terrain.
Also, while I'd be concerned about the seat's comfort, the additional cup holder tells me that this is for someone who really likes to have fun out on the water.
Size: 8.5 foot
Capacity: 400 lbs
Case: Included
Perfect For: Fast-moving rivers
4. Ztotop 2-Person Kayak
Check price on Amazon
A bit more expensive than most, this kayak is still a deal. Comfortably able to fit two full-grown adults, this heavy-duty and puncture-resistant inflatable kayak is better suited for larger bodies of water (or a little bit of choppiness here or there).
It deflates to the size of a suitcase, which makes it ultra-portable, and the additional foot pumps, paddles and repair kit make it easy to maintain. For a fishing trip, this would be a great option.
Size: 11.5 foot
Capacity: 400 lbs
Case: Not included
Perfect For: Lakes and mild rivers
5. Driftsun Rover 220 White-Water Kayak
Check price on Amazon
If you really want to hit the water and have some fun, then this inflatable white-water kayak is exactly what you need. It can fit up to 600 lbs and comes equipped with high-back seats and sturdy construction to stand even the roughest waters.
There's even a camera mount for when you want to strap on a GoPro to film your adventures! The best part? It only weighs around 28 pounds and will inflate in nine minutes, which makes it super convenient for true adventurers.
Size: 12.5 foot
Capacity: 600 lbs
Case: Included
Perfect For: Whitewater
Handy Accessories for Your Inflatable Kayak
Once you decide on an inflatable kayak, you may want to upgrade with a few accessories.
Inflatable Kayak Bags and Cases
What happens when your inflatable kayak doesn't come with a case? In a "case" like this, here are a few options:
Inflatable Kayak Seat Cushions
Another major concern, as previously mentioned, is opting for a more supportive kayak seat. One of my personal favorites is the Lixada Kayak Seat Cushion (check price on Amazon), which slips in wherever you need and prevents sliding around while still providing comfort.
Inflate a Kayak For Your Next Paddling Adventure
When it comes to inflatable kayaks, it's easy to see why they're taking the market by storm and why so many people are turning to them over the traditional alternatives. As you seek your ideal fit, keep these amazing inflatable kayak models in mind for your next adventure!