The 6 Best Kayaks for Kids Learning to Paddle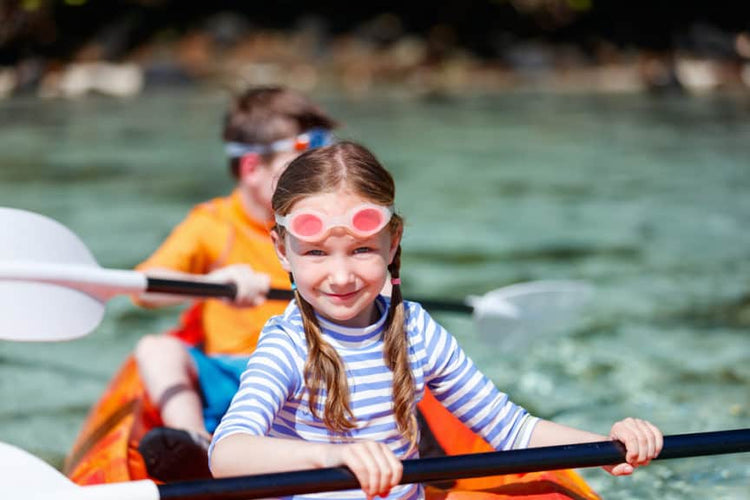 If you want to keep your kids entertained, take them to a river or lake. Children are happier when they're messing about on the water. Especially in the summer.
A kayak can have a fantastic effect on their development, offering a way to escape from social pressures and enjoy the outdoors all for a relatively affordable price.
Below are some of the advantages and benefits of teaching your kid to paddle as well as a break down of some of the best kayaks for kids.
The Benefits of Getting Kayaks for Kids
Just what are some of the benefits of getting your kid into a kayak and teaching them to
enjoy paddling
? Let's take a look:
Raises Positivity:  Battling with adversity builds a positive "can-do" attitude. The sheer joy of achieving something will be written all over their faces.
Provides Excercise:  Regular exercise helps improve energy levels, lower anxiety and stress and even lift your mood. By splashing around in a kayak, not only are kids getting fit, but their attitude toward life improves. Now that has to be a good thing!
Builds Character:  Kids are better equipped to deal with their fears and phobias than you think. And getting them into a physical activity like paddling offers the chance to escape from their worries. As we've mentioned, this improves their fitness and mental attitude without them even knowing.
Inspires Confidence:  There are many distractions for kids, and some of them, like social media, can become unhealthy. If it's abused, it can have a devastating effect on young minds as it can dampen self-esteem and confidence. Try to limit screen time and get the kids outdoors. Paddling is a brilliant way of getting them to unplug and reconnect with the world around them. Plus, it's just plain fun!
Important Features of the Best Kayaks for Kids
Lightweight: Kayaks for kids must be light for easy transportation and handling on the water. Most kids' kayaks weigh an average of 20 to 30 pounds, so they're pretty light on the whole.
Wide Beam: Having a wider beam is one of the features of kids' kayaks. They tend to be shorter and fatter because the extra width gives them greater stability.
Short Size: You should be looking for something around 6 to 8 feet in length (but that varies depending on a single or tandem kayak). Often, if there are two seats in the kayak, it reduces the cost to you because you don't have to buy two kayaks.
Towing Line: Adding a tow line is a great safety tool if your kid tires and wants a break. It also comes in handy when you want to tow them to safer or shallower waters.
Paddle Holders: Having paddle holders sounds simple enough, but when it comes to towing a kids' kayak, you want to know that the paddles are stored safely.
Swim-up Deck: This is something that features more on the rigid body kayaks like the Lifetime Youthwave Kayak (found in the list below). If your child falls in, they have an easy way to re-enter the craft by pulling themselves up onto the sloped deck.
The 6 Best Kayaks for Kids Learning to Paddle
This list is a line-up of some of the best kayaks for kids to get on the water and learn to paddle.
Below you'll find a collection of both inflatable kayaks and rigid kayaks to suit every paddling style and budget.
1. Intex Challenger K1 Inflatable Kayak
Check price on Amazon
As far as affordability, this Intex inflatable kayak is a no-brainer. At a reasonable price, it seats one child comfortably and offers plenty of storage space for drinks and supplies.
It also has a removable skeg for added stability. The grab lines on both ends of the craft are useful when trying to secure the vessel as a child enters or exits the kayak, and it has an 84-inch aluminum paddle.
The floor is extra rigid, and the maximum weight capacity is 220 pounds, so it's more than enough for the average child.
Material: PVC
 Length: 9 ft
Weight: 23.9 lbs
2. Intex Explorer 2-Person Inflatable Kayak
Check price on Amazon
This two-person, tandem inflatable kayak is perfect for siblings and friends who want to share in on the fun.
It has two adjustable seats for a comfortable ride, and it has two separate air chambers to protect your children should a puncture occur. For me, having two air chambers is crucial if you want to ensure the safety of your child on the water.
It comes with two paddles and like the Intex Challenger, a removable skeg for greater stability and control.
Material: PVC
Length: 10 ft
Weight: 23.9 lbs
3. Bestway Hydroforce Inflatable Kayak and Paddle Board
Check price on Amazon
This inflatable kayak is slightly different in that it doubles as a paddleboard. This Bestway Hydroforce model comes with an adjustable seat that turns it into a kayak, and the rigid Tri-Tech polyester core means that this board/kayak is super-strong while remaining lightweight and easy to carry.
It's also supplied with all you need to get on the water, including an aluminum paddle, pump and travel bag. This is great for transporting with a car that doesn't have a lot of trunk space.
I also like that this inflatable kayak has three modeled fins on the rear to ensure maximum maneuverability, making it incredibly nimble to control, which is useful for young children with weak upper-body strengths.
Material: PVC with a three-ply polyester core
Length: 10 ft
Weight: 19.84 lbs
4. Lifetime Youthwave Kids Kayak
Check price on Amazon
This Lifetime Youthwave kayak has been designed with children in mind and offers the safest possible experience on the water. It has a reverse chine for stability, twin fins for better tracking and a flip-resistant hull.
There are also molded paddle cradles, molded finger handles and multiple footrest positions, so as your child grows, they won't outgrow the kayak for many years (You'll be thankful for this feature as your kids grow up!).
It also includes a paddle and has a maximum weight allowance of 130 pounds, so a lot less than the Intex boats, but it is a kids' kayak after all.
Material: Polyethelene
Length: 6 ft
Weight: 20 lbs
5. Old Town Heron Kids Kayak
Check price on Amazon
This Old Town Heron model is designed with a child's body in mind, so it has a contoured padded seat and is exceptionally stable and lightweight. This kayak is maneuverable on dry land thanks to the front and rear carry straps.
Should your child become fatigued on the water, then this kayak has a towing system that allows you to pull the boat to shore. Towing the vessel is useful, especially if you're taking to the water along with your kids to keep a closer eye on them.
This kayak has a weight allowance of 115 pounds, so it's very much a single-seater. Unlike some of the others featured, the paddles are sold separately, so you need to factor that into your budget.
Material: Polyethylene
Length: 7 ft 5 inches
Weight: 26 lbs
6. Sun Dolphin Aruba SS Kids Kayak
Check price on Amazon
This brightly colored Sun Dolphin kayak is the ideal model to get your kids afloat. It's lightweight, stable and comes with an adjustable padded seatback.
It also has a dry compartment to store valuables and phones, as well as a spray deflector so your kids don't get too soggy on the trip.
It has a recessed drink holder as well as a paddle holder. The maximum weight allowance is 260 pounds, which means if you have older kids like I do, they can still use this kayak.
Material: Polyethylene
Length: 8 ft
Weight: 27 lbs
Paddling With Kids and Kayak Safety
The basic principles of choosing the best kayak for a kid are similar, regardless of the model: Is it easy to carry? What is the maximum weight allowance? Is it stable? What are the safety features?
Once you're satisfied with the chosen kayak model for your child, consider where they're going to be paddling (such as lakes, rivers, bays or oceans).
Lakes
Inland waters are the safest to kayak on because there's no way for the vessel to be drawn out to sea. Also, lakes are typically well-frequented by other boaters and visitors, so there are many eyes and ears around should something go wrong.
Plus, with a lake, hidden dangers are rare and if those dangers are present, they'll be well-documented.
Rivers
Rivers present some challenges that lakes don't. You'll have to monitor currents and tides. Rivers are also susceptible to changes after extreme weather events like heavy rainfall.
In short, rivers can be unpredictable, so be sure to get your timings right and never go on a river when it is in flood, especially if there have been prolonged spells of rainfall.
Also, be aware of water levels because you want to avoid obstacles like logs, rocks and branches that can snag the kayak as the water level drops.
Whether you're paddling in fresh or saltwater, it's always best to rinse off your kayak with Better Boat boat soap or de-salt concentrate after a day of paddling. Either product quickly removes dirt, grease, grime, salt deposits and other stains that can happen in the wild world of nature. 
Weather
The best rule of thumb is to stick to sunny days with minimal wind. Also, avoid fog and rainfall because you want the best visibility possible to keep an eye on your loved ones.
But be aware that too much sun is also a problem, so make sure that you keep the kayaking trips no longer than an hour or two. That way, you can make sure your kids stay hydrated.  
Time of Year
Think about the seasons as you allow your little one to go paddling. Equip them with wet suits (check price on Amazon) to protect against the extreme cold of the water.
In early spring, when there's still a considerable runoff from the mountains, glacier water can turn the lake water super-icy, and that means the possibility of hypothermia.
Plus, avoid higher tide times, such as spring, when water levels rise above the predicted norms.
Featured Boating Product
 Check Price on Amazon - It's always good to have extra gear on hand (literally and figuratively). Better Boat's mini telescoping paddle is small and compact enough to easily stow away in a kayak, boat or jet ski. If you happen to lose a paddle, you're covered.
The paddle telescopes from 18.75" out to 35" with a T-grip ergonomic handle, a durable aluminum shaft, a high-impact plastic blade and sturdy locking joints.
Final Thoughts
Getting your kids into paddling is a great way to boost their confidence, fitness and character, but it only works if you choose the right kayak and the right location to practice in.
And one final thought to leave you with: Make sure your child goes out onto the water with a life jacket (check price on Amazon). It will save their life in an emergency!
---