The Best Recreational Boats to Suit Any Boater's Lifestyle: The Complete Guide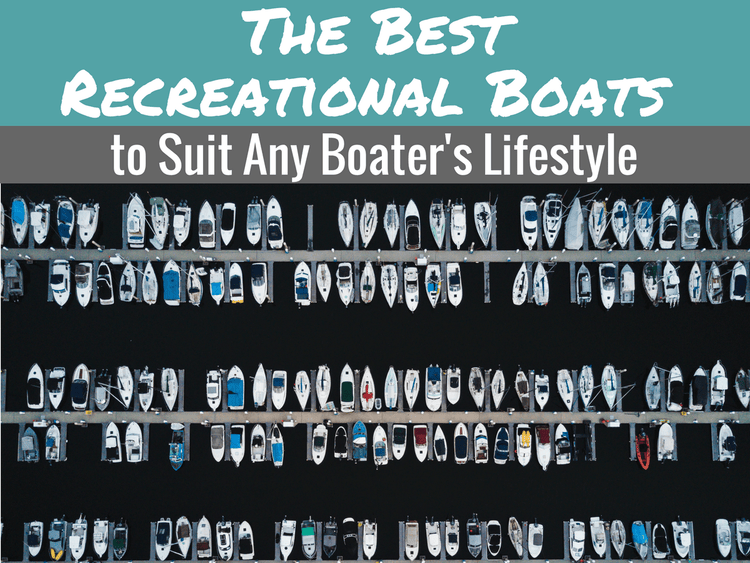 Into fishing, skiing or sightseeing? Do you simply have the need for speed? There's a boat make and model just for you.
Luckily, many types of boats are equally appropriate for a variety of water-based activities. The trick lies in finding the boat that best suits you and your interests without going too far overboard (pun intended).
For example, if you enjoy anchoring out, swimming and catching the occasional fish, there's no need for a Formula, Stinger or Scarab … no matter how much you try to convince your spouse otherwise.
A nice bowrider, pontoon or dual console will suit just fine. I've compiled a list of recreational and pleasure boat benefits, brands and suggestions for several different types of activities.
While this list is certainly not all-inclusive, I hope it helps narrow down your choices just a bit.
The Best Recreational Boats to Suit Any Boater's Lifestyle
1. Best Recreational Boats for Water Sports
Many boaters are in it for the fish. And that's all well and fine (except for the fish, of course), but I'm a watersports and nature fan. Give me snorkeling, swimming and sightseeing over baiting a hook any day.
Water skiing, Tubing and Wakeboarding Boats
Ski and wakeboard boats are designed specifically to pull skiers, wakeboarders and tubers with ease. This type of recreational boat is designed to go fast and to produce bigger wakes, which makes for an exciting ride for skiers. Wake towers make these boats easily identifiable.
Recommended Boat: Ski Nautique 200 
Bowrider Boats
Bowriders are great for the watersports enthusiast. At 17-30 feet in length, they have an open area at the bow so that guests can ride up there. They look really sleek underway, and they're one of my favorites to watch on the water whether it's the ocean, lake or river.
Read on for more about bowriders in the sightseeing section.
Recommended Boat: Monterey 224FS
2. Best Recreational Boats for Snorkeling and Diving
Generally, snorkeling and diving are done in waterways like the Atlantic and Pacific Ocean, Gulf of Mexico, the Caribbean, etc…etc… There aren't many coral reefs, shipwrecks and tropical fish in the local lake or river. But if you find some, please let me know.
Of course, other waterways are perfectly acceptable for these sports, but for the sake of longevity, I'm sticking with the big ones for this post.
Dive Boats 
Dive boats are specifically designed so that SCUBA divers can easily enter and exit the water with all of that gear and equipment such as dive flags, air tanks, dock lines, buoys, boat fenders and anchors. This type of pleasure boat is very utilitarian and built for endurance.
With snorkeling, it's pretty much a mask, snorkel and fins. As long as there's a ladder or swim platform, many types of boats will do for snorkeling. You mainly want something that will get you to the reef fast and be stable while you're out there.
Recommended Boat: Munson 34-36 Dive Boat
Catamarans
Catamarans have dual hulls, which equal stability, speed and fuel economy for traveling offshore. They also have nice wide decks, which makes removing gear when done much easier and more efficient.  
Recommended Boat: World Cat 255DC Water Sport Boat Brands:
Monterey
Munson Dive Boats
Nautique
Sea Ray
3. Best Recreational Boats for Fishing
Fishing boats are as varied as the many types of fish in the sea. Or lake, whatever the case may be. 
Your best bet is to begin with the type of fishing that you do - bass fishing, big game offshore fishing or lake and backcountry flats - and go from there.
Again, a boat with lots of fishing attributes can also be suitable for other water activities. Boats are flexible like that.
| | |
| --- | --- |
|      |   Sand Spike Anchor |
Check Price on Amazon - Better Boat's sand spike anchor is a durable and reliable way to secure your boat or jet ski to beaches, sandbars and in shallow water. It's convenient, fast and easy to store. Use with kayaks and canoes as well. 
Offshore Sport Fishing Boats
Offshore sport fishing boats are fast and rugged and come equipped with live wells, rod holders, fish fighting chairs, fish and depth finders and all sorts of other gear and rigging to reel in the big ones.
They usually have sleeping quarters, heads and galleys so that you can stay out for long periods of time. Because of the living and storage space for gear, anchors and cleaning products, this type of recreational boat can also be used for extended trips, cruising around the Caribbean or as a liveaboard. The flybridge is an awesome spot to take in the sights.
Recommended Boat: Hatteras GT45X Flybridge
Catamarans
The speed, smooth ride and nice wide beams of catamarans and multi-hulled boats make them a popular choice for fishing and cruising as well as diving and snorkeling. They have lots of deck space for those who just want to hang out and stay away from flying fish hooks. 
Recommended Boat: Maine Cat 30
Backcountry Flats Boats
If you've ever seen an angler standing on what appears to be a flat piece of aluminum floating on the water, it's most likely a flats boat. 
A flats boat is between 14 and 18 feet in length and has very low sides. They're designed for the very shallow waters of the backcountry. Often, poles are used to push it through the water, which can take place in depths of less than two feet.
Recommended Boat: Sea Chaser 200F
Bass Boats
Bass boats are those shiny sparkly vessels you see out on the lake or river. They are generally used in fresh water. They have high-horsepower outboard engines and trolling motors and are between 15 and 23 feet in length with low deck sides for easy access to the water for fishing.
Recommended Boat: Bass Cat Pantera Classic
More Fishing Boat Brands to Check Out:
Bass Cat
Bertram
Carolina Skiff
Hatteras
Rampage Yachts
Skeeter
World Cat
4. Best Recreational Boats for Sightseeing
Another thing to take into consideration when deciding what type of recreational boat to buy is whether you'll be using it at the lake on in the ocean.
If you're spending time exploring small islands and marine life in the Gulf of Mexico or the Atlantic Ocean, you'll need something more hearty than the pontoon boat you'd use at the local lake.
Likewise, if you're planning to spend weekends cruising around the local lake and anchoring out, you don't need a fully-equipped Hatteras Express Sportfish. No, really, you don't.
5. Recreational Boats for the Lake
Pontoon Boats
There have been whole songs written about pontoon boats, so you know they must be popular. Pontoon boats have two or even three pontoons, aluminum tubes, instead of a traditional one-piece hull.
A flat platform rests upon these tubes, making a wide open space in which to relax, fish, sunbathe or check out the sights. They're usually between 15 and 30 feet in length.
The main drawback of this type of pleasure boat is is speed (there isn't much), but when it comes to anchoring out, boating with kids and snacking on a stable surface, they're the bomb. Not literally, of course. There's no bombing in boats.
Recommended Boat: Sun Tracker Party Barge 22 DLX
Deck Boats
Deck boats are the pontoon boat's sporty sister. They're similar to pontoon boats in that they have a wide deck, but they have a V-shaped hull that allows them to go faster than a pontoon boat.
At 25-35 feet in length, they have lots of room for seating and hanging out. Deck boats are made of fiberglass or aluminum and have outboard or stern drive engines. If you're looking for stability and speed, a deck boat is a good one to check out.
Recommended Boat: Hurricane SunDeck Sport
Dual Console Boats
Dual console boats have two consoles, or dashboards, on either side with a walk-through to the bow of the boat to sit or cast a line. Their range is 16 to 30 feet in length.
Currently, the dual console is my favorite type of recreational boat, as I like the option of sitting/standing behind the dash or sitting up front.
Recommended Boat: Key West 239DFS
Bowrider Boats
Like its name, a bowrider has an open area at the bow, in front of the helm, for seating. This makes it a perfect choice if you often have guests and family members on board.
Bowriders can also be used as a fishing and watersports boat. The seating area is excellent for sunbathing.
Recommended Boat: Chris Craft Carina 21
More Sightseeing/Recreational Boat Brands for the Lake:
Chaparral
Chris Craft
Grady White
Key West Boats
Montego Bay
Regal
Sunchaser
Sun Tracker
Sea Ray
6. Best Recreational Boats for the Ocean/Gulf/Bay
Speed Boats
Speed boats, or high performance boats, are just that. Built for speed and optimum performance. Think: Miami Vice.
These types of pleasure boats have sleek narrow decks and can seat between two and six people.  High horsepower outboard engines and light hulls make them fast for racing or cruising.
This type of boat is normally seen in the ocean where they can take off fast. One manufacturer even describes theirs as being "fire on the water." Hang on to your hat when out in one of these.
Recommended Boat: Formula 353 FASTech
Walk-around Boats
Walk-around boats are 20-30 feet in length and are available as outboard, inboard or inboard/outboard.
They have a "ledge" around the sides that allows you to "walk around" the boat, which is a convenient feature when you're fishing or chasing small children around the boat. Or fishing small children out of the water. If you've ever been on a boat with kids, you'll understand that one.
Recommended Boat: Robalo R305
Center Console Boats
Center consoles range in size from 14 to 35 feet in length. The helm is in the center of the boat with an open hull (but wider than a walk-around) around it, allowing passengers to walk around.
The speed and open design makes this a great boat for offshore fishing as well as cruising.
Recommended Boat: Scout 215 XSF
Personal Watercraft
A unique alternative to the traditional boat is a personal watercraft (PWC), or jet-ski. Compact, speedy and easy to maneuver, jet-skis make great sightseeing vessels.
Depending upon the make and model, they can hold up to three people quite comfortably. Since they don't have an exterior propeller - they're jet driven - PWC vessels allow you to travel into small coves and shallow areas without worrying about dragging your prop or harming marine life.
They're much easier to set an anchor and dock than a traditional boat. Trust me on that one. They're also great for the lake or river.
Recommended Boat: Sea Doo Recreation GTI
More Sightseeing Recreational Boat Brands Built for the Ocean:
Boston Whaler
Chris Craft
Formula Boats
Kawasaki jet skis
Regal
Sea-Doo jet skis
Scout
Wellcraft
Featured Boat Care Product
| | |
| --- | --- |
| |  De-Salt Concentrate  |
Check Price on Amazon - Designed for saltwater, but perfectly suited to fresh water, Better Boat's de-salt concentrate breaks down salt deposits and flushes away algae and other debris. Use in outboard, inboard and jet engines to keep your boat running smoothly. You can also use it on decks, outdoor furniture, RVs, fishing gear, dive equipment and more.
Hopefully, this list has given you a few ideas on how to choose the best type of pleasure boat or recreational boat for whatever it is you like to do. 
Now get out there and check out some local boat shows and shops. The water is calling!