The 6 Best Water Ski Ropes (Beginner to Advanced)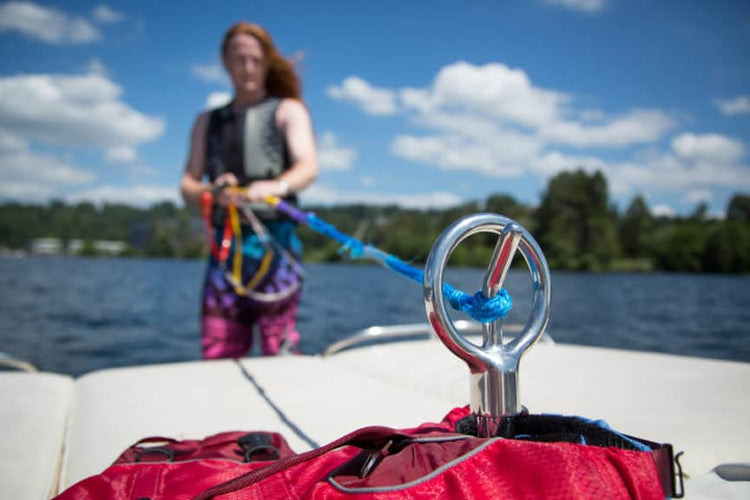 Skimming along the surface of the lake with the wind in your hair is pretty hard to beat. And water skiing is a must for all you thrill-seekers out there.
But before we get carried away and jump into this with both feet, we need to discuss a few basics. If you want to get your heart pumping with a high-octane sport, we need to discuss the sensible aspects like water ski ropes.
Water ski tow ropes are what keep you attached to the boat. They take the weight of the load, stretch where needed and stand up to the rigors of the water. You shouldn't use regular dock line or fender line as a water ski rope.
So I decided to look into more detail at the best water ski tow ropes to help you get started.
Water Ski Ropes Vs. Wakeboard Ropes
You can use a water ski rope with a wakeboard. However, it's advised for beginner wakeboarders simply to get a feel for the wakeboard, swapping the rope for a wakeboard variety when they progress. But for water skiing, it's all about the elasticity of the rope and the style of the handle.
Elasticity
Water ski tow ropes have more stretch, sometimes up to three percent, depending on the load. This means if you're wakeboarding, it will slow you down, especially when doing tricks and stunts. It could be the difference between awesome and average.
Wakeboarders like more "snap" with their ropes, so they tend to be less elastic. This means the wakeboard responds far quicker than a water ski and helps the rider to achieve more adventurous tricks.
Handles
Wakeboard handles, typically 15-16 inches, are larger than water ski handles, making it easier to pass the handle behind the rider's back.
However, a water ski handle length varies from 11-13 inches. Available are also a variety of handle shapes and sizes, but you typically find water ski rope handles are less padded, so the rider might need gloves, whereas wakeboard handles are fully padded, eliminating the need for hand protection.
The Best Water Ski Rope Features
Sections Vs. One-piece:  Water ski ropes typically come in sections or as one length. One-piece ropes are better suited to beginners, whereas more advanced skiers prefer the option to add or remove sections to increase the difficulty and get better tricks. Water ski ropes usually have eight color-coded parts to make them easier to use.
Characteristics:  Water ski ropes should have some elasticity, giving the rider a little "play" when they cut from side to side changing speeds. Also, most ropes are 1/4-inch thick polypropylene, which means they're durable and lightweight.
Strength:  Making sure your rope is strong enough to tow you at speeds is of paramount importance. No one wants to fall victim to an accident. Make sure the minimum tensile strength of your rope is 800 lbs.
UV Treated:  Protection against the rays of the sun is vital, especially with the punishment the rope gets. The sun's rays fade and weaken the material, so choosing one with added resistance increases the lifespan of your rope and decreases the chances of it snapping mid-tow.
Rope Keeper: Having a small loop that helps you hang your rope when not in use is a handy thing to have. It keeps everything dry and safely off the damp ground
Let's Talk About Water Ski Handles
Ergonomic Design:  The best water ski handles are encased in rubber for extra grip. They're comfortable to grip and should put your hands and fingers under the least stress possible. This reduces the chances of you suffering hand fatigue and letting go of the rope.
Materials: These handles are lightweight and durable. They should float, otherwise, when you let go they would sink to the bottom of the lake. Aluminum is an ideal material for this because it's strong and light.
Finger Guards:  Where the rope attaches to the handle is reinforced to make it stiffer. It ensures your fingers avoid becoming tangled at critical moments.
Style:  Essentially, there are two types of water ski handles: the V-shaped and the double handle. The V-shaped variety is better for beginners as it's easier to grip, requires less skill to master and feels more secure. For those learning to slalom, the double handle is often preferred because it's more agile, although trickier, to master.
Featured Boating Product
| | |
| --- | --- |
| |  Boat Hooks are a handy tool for docking, undocking and retrieving a line (or that hat that just happens to take a dip in the drink). |
Check Price on Amazon - Better Boat's boat hook is made from marine-grade materials that won't break down in fresh or saltwater. Purchase the hook or a set that contains the hook and a telescoping pole. The pole has an ergonomic handle and a durable thick rubber bumper to prevent bumps to your boat. 
How Long Should Your Water Ski Rope Be?
The length of your water ski tow rope should be 70 to 75 feet. As you gain confidence, you can shorten the length to increase the difficulty level.
When you compare it with a wakeboard rope length, at 65 to 70 feet, the two are pretty similar. The difference comes in the shock-absorption qualities of the rope. As we said, wakeboard ropes have less give in them.
The safe speeds required for water skiing depend on the experience of the person being towed. As a rule of thumb, beginners should cope well with 12 to 15 mph, while more advanced skiers prefer speeds of 20 to 30 mph.
The professionals easily deal with 35 mph! Wakeboarders typically travel at 12 mph for beginners and 24 mph for advanced riders.
The 6 Best Water Ski Ropes
This SGT Knots single-section water ski rope is an ideal starting point if you want to get into the sport. It has a 12-inch wide handle, which is constructed from an aluminum core with molded Tractor grips for better purchase and finger protection.
The handle is also lightweight, meaning it floats should you drop it. The rope is resistant to UV rays, mold, mildew and moisture.
This rope is marketed as a multi-use water sports rope, but given its length and handle style, I think this is the perfect entry-level water ski rope to cut your teeth on. And when you look at the price, you'll see what I mean!
Material: Polypropylene
Length: 75 ft
Handle: V-Shaped
Sections: Single
This Proline rope is for the more advanced skiers. It comes as a five-section rope, which can be shortened for a faster and more challenging tow.
Like the SGT Knots rope, this too has a V-shaped handle, although this is a full inch longer.
The handle is coated in easy-grip EVA for comfort, and the handle floats in the water should you feel the need to let go.
The price, when compared to some ropes, is a little on the pricey side, but it's designed to be a more advanced rope that's suitable for experienced skiers.
Material: Poly-E
Length: 75 ft
Handle: V-Shaped
Sections: 5
Obcursco has developed a multi-use watersports rope that is ideal for water skiing. It has a large 15-inch aluminum core handle for better control, especially if you're starting out in the sport. The EVA-coating makes the handle more comfortable to hold.
What sets this water ski rope apart is the second smaller TPR-covered handle that gives the rider greater control when pulling spins and inverted tricks.
It comes with a rope keeper to stop tangles and knots. And the rope has a tensile strength of 2,200 lbs, so whatever your size, this rope can cope.
Price-wise, it falls into the budget category, as so many beginner ropes do.
Material: Poly-E
Length: 70 ft
Handle: V-Shaped
Sections: Single
This Airhead water ski rope is constructed of 16 strands and has a tensile strength of 1,600 lbs.
It comes with length-adjustable and color-coded sections so you can decide what type of ride you want based on your skill level.
The closer the skier is to the boat, the greater the wake and less time the rider has to react.
Like the other ropes featured, the handle is an aluminum core with a soft-grip coating for better handling. Also, the handle is slightly curved and shorter than others featured, at just 13 inches.
The cost of this rope is reasonable and won't break the bank, which I like.
Material: Poly-E
Length: 75 ft
Handle: Curved V-Shape
Sections: 8
This rope is another one section, so it's ideal for learning to water ski. Also, not everyone who takes to the water wants to perform stunts and tricks.
The 12-inch handle is a lot shorter, but is TPR-coated for better grip. The rope is pre-stretched and UV-treated to keep it in good condition in the summer. It has a tensile strength of 1,500 lbs.
The price is very appealing, especially when you realize this rope costs a third of the other ropes featured.
Material: Not Stated
Length: 75 ft
Handle: V-Shaped
Sections: Single
This Airhead product is the first double-handle water ski rope to feature. The advantage of having two handles means that the rider has more control and can slalom better.
It takes a degree of experience to use a double-handle rope, so beginners are unlikely to find this product easy to use.
The handles have TPR Tractor grips with 4-inch finger guards. A rope keeper is included to stop the rope from tangling when stored away.
Unlike the majority of ski ropes featured, the handles don't float, so expect to fish around in the water if you drop them.
Material: Poly-E
Length: 75 ft
Handle: Double
Sections: Single
Final Thoughts
It seems the vast majority of the best water ski tow ropes come with V-shaped handles, and that overall, these ropes are more comfortable to learn with.
The type of rope you prefer will depend on your experience level and your budget as well as how you intend to use the water skis.
If you like slaloms, go for a double-handled rope. If you want speed, the V-shaped variety is the best choice, and if you are a novice water skier, make sure that you choose a single-section rope.
---