In a Bind: The Best Water Skis From Beginner to Advanced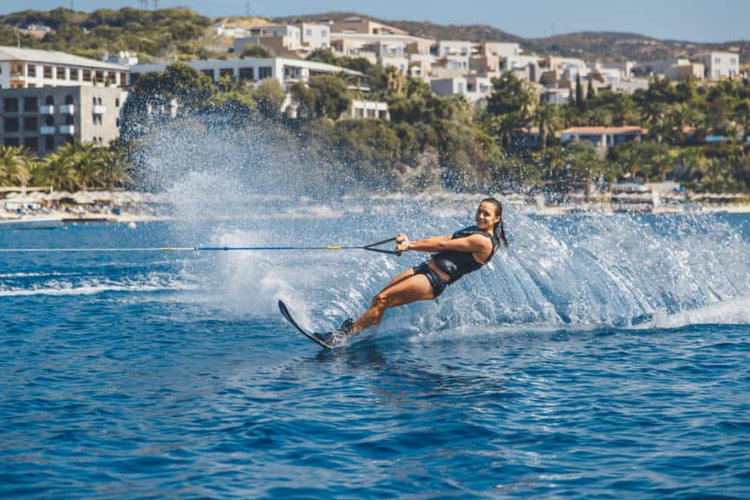 Want more excitement out on the boat? Are your kids tired of tubes and floating water mats? Or maybe you want to up your waterski game with a pair of trick skis? 
Whatever the reason, a new pair of water skis might be the answer to your water-based blues. Whether you take off from shore, deep waters or an inflatable dock, let's review at some of the best water ski features to get you up on the water.
Features of Water Skis
In the olden days, water skis were about as basic as you can get. Two curved planks of wood (mahogany, maybe) with leather straps for the feet were about the extent of water ski construction back in the early 20s.
Today, water skis are made of modern materials such as fiberglass, graphite and carbon fiber. They also sport colorful graphics, high-tech construction and super sturdy bindings to offer extra hydrodynamics and better performance.
Let's take a further look at some of their modern advantages.
Water Ski Bottom Shape
Moving past the flat bottom of those early skis, today's top water skis are available with a V-Bottom, Full Concave or Tunnel Concave bottom.
V-Bottom Like it suggests, a V-bottom water ski has a center rib that runs along the bottom from front to back. This allows the ski to glide straight and smooth, similar to a rudder on a sailboat. V-Bottoms can be found on wide-body and beginner skis.
Full Concave Full concave water skis have a concave base from edge to edge. This gives a solid edge hold and lets them hold turns stronger. Competition and advanced skis have a full concave bottom.
Tunnel Concave Tunnel concave water skis have a center concave and two flat spots on each side. The flat spots work similar to the way pontoons on a pontoon boat work. Tunnel concave skis ride straight and smooth at lots of speeds and sit up higher in the water. Larger flat spots mean more stability while the concave base lets it hold an edge.
Water Ski Edge
The edge of the ski is what allows you to carve a turn and a beveled edge helps control turns. A beginning skier needs a large beveled edge while a professional skier needs a small edge angle to get those precise turns.
Water Ski Fins
Fins are found on the bottom and near the back of the ski. They help to maintain control and balance so you stay upright and straight. They can also be found on surfboards and paddleboards. Some water skis have removable fins.
Water Ski Boot Bindings
The binding is the part your foot slips into (like snow ski bindings, but without the clunkiness). They 're either adjustable, allowing a customized fit for multiple people, or they 're custom-designed for one person.
Construction Material
Water skis are typically made out of either fiberglass, carbon fiber or a combination of fiberglass and graphite. Fiberglass, which is very durable, is the most common material used in the making of water skis.
Fiberglass/graphite: Strong and lightweight
Carbon fiber: Lightweight, strong and durable, but it's also more expensive
Polyurethane: The core of the water ski is usually polyurethane
Wood: Yes, some skis today are still made out of the traditional wood
Types of Water Skis
Whether you're a beginner or an expert jumper, there are top water ski options for every experience level, as well as specific uses such as jumping, tricks and slalom skiing.
Combination Skis:  A great choice for beginners. They have a wider tip and fins for control and balance while underway. As the name suggests, they can be used for a combination of skiing types.
Slalom Skis:  With both feet on one ski, a slalom ski is designed to go faster and make sharp turns. It's thinner than combo skis and has fins for control.
Trick Skis:  Remember those water ski shows you've seen on TV or out on the lake? This is the ski for that. Trick skis are short and wide with no fins. The absence of the fin allows you to slide across the water (or up a ramp) to do flips, turns and other aquatic tricks.
Jump Skis:  Long, wide and very lightweight. This design allows them to jump a platform or ramp and sail through the air with the greatest of ease.
Youth Skis: Â Specially designed for young beginners, youth skis have a cord/bar across the front (and sometimes the back) to keep the skis together while learning.
The Best Water Skis From Beginner to Advanced
Best Water Skis for Beginners
1. AIRHEAD AHST-150 Trainer Water Skis
Check price on Amazon
These wooden trainer skis have a crossbar at the tips and tail ties at the back to provide stability and keep the skis straight.
An attached rope on the crossbar gives the beginner skier something to hold onto. They have fiberglass-reinforced nylon rudders for added stability.
The adjustable slide bindings fit children size 12 and adults size 5. They 're 48 inches long with a wide tail design to add lift when starting.
Bottom Shape: V-bottom
Construction Material: Wood
Removable Fins: No
2. O 'Brien Jr Vortex Widebody Combo Water Skis
The O 'Brien Jr Vortex is a great all-around ski for beginners to grow into more advanced skiing techniques.
They're 54 inches long with a plastic fin and adjustable bindings. An extra-wide forebody gives stability and the parabolic shape makes getting started in deep water easier.
One of the skis has a rear toe plate that allows you to use your rear foot as a rudder of sorts when slalom skiing (using one ski). You can trail your foot behind you in deep water.
It also comes with a stabilizer bar for beginners.
Bottom Shape: V-bottom
Construction Material: Fiberglass
Removable Fins: No
3. Rave Sports Rhyme Adult Water Ski
Check price on Amazon
The Rave Sports Rhyme Water Ski has a wide body design for stability and easier starts in deep water. It also means there's less of a power toll on the boat to pull skiers up and on top of the water.
The soft adjustable bindings have a rear toe plate for beginner slalom skiers. At 65 inches in length, this is a great choice for adults.
Bottom Shape: Tunnel concave
Construction Material: Formica top with fiberglass rods
Removable Fin: No
Best Water Skis for Intermediate and Advanced Skiers
4. CWB Connelly Aspect Slalom
Check price on Amazon
The CWB Connelly Aspect Slalom skis are designed with Connelly Advanced Profile Technology (C.A.P.T), which decreases the weight of the ski while increasing its strength and response.
The fiberglass wrap has a high gloss PMU top for years of good looks. They're made with a closed-cell polyurethane resin core to prevent waterlogging.
Sharp bevels and V-step technology along the base provide precise turns and smooth response. A wide forebody provides increased surface area under the foot for stability at low speeds.
Bottom Shape: Tunnel concave
Construction Material: Fiberglass with PMU top and polyurethane resin core
Removable Fin: No
5. Hydro Slide Junior Wide Track Intermediate Water Skis
Check price on Amazon
This junior intermediate level set has sliding adjustable bindings with a rear toe plate on one ski. They have tunnel concave bottoms, a drop-through plastic fin and a wide surface area for stability and control.
A training crossbar is included, which makes this a sound option for a beginner wanting to extend the use of the skis past the newbie timeframe.
Bottom Shape: Tunnel concave
Construction Material: RIM molded polyurethane
Removable Fin: Yes
6. Nash Hydroslide Legend Adult Deluxe Water Skis
Check price on Amazon
A great intermediate-level choice, the Nash Hydroslide Water Skis have
adjustable sliding bindings
. They have a
rear toe plate
on one ski and provide quick turning in a stylish design.
Bottom Shape: Concave
Construction Material: Fiberglass
Removable Fin: No
7. O 'Brien Pro Trac Trick Skis
Check price on Amazon
Short and wide, O 'Brien Pro Trac Trick Skis have tapered bevels for easy starting and extra lift. The symmetrical rocker gives increased stability.
The adjustable bindings are comfortable on your feet and have rear toe plates. These trick skis are 42 inches long and fit sizes 7-13.
Bottom Shape: Tunnel concave
Construction Material: Fiberglass
Removable Fin: No
Best Water Ski Accessories and Gear
Now that you've reviewed our top choices and picked out the best pair of water skis for you, you need all the accessories to go along with them.
Airhead 3-Section Water Ski Rope
Check price on Amazon
Every water-skier or wakeboarder needs a comfortable and sturdy tow rope. This EVA-wrapped handle has three sections for customized wakeboarding, waterskiing or kneeboarding (75, 60 or 45 feet). Simply choose your preferred length.
It has a 17-degree, 13-inch radius aluminum core handle and a 3/8-inch 16-strand UV-treated mainline. Full-length finger guards give a comfortable grip.
An encased crossover yoke protects the rope from high abrasion wear and a Rope Keeper is included for tangle-free storage.
Fly High Stainless X-Pole Pylon
Check price on Amazon
The Fly High X-Pole Pylon stands seven feet tall off the boat's deck, allowing wakeboarders and trick skiers to get more airtime.
It has a Delron swivel top and fixed height swivel ski tow. Rated at 5,200 pounds, it slides over the top of an existing pylon in your boat.
Nylon inserts provide pylon protection. How's that for easy installation?
Monster Tower Water Ski Rack
Check price on Amazon
A water ski rack helps keep everything off the deck and out of the way when you're done skiing for the day. More room for all the towels, toys, dock lines, anchors and boat cleaning products (It's always something, right?).
With universal tower inserts, the Monster Tower Rack fits any tower 1 5/8 to 2 1/2-inch in diameter. It holds two slalom skis or one pair of combo skis.
A quick-release mechanism makes it easy to remove for end-of-season storage. Rubber bumpers keep the skis and boards secure.
It's 25 inches between forks and made with 6063 aluminum and 303 stainless steel components and fasteners. It can also be rotated to any angle to fit your boat tower, including on curved towers.  
Ready to suit up and get out on the lake yet? Hopefully, this has helped you choose the perfect pair of water skis for yourself or teaching your kids. Happy skiing!
Featured Boat Care Product
| | |
| --- | --- |
|     |  Boat Erasers remove dirt and grime from decks, upholstery, consoles and walls as well as shoe scuffs and more. |
Check Price on Amazon - Take care of scuffs and stains lickety-split with Better Boat's boat erasers. Simply wet, squeeze and wipe away. Erasers are made of marine-grade high-density foam and can be used on tile, grout, glass, chrome and shoes. 
---