10 Ways to Survive Family Boat Activities, Like Fishing – And Still Have Fun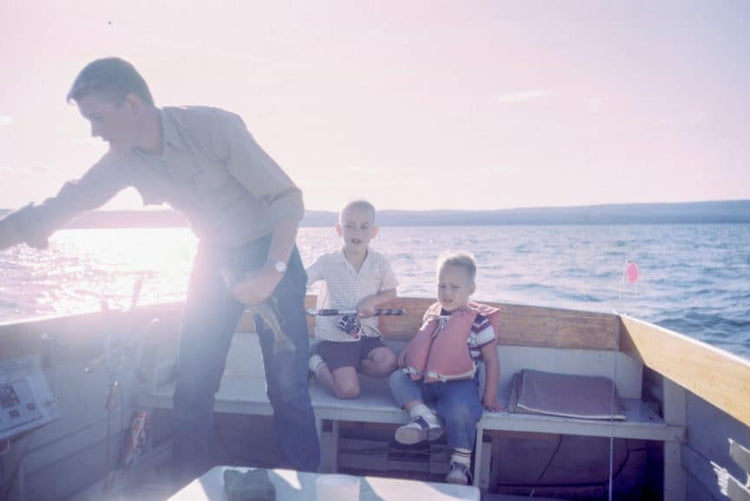 Family boat activities, like fishing, can be a real pain. Fishing rods are always a tangled mess. Gear is either lost or smashed in an old stinking fishing box.
One kid's hungry and another is bored. How do other families go fishing and manage to catch fish ... or at least have fun? Sound familiar? 
Here are 10 easy guidelines to help you survive family boat activities (and have fun in the process!).
1. Location, Location, Location!
You may already have a favorite fishing hole and know your way there and know what's available in the area for your family's needs (bathrooms, food, gas and bait).
Or you may want to try a new lake or river. If that's the case, you may need a map of the area.
Our phones are well-equipped to locate most of what we need and find reviews to check out. However, maps are a great way to teach kids how to read, find their way and discover those hidden treasures that are not always found online.
I love the Road Atlas books. They're chock full of helpful information. Roadways, lakes, streams and parks are all obvious, but they also hold valuable historic information for parks or towns depending on which one you get.
Reading the lake for where the fish are and trying the obvious spots (lily pads for bass for example) is one way to adventure your way around the water. Or you can gear up and try a fish finder to find that hot spot to bring in the fun early on.
The Lucky Portable Sonar Fish Finder is so easy, wireless and rechargeable that you can use it on your boat, kayak or from the water's bank.
After you've tossed out the line and anchor, simply cast the sonar transducer out to the area you want to check for fish. The waterproof handheld display will show the depth, size of any fish in that area and the temperature of the water.
Kids will love seeing what's under the water and can learn quickly why it's important to know the depth to set your bait.
2. Get Organized 
The more organized you are, the less stressed you'll be. Find great organizer systems beforehand to be prepared for everything from bait to snacks.
Packing and traveling with organizer holders keeps everything neat, clean and easy to grab while bouncing across the water. Check out storage organizers like the Veesha 3 pack 36 grids box. It has removable dividers that can be customized to fit your bait. 
I like to have one box for each type of fishing we do, like panfish, bass, trout and steelhead. That way, you can grab a couple of boxes to go and know you have what you need.
Also, being plastic, it can be easily wiped clean after a day of fishing.  Fishing rod holders that are easy to take from truck to boat save on tangled gear and endless frustration!
Similar to a golf club bag, the Fishing Bag Fishing Rod Reel Case Carrier is a great system that keeps everything stored and ready to throw into the truck and go. It's easy, quick and affordable.
I also love these handy ceiling storage net racks to carry and store gear in. When you have a van full of little kids, coolers and gear, it's easy to run out of room for the fishing rods. This system is easy to use and keeps them from getting all tangled up.
3. The Right Gear For The Right Fishing Trip
Thinking ahead and knowing what type of fish you're fishing for certainly helps in knowing what type of gear to take. Depending on how many in your family are going fishing, bait bundle packs are a great way to try out all kinds of bait to fit any fishing trip.
I've always found it easier to use a lead that you can clip different bait on and off, so if you're helping little ones, it takes a lot less time to change out their gear. You can show them how to easily unclip and clip on a new bait all by themselves.
Featured Boat Gear Product
Check Price on Amazon - Better Boat's Boat Cutting Board makes the perfect piece of gear to slice, chop and scale fish. It has slots to secure knives and trays to hold tools to keep them from sliding off. It works in angled and vertical rod holders for a secure surface.
4. Kid Friendly
5. When fishing with young kids ages 3-10, keep in mind that they're going to be excited, fidgety, hungry, bored and want to play all within a short amount of time!
This isn't just about you having fishing time "this is family time. Little kids are going to need break times, rest stops and snack times. If you choose a lake or river that has a playground and restrooms, let the kids know ahead of time to use the restrooms before going out and after you fish for an hour (or longer if they're having fun). Then they can come back for a break.
This lets them know a schedule so they can have time to fish and play. Keep their attention on the boat while fishing with boat activity games like I-spy or counting how many different birds or turtles they see.
5. Snacks Are A Must!
There's nothing like lunch on a boat! It keeps everyone's energy up and attention on having fun. You'll want to find a cooler that works best for you and then pack it full of drinks and energy bars to keep everybody hydrated and full of energy.
6. Be Prepared
Being fully prepared is the first step to having a stellar day on the water with the kiddos. When you're out on the water, especially with young kids, you need first aid kits, sunscreen and sunglasses.
Knowing the weather before going out on the boat is essential. Keep in mind it may be cooler out on the water in the early morning or evening, so a blanket is a good idea to keep young kids warm.
7. Opportunities To Learn
Any boating activity is a great time to teach kids about boat safety, water safety and understanding the water ecosystem. There are excellent books about water safety and the marine environment that you can share with your children before the trip. 
This gives them a heads-up and hands-on experience to use and see when they're on the boat. Water Safety by Emma Bassier, recommended for children ages 5-8, is a good one to check out.
8. It's Going To Be Messy!
Anytime you do things with kids, there's going to be a little bit of chaos and mess. That's just part of being a kid and having a family. Knowing that up front gives you the mindset of accepting that it's okay, everything isn't going to be perfect. 
What's important is you have some quality time together and some great memories to make. Mess and all. So, relax and allow yourself to be a kid too.
Featured Boating Product
Check Price on Amazon - Better Boat's boat soap is the best product out there to keep your boat clean and slip-free. Take care of those inevitable spills with a quick sudsing and rinsing with a garden hose and nozzle. An extension rod and mop head make easy work of hard-to-reach places. Use a microfiber cloth to get set-in stains.
9. Share the Chores
From start to finish, sharing the chores of the loading gear, unloading, setting up and cleaning up gives everyone some responsibility to take part in, and it lightens the load on just one parent doing it all.
It also teaches the kids how to be organized and get things done as a team so everyone can have fun.
10. Breathe
Memories are the best part! Boat activities make for great memories for everyone. Don't forget to take pictures and capture those Kodak moments.
Keep in mind, even if you don't catch any fish, you made quality time your kids will remember and so will you!