Lower the Gangplank! 4 Best Boat Boarding Ramps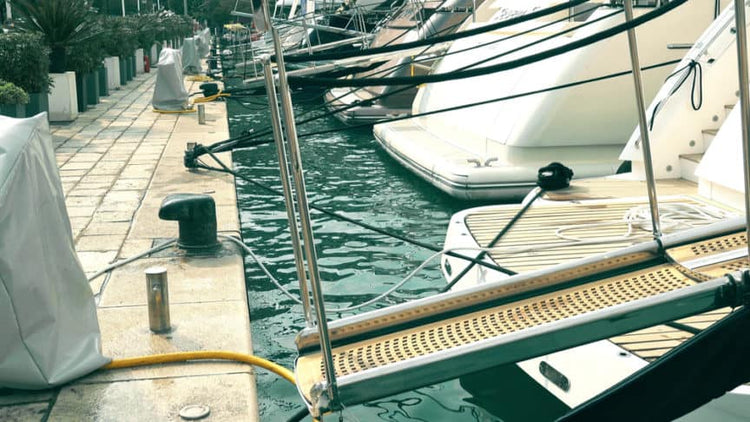 Have you ever jumped onto your boat and missed? While funny for the bystanders, it's probably not the best way to start, or end, a day on the water.
If this scenario came too close for comfort and you want to improve boating safety, you might want to think about a boat boarding ramp.
Boat boarding ramps, which are usually removable, provide a walkway to your boat, either from the dock or from the shore when beached.
You might also hear them being called gangways or, if we're being really fancy, a passerelle. Passerelle simply means bridge, but your friends will be impressed with your new-found vocabulary.
Why Do I Need a Boat Boarding Ramp?
Boat boarding ramps aren't necessarily a necessity, but they sure can help when the boat is unsteady due to other boat wakes, the weather or just the fact that they're in the water.
Here are a few reasons why you might want to use a boat boarding ramp.
Safety for children, pets and senior citizens
Easier to get on and off the boat (no jumping and winding up wet)
Don't have to put your boat as close to the dock and risk bumping and scratching it
Stroller and wheelchair-friendly
Use with a boat dock davit or lift for easier boarding while the boat's in the air
Features of Boat Boarding Ramps
Boat boarding ramps aren't exactly the fanciest pieces of equipment in the boating life, but they certainly make things easier (and safer). Here are a few features to consider when purchasing one.
Handrails
Handrails are always a win around boats. If the boarding ramp doesn't come with handrails (and they usually don't), you can always install them later.
Wheelchair Accessible
Wheelchair-accessible ramps are wider than traditional planks and usually have rails along the side. This prevents the wheelchair or stroller from rolling off the side.
Carbon Fiber Construction
Boat boarding ramps are typically made out of carbon fiber or a mix of composite materials. Carbon fiber is lightweight but still strong and sturdy enough for walking.
More high-end yacht boarding ramps may have teak and shiny stainless-steel accents. 
Non-slip Tread
Non-slip tread is a no-brainer. You'll want to choose a boat boarding ramp that has a textured surface so that you don't end up slipping and sliding all over the place.
Featured Boat Care Product
| | |
| --- | --- |
| |   Metal Polish cleans, polishes and protects all metal surfaces from cleats and railings to ladders, ramps, pontoon tubes and more. |
Check Price on Amazon - Better Boat's Metal Polish cleans and restores luster to chrome, stainless steel and more. It removes corrosion, oxidation, salt, grime and surface stains quickly and easily. Simply wipe on with a microfiber cloth for a super shiny finish on boats, vehicles, RVs and appliances. 
Types of Boat Boarding Ramps
There are a few distinct types of boat boarding ramps to get you and your boating buddies from the land to the water (or vice versa).
Plank
This is just a straight-forward flat walkway leading from the dock to the boat. Think of it like a pirate's plank (but without the drama, drowning and keelhauling).
Telescoping
A telescoping boat boarding ramp slides into itself (like a ladder) for easy storage. This type is great for boats that may sit further away from the dock. You can customize the amount of length reaching out to the boat.
Rolling
Rolling boat boarding ramps have wheels at one side to easily push the ramp into position as well as roll it away when everybody is on board. I like anything I can push or pull rather than carry.
Folding
The ability to fold is a great feature on a boat boarding ramp. It's easy to store when not in use. You can take it with you on the boat, stow in in your dock box with your boat care products, dock lines and buoys or leave it secure and out of the way at the dock.
Folding boat boarding ramps usually have some type of closing device that keeps it neatly folded for carrying or storage.
Lower the Gangplank! 4 Best Boat Boarding Ramps
Jiff Pontoon Boarding Ramp
Check price on Amazon
The Jiff Pontoon Boarding Ramp is your basic run-of-the-mill ramp. Designed to stow under a pontoon boat, it slides in and out on plastic wheels and has a permanent non-slip surface.
Made of anodized aluminum, it's a great choice for loading passengers or gear and equipment.
Type: Sliding
Dimensions: 72' L x 21' W
Weight Capacity: 300 lb
Silver Spring Aluminum Multi-Fold Boarding Ramp
Check price on Amazon
While made for wheelchairs, the Silver Spring Multi-Fold Ramp is perfect for boarding boats as well, especially since it's made out of lightweight rust-free aluminum.
It has high-traction grit coating on the surface for safety. Break it down into two pieces that fold conveniently into a compact size, secure it closed with Velcro straps and then carry away with its built-in handles. The portability of this ramp gives it a boost up on my list.
Type: Folding
Dimensions: 8' L x 30' W
Weight Capacity: 600 lb
Reese Powersports Marine Walk Boarding Ramp
Check price on Amazon
The Reese Powersports Marine Walk Ramp is a breeze to install and even comes with all mounting hardware as well as six adhesive non-skid pads for slip-proof use.
It's made of durable rust-resistant galvanized steel. If all you need is a quick path to your boat, this model is a great choice. 
Type: Plank
Dimensions: 24' x 9.8' x 1.2'
Weight Capacity: 250 lb
Pet Gear Travel Lite Boarding Ramp
Check price on Amazon
Dogs love boats. It's a fact (just ask any dog). Sometimes, though, it's a little hard for them to get into the boat. Also, can you imagine walking across a hot metal ramp with doggie paws?
The Pet Gear Travel Kit Ramp makes it easy and pain-free. It has a soft Supertrax mat that's easy on pet paws. The surface of the mat is pressure-activated to give good grip.
Since it's removable, it's also easy to clean. A little bit of Boat Soap and rinse with a garden hose and you're done.
Raised edges along the side keep pets on the ramp if it gets unsteady. There are bottom grippers and a safety tether.
The bi-fold design makes it easy to transport. Just fold it up and use the built-in carrying handle. This ramp also comes in extra wide and longer versions.
Type: Folding
Dimensions: 42' L x 16' W
Weight Capacity: 150 - 200 lb
Safety and Convenience Accessories for Boat Boarding
Safety is always a high priority around boats and the water. Here are a few more products designed for safe and convenient boat boarding whether you have two legs or four.
Marine Fiberglass Direct Aluminum Handrail
Check price on Amazon
This curved handrail is about 42 inches high with a flat base plate that gets mounted to the dock. It's about 13 inches wide and provides a steady hand for boat boarding or un-boarding.
Made out of anti-corrosive aluminum, it's a great choice for both freshwater or saltwater environments.
Paws Aboard Doggy Boat Ladder and Ramp
Check price on Amazon
Doggie boat accessories always make me happy! And this bright yellow ladder will make your pooch super happy too.
Mounted to the boat's stern or even at the dock, it makes a dog's boarding much easier. The universal grip fits most boat ladders that have three or more steps. It's durable, portable and lightweight. Simply fold it up for easy storage when not in use.
Taylor Made Products StepSafe Dock Steps
Check price on Amazon
Steps are perfect for boats that sit above the dock line. I've seen them used for boarding charter cruises and sportfishing boats.
Worried about sticky fingers while you're away? This version has holes to drill it permanently to the dock.
It's made of molded-in UV-resistant polyethylene with non-slip pads for safety, which are offered on single, double and three-step models.  
Have you picked out the perfect boat boarding ramp? Hopefully, this has given you a tip or two to choose the right one for your boating lifestyle.
---