The 6 Best Boat Dehumidifiers to Go From Damp to Dry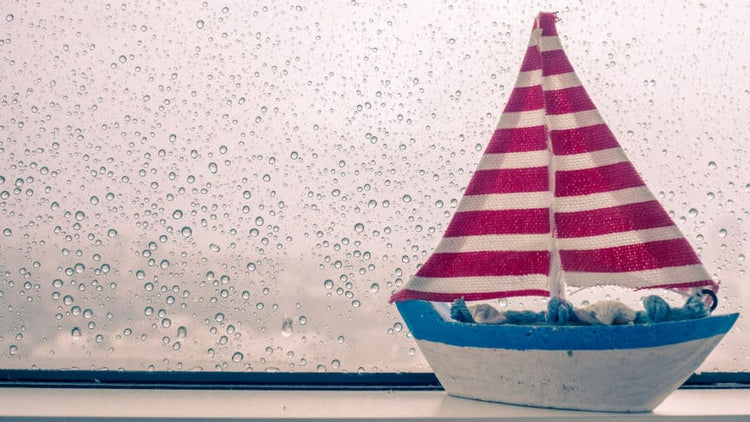 Noticing mold or mildew in your boat? Does it smell a little off lately?
You just might need a boat dehumidifier. Boat dehumidifiers are a given in winter when you're not using the boat, but they're also handy to have onboard while you're actively using the boat.
This is especially true if it's a liveaboard trawler or a frequently used boat. Damp air and humidity can do much more than give you soggy crackers, clumpy salt and frizzy hair. It can rot wood, rust metal and cause mold and mildew damage.
All that stale air can also aggravate sinus problems, and believe me, you don't want sinus problems (especially out on a boat when you're trying to have fun).
Marine environments are full of humidity. While we do love being on our boats, we don't love the negative effects of humidity that go with it. Opening the boat hatch is all well and good, but what if it's raining? Or there are mosquitoes?
Fortunately, there's a way to take care of the issue without letting in pesky critters and precipitation.
You may be wondering, why do I specifically need a marine dehumidifier? Why can't I just use the same type of traditional dehumidifier that I have in my basement? The answer is pretty simple.
The best Boat dehumidifiers are built to withstand water-based environments. They're made from waterproof and stainless steel components that won't rust, along with the fact that they'll be on a rocking boat.
You also want something that can be left unattended if you won't be using the boat over the winter. 
Featured Boat Care Product
| | |
| --- | --- |
|       |  Mildew Stain Remover |
Check Price on Amazon - Better Boat's mildew stain remover breaks down and removes mold and mildew stains from vinyl, fiberglass, plastic, tile, grout and canvas. It's safe for use on boat seats, outdoor furniture, camping gear, awnings, bimini tops and more.   
Reasons to Use a Boat Dehumidifier
Remove humidity from the air for a comfortable living space
Improve air quality
Prevent mold, mildew and bacteria
Prevent the growth of dust mites
Dry condensation on windows
Protect the wood and metal in your boat
Types of Boat Dehumidifiers
The type of boat dehumidifier you choose depends on what kind of weather conditions it'll be used in, such as tropical or dry environments. In other words, you wouldn't necessarily use the same boat dehumidifier in the Great Lakes as you would in the Caribbean or the BVIs.
Likewise, a pontoon boat or deck boat wouldn't need the same dehumidification abilities as a large sportfishing boat.
Desiccant Dehumidifiers
Desiccant marine dehumidifiers use a chemical, usually calcium chloride or Zeolite, to absorb moisture. They're built with a fan that pulls air into the dehumidifier and sends it past a wheel that holds the desiccant chemical, which dries the air.
Other examples of desiccant dehumidifiers include jars of DampRid and hanging bags of Absorbag and dehumidifier hanging bags.
Compressor-Driven Dehumidifiers
Compressor-driven boat dehumidifiers work like an air conditioner. The air is cooled over the coils and the water condenses, dripping the condensation into a bucket. So, obviously, you'll have to empty the bucket, which is something to consider.
Some compressor-driven boat dehumidifiers can be used with a hose for continuous drainage. This is nice for your boat winterization.
Thermo-Electric Dehumidifiers
Thermo-electric boat dehumidifiers work without the use of moving parts. Instead, they just have a small fan that circulates the air. Known as the Peltier Effect, it works when an electric current is passed between two different metals. During this, heat gets transferred from one metal to the other( since the electrons pass through different metals at different speeds).
It may sound like college-level chemistry, but this type is actually very simple. It doesn't have a humidistat or a defrost cycle, meaning fewer parts equal less worry. And since there's no compressor, it's quieter and more cost-efficient than other types, but it's also slower at removing moisture.
Features of the Best Boat Dehumidifiers
Boat dehumidifiers
have many of the same features as the standard household ones you use in your basement. But here are a couple of marine-specific features you'll need to look for.
Safety features to protect against electrical or corrosion damage
Uses a vent, or hose, to release moisture rather than draining into a tank for prolonged and unattended use
Can be fastened in place to prevent rolling when the boat is moving (boats have a habit of doing that)
The Best Boat Dehumidifiers to Go From Damp to Dry
It's time to check out a few of the best boat dehumidifiers that made my list for affordability, fit and unique features.
Editors Choice
 Check Price on Amazon - Better Boat's dehumidifier bags combine moisture-absorbing pellets with activated charcoal to eliminate odors and deodorize the air. Best of all, they're unscented so they don't overpower a small area.
1. Ebac AD850E Dehumidifier
On the higher end price-wise, the Ebac AD850E features a boatload of bells and whistles. The streamlined design fits into almost any space on your boat.
It has a two-speed fan motor that allows it to adapt to different humidity conditions. It can operate at 41 degrees, which makes it an ideal choice for over-winter use.
It's quiet and has an internal humidistat that automatically switches off to save energy. Saving energy is always a win-win situation.
Type: Compressor
Holds: 25 liters
Size: 29.5 X 26 X 13.5
2. Eva-Dry EVD 22000 Dehumidifier
The Eva-Dry EVD 22000 Boat Dehumidifier is small and compact, which makes it a
great choice for a small boat
or an RV. You could even use it in one room of a large boat. It offers
low energy use and automatically shuts off
when at capacity.
Type:  Thermo-electric
Size: 17.9 X 13.9 X 10.4
3. InvisiPure Hydrowave Dehumidifier
Check price on Amazon
Since there's no compressor (it works on that fancy sounding Peltier Effect), the InvisiPure Hydrowave is super quiet. It removes up to 27 ounces a day and is lightweight enough to move to other areas of the boat when needed.
It automatically shuts off when the tank is full and you can also attach a boat hose for continuous draining. For the price and that cool continuous draining feature, this is my pick for a great all-around boat and marine dehumidifier.
Type: Thermo-electric
Holds: Up to 2 liters per day
Size: 9.8 X 6.1 X 13.9
4. Ecor Pro Dehumidifier
Check price on Amazon
The stainless steel interior and exterior of the Ecor Pro Dehumidifier makes it an excellent choice for boats. It's compact, saltwater resistant and designed to run 24/7.
This desiccant boat dehumidifier is specially designed for marine and water-based use such as around pools, spas and large and small boats.
Type: Desiccant
Holds: Up to 12 liters per day
Size: 11 X 7.5 X 7.5
5. Meaco Zambezi DD 8L Desiccant Dehumidifier
Check price on Amazon The Meaco Zambezi DD is quiet, lightweight and works down to 33 degrees. It has a tank as well as a hose for continuous draining.
There's an anti-mold coating on the tank, a variable humidistat, three fan speeds and a timer. I'm particularly partial to the sterilizing ionizer that helps to clean the air as it removes the humidity. Then there's that laundry mode, which I think is just plain cool.
For every purchase, Meaco donates to a baby elephant orphanage in Zambia. And who doesn't love baby elephants?
Type: Desiccant
Holds: 8 liters
Size: 36 X 20 X 55
6. DampRid Hanging Bag
Check price on Amazon
If you're just looking for something to hang in a closet or another small space on your boat, let's talk a bit about hanging desiccant bags.
Filled with moisture-absorbing pellets, DampRid hanging bags help to protect fabric, clothing and other items. They're designed to hang (either in a closet or on a doorknob) and won't dry out furniture.
You can even hang some in the cabinets in the kitchen or bathroom, as well as keep a few in your dock box. They leave a fresh scent and generally last about 60 days.
Type: Desiccant hanging bag
Size: 6.1 X 9.2 X 5
Have you figured out which
boat dehumidifier
is best for your boat? Hopefully you've gained a few tips for picking out the best one to keep humidity at bay.
---