How to Rotate or Replace a Boat Hatch (And Reasons You Should)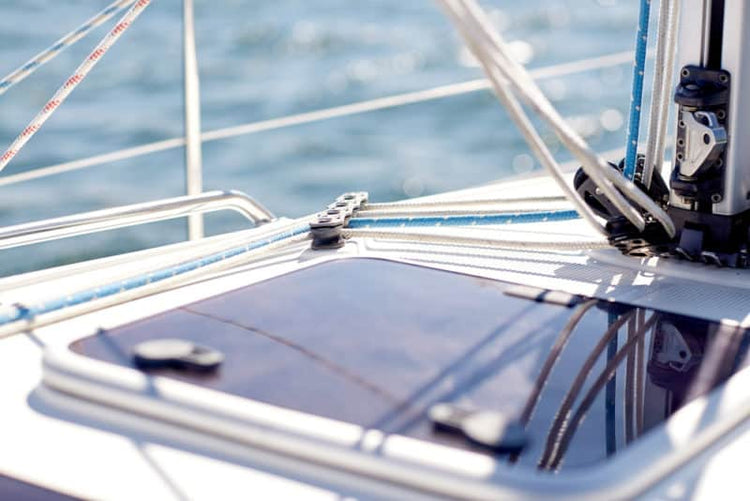 Boat hatches can make or break a boat. But when considering boat maintenance and appearance, we tend to overlook their functionality. Really, they should be top of any old salt or new boat owner's mind to upgrade or repair.
Why? Well, for several reasons, both practical and cosmetic.
A cracked boat hatch with a faded tint cramps your boat's curb appeal.
A boat hatch that opens in a bad direction limits your deck space.
A boat hatch with degraded or poorly applied sealant can cause water damage.
With any of these hatch issues, you might need an upgrade. That's why it's time to consider your boat hatches.
Here's what you need to know.
Reasons to Rotate or Replace a Boat Hatch
You don't have to live with the features you're given. There are options for customizing to your needs that are still in the realm of DIY.
However, don't just ditch the hatch because you're scared to replace it. The process is easy for any handy boater and you'll reap all the benefits of the ventilation that hatches offer.
For example, is there anything better than lounging in the V-berth enjoying the breeze and night sky while safe from mosquitos and other buggy creatures? Not that I can tell!
Broken Boat Hatches Invite Leaks
Serious damage occurs when boat hatches become damaged. When sealant between the hatch and the boat is no longer watertight, water leaks through, sometimes within a solid radius of the hatch itself inside the cabin.
Imagine blasting through waves and having water crash over a deck hatch that isn't watertight. What kind of damage could that do to your boat?
One signal boat hatch that needs replacement or repair is a drop in the boat. If you see this, investigate further so the problem doesn't snowball.
Liveaboards are around enough to witness a drip, but for casual cruisers, you'll need more proactive testing.
On our boat, we test all hatches and ports at the beginning and end of each season by spraying them with a hose and nozzle.
This method's great for testing specific joints in the hardware, though it's a two-person job: One person points the hose at a joint and slowly works their way around the hatch. The person is inside the cabin and inspects for leakage.
This simple inspection takes minimal time and could avoid damage in the long run if your hatch does have a problem. Make hatch inspection a part of your preventative boat maintenance each season. If you do come across leakage, get it done sooner rather than later.
The Boat Hatch Encounters Obstacles
Did you know boat hatches open in more than one direction? In fact, do you know what direction your boat hatches open? Take notice the next time you're on your boat.
When it opens, does it get in the way of objects on deck like solar panels or sail bags?
Just because the hardware setup worked for the boat's previous owner doesn't mean it'll work for you. The best thing is, you don't have to live with it. You can move, rotate or replace your hatch so it isn't in your way anymore.
These annoying obstacles can really add up when boating so don't be afraid to customize your boat to your workflow, especially if you're restoring a boat and replacing parts anyways.
The Boat Hatch Blocks Wind and Ventilation
Do you find yourself battling against the wind to get the hatches open for a bit of fresh air? If you find your hatches annoying, the best option is double-opening boat hatches, which change directions.
Double-opening boat hatches offer many advantages like minimizing the water splashing into the cabin, but they're excellent at optimizing air ventilation.
When we first got the boat, we had no idea these magical double-opening boat hatches existed until we started looking into replacements. Now, they're certainly on my sailor's wish list!
If you're avoiding spending time and money to find or order custom double-opening hatches to fit your boat, there's another solution to optimize ventilation.
Check out this Windscoop Ventilator (check price on Amazon) and West Marine's Down-the-Hatch Ventilating Sail as wind-harnessing alternatives.
How to Replace Boat Hatches
When both arms on the hatch above my V-berth cracked, I immediately went into "avoid the big expensive project" mode. I kept it shut and wrote it off for another season.
But upon speaking to other boaters about the issue, they assured me that replacing a boat hatch was easy as pie. Today, I'm glad to add hatch replacement to the list of surprisingly easy boat DIYs.
The Tools and Parts You'll Need
As long as you plan ahead and order the correct tools and parts (which may be custom depending on your boat's build), replacing a boat hatch is a simple process. Here are some of the tools and parts you should order and have on hand:
Screwdriver and the proper screws for your boat
Paint stirrer, plastic knife, or anything to scrape off excess sealant
Once you have these tools set aside and ready to go, roll up your sleeves and get ready to install your boat hatch.
Steps for Installing a Boat Hatch
Installing the hatch itself is surprisingly easy. Once you've measured your boat hatch and ordered an exact replacement (or custom hatch), here's whatcha gotta do:
1. Cover the hatch from the cabin interior. This ensures no debris falls into the cabin. You can use something as simple as a garbage bag taped up to the cabin ceiling.
2. Remove hatch arms so that the hatch opens and lays flat on the deck.
3. Unscrew and remove the hatch from the deck. You might have to pry it up with a flat screwdriver, depending on the strength of the caulking.
4. Scrape off old caulking using a chisel or paint scraper.
5. Sand down the surface lightly to completely remove all old caulking.
6. Wipe away all dust or particles and get the frame clean.
7. Inspect for wood rot in wooden decks or frames. Check out this video for visual reference. If you discover rot, further repairs may be necessary. You might need to do some re-framing before you can install a new hatch.
8. Install the boat hatch. Depending on the hatch style, the final installation process will vary (marking screw holes, making new holes, etc.), but here are the basic steps. First, apply the sealant. Next, lay down the hatch and screw it into place. Finally, allow it to dry for the recommended drying time (check the sealant).
Remember the hose trick I mentioned above? Use it! As a last precaution, test the seal with a water hose and make sure nothing's leaking into the cabin below and all is dry.
Installing a boat hatch might seem like an intimidating project, but you could realistically replace several hatches in a day minus repairs of major wood rot or framing. With two people, the project goes even faster.  
Featured Boat Product
| | |
| --- | --- |
|     |  Marine Sealant works above and below the waterline to form a waterproof barrier. It bonds to plastic, fiberglass, gelcoat, metal, glass, ceramic and wood.  |
Check Price on Amazon - Better Boat's marine sealant forms a flexible and permanent bond that's resistant to UV light, saltwater and weathering. Use on boats, pool tiles, windshields, aquariums and more.  
Go Beyond the Boat Hatch
Getting rid of a boat hatch entirely and patching a hole takes a bit more effort. However, if you have a boat hatch that hinders you from standing or stretching out onthe  deck and need to rid yourself of it, there are a few solutions.
You could opt for a boat hatch deck plate lid similar to this Amarine-made Marine Boat Access Hatch & Lid (check price on Amazon), which covers and secures the glass.
Alternatively, you could install a low profile boat hatch like this West Marine Lewmar Low-Profile Hatch.
Conclusion
Boat hatches are often overlooked and, in some cases, even neglected. Whether you've purchased a fixer-upper boat like me or have been annoyed with your hatch direction, replacing and rotating a boat hatch is more simple than it appears.
The next time you begin to hear a steady drip inside your cabin, take notice. Your hatch might be trying to tell you something.
---