Pardon My Reach: The Best Boat Hook Poles for Your Vessel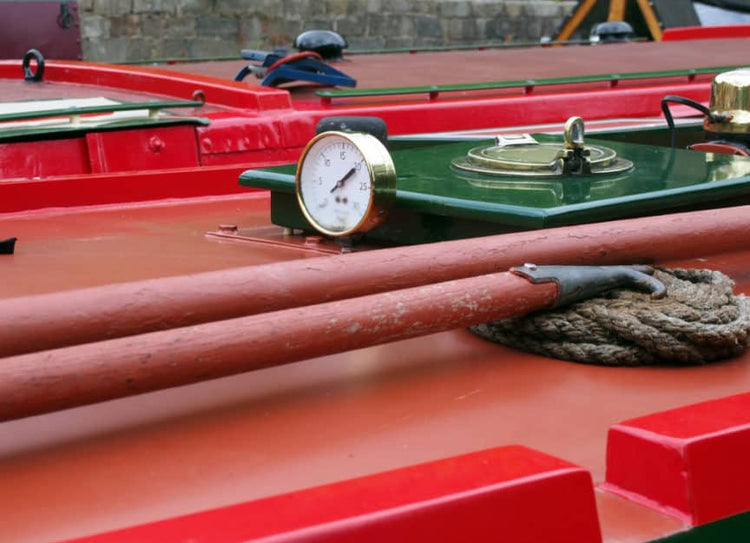 Boat hook poles are an essential tool for any boater's arsenal. They have multiple uses and can be used for something as simple as passing a dock line to someone on the shore or pushing your boat away from the bank to avoid a collision.
I would never embark on a journey, no matter how long or short, without my boat hook pole. When I traveled the River Thames, from Reading to Brentford, and entered those locks with ten-foot walls, my boat hook pole was invaluable passing the dock line to the lock keeper to wrap around a bollard.
That journey would have been impossible without the right equipment, which is why I decided to look at boat hook poles in more detail.
What Is a Boat Hook Pole?
A boat hook pole is a long stick with a hook on one end and a blunt tip on the other. They range in size from four feet up to 25 feet and can be either telescoping or wooden.
The hook has many uses, most notably for passing a dock line through a cleat when mooring up and for pushing off a jetty as you cast off.
Wooden vs. Telescoping Boat Hook Poles
Wooden and telescoping boat hook poles each have their advantages and disadvantages. It's important to know which pole fits your boating lifestyle.
Wooden Boat Hook Poles
Advantages
Sturdy: Often made of pine or poplar, it's incredibly hard-wearing and stands up to the elements.
Versatile: Wooden boat hook poles can be used in many situations, like dredging, boat maneuvering and retrieving.
Disadvantages
Heavy: Compared to lightweight boat hook poles, wooden varieties can be heavy.
Not Retractable: Wooden poles are a fixed length, meaning they can't be adjusted for each situation.
Harder to Store: It's a fact of life that a wooden pole is harder to store, which is trickier on smaller vessels.
Telescoping Boat Hook Pole
Advantages
Lightweight: Typically made of aluminum, they're very light, which means even the smallest crew member can use it.
Disadvantages
Lack of Sturdiness: Telescoping boat hook poles sometimes lack the sturdiness of a wooden pole.
Limited Use: Because of its lightweight construction, a telescoping boat hook pole is not as versatile as a wooden variety.
Plastic Breaks: Some elements are more fragile, like the plastic hook on a retractable pole.
8 Other Ways To Use A Boat Hook Pole
Aside from docking and pushing off, there are many ways a boat hook pole comes in handy.
Retrieving overboard objects: You are happily cruising along when all of a sudden you hear a splash and you spot something floating in the water. Simply grab the boat hook pole and fish it out! Your pole is also excellent for fishing humans out of the water by giving them something to grab hold of.
Testing a water's depth: When you're on rivers or lakes, often where you choose to moor is determined by the depth of the water. By using the blunt end of your boat hook pole, you can gauge how deep the water is and if you can get close to the bank.
Passing items to people on shore: As I did recently, I untied my boat and pushed off the jetty only to discover that my friend's coat was still onboard. I placed it onto the boat hook and passed it ashore.
Handing off ropes to people on nearby boats: When you're on a river, often due to the lack of mooring space, you may have to tie alongside another boat. Using the boat hook pole is an ideal way to pass the rope to someone on the other vessel, much like you would when docking.
Pushing off banks or quays: Rivers rise and fall with the tide, so having the ability to push off the side with a boat hook pole means that if the water levels drop, you don't become grounded. It also spares you from damaging your vessel as you scrape along the bank or the bottom of the river.
Avoiding collisions: In narrow channels, and when other boats get too near, using the blunt end of your boat hook pole to ease your and other vessels away is a gentle way to avoid making contact. It's the easiest way to direct the motion of oncoming vessels without causing them any damage. I use a wooden pole for this as it is more sturdy and fit for the job.
Measuring fuel levels: Many older boats have no means of checking how much fuel is in the tank, especially older narrowboats. A boat hook pole is one of the most common ways of finding out. Simply insert the blunt end into the tank to get a gauge of the fuel depths.
Using the pole as a steadying aid: How many times have you been forced to wild moor and found your boat six feet from the bank? No one likes wobbling along a narrow plank, so if you take the blunt end of your boat hook pole and place it in the water while gripping the other end as you walk, it makes an excellent steadying aid for when you traverse the plank.
Pardon My Reach: The Best Boat Hook Poles for Your Vessel
With the countless variety of boat hook poles available on the market, it can be hard to determine the best one that fits you and your boating style.
Here's a series of five poles I find to be of exceptional quality, including four telescoping metal poles (which you'll find in this table) and one traditional wooden pole for a traditionalist like myself.
Windrider Telescopic Boat Hook Pole
Check price on Amazon
This Windrider telescoping boat hook pole has a long reach, making it an ideal pole when passing a dock line (especially for me when going into a deep lock on my canal boat). 
It has a powerful twist-lock mechanism that keeps the pole in position when extended, and the handle has a double grip to make it more comfortable to use. And should you ever drop the pole in the water, it floats!
Range: 4.5 - 13 ft
Material: Anodized aluminum
DocaPole Boat Hook Pole
Check price on Amazon
This DocaPole extends to 24 feet, making it one of the longest on the list. It's constructed from non-rusting Zinc alloy, so it should be lightweight and sturdy.
It also has a patented M-shaped hook, which means this pole is versatile and can be used around the house as well as on your boat. The hook has a locking nut so it can be removed and replaced with other attachments.
Range: 6 - 24 ft
Material: Zinc alloy
Shoreline Marine Boat Hook Pole
Check price on Amazon
This Shoreline pole is one of the most affordable on the market, and with a maximum extended range of 8 feet, it's also one of the shortest. Perfect for smaller vessels, this telescoping boat hook pole is ideal.
It even has a threaded end to allow for interchangeable attachments. Versatile and affordable, this is a great combination for beginner boaters and those on a tight budget.
Range: 4 - 8 ft
Material: Anodized aluminum
Eversprout Telescopic Boat Hook Pole
Check price on Amazon
This Eversprout boat hook pole is available in two larger sizes, taking the range from 12 feet up to 25 feet. It has foam hand grips and a three-stage extension.
The hook twists on for added durability and it's incredibly lightweight, weighing in at less than two pounds. It will float up to five minutes should you accidentally drop it in the water.
Range: 5 - 12 ft
Material: Aluminum
Davis Telescopic Boat Hook Pole
Check price on Amazon
This Davis telescoping boat hook pole is durable and able to withstand weight pressures of up to 500 pounds. It's also lightweight and will float if dropped in the water.
It comes with a lifetime guarantee. The company claims that their locking mechanism is the strongest available and their hook in indestructible, so there will no danger of it snapping off.
Range: 4 - 12 ft
Material: Anodized aluminum
Acquah's Enterprise Wooden Boat Hook Pole
This wooden boat hook pole is the ideal tool if you want more than the ability to pass a dock line on the end of a hook. It's an aid to maneuvering the boat. It's sturdy enough to use as leverage when you're grounded and the ideal pole to help retrieve belongings when they fall in the water.
Best of all, because it's made of wood, it floats!
Range: 16 ft
Material: Poplar handle, galvanized steel hook
Boat Hook Pole Accessories
Docking Stick Adaptor
Check price on Amazon
This ingenious device turns your boat hook pole into a boat loop, making it even easier to attach your dock line to a bollard or cleat. It saves you having to buy a boat loop stick and also saves on the storage. 
Better Boat Replacement Boat Hook
Check price on Amazon
If you find yourself in need of a new boat hook, Better Boat's universal 3/4-inch screw-on boat hook is the answer. It fits most standard boat hook poles and is lightweight enough to float, should it get detached from the pole and fall overboard.
SeaLux Boat Hook Pole Clips
Check price on Amazon
These inexpensive little clips are ideal if you want to secure your boat hook pole to the boat.
Snag a Boat Hook Pole for Yourself
Whether you opt for a telescoping boat hook pole or you prefer the wooden varieties, as I do, it's essential that you carry a boat hook pole on your vessel.
It's one of those tools that you might use once in a blue moon. But I guarantee the one time you really need it, you'll be happy you brought it along.
All of these tools are designed to make your life easier and keep you safe in an emergency, and the boat hook pole is no different. It has a myriad of uses and is handy to have on the boat even if you only use it to get safely along the plank when wild mooring.
---