8 Everyday Boat Maintenance Tips to Give You Total Peace of Mind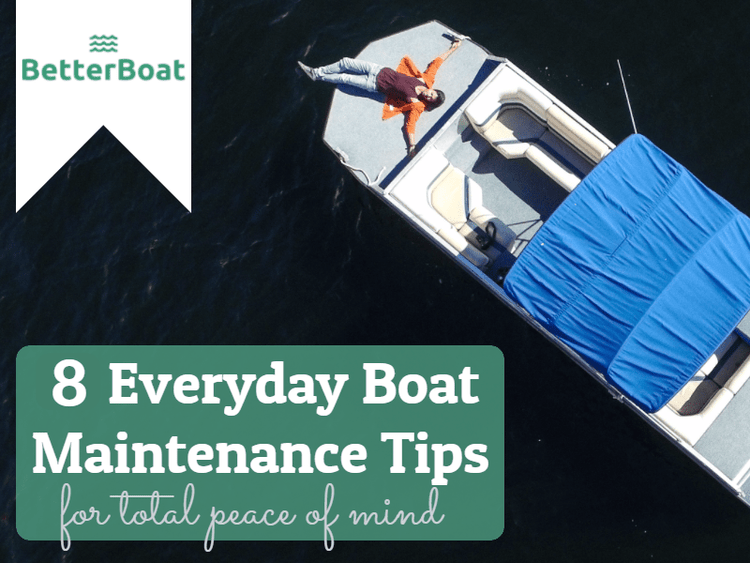 Sure, you winterized your boat. And you also have an annual servicing and cleaning routine in the spring to dewinterize your boat.
After that, you may assume that all will be fine. That is, until something breaks, tears, blows or just stops working entirely. 
The frequency of your boat care routine all depends on your boat and how you use it. Older boats need more time and attention, as do boats used for frequent trips or speedy, adrenaline-pumping excursions.
No matter your boat and how you treat it, you definitely want to follow these basic tips for boat maintenance throughout the boating season to prevent incidents on the water later. You might even want to go through this list a time or two in the off-season, especially if you're leaving it in the water.
These tips hold true for pontoons, deck boats and runabouts alike, but keep the particular needs of your boat in mind. You know your boat better than I do.
Editors Choice
| | |
| --- | --- |
|     |  Boat Soap |
Check Price on Amazon - Better Boat's boat soap keeps your boat clean from bow to stern. It removes dirt, grease and grime from above and below the deck. It's 100% biodegradable, won't harm the marine environment and rinses away for a residue-free finish. 
1. Keep a close eye on the engine
I've seen plenty of boaters break down due to engine failure, only to be towed back to the marina. Sometimes it could've prevented beforehand, sometimes not.
Regardless, routine inspection of your engine, be it outboard, sterndrive or inboard, is vital to trouble-free cruising.
Confused where to start? Always begin with the basic boat maintenance tasks.
First, check the oil. Low oil levels or no oil at all means problems sooner rather than later. Give it a top-up whenever it's looking low to keep your engine running stronger and for longer. You'll want to do the full oil change at least once every 50-100 running hours.
Always refer to your manual for what type of oil to use and how frequently to change it. Many outboards nowadays are built so you can check and change the oil quickly and easy.
Once this is done, and with the engine's cowling already off, it never hurts to:
Check for fuel or oil leaks. If something looks suspicious, contact your local boat repair shop or call the engine manufacturer for recommendations.
Lubricate all moving parts with an anti-corrosive.
Inspect all lines and hoses for wear.
Check clamps and fuel lines for corrosion.
Additionally, your outboard should be well-secured to the transom. Constant use during the season can potentially loosen hardware and misalign the outboard.
Check that all bolts are secure. Tighten things up as needed.
2. Flush the engine after each outing
Yes, we're still stuck on the engine business. That's because this is perhaps the most important part of your boat to look after.
Whether you run in salt or fresh water, flushing your engine with fresh water and an outboard flush kit should be done after every outing.
Flushing the engine means preventing the salt crystals and deposits from damaging internal components (in saltwater applications) and getting rid of muck, sand or other crud (after running in fresh water).
Most modern outboards feature built-in freshwater flushing systems and the process is very simple. Just be sure to consult with your operating manual for the proper procedure.
If you don't have a flushing system on your outboard, it's time to get old school with motor flushers like those offered by Shoreline Marine (see right, click here to check price on Amazon) or Attwood (check price on Amazon).These are usually referred to as earmuffs.
To use, attach the system to a garden hose, cover the water intakes with the earmuffs and turn on the water. Be sure there's enough flowing water for the outboard to run before turning it over.
Let it run at least five minutes to ensure sufficient flushing.
3. Honor thy prop
Without your prop, your boat isn't going anywhere.
A testament to this is a situation I found myself in while fishing a few years ago. After a morning of being successful, I decided to call it a day. I pulled the anchor, started the engine and pushed the throttle. Nothing happened. All I heard was a high-pitched whizzing sound.
Confused, I turned the engine off, lifted the leg and was shocked to see there was no prop on the drive. Instead, looking further down, it was 15 feet below the water's surface, directly off the stern.
I then dropped anchor and went for a swim to get it. After my morning dip, I got the attention of a nearby angler and he happily towed me into the marina.
So, take this boat maintenance tip from me: before any outing, ensure the prop nut and cotter pin are secured to the manufacturer's specifications. I was lucky that I was in shallower water. Otherwise, it would have been a very costly mistake.
Other prop maintenance includes:
Checking for dings, nicks or bent blades. A bent blade or even a ding can hinder your performance. Remember, hitting rocks, the bottom or other hard objects can damage the prop shaft or other internal components.
Inspecting the prop shaft and hub for fishing lines or debris (this is also a good time to ensure the water intake is clean).
4. Dedicate one area to "dry storage"
Having a dedicated dry storage area is highly underrated. Everyone with a boat should be on top of this.
I know, it's hard to keep things dry on a boat, but it's worth the effort. 
A dry storage area keeps all essentials organized. Throwing life jackets, water toys, clothing or other gear in these spaces makes for convenient quick clean-ups. Yet, wet gear means water, and water can turn into an ugly mess, especially when it's left for long periods.
Dedicate a dry storage compartment for certain gear. Anything prone to water retention, mold and mildew should live here.
Dry out your life jackets, water toys, towels and clothing before putting them in a storage compartment. Shake them dry, towel them off or let them hang to dry for a while before stowing them.
5. Be a clean machine
Clutter, dirt, mold and mildew can accumulate very easily.
While it often takes some time at first, the more I do it, the less I have to really clean, and the less often I have to spend an entire day of my life getting things neat and tidy.
But what deserves special attention with this common chore?
Here are some words of wisdom on boat maintenance tasks from a clean-freak like me:
If you're cleaning storage compartments or livewells, use a good biodegradable solution (check price on Amazon here). Many livewells are self-draining, but only drains that are flush to the bottom get rid of the majority of the water. Sponge up any excess.
For dry storage areas, use an outdoor vacuum to clean up dirt or other debris.
For gunnel storage, ensure everything is stored without protruding gear or lines.
6. Mind the flooring
Many cockpit floors are self-draining, making them extra handy for cleaning (among other things). If you have marine-grade snap-in carpeting, remove it! Water, dirt, food crumbs and you name it will find its way underneath.
For best results, shake the carpet, vacuum debris, pressure wash and then let it hang to dry. Click here for more tips on boat carpet cleaning.
Scrubbing the foredeck with a scrub brush is one of the most important tasks of boat maintenance. It gets rid of stains and dirt in a few simple steps.
It also adds longevity and value to your boat when done properly. Companies such as Meguiar's, Shurhold, Better Boat and Starbrite are all popular brands with a range of effective cleaning products.
7. Clean and repair upholstery as needed
Sand, mud and even mucky water accumulates constantly on upholstery. Plus, the longer it sits, the more cleaning and scrubbing is required.
So, maintaining your upholstery is something you want to stay on top of.
McGuiar's, 3M and 303 to name a few tried-and-true products are all great solutions to ensure a clean and dirt-free boat.
Cording and stitching in the upholstery collect copious amounts of crud as well and requires attention. These are also vulnerable areas for wear and tear, especially tears as the threading may come loose after a season or two of use.
To fix rips in seats along the cord and stitching, simply sew along the dotted line. All that's required is outdoor thread, a curved needle and some patience.
To start, insert the needle and thread through the existing hole (or near it) and simply sew along the cording and upholstery until it's tight. It may take a few times to get in the groove, but it will work.
For tears and rips in more open areas of a seat or along the gunnel, there are many repair kits on the market such as Permatex Vinyl/Leather Repair Adhesive (check price on Amazon) to prevent the tear or hole from getting worse.
8. Create your own boat maintenance checklist
A routine checklist for how to maintain a boat can go on and on and on. However, I find it's important to conduct a simple walk-through when I first board, checking to see that everything is in working order. 
This includes:
All the running lights are working
If not, replace them.
All rails are secure
If they aren't, fix them.
The fenders are in good shape.
Lines aren't frayed or worn.
The Bimini top isn't torn and all associated hardware isn't broken.
You know what gear, equipment and features your boat has. You know what's important to you and you know what needs attention. Who could know a boat better than its owner? 
Create your own daily boat maintenance task checklist that you follow every single time you step on board. Don't neglect the little quirks and details!
Keep an eye on every inch of your boat, and you'll never be taken by surprise on the water. Doing detailed, regular maintenance on your boat like this ensures longevity and value. It also means you're practicing many elements of boating safety and precaution not only for you and your guests, but for other boaters on the water.