14 Smart Boat Storage Ideas to Keep Your Deck in Check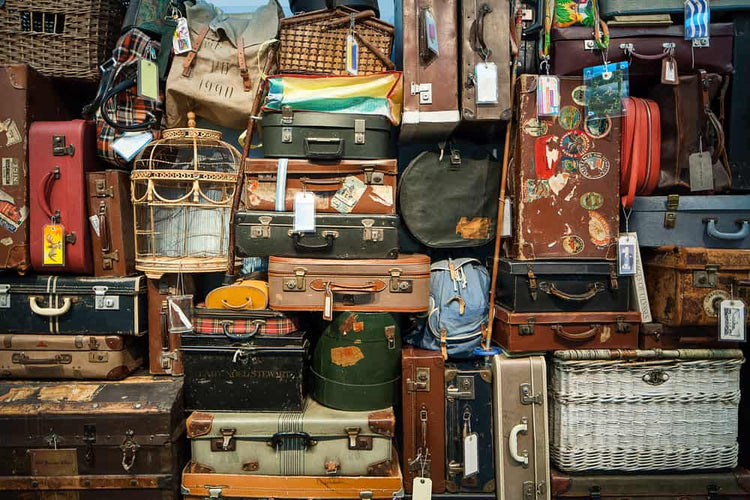 Nobody likes a cluttered boat. Whether you're in your cabin cruiser, pontoon or deck boat, you don't want items rolling around, getting in the way and flying out of the boat.    
But those things you bring on board usually have a purpose. You want them to be handy when you need them. I know I do.
With these thoughts in mind, here are a few boat storage ideas to keep everything, including your sanity, in its place.
Our Favorite Boat Storage Ideas
For the Deck
Boat decks often take on a lot of stuff from water toys, boat cleaning products, buoys and fishing gear to life jackets, shoes, towels and paperwork like maps, charts and registrations.
Sure, the paperwork will probably fit in a glove box, but what about the rest of it? Check out this list to conquer your boat storage stress.
1. Cargo Nets
Recommended: Zilong Cargo Net Hammock (Check price on Amazon)
I love the cargo net in the trunk of my car. It keeps everything from rolling around. That same principle applies to a boat.
Mount a cargo net back at the transom or along the sides of the deck if you don't have storage wells, and you can angle in wet lifejackets, inflatables, boat fenders and water toys.
They'll dry off while you're heading back to the dock or to the next swimming spot. You can also mount one by the helm to keep charts and maps handy.
2. Tackle Box
Recommended: Wakeman Fishing 2-Tray Tackle Box (Check price on Amazon)
Sure, you can use a tackle box for actual tackle, but you can also adapt it for first aid and other small items. All of those little compartments make great storage for bandages, tubes of Neosporin and hand sanitizer.
Insider Tip: Purchase a brand new one. They're not that expensive, and your bandages won't smell like fish.
3. Trash Storage
Recommended: Boatmates Super Suction Trash Stasher (Check price on Amazon)
Trash storage always seems to get forgotten about until it's needed. I know that's how it is on my boat. I just discovered this handy little device called the Boatmates Trash Stasher.
It's basically just a hinged lid mechanism that gets attached to a plastic bag. Then, you can stick it on any smooth surface via suction cups. The hinged cover keeps everything in the bag, making it less likely to spill or blow out of the boat. You'll have to remember to bring plastic bags.
Insider Tip: When you're purchasing your snacks and drinks at the marina store, and the cashier asks if you want a bag, take it. There's your bag!
4. On-deck Storage Bags
Recommended: Surfmonkey Marine Storage Bags
Surfmonkey Marine Storage Bags can be hung over the rail to keep cleaning products like boat soap or sunscreen close at hand. The loops have Velcro straps that keep it in place.
It comes in three sizes: one pocket, two pockets or three pockets.
My favorite aspect, besides the bright color, is that the fabric is mold and mildew-resistant.
5. Document Storage
Recommended: Seattle Sports Dry Doc Bags (Check price on Amazon)
Important paperwork like boat registration, ID, license and passports really need to be kept safe and dry. Seattle Sports Dry Doc bags are waterproof, and the clear vinyl makes it easy to see what's inside. 
There are several sizes to choose from, including ones that will hold a phone and other small electronic devices.
For the Cabin
I realize not every boat has a cabin. But if yours does, here ya go. Even if you don't have a cabin, many of these ideas can be used in other areas of your deck or pontoon boat.
6. Hat and Towel Storage
Recommended: ShineMe Clear Plastic Suction Cups (Check price on Amazon)
You know those things Grandma uses to hang her sun catchers on the window? Well, they make a great receptacle to hang hats, towels, bathing suits and other lightweight items such as boat dehumidifier bags.
Choose a heavy-duty version with a long hook and stick to windows, shower stalls, galley walls or any smooth surface. The only issue will be convincing the kids that stuff goes there and not on the floor. Good luck with that!
7. Folding Step Stools
Recommended: Acko Folding Step Stool (Check price on Amazon)
A step stool is always handy for vertically-challenged boaters such as myself. Storing it onboard the boat can be an added challenge, though.
That's why I like this folding step stool so much. You can get to those hard-to-reach places like the Bimini top or hardtop without standing on the rails and falling in the water. Then, just fold it up and stow in a drawer or closet.
Featured Boat Care Product 
| | |
| --- | --- |
|       |  Exterior Cleaning Kit |
Check Price on Amazon - Better Boat's exterior cleaning kit comes with a soap foam gun, boat soap, two microfiber towels, a large sponge and a boat eraser. Tackle all of those tough cleaning projects. 
8. Collapsible Buckets
Recommended: Southern Homewares Foldable Silicone Bucket (Check price on Amazon)
Even if you're just using it to keep soda cans icy cold, every boat needs a bucket. But they can be tricky to store. That's what's so great about this product. When you're done using it, just collapse it down and stow it in that handy cargo net mentioned above.
You could also use it as an actual storage receptacle for upholstery brushes, garden hoses and anchor lines.  
9. Plastic Storage Bins
Recommended: Sterilite Storage Bins (Check price on Amazon)
Plastic storage bins can be used in so many ways. I like Sterilite's simple box-style bin to store and carry shampoo and other toiletries to restrooms/shower facilities at marinas.
They come in a variety of sizes and colors, and some styles even have handles. For boat use, I prefer the ones with the ventilated sides. If water does get in it, all you have to do is tip it to the side to drain.
For the Galley
Obviously, not every boat has a below-deck gallery. Some of these ideas can be used on the deck as well as below, especially if your pontoon boat has a galley area.
10. In-drawer Storage
Recommended: Velcro Brand Industrial Strength Tape (Check price on Amazon)
Whether you're using plastic or wooden boxes and bins to store items, you probably want them to stay in place. There's no greater invention, besides duct tape, than that sticky hook and loop system known as Velcro.
Purchase a package of industrial strength or marine-grade Velcro and stick that stuff to everything. Not literally, of course, but you know what I mean.
A couple pieces stuck to the bottom of those boxes and bins, and its corresponding piece stuck to the bottom of the drawer, will keep them from tipping over and spilling your spices all over the place.
This magical material comes in all kinds of strengths and styles that adhere to plastic, brick and even concrete.
11. Dishware Storage
Recommended:Plastic Magazine File (Check price on Amazon)
Magazine holders make a great place to keep plates, plastic wrap, foil and other slim items. Then just store it vertically or horizontally under the sink, in a cabinet or on the counter.
If the holder is wide enough, you may even be able to fit fruits and vegetables in there. I recommend the ones with the ventilated holes if you're planning to do that.
12. Cabinet Storage
Recommended: Whitmore Hanging Shoe Shelves (Check price on Amazon)
Forget hanging, though you're welcome to use that method if you like, and cut these babies down into small sections that fit into a drawer. Make sure the open end is facing up. Line side-by-side in a cabinet or drawer and insert paper towel rolls, cleaning products, toilet paper, etc.
If you haven't filled the whole drawer up, you may want to use some of that Velcro to attach each piece to the drawer. Another option would be to hang in a cabinet.
13. Food Storage
Recommended: Under-Cabinet Fruit and Veggie Hammock (Check price on Amazon)  
Mount this super cool hammock from the ceiling, or even under a cabinet, to hold fruit, bread and other small items. This would also work in a closet for things like toilet paper, extra sunscreen and what-not.
14. My Favorite Storage Idea: Ziploc Bags
Recommended: Ziploc Freezer Quart Bags (Check price on Amazon)
What's the one storage item I can't live without? I can't say enough about those simple little re-closeable sandwich bags. Well, I probably could, but I won't. I love them that much.
In addition to your PB&J, they keep phones, iPods, seashells, jewelry and all sorts of other items safe, secure and drip-free.
I recommend the kind designed for the freezer, as they're made out of a heavier plastic. I also use them for individual portion snack bags, which I've found is an excellent way to keep crackers off the deck of the boat.
Hopefully, you've found a few boat storage ideas for your own boat.