Your Complete Canal Route Planner: How to Make the Most of Your Trip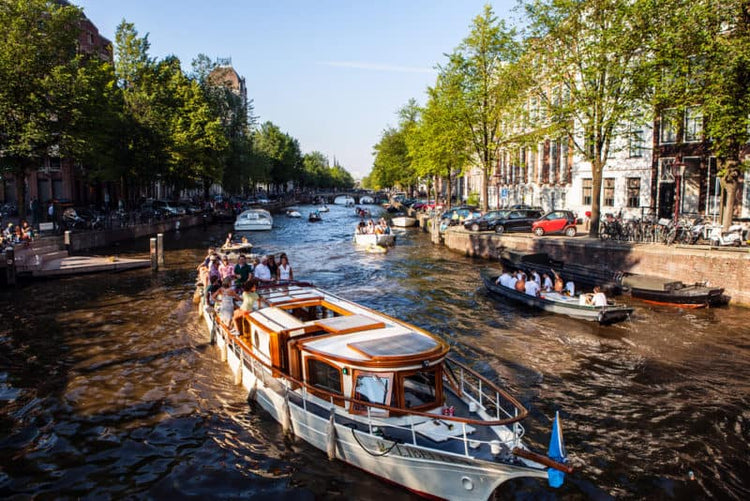 Canals and rivers lure me to them. Wherever I am in the world, I find myself seeking out the nearest canal. I want to feel the history that surrounds them.
Let's not forget these waterways were once the industrial superhighway for manufacturing and industry. Without them, the modern world around us wouldn't be what it is today.
It's hard to quantify the impact these stretches of water had on the planet. And yet these sedate havens of tranquility, these diverse and wildlife-rich routes, dug out by hand and once black with the soot of industry and pollution, are preserved for a leisurely pursuit today. Oh, how the tables have turned.
Your Complete Canal Route Planner
Consider this guide your complete canal route planner. By the end of this post, you'll know where you're going, which guidebooks you need, how to hire a canal boat (if needed) and how to plan your time aboard wisely.
Meet the Canals of the World
At this stage, I would defend my traditional view of canal travel and suggest you ditch the internet and get a good guidebook. That's fine if, like mine, it gets used daily.
But spending dollars on a guidebook can seem like a waste of money when the internet is free. There are some great websites to help you get about the canal systems of the world.
In France, there's the Euro canal website. As the name suggests, Euro canal sites cover Germany, Holland and pretty much any other European country with a canal system.
In the UK, I prefer to use the Canal and River Trust website. It's like a one-stop shop for everything canal related. Just remember that an internet signal can seem like another century away, which is why canal boaters rely on their trusty guidebooks. They don't lose signal!
So, let's talk briefly about the canals worth visiting.
Europe
Europe is awash (excuse the watery pun) with man made waterways. In Germany, from Hamburg's canals and rivers to Stuttgart's waterways, over 70 rivers and canals crisscross this great nation.
I'm sure you don't need me to tell you about the rich and diverse towns, cities and countryside of Germany, as well as the history. The Inland Waterways of Germany is an all-encompassing guide to the waterway network. It includes vital cruising maps, points of interest, the location of locks, bridges and moorings, and most importantly, the etiquette of the German waterways.
Then there's the Canal du Midi in France, a magnificent waterway that stretches for 150 miles, joining with the Canal De Garonne to link the Mediterranean sea to the Atlantic.
Considered one of the greatest 17th-century engineering feats, the Canal du Midi still captivates travelers. Numerous guidebooks give routes and points of interest on the Canal du Midi, making it ideal for the inexperienced traveler.
Guidebooks such as The Canal du Midi: A Cruisers Guide (check price on Amazon) shows where the locks, bridges and moorings are and is accompanied by maps and color photos.
We've all heard of Amsterdam canals, right? What a city! Nothing quite prepares you for Amsterdam's beauty and the canals that run the length and breadth of the old town.
The Lonely Planet Pocket Guide (check price on Amazon) is handy when getting around the city on foot or by water. It includes a canal system map as well as a city map. The heart of Amsterdam is compact, so you shouldn't get lost.
The UK
The UK has roughly 2000 miles of navigable waterways that stretch from the south all the way to Scotland. Two guidebooks are common for the network: The Pearson Guide (check price on Amazon), or the Nicholsons Guide (check price on Amazon).
Each book covers sections of the canal, giving detailed maps, distances, lock and bridge locations and important facilities. These guides are like a canal bible to canal boaters in the UK, but because they only cover the network in sections, you'll need to buy a new guidebook each time you move to a new waterway or part.
North America
People are surprised to discover the USA is crisscrossed with navigable waterways. It stands to reason that America needed the same infrastructure as Europe to transport goods and supplies in large quantities.
So, it follows that massive canal-building projects began in the early 19th century in an era that preceded the railways. Much of these waterways are still in use and enjoyed by leisure boaters across North America.
The Erie Canal, once part of a 363-mile route, stretches from the Hudson River to Buffalo near Lake Erie. If you wish to travel this route, there are guidebooks available. The Explorer's Guide to the Erie Canal (check price on Amazon) is an excellent guide.
It shows points of interest along the way, like restaurants, wineries, accommodations and canal cruises. The guide also offers historical information along the way.
Of course, there's a wealth of information at your fingertips online. You can even find an Erie Canal History tour online, which gives you a comprehensive guide to the construction and history of this grand canal.
Other websites exist, primarily funded and maintained by enthusiasts and boaters alike, which detail all the other canals that cover the USA. So, whether you're looking at a canal holiday nearer to home, or you're feeling adventurous and fancy trying one of the canal systems in Europe or the UK, what do you need to know?
Hiring a Canal Boat
Hundreds if not thousands of canal boat charter companies exist in the UK. My boat's on the Kennet and Avon canal, in the South West of England. On this stretch alone, within a 20-mile length, are at least ten hire companies.
It's fair to say that canal boat holidays are getting more popular every year. And not just with locals. I meet many North Americans on the canals. I often wonder what brings them here. Maybe it's the pace of life or the friendly environment, but whatever it is, the canals are more in demand than they've ever been.
The good news? You don't need any experience to drive a canal boat. On the continent, unlike the UK where things tend to be traditional and where canals are broader, the vessel types you can hire vary enormously.
Cruisers, trawlers and motor boats are more commonplace, so they may be better suited to Americans. Narrowboats can be tricky beasts to tame, especially at 70 ft long and no wider than 6 ft 10-inches.
Canal Boat Hire Firms is a great website that lists a substantial number of hire companies, both UK and Europe-based. Cruise-USA is the North American equivalent and offers canal boat holidays complete with itineraries, mapped tours and routes to offer the most out of the experience.
Cost of Hiring a Canal Boat
Canal holidays are not cheap! In the UK, the peak season is summer. Hiring a narrowboat can cost as much as £2000 ($2637) for the week.
It isn't much different in Europe, where a typical week on the French canals will set you back over 2000 Euros ($2353).
In the USA, a typical week on New York's Erie canal starts around $1300. Depending on the level of luxury, it can rise to over $2000.
A hire company that rents out English style narrowboats charges over $3000 for one week. Overall, boating holidays aren't a cheap option, that's for sure.
Featured Boat Care Product
Check Price on Amazon - Better Boat's lint-free microfiber sponge set includes one microfiber noodle sponge, one microfiber cloth, two microfiber sponges and a collapsible bucket for convenient storage. Use with metal polish, upholstery cleaner, leather conditioner and window cleaner for seats, windows, counters, consoles, decks and more.   
Plan Your Time Carefully
Amenities
Whichever canal you're on, you'll need to look out for amenities like water points, garbage disposal and pump-out facilities for the waste tank.
All guidebooks use a key to explain each symbol. Most follow a common theme and use universal motifs so they're easily understood (especially important if the country doesn't speak your native language).
In the UK, for example, tap symbols indicate a water point and trash symbols indicate a garbage point. Locks are marked by two diagonal lines across the map. A petrol pump symbol denotes a fuel point, much like the one on the dashboard of your car. I could go on, but I think you get the picture!
Allowing Time for the Return Journey
So, you're ready to set off on a big adventure. You have the kit, supplies and itineraries. You have maps and know where you're going.
But have you given thought to the time it'll take to visit all those tourist spots? Or the time to return home? Traveling on a stretch with lots of locks, for example, takes twice as long to move the same distance as a stretch without locks.
Likewise, if the weather's terrible, it may slow you down too. Canal boats are usually flat-bottomed (at least in the UK), which means that in strong winds you have virtually no control over their direction of travel.
It's advisable to stay put during spells of bad weather, but that's going to dent the schedule somewhat. So, don't overstretch yourself.
I watch boaters racing to and fro, desperate to eke out every last drop of their holiday, which is fine if you want to experience canals with stress and anxiety. But that's the exact opposite of what life's like on canals! I don't rush anywhere (I say rush, but how far can you go at four mph?). 
I often watch holiday boaters in the pouring rain and gale force winds with their all-weather gear. I wonder what on earth must be so important to travel in such extremes? Well, at over $2500, you wouldn't want to waste a moment. You have to get your money's worth, haven't you?
Conclusion
Canal boating, whatever the vessel or country, is more popular than ever before. Hire companies are aware of this and charge considerable sums for the privilege.
My question is this: Is it value for money? On the evidence of what I've seen, I don't think it is. But then again, I'm not the one on holiday!
Looking at it through fresh eyes and putting myself in a foreign visitor's shoes, the splendor that I take for granted is precisely that: Splendor. And who am I to dissuade anyone from experiencing a snapshot of life on the waterways?
---