Boat Wi-Fi Antennas: Getting Internet Is Easier Than You Think!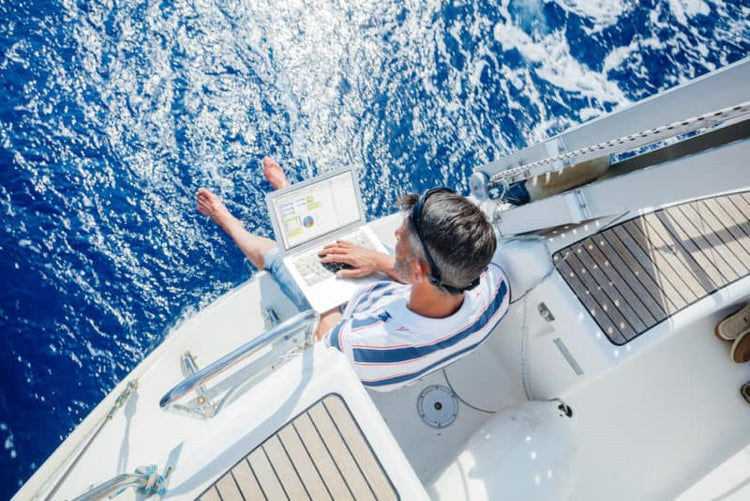 Imagine a world without the internet! Seriously, who remembers what life was like before the internet? Nowadays, it's as essential as heat, water and electricity. It's become a utility in every sense of the word. 
As a liveaboard boater, working from my boat, I need a reliable service that delivers excellent internet access, fast downloads and uploads and seamless streaming. It's not a lot to ask for really!
So, for a liveaboard boater, getting internet is just about impossible, right? Wrong! There are some fantastic gadgets available that make super-fast internet on your boat possible. But you need to set expectations and know you and your boat's limitations.
Living with Limited Data Allowance
If you want 4G cellular internet access, you'll have to accept that data is finite. With home broadband deals, where you pay a fixed amount, you can use all the data you want (within the rules of fair usage, of course). But with cellular Wi-Fi, blocks of data often get sold in packages of 2GB, 4GB, 8GB, 15GB, 20GB and so on, upwards to 50GB and above.
For example, I'm currently with Vodafone on a 50GB data package costing roughly $32 a month (Now don't go looking for this deal, as I live in the UK, and it may not be available to customers in the States).  
Streaming eats into your data, so if you think 50GB is a lot, it isn't if you add in what you use during streaming.
Because I like to watch Netflix and Amazon Prime, I also bought a video pass giving me unlimited data streaming access. If I could give one useful tip, add the video pass. It's fantastic because it doesn't use any of the 50GB data in my package.
How Much Data Allowance Do You Need?
The amount of data you need often depends on the usage and types of usage. There are ways to break down each activity into bite-size chunks of data.
For example, did you know that to send and receive 1000 regular emails uses approximately 1GB of data? Additionally: 
Visiting 5,000 basic web pages = 500MB
Streaming a Standard Definition movie = 2GB of data
Streaming a movie in High Definition = 4GB of data
Downloading one music album = 80MB of data
So, you can see from the list above, how and what you use the internet for will determine how much data you'll need.
Shop Around for the Best Deal
When shopping around for the best cellular internet package, get the maximum amount of data you can. Don't assume you can manage on a smaller amount because package providers load extra used data with huge costs. The minute you use your package's last gig of data BAM! You're landed with a massive bill for every gigabyte used after.
What's in the package deal? You want the best antenna, dongle or router for your money, so don't be afraid to ask. Try and get your cell phone deal wrapped into the package, because the more you have with the provider, the more your bargaining power.
Check the internet provider's coverage. The cheapest deals appear too good to be true because they usually are! Buying a package with lots of data is useless if the cellular provider has limited coverage.
If the marina where you moor lacks Wi-Fi coverage (or has erratic service at best), you'll need another option for getting your boat's internet signal.
 So, what are your options? Here are some solid options to get started.
4G Routers
These are ingenious devices that look like the routers found in homes. The only difference is they connect wirelessly to a cellular network and don't require a landline. But you can connect multiple devices to them, the same way you would at home.
They have a SIM card inside, much like the one in your cell phone, and connect to a 3G or 4G network to provide upload and download speeds comparable to standard plug-in Wi-Fi routers.
You'll find plenty of examples of 4G routers, with most costing somewhere between $100 and $200. You could also get hold of one as part of the 4G package with your mobile provider.
But here's the thing: You'll need to get the signal into your boat somehow. Not easy, if like me, you live in a steel-hulled vessel (just about the worst thing for getting a signal).
One of the most popular 3G/4G routers on the market is the TP-Link N150 (check price on Amazon). It's super affordable and has speeds of up to 100MBps.
Mi-Fi Devices
What's the difference between Mi-Fi and Wi-Fi? To put it simply: Mi-Fi is a device that has Wi-Fi built in, whereas Wi-Fi is a wireless network standard.
I have a Huawei Mi-Fi router, and I love it. I've lived on board for a year now, and I can honestly say that this little unit is better than the old plug-in router that I used to have on dry land.
The advantage of a Mi-Fi unit is that multiple devices (sometimes up to ten devices) can be connected at one time. If you want to, you can connect an external antenna to boost the signal.
The secret is where to mount the router. I find that placing it in a window always gets me great results, and I haven't felt the need to buy a booster antenna to increase the speed. I can stream, download, upload and access the internet to my heart's content.
For Mi-Fi, I thought I'd stick with what I know. The Huawei E5577Cs-321 (check price on Amazon) is a brilliant piece of kit. It can support ten devices and has speeds of up to 150MBps.
Plug-in USB Dongles
USB dongles are the least flexible of the cellular internet options. They work by plugging into a laptop or PC and enable that device to access the internet.
The only issue is that you can only connect one device at a time, so if there are multiple users on your boat, this isn't a very convenient option. And can actually cause mutiny aboard a boat if you have teens, tots or tweens. 
Also, they aren't great at receiving a signal in steel-hulled boats. Fiberglass and wooden boats are fine, but not narrowboats, barges or older trawlers.
Booster Antennas
Some mobile internet users find weak signals with cellular Wi-Fi routers, especially in a narrowboat or steel-hulled vessel. So they supplement their indoor router with an external aerial. These usually come in two forms: directional and omnidirectional.
Directional: Typically, directional antennas are a flat, square or rectangle-shaped plate on the end of a length of pole, which points in a signal's direction.
One disadvantage: Because you'll need to point the antenna in the first instance, when you move your boat, the signal drops out. There are accessible websites to find which way the antenna needs to point, or you could look at the other boats around you to see where their directional aerials are pointing.
As part of your package, most cellular internet companies provide a coverage map to show where the signal is best. For directional antennas, you would do well to consider the Alpha APA-M25 Dual Band Antenna (check price on Amazon). It has great reviews, is easy to use and significantly boosts the signal.
Omnidirectional: These antennas usually come in a tube-shaped form that sits on your boat's roof, again, on a long pole for additional height.
If you constantly move the boat, maybe omnidirectional is the way to go. It offers a lot less hassle - wherever the signal is, it will find it.
Feed the wire from the antenna into your boat and plug it into your router or Mi-Fi unit, and presto! Super-fast internet at your fingertips.
A great example of an omnidirectional antenna is the Gadgets World FBA ALFA-ARSN19M (check price on Amazon).
Conclusion
What is obvious is the fact that just because you live on a boat, or you want internet access while you're on the move, getting cellular Wi-Fi is easier than you'd think. There are some great deals out there, and some fast internet speeds too. As technology advances, it'll only get better.
So don't worry about staying connected on your boat. There's a cellular package out there for you. Just don't try and order takeout in the middle of the ocean. You might get charged extra for delivery! 
Featured Boat Care Product
Check Price on Amazon - Better Boat boat cleaning wipes provide UV protection with every swipe. Use on vinyl, plastic, leather, fiberglass and more for a sparkling clean surface. They're non-toxic, petroleum-free and have a fresh lemon scent. 
---