The Best Cheap Boats to Live on (And the Expectations You Should Have)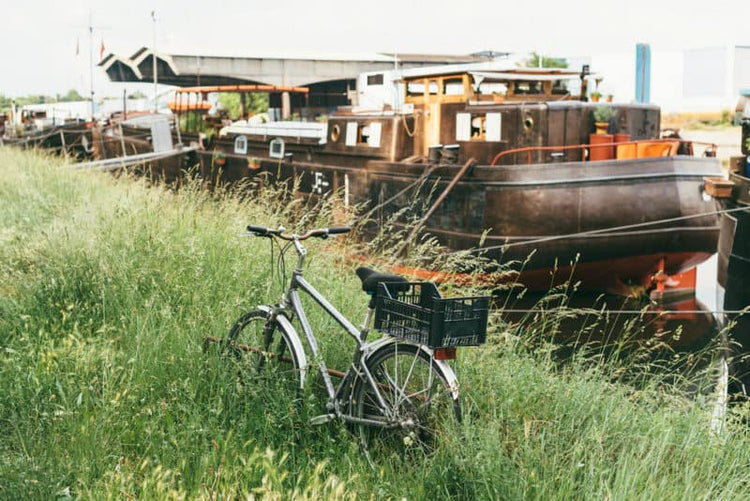 Want a budget boat that offers the best value for your hard earned dollars? Once you decide the liveaboard lifestyle is for you, prepare to be frequently asked, "Why do you want to live on a boat?"  
When I took the leap and bought a canal boat to live on, I was asked this a lot. Reactions ranged from enthusiastic clapping to looks of sheer horror.
Living on a boat isn't for everyone, that's for sure. But for those who achieve it, the rewards are significant. It's hard work and lots of fun!
You must be prepared to switch your thinking because, unlike conventional homes, living on a boat presents new challenges. What are some of these challenges, you ask?
Well, for on thing, space is going to be your biggest issue. Before you move onto your boat, accept to store or give away most belongings (friends and family will love all that free stuff).
Also, boats need regular maintenance and a marina to moor, which can become expensive. For a successful and cheap liveaboard lifestyle, you'll need to use creative money-saving techniques to reduce your costs.
Because marinas often charge by vessel size, one creative technique is to live on the smallest craft possible.
What are the Pros of Living on a Cheap Boat?
Living Costs: Hey, the boat is cheap and you've managed to locate a mooring. You're saving a packet compared to living on land without vast sums in rent. And the bonus? The boat is one-hundred percent yours.
Lifestyle: Looking for a complete lifestyle change? A cheap boat offers you an alternative way of living that's more eco-friendly (and at a fraction of the cost).
Views: The view from your boat porthole would cost the average land-lover a small fortune. Keep smiling as you drink it in, happy you saved lots of money. Who cares you're living on a cheap boat? You still have those stunning views to keep you feeling good about life.
Freedom: People choose life on a boat for the freedom to determine where they live. Not being shackled by mortgages or utility bills, and all the other stuff that comes from living on land, can be liberating. Untie your dock lines, lift anchor and cast off! A new adventure awaits. Depending on what type of vessel you have, where you could go is limitless.
You can't do all of that in a house!
What are the Cons of Living on a Cheap Boat?
Limited Power: On a boat, power is finite. Batteries hold a charge and provide the electricity needed to power your onboard equipment. Most batteries shouldn't discharge below 50 percent, especially standard lead-acid batteries, because they suffer damage and performance loss. Living on a boat teaches me to be frugal with the power I use. Over time, you will realize this too.
Marina Fees: Depending on location, exclusivity and popularity, marinas will charge accordingly and can get expensive. As a cost-conscious boat resident, finding cheaper alternatives is a must to keep the price down. Seek out marinas far from most towns and exclusive locations, maybe on a quiet backwater, which will save you thousands of dollars. Even boating club memberships offer cheaper moorings.
Lack of Space: Let's face it, space is an issue. Cheap boat living requires imagination, but as the saying goes: "Necessity is the mother of invention." If you want to buy a cheap boat with minimal living quarters, you need to get creative with space.
Once your head is wrapped around the concept that living on a cheap boat is a good idea, the next step is to make it happen.
What to Expect When Buying a Cheap Liveaboard Boat
The key word here is cheap, which boils down to making compromises. While your budget dictates everything, that doesn't mean you shouldn't try to get the best value for your dollars.
Shop around, look at classifieds and talk to marinas and boat clubs. Make a point of getting yourself out there. In time, you'll discover a gem of a boat in your budget and, more importantly, one that meets your expectations.
More than any other craft (other than airplanes), assuring the boat you buy is fit for the task should be your number one priority. When did anybody buy a budget plane and not worry about its condition? Never! Why endanger your life in a boat in the same way?
Boat Condition
A few thousand dollars can buy a reasonable boat. Remember: It might be cheap for a reason!
The craft's condition is crucial, especially if it requires additional thousands more to get it sea-worthy. Has it been well-maintained or just received the bare minimum of a shower with boat soap every few years? Has it ever had a coat of boat wax or polish?
A boat that's gone years without hardware, gelcoat and teak deck protection will have all sorts of hull issues (along with a right good amount of necessary elbow grease). 
How are you confident you're not buying a lemon boat? It's at this point that the connections you make while searching for a boat come in handy. Always ask for advice, especially if suspicions become aroused and you sense something's not right.
Turn to professionals for peace of mind. An excellent website to visit is the National Association of Marine Surveyors. Be prepared to pay. Marine surveys aren't cheap, but they are vital if you want to stay alive.
I looked at it like this: Do I value my life or my wallet? When you put it like that, there's no way I would set foot on my boat without the reassurance of a marine survey. The other advantage is that you get a list of faults. What better way to improve the boat than following a surveyor's advice?
A trustworthy marine surveyor will tell you outright whether the boat is worth buying and if the seller's asking amount is fair. In the long run, the surveyor could save you money.
The boat's condition is everything. It determines where you can travel, what the budget allows for repairs and even if the vessel is safe to use. I cannot express enough that the boat's condition is your number one consideration.
The Vessel's Size
Think about the boat and how you're going to use it. Is it going to sit in a marina slip or boat club and never move? Most marinas charge by the size of the vessel, so if keeping costs down is a priority, go for the most manageable size of boat possible. Keep in mind that the smallest vessels will be cramped for space, and you run the risk of outgrowing the boat quickly.
If you're the adventurous type, and the cheap boat is a means of seeing the world, think about the traveling you want to do. If the seas are a calling, then you'll need a craft sturdy enough for the task. It's worth thinking about the safety aspect. Coastal waters can be inhospitable, and your life depends on a vessel robust enough for the job.
When it comes to budget, seriously consider getting the best boat for your money, without worrying about penny-pinching. Oh, and employ the services of a professional marine surveyor.
I travel England's inland waterways, so I chose the boat perfect for that job. I would never take my wide beam barge on the ocean. It's a flat-bottomed boat and entirely unsuitable for that environment.
Think creatively about the space onboard. Look for things with a dual purpose. Do those vinyl seats have storage underneath? Does the dinette double as a bed? (you get the picture).
These are important questions when you live on a cheap boat. You need to be ruthless with your possessions.There's no display space for your karate trophy collection, no matter how proud you are of them.
Take an inventory of your belongings and place into three categories: Need to Keep, Give Away and Sell. You'll be surprised how much stuff you own. Living on a cheap boat brings challenges unlike living in a land-based dwelling.
One of the best rules to live by is "Do I need that or can I do without it?" Invariably, it was the latter, so I went without. But I ended up with my boat consisting of items I truly love rather than being surrounded by lots of stuff. 
Featured Boat Care Product
Check Price on Amazon - Better Boat's deck cleaner quickly and easily removes dirt, grease and grime from decks and other surfaces. 
Overall Costs
This one depends on your budget. The term "cheap boat" is subjective. Some boaters happily spend hundreds of thousands of dollars and think they're getting a bargain. But for the rest of us, 'cheap" means thousands, possibly tens of thousands of dollars.
Remember to factor in the additional costs of surveys and repairs. If the boat's cheap, it'll need ongoing care and upkeep to stay afloat for years to come.
At this point, it's good to keep things in perspective. Land costs, compared to a boat purchase, will make it seem like a bargain. Don't forget to budget for safety equipment. For long sea journeys, you'll need maps and charts, flares, a boat tool kit, a working fixed-mount VHF radio and buoyancy aids.
Even for inland waters, most of these safety equipment items are a must-have. Whatever the budget, some types of boats are more abundantly available than others.
Cheap Types of Boats to Live On
Trawlers
Why a trawler? Why not! You have to love a trawler. 
I've seen some trawlers, especially ex-charter boats, selling for as little as $10,500. Most have significant headroom and wide hulls, making the onboard space seem generous. Also, these old boats are sturdy vessels that can take some knocking about to get them ship-shape.
Okay, so some trawlers may not appear as glamorous as yachts or other ocean-going vessels, but they're ideal cheap boats to live on. Now, with a limited budget, you're going to have to get creative. It's likely that the vessel you find will be ancient. I've have seen some for sale that were built in the 1940's.
And with your budget, you're looking in the "project boat" category, so older boats will fit the bill. Older boat models lack the lightweight construction, but instead are wooden or steel. That old trawler is gonna need some work, so don't splash all your cash on the purchase and leave nothing in the kitty to get her sea-worthy.
That's the compromise about buying cheap. I you have limited boating experience, how are you going to bring it back to life? Throwing money at it isn't an option. It's at this point that pure innocent enthusiasm comes to the fore. Of course, you'll succeed because you're full of youthful energy. What could go wrong?
A word of advice: Get some advice. Learning on the job is admirable and a great way to a crash course in boat repairs. Now that's something that will serve you well in years to come.
Yachts and Sailing Vessels
Yachts vary tremendously in price, but the good news is you'll find one within budget. To give an example, I found a 1973 Ketch built by Columbia Yachts for $19,000. It was a model 459 45-foot  sailing yacht with a raised deck. Cheap indeed!
If your budget is even tighter, you can pick up yachts for as little as $10,000. A quick classifieds scan for a cheap yacht reveals bargains to be had.
Another idea is to join boating clubs who have their members' boats classified ads. If you're courteous, you might get a discount.
Sailing vessels are great cheap boats to live on. The designers model them for comfortable long sea crossings. They ingeniously utilize space and usually come complete with kitchens and separate cabins. With a bit of luck,the below-deck interior will be in reasonable condition and save you vital dollars.
Motor Cruisers
Similar to trawlers, motor cruisers are a good choice because they're packed full of onboard space. Older cruisers will have pronounced chines compared to sleek modern boats, which allow more inner space.
Motor cruisers are also great because, unlike a sailboat, you don't have to learn to sail. Hire an expert to check the engine before purchasing, or ask your marine surveyor if it's part of the survey.
Motor cruisers will also be a bargain; some sell less than you'd think. One 1985 Sea Ray 300 Sun dancer springs to mind, which was a steal for under $13,00.
Another consideration is that motor cruisers have one propulsion form (unlike yachts). If the boat is old, it's engine will have seen some heavy use. The good news is that marine engines are work-horses and practically run forever.
You should also locate the service history as an indicator of a loved and well-maintained boat. Just because it has age doesn't mean it's not fit for purpose.
Pontoon Boats
Pontoon houseboats restrict where you live because extended sea travel isn't their primary function. Mostly, pontoon boats are designed for leisure activities like day cruising and fishing.
If lake-living is what you're after, some pontoons offer generous onboard space, full enclosures and ample seating. Because pontoons have relatively low drafts, they're ideal for shallow waters. You can also pick up a pontoon boat quite cheaply. Some start around $10,000.
Barges
Barges offer the most magnificent onboard space of all the different vessel types. They vary in size but can reach 100-feet or more.
They're quite wide with a beam measuring between 14 - 15 feet. Usually steel-hulled barges are robust and lend themselves well to a project fit-out.
Depending on what level of project you want, some barges sell for around $16,000. They come quite cheaply because they're typically commercial vessels. But don't dispair, barges can be converted to fit onboard living.
Barges will restrict where you can moor because they aren't typically ocean-going vessels.Their size is also a negative as they make for an expensive marina mooring.
Conclusion
Determining your boat's style and mooring location depends on your budget. There is no shortage of entry-level cheap boats to suit a liveaboard lifestyle. With rising housing costs, affordable boat living has become an increasingly popular alternative to land, especially with younger generations.
Don't take too long deciding or you really will miss the boat (I can hear the groans already). One final point: When you see a boat you like, get it checked out by a professional or someone you trust who knows their stuff. It's not just about saving dollars. It's about keeping you safe on the water for years to come.
What are you waiting for? Get out there and find that cheap boat to live on!
---