Spring Into Action: The Top 4 Safe and Enjoyable Dock Diving Boards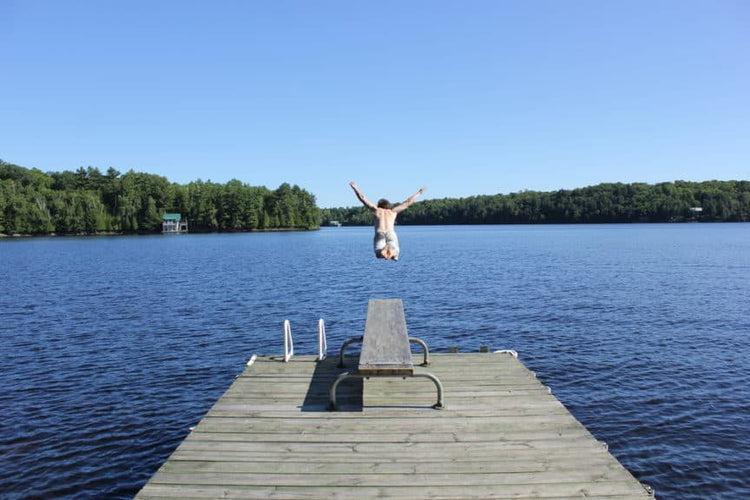 Whether it's for belly flops, cannonballs or pencil jumps, dock diving boards make a fun accessory to lakeside and riverfront docks. When you're not out on your pontoon boat, bass boat or deck boat, why not put that dock to good use?
Fun-in-the-sun, though, goes hand-in-hand with safety-in-the-sun. And since I'm such a stickler for safety (just give me all the life vests, seat belts and layers of bubble wrap, please), I'm going to go heavy and address some real diving board safety concerns.
Diving Boards 101
Diving boards are typically six or eight feet in length. The core is made out of laminated wood, which is simply many thin layers stuck together to form a durable and stable surface. And laminated wood is stronger than a single piece of wood, so this makes a great platform to bounce around a lot of weight.
Covering this laminated core is a shell made out of acrylic. Once the core is sandwiched between the shell (which includes a top and bottom), the surface is coated in a mixture of resin and fiberglass.
The board is then mounted on stainless steel or concrete stands over the water. Between the board and the stands are springs. This is what allows the board to move up and down when you stand on it.
Some diving boards (those used in competitive swimming) are made out of aircraft-grade aluminum.
Dock Diving Board Safety Concerns
Here's something to understand right off the bat: you'll probably have a hard time locating a dock diving board. You may find typical pool diving boards, but you'll notice that a diving board specifically suited to docks is rare.
That's not to say that adding a dive platform can't be done, but in most cases, you'll have to mount a standard diving board to your dock, which brings about those safety issues I mentioned earlier.
Safety is a big concern (especially with lakes and rivers that may not be deep enough for headfirst diving). Of course, there's always the belly flops and cannonballs that don't involve diving headfirst into the water. (I highly recommend that type of diving board activity.)
But there are many additional other ways you can be safe.
Water depth: Most swimming pool diving board manufacturers recommend that the water depth be at least eight or nine feet and up if people will be diving headfirst. Personally, I feel that you should go even deeper just to be safe.
Mounting height: For safety reasons alone, I wouldn't mount a dock diving board on the second story of a two-story dock. This is called a high dive and your backyard lake is not an Olympic swimming pool. Just face it. It's not.
Weather-resistant hardware: As with anything around the water, go with stainless steel hardware and stands and urethane spring parts. This will avoid rusty hardware, which can cause the diving board to fall when somebody stands on it. Powder coating is a good idea for rust resistance as well.
Non-slip surface: The best dock diving boards have a soft top and tread for a non-slip surface. As boaters, we already understand the importance of a non-slip surface in wet conditions. 
Informative signs: You know those signs (or sometimes decals) on pools that indicate how deep the water is? Why not use some of those for your dock? Aquatic Custom Tile makes adhesive swimming pool decals (check price on Amazon) to indicate shallow water or water depth. I would use the heck out of these.
| | |
| --- | --- |
|     |   Teak Cleaner |
Check Price on Amazon - Better Boat's teak cleaner restores gray and weathered wood without the need for sanding. Use on indoor and outdoor furniture, decks and patios. 
Dock Diving Board Maintenance
Maintenance is another thing that goes hand-in-hand with safety. You wouldn't let your wooden dock get filled with splinters and rotted wood (that's no fun at all). And your dock diving board is no different.
You'll want to annually or even seasonally (depending on how often the diving board is being used) check it out and perform routine maintenance if necessary.
Here's a quick checklist of common maintenance issues to inspect:
Feel the diving board surface. Make sure the tread is still textured. If you feel smooth spots on the top, there's no texture. You should replace the board.
Check the diving board bottom. Make sure there aren't any cracks. This could indicate that the inner core is also cracked. This is a sure sign that you need a new diving board.
Inspect the fulcrum pad. The fulcrum pad (check price on Amazon) is the rubber piece found underneath that protects the bottom of the board. Not all diving boards have this piece. If yours does, you'll want to make sure it's not damaged or worn out.
Tighten/replace the hardware. Make sure all bolts and screws on the board and base aren't rusty or loose. Tighten or replace as necessary.
The Top 4 Safe and Enjoyable Dock Diving Boards
Like I mentioned, specific dock diving boards are hard to find. Many manufacturers only deal in swimming pool diving boards, with the exception of the Lillipad. 
Also, keep in mind that most diving board companies recommend you install it according to their own safety guidelines and specifications. In other words, you'll probably negate the warranty if you securely bolt the board to a wood dock (as opposed to sturdy concrete).
However, if you love the idea of a dock diving board, with some safe DIY rigging, it can be done!  Here are some ideas of what's out there:
Lillipad Diving Board
Check price on Amazon
The Lillipad diving board is specifically designed for boats, but with the right installation and safety measures, it makes a great addition to a dock.
It's made out of heavy-duty aluminum with stainless steel hardware and textured top tread.
Quick-release pins allow you to easily take it down for storage or over-wintering. It comes apart in two sections and can be stored on the floor of the boat or in a shed, boathouse or even in a dock box.
If you do decide to install the Lillipad on a pontoon boat or other watercraft, specifications state that the boat should be more than 18 feet in length and have a flat and stable surface.
Inter-Fab Duro-Beam Aquaboard Diving Board
The Inter-Fab Duro-Beam Aquaboard has a durable and skid-resistant acrylic surface. It has a dual-beam laminated core that's reinforced with fiberglass. This gives it the extra strength to offer a 250-pound weight limit.
It's compatible with a tip end waterfall system if you want to get extra fancy. At six feet in length, this is a nice option for a dock. I really like the simplistic look of this diving board.
S.R. Smith Frontier II Jump Diving Board
Check price on Amazon
S.R. Smith has been a leader in diving board manufacturing for more than 80 years. The Frontier II Jump Diving Board has a low-profile streamlined look.
It comes with the board and the stands, which are made out of powder-coated high-strength steel. It has a SureFoot non-slip tread and a scratch and fade-resistant surface.
I've read reviews that this board was installed on piers and docks, so this may be a great option as a dock diving board.
S.R. Smith Cantilever Jump Stand Diving Board
Check price on Amazon
The S.R. Smith Cantilever Jump Stand comes with the board and the stand as well as all of the hardware to put it together. The hardware is stainless steel, which resists rust. Powder coating keeps it fade-free in sun and harsh weather conditions.
It has SureFoot non-slip tread for a safe jump. It has a full-length wood core. The cantilever stand design gives a bit of extra bounce to your jumps.
Accessories for Docks and Dock Diving Boards
When you have a dock diving board, there's a whole slew of toys and accessories to go along with it. Between ladders, handrails and slides, you can create your own mini water park.
Covertech Weatherproof Diving Board Cover
Check price on Amazon
If you're going to leave your dock diving board up all winter (or even for an extended time in the summer), you'll want to go ahead and get a cover.
The Covertech Industries Diving Board cover is made out of rip-proof vinyl and has a moisture-proof liner. It also features strong elastic and two grommets to keep it securely on the board to prevent weather damage and fading.
Extreme Max 4-Step Pontoon / Dock Ladder
Check price on Amazon
Ladders are (in my opinion) a basic necessity on docks or boats. If the water's deep enough to jump into, it's going to be hard to get out of and back on the dock.
Designed for docks or pontoon boats, the Extreme Max 4-Step Ladder has an angled shape and super wide step. It's made of 100% aluminum with heavy-duty square tubing and a 300-pound weight capacity.
It also comes in a 3-step and a 5-step version, so if you have deeper water, you'll want more steps.
Lillipad Diving Board Handrail
Check price on Amazon
Diving board handrails come in super handy, especially on rocking boats or docks. They're not necessarily needed for swimming pools, but you'll be glad to have one on a dock. While this one is by Lillipad, it works great with any other diving board.
Taylor Made Products Stow Go Dock Box
Check price on Amazon
When you have a dock, you need a dock box. Where else are you going to stow all of the floats, noodles, life vests, anchors, dock lines, cleaning products and diving board accessories?
The Taylor Made Products Stow Go is made of sturdy fiberglass with a UV-resistant gelcoat exterior. The interior is also smooth so that you don't end up with fiberglass splinters.
It's available in a wide range of sizes for any and all accessories and gear you might have.
Tip: Choose one with drain holes so that you don't end up with mold and mildew on your water toys.
Ready to Purchase a Dock Diving Board?
Along with inflatable docks and water trampolines, dock diving boards are a great way to add to lakeside water sports fun. Add in some underwater dock lights and you're all set.
Hopefully this has helped you gain some knowledge about water safety and how to choose the best dock diving board. As with anything involving water, safety and property, you'll want to check local laws and regulations before installing a dock diving board. Happy diving!
---