The Ultimate Guide to Electric Trolling Motors (Plus Some Awesome Models)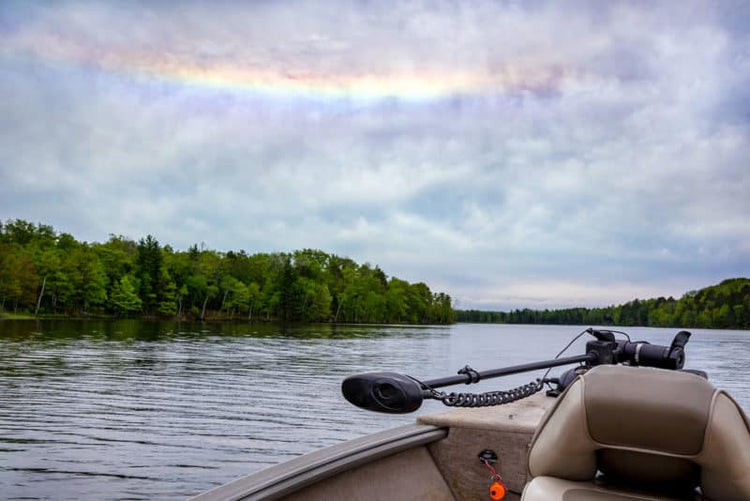 Frustrated in choosing the best electric trolling motor for your boat? Learn more about electric trolling motors with this handy guide.
They've been around for decades, the technology keeps improving and they greatly improve fishing ability. So, you'll want to find the best trolling motor so you can enjoy fishing every season!
With endless choices available, how do boaters choose the best one? What if you spend your hard-earned cash and it doesn't fit your needs? It's pretty hard to return or exchange a trolling motor (more so if you throw away the box in your haste/excitement).
In order to avoid inconvenience, pain, suffering and misery, it's important to research (tears are optional).
Electric Trolling Motor Basics
Pounds of Thrust and Voltage
The first consideration is how many pounds of thrust you need. Trolling motors, instead of horsepower, use "thrust," which typically ranges from 30 lbs to 112 lbs.
Voltage correlates with the lbs thrust, providing 12-volt, 24-volt and 36-volt options. The more voltage, the more lbs. thrust and longer battery life available (if you're conservative).
So it's important to choose the right lbs thrust relative to your boat's size.
Here's a demonstration of boat size to thrust and voltage:
Smaller 12 to 15-foot boats use 12 or 24-volt motors.
Slightly larger 16 to 19-foot boats are ideal for 24 to 36 volts.
Anything over 20 feet needs a 36-volt motor.
Also, don't think you'll save money by going smaller. When winds pick up and you're off anchor, you'll be blown all over the place. Spend the money and get the motor you need.
Keep in mind that with more voltage levels, you'll need more batteries. A 12-volt is one battery, 24-volt is two batteries and a 36-volt requires three batteries.
Now if you're cursed and kill batteries left and right, I recommend sticking with a gas-powered trolling motor as they're not so dependent on batteries.
Electric Trolling Motor Controls
Electric trolling motors are controlled in different ways:
Hand-control motors: These are much like your traditional gas-powered troller. Tiller handle models are easy to control, but you have to be right by it.
Foot-control motors: Using your foot, you control both the power level and steering. Some are mechanical, whereas others have an electric steering system. One benefit to foot-control models is they let you steer from the comfort of your seat.
Wireless model motors: Using a hand controller grants absolute freedom to control the motor from anywhere in the boat. Just whatever you do avoid dropping the remote in the water. It'll make for one lousy fishing day. Thankfully, they come with lanyards to wear around your neck. One disadvantage to wireless controls is that they can be finicky if you're inexperienced.  
All these electric trolling motor controls have their pros and cons, so it's best to pick your preference based on your boating style. Are you itchy and like to move about the boat? Then wireless is probably your best bet.
Prefer to plant yourself? A hand or foot-controlled is just fine. 
Featured Boat Care Product
Check Price on Amazon - Better Boat's de-salt concentrate safely removes salt deposits from decks, hulls, engines, dive equipment, fishing gear and more. It's 100% biodegradable and won't harm the marine environment. Use with a boat engine flush kit and hose to quickly and efficiently flush saltwater after a day out or before winterizing.  
Deployment Features
What is a deployment feature? Simply put, it's how you set the motor down into the water. While most boaters do this by hand, a newer "auto-deploy" technology is now offered, allowing the motor to drop in the water automatically at a push of a button. It's pretty slick tech that's starting to generate buzz around the boating world.
Ease of Removal
Electric trolling motors can either clamp on the rear or mount on the boat's bow. Rear mounts have self-tightening hand clamps, whereas bow mounts directly bolt to the boat.
If bolting a motor (or anything) to your boat is not something you're keen on, invest in quick release mounts (check price on Amazon). One advantage of quick-release mounts is it makes removing the motor easy for storage.
It also works well when you can't fit the motor and boat cover on together. Of course, make sure to lock it up when not in use. They tend to grow feet and walk away.
Extra Electric Trolling Motor Features
Each electric trolling motor brand sells countless extras features and accessories. I can't cover every single feature, but I will cover some of my favorites:
GPS tracking: A versatile and flexible feature, you can mark a path for the motor to follow. My favorite is to hover in the same place.
Built-in transducer: Link up with your fish finder and get a more accurate picture of what's in front of you. As a side note, not every model fish finder is compatible with this feature.
Motor Guide Electric Trolling Motors
Motor Guide has been around since the 1960s. Its currently part of Mercury Marine. I actually like that Motor Guide has a smaller, yet more simplistic selection when compared to Minn Kota.
Granted, the selection of Minn Kota can meet more needs, but I'm always an advocate for simplicity. Their GPS systems are the most accurate on the market, with anchor positioning that locks you into your fishing spot.
Tracking is also very efficient and allows you to plot a course to follow. To my knowledge, Motor Guide is also the only brand with a wireless foot-control option available, which offers flexibility to the user to control from anywhere in the boat.
Motor Guide's electric trolling motors (check prices on Amazon) are also compatible to link up with Lowrance fish finders (check prices on Amazon) fish finders to give greater control and the ability to find the fish more easily.
My favorite model has to be Motor Guide's Xi5 Wireless trolling motor with GPS.
Minn Kota Electric Trolling Motors
Minn Kota has been around since 1934 and, always on the pinnacle of innovation, has invented foot pedal controls, composite shafts and more. They have the widest selection of motors to choose from and the latest in tech.
Their GPS models are known as i-Pilot and work very well. Motor Guide may be more accurate, but Minn Kota offers, in my opinion, an easier interface to interact with i-pilot.
More so with i-Pilot Link. Minn Kota has been making waves with their newest model, the Ulterra (check price on Amazon), which has a self-deploy feature, dropping it in the water at the push of a button.
It's also possible to use this feature with GPS tracking to unload the boat unmanned and have it waiting at the dock while you park your truck and trailer. I've never tried this feature, and I wouldn't dare. There are many variables that put holes in this boat including people, weather, hidden underwater objects and malfunctioned batteries.
Many boaters love that feature, but with my luck, it would fail, leaving my boat adrift in the middle of the harbor.
Minn Kota electric trolling motors (check price on Amazon) are only compatible to link up with Humminbird fish finders (check prices on Amazon).
A few years ago, Lowrance was still compatible. However, since the parent company owns both Minn Kota and Humminbird, they restricted the compatibility with Lowrance. Captive market anyone?
My favorite model has to be the reliable Terrova with i-Pilot (check price on Amazon). It's simple to use and works fantastic!
Gas Trolling Motors vs Electric Trolling Motors: The Cost Differences
One of the many questions that have plagued boat owners: Should I have a gas trolling motor or an electric trolling motor? If you can afford both, then you can actually use both effectively together. Granted, this option can be expensive and not everyone wants both.
I'll explain the pros and cons of each (If you're mister money bags or have money growing on trees, I'll leave my email below so you can give me a helping hand).
This is tricky to tackle as there are so many different models to choose from in both options, and many different boats to put them on. I'll break down the differences below.
Average Costs of Electric Trolling Motors
Electric trolling motor prices vary all over the place. However, don't just take the face value cost of the motor's final cost. You'll need to add the cost of batteries to the overall cost of your investment.
Electric motor prices begin at $500 and can reach $3,000. Batteries, on the other end, cost on average $125- $150 (for good quality).
So, for example, the $500 trolling motor is a 12-volt battery, adding $125 at least for an adjacent battery. However, that's not all. You also need to factor electrical wiring, breakers and optional accessories. It's important to keep these factors in mind.
If you have your local dealer do the install, you need to add labor costs. Also, every bow on every boat's different. Some are easy and some are nightmares to work with.
It's difficult to provide an estimated cost for the motor set-up that'll work best for you. It's better to look for the motor that works best than to try to save money.
It's also difficult to exchange or return trolling motors after usage. It's better to do research and find what suits your boating style.
Average Cost of Gas Motors
Gas trolling motors have a higher initial cost. The 2.5 models start right around $1,000. They go up to the popular 9.9 motors which are around $3,400- $3,700.
However, they don't require batteries (electric start models use a boat's existing cranking battery). They don't need all the wiring, breakers or extras like an electric trolling motor.
You may need an external fuel tank or a fuel filter set-up to hook the motor to the onboard gas tank, but those costs are less compared to electric trolling motors.
The only cost prohibitor is if you need a bracket to hold your gas trolling motor, which can range from $300 to over $1,000, depending on the bracket you choose.
Battery Care/Costs
As mentioned, electric trolling motors will need batteries to work. You have the initial cost of the battery, but you also need to maintain it or you'll spend hundreds of dollars each year.
Buying a battery charger is a wise and valuable investment. Battery chargers start around $45 and go up from there. But with careful care, you can get three to four years out of your trolling motor batteries.
In Closing
Electric trolling motors have become a staple in today's boating world, offering many useful and beneficial features to enhance the fishing experience. My best recommendation is to look for motors that have features you need/want and work within your budget.
One important decision-making factor is which brand fish finder you prefer, as the two main brands are compatible with different motors.
In the end, keep in mind that gas works really well, though electric has GPS tracking benefits and ease of deployment. Given the option, I like to actually have both.
Good luck catching the big one!