The Best Foul Weather Jackets for All Boating Conditions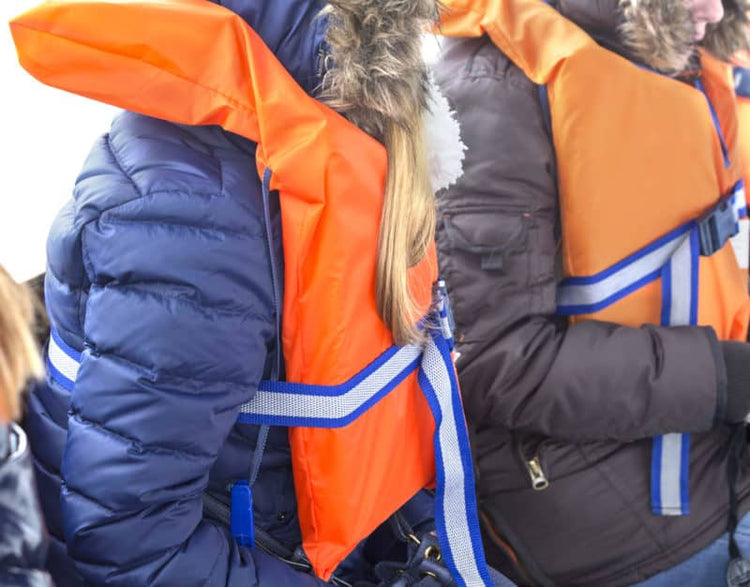 Does the weather app call for sun, light wind or blistering cold rains? One piece of boating gear to never leave behind is a great foul weather jacket.
Whether headed out for a city stroll, a mountain hike or traveling far by train, plane or automobile, you need to dress for the potential weather conditions you'll face.
For a walk through the city, bringing an umbrella might be all the adaptation that's needed. For the hike, adding a poncho or raincoat can prepare you for sudden storms. And when packing for that multi-day trip, you make sure to stash an umbrella and rain shell.
When you're boating, dressing for the worst potential weather conditions is all the more important. There's nowhere to hide out there on the water, so you'll be wholly dependent on the foul weather jacket and gear you brought aboard.
And as the weather can change quickly, don't trust the forecast, but plan for the worst.
Different Boating Requires Different Apparel
When headed out onto the water in a kayak, canoe, deck boat or Sunfish, you need a foul weather jacket to protect you from rain, splashes and, depending on the season, the cold or the beating sun.
These types of watercraft offer no protection from the elements, so your gear is of paramount importance.
Some vessels, like pontoon boats, offer bimini canopies and even full enclosures, which block the sun and reduce your exposure to the rain.
These layers still offer little protection against the cold. A larger cabin cruiser, of course, keeps you out of the storm where you're warm and dry below decks.
But you'll almost surely have to venture out of the boat's cabin at some point, exposing yourself to the weather. So even if you have a boat with interior living space, bring along apparel for the reality up on deck. And of course...
Different Seasons Require Different Boating Apparel
Weather is unpredictable. We can never tell what it's going to do with complete 100% accuracy. But you can make some safe bets on what it won't do.
There's little reason to worry about freezing temperatures, for example, in the middle of summer as you boat around in the Gulf. And there's little risk of heat stroke as you fish in the Chesapeake Bay in November.
So I've broken down this list of foul-weather jackets by seasonal use. And, of course, you'll have to further consider the climate in your specific boating location.
The Best Foul Weather Jacket for Bad Weather Boating in Summer
I've mentioned this Columbia Sportswear OutDry rain shell (check price on Amazon) before. My two Columbia shells are hands-down the best raincoats I've ever used in warm weather, so here I am recommending them yet again.
The Columbia OutDry EX Shell (check price on Amazon) is lightweight, highly breathable and of course 100% waterproof. It's perfect for paddling, fishing and other physically active aquatic activities.
My other go-to is Columbia's OutDry EX Eco shell (check price on Amazon), which is made from sustainable materials and has additional pockets. It offers a bit less range of motion, so I reserve it for trips where I won't be as physical.
The Best Foul Weather Jacket for Fall and Early Spring Boating
Autumn and early spring are tricky when it comes to picking coats to wear on board your boat. The days are often mild, while mornings and evenings can be chilly. And the temperature can drop quickly when clouds roll in.
I recently got a chance to test out a brand new Explore Down Jacket from Rapha. While the brand is a cycling apparel company at heart, my first thought was: I'm gonna bring this thing for some cold weather paddling!
The best part is it's water-resistant and warm, even when wet, thanks to its cutting-edge ALLIED down fill. ALLIED was the first company to develop hydrophobic down, or HydroDown, which allows it to keep you warm in wetter conditions.
In addition, the coat packs down to a grapefruit size, allowing me to stick it inside my kayak hull or beside me when I'm not feeling the chill.
The Best Foul Weather Jacket for Winter Boating
Winter boating is lots of fun, but not when you're freezing cold and/or soaking wet. In those cases, it's more about hypothermia or at least abject misery than your enjoyment on the water.
When boating in conditions of cold, freezing temperatures and the threat of rain, sleet or snow, you must be certain your boating jacket will protect your core warmth and keep you dry.
Now, I love the water, whether paddling or motoring, but I'm a mountaineer first. No place suits me like high-altitude places. And you know what you find high up on the mountains? Snow, ice, freezing rain and frigid temperatures.
That's why I wear a Columbia Powder Keg II jacket (check price on Amazon) when I'm headed out for a high alpine ascent. This coat is as warm as any ski parka, but much less bulky, making this foul-weather jacket an excellent choice for boaters in confined spaces.
Designed for fast-paced winter sports, it also offers plenty of articulation and range of motion. This coat also features underarm venting and breathable materials to release excess heat. Yet, there's plenty of insulation, including the company's proprietary Omni-Head 3D metallic lining, which radiates warmth during frosty outings.
If anything, it keeps me too warm on freezing days. I can comfortably paddle in this jacket, as well.
The Best Overall Foul Weather Jacket for Boating in Bad Weather
Okay, we've discussed staying dry in hot weather, staying comfortable in mild weather and staying warm and dry in cold and wet weather. You'd think we've covered it all. Well, no, not quite.
In addition to the previous foul weather jackets we've discussed thus far, you still need a life jacket, more properly known as a personal flotation device, or PFD.
Ah, but what if your jacket was your PFD? How convenient! With the Sterns Boating Flotation Jacket (check price on Amazon), you get a coat to keep you warmer, dryer and, more importantly, afloat if you fall overboard!
The jacket is Coast Guard-approved as a flotation device and generally well-liked by customers. Now, it won't keep you quite as toasty as Columbia's Powder Keg, and it's certainly too hot and heavy for use during the summer.
But for frigid winter use, add the Rapha Explore Down Jacket underneath and stay dry and safe mid-summer. Just get yourself a good ol' PFD to place over your rain shell.
Other Foul Weather Gear to Consider
A decent foul-weather jacket is the most important apparel to have on hand, as it keeps your core warm and dry. But don't forget about boat shoes for traction on wet or icy decks.
Avoid getting your legs cold and wet, too. Just like I trust my hiking jackets as boating jackets, I often use hiking pants designed for trails when I'm on the water.
My Coalatree Trail Head Pants are waterproof yet breathable, which makes them great in both summers and winters. When it's warm, I roll the ankles up as needed.
When it's cold, I just add an underneath layer of Hanes Tec ComfortGear X-Temp tights (check price on Amazon) Believe you me, I'm warm from the waist down! 
Featured Boating Product
Check Price on Amazon - Better Boat's fabric waterproof spray adds a water-repellent barrier to bimini tops, jackets, shoes, tents and boat covers. Water beads up and wicks away. All you have to do is spray on and let dry.