The Complete Breakdown: Are Pontoon Boats Good for Fishing or Just Fun in the Sun?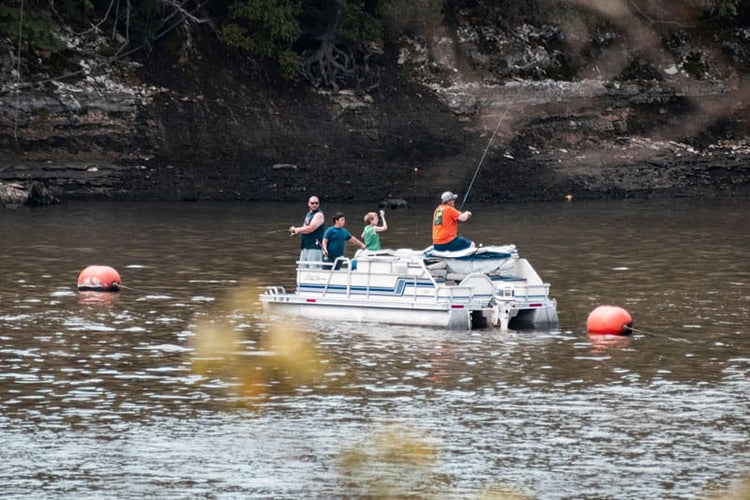 Pontoon popularity has exploded. If you own a toon, you know how much fun they are. They're made for partying, sunning, grilling and enjoying water sports.
But pontoons aren't known for fishing. And if you enjoy fishing, you know it's one of America's favorite activities!
But the question keeps popping up: Are pontoon boats good for fishing?
The question's a big deal, especially when you're a fisherman considering buying a pontoon.
So let's look at some pros and cons about pontoon fishing. We'll throw in some food for thought, too. Hopefully, this will help you with your buying decision. Or, hey, you might just need some good ammunition for your next argument with your fishin' buddies!
When weighing the pros and cons of pontoon boat fishing, there's much to consider. You want the best fishing scenario and a boat that meets all your needs. You'll also need to consider fishing accessories. Then, you can decide if your boat is compatible.
Let's look at some of the pros and cons, as well as the array of fishing accessories you might want to consider.
The Pros of Pontoon Fishing
Pontoons have a lot to offer for fishing. Here are some of their advantages.
Decks Provide Stability
Most pontoon boats have large decks and expansive floor plans, which offer better stability. The large deck helps balance the boat, allowing you to walk around (with minimal bouncing) and not scare the fish.
Most pontoons offer smooth rides in mildly choppy waters, which is a plus since you're bound to encounter some choppy water (and wakes) at some point.
But, if you plan to fish in extremely choppy waters, or you're worried about severe storms, one of the best ways to have more stability is to fish on a three-tube pontoon boat, or a tritoon. Three metal tubes offer better balance and more stability because of more even weight distribution. Another plus?
Tritoons have bigger motors and more horsepower, which offers extra power and stability in choppy waters.
Elbow Room for All Your Fishing Buddies
It's true that most boaters buy pontoons for their roominess. Pontoons typically fit more people on deck, with added room for all your accessories and boat cleaning products.
So, when it comes to fishing, there's plenty of room for all your fishin' buddies as well as rods and reels, coolers, dock lines, drink holders and anything else you might need (Yep, like a portable toilet).
It's a huge plus, since you can have plenty of room for friends and extras without having to sacrifice space. But, here's a friendly reminder: Don't overload your pontoon's safe capacity point.
Check your owner's manual for the recommended/required numbers, and you can also figure it out yourself.
Comfort for All-day Fishing
What other boat offers a better comfort level than your pontoon?
Fishing requires patience and time, so a comfortable experience can boost your fishing experience, right?
If you plan on fishing with small children, a pontoon offers enough roominess for their accessories, like toilets, large coolers to store juice boxes, bottles or baby food, umbrellas or even a small portable refrigerator.
If the kiddos need a nap, there's plenty of room to spread out blankets or a portable air mattress.
Pontoon boats have high comfort levels for long fishing days even for your smallest passengers who need extra care.
Handling and Maneuverability
We mentioned tritoons earlier and how they handle better in choppy waters and storms.
But if you always fish on a calm lake, or avoid going out when the weather is iffy, a standard two-tube pontoon might be fine for your fishing needs and simple maneuverability.
You can troll, drift fish and anchor easily for the day (or night). They also launch and dock easily, making your fishing experience stress-free and fun with no extra worries.
Slow and Steady Wins the Fish
Most pontoon boats aren't meant for speed, which can be a plus when you're fishing. Like I mentioned, slow pontoon speeds are excellent for trolling and anchoring. And if you have children on board, a slow speed is desirable for safety and better handling.
Understand a pontoon's range of speed before buying to make a more informed decision.
Featured Boating Product
| | |
| --- | --- |
|      |  Winch Straps |
Check Price on Amazon - Better Boat's winch straps keep your boat securely on its trailer. Features include super strong webbed polyester, a zinc-coated steel hook and pre-sewn ends. Marine-grade polyester is strong, reliable and weather and UV-resistant. 
The Cons of Pontoon Fishing
Ironically, some pontoon fishing benefits also happen to be their disadvantages.
Handling in Tight Channels
Admit it. You like your pontoon boat for its size. It's great for extra passengers, all your party accessories and anything you might need for the day out. But when it comes to fishing, size can be a problem. 
Sure it's great for balance and stability, but the sheer size of a pontoon can reduce your handling benefits. If your favorite fishing spots are tight channels and coves, then a pontoon may not be a good fit.
Not a Sharp Turning Radius
Pontoons have a lot of good qualities, but a tight turning radius isn't one of them. A pontoon can't turn as quickly, or sharp, as deck boats. So, if turning radius is important to you, then a pontoon might not be your best fishing boat choice.
Missing Gunwale Rod Holders
Unlike the majority of boats, pontoons lack gunwales. Instead, they have decking with railing, which means rod holders have to be designed to fit a pontoon.
Depending on the type of fishing you plan to do, this can influence your decision about pontoon fishing. If you can't install the rod holders you need on your pontoon, then you may prefer a deck boat for fishing.
Alternatively, you can simply purchase additional rod holder accessories like these (which I highly recommend):
The Arnall's Adjustable Pontoon Rod Holder (Available on Amazon) is all metal and fits 1 1/4-inch square rails. In addition, it also holds a variety of different rod types, shapes and designs.
The CE Smith Pontoon Square Rail Adjustable Clamp-On Rod Holder (Available on Amazon) is a clamp-on version that fits 1-1 1/4-inch square rails.
Made of stainless steel and lined with UV-resistant PVC, it's really built to last. It also comes with mounting screws and a hex key to mount it yourself.
FYI: Check with your pontoon's manufacturer. They may offer add-on accessories and parts for rods and rod holder mounts.
Height Above Water
Pontoon boats are normally higher than deck boats, which can be a problem when you're fishing. It makes pulling in your catch difficult, which makes wrangling your fish into the boat more time-consuming (adding to the chance of a snapped line or a fast fish getaway).
On the same lines, the other problem is the pontoon's railing. The railing often gets in the way, especially when you're quickly moving about or reaching for something.
Wind can be a big problem, too. Because of the height, pontoons don't tolerate high winds. With their side paneling almost acting as a sail, they tend to drift sideways into the wind.
Choppy Waters
Most pontoons can easily travel 10 to 15 mph. Some of the tritoons with larger motors travel even faster. This is fine for trolling and drift fishing. But if your plans are to deep sea fish or tread tough choppy waters, it might not be fast enough.
Check your boat manual for top speeds or consult with your boat manufacturer if you need more guidance.
Choosing the Best Motor
In the past, most pontoons were fitted with outboard motors, maximizing power for better weight distribution.
An outboard motor also allows ample space on the pontoon (and you don't wanna sacrifice spaciousness). But, when it comes to fishing, an outboard motor can simply be too noisy.
Nowadays, some pontoons are fitted with sterndrive motors, which are often found on aluminum pontoons. A sterndrive can offer more power, better handling and noise reduction.
If your pontoon doesn't have one, you can consult with a professional to see if one can be installed. But the debate continues. Many boat owners still believe an inboard is sleeker and quieter, but an outboard motor offers better performance. You'll just have to decide for yourself, depending on your needs.
Saltwater vs. Freshwater Fishing
Saltwater, or deep-sea fishing, requires different equipment than freshwater fishing. Let's look at a few accessories you may need.
Livewells
Most pontoon boats aren't plumbed for raw water, so you'll need to do one of two things when fishing on a pontoon: 1) Carry a portable livewell onto the boat. or 2) Have one installed on your pontoon. 
Washdowns
Pontoons aren't gonna come equipped with washdowns. You might be able to install one, or you may have to use a bucket and scrub brush (that's not gonna suit most serious anglers).
Rod Holders
Serious fishermen need serious rods and rod holders. Some pontoons only allow for screw-on or clamp-down holders, which only accommodate small fish.
If you're an ocean fisherman and have bigger fish to fry, you're gonna need some strong rod holders. Not the attachments you find for pontoons.
Saltwater Damage
Don't forget ... many pontoons aren't meant for saltwater. Saltwater can damage your boat and you don't want that! To verify whether your pontoon is saltwater worthy, check the owner's manual or contact the manufacturer before heading out to the high seas.
Customized Pontoon Fishing Boats
If fishing is a big deal to you, there are customized pontoon fishing boats you can buy (Yep, cha-ching!). But, with some work and a little money, you can convert your pontoon into a fishing boat yourself. Doing it yourself can save you some money, and you'll also be proud of your accomplishment!
Your Final Decision
Pontoon fishing is subjective and really depends on your needs. Before deciding what's right for you and your family, do your research. Talk to friends, talk to other fishermen, visit marinas and maybe even rent a boat for a test-run before buying.  
In the end, the decision is yours. If your pontoon satisfies your fishing needs, it's all that matters. So gather up your gear, your fishin' buddies and plenty of snacks. And have fun fishin' on your toon!
---