How to Choose a Trolling Motor That Will Change Your Boating Life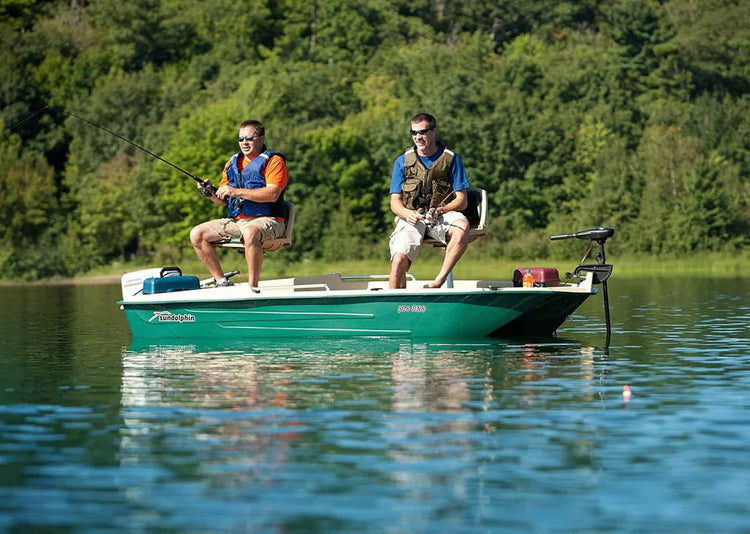 Can choosing a trolling motor really change your life? Maybe. If you choose the right trolling motor, that is. But, first things first. What is trolling all about?
What Is Trolling?
Trolling is a type of fishing where a baited line is steadily moved along through the water, usually at a relatively slow speed.
This can be accomplished by:
A fisherman walking along a pier with his fishing pole in hand
A fisherman slowly reeling in a baited hook after a long cast
Keeping a line (or several lines) in motion by drawing them along with a boat's movement
This last approach is the most common type of trolling, and it's usually what people are referring to when they speak of trolling. Trolling for fish is effective because it recreates the movement of the types of prey many prized fish seek.
In order to troll effectively, you need to use the right kind of bait for the fish in your chosen waters, which requires its own research and planning.
You also need the right kind of gear. That gear includes a good boat and, of course, a great trolling motor.
The Best Boats to Have Trolling Motors
If you're considering how to choose trolling motors, you probably already have a boat.
So, we'll keep this brief, but I want to make sure you understand the great variety of boats that are suitable for trolling.
The most common fishing boats for trolling in open waters like a bay, large lake or ocean include console fishing boats like the Yamaha 190 FSH, pontoon boats like the SunCatcher V22RF and deck boats like the Bayliner Element XR7.
These and similar boats are all great options for troll fishing because they offer ample deck space for multiple fishermen and have minimal obstructions that can snag or tangle a line once it's in fresh or saltwater. But you don't need a boat nearly so large as one of these for effective trolling.
For river fishing or for fishing in lakes, ponds, bays or harbors where you'll be staying relatively close to shore, a much smaller simpler vessel will suit you fine.
Consider a compact fishing boat like the Sun Dolphin Pro 120 (check price on Amazon here), which can be fitted with a small outboard motor or paddles with oars when you're not using your trolling motor.
You can also outfit a good canoe like the Saranac 160 Recreational (check price on Amazon here) with a trolling motor. Or you could even use a compact and efficient kayak for trolling (check price on Amazon).
How to Choose the Best Trolling Motor
We tend to think of motor quality as directly proportional to motor power. This is not always the case. In fact, trolling motors are effective precisely because they aren't overpowered behemoths, but rather are subtle and steady sources of motive power.
By creating minimal noise and minimal water disturbance, trolling motors minimize the chance of scaring away the fish you're trying to lure in. Or, in other words, the biggest trolling motor won't necessarily be the best trolling motor for your boat.
You do need to consider the following size-related factors, though.
Shaft Length: The propeller of your trolling motor needs to reach the water! If you're in a canoe or kayak, that's easy enough. From the gunwales of a deck boat or pontoon craft, more length will be needed. Measure before you buy.
Mounting Clamp Width: Most trolling motors attach to the side of a boat using a mounting clamp that tightens on a threaded peg. Make sure the mounting clip on the unit you're considering can open wide enough to fit on your boat in the spot where you intend to mount it.
Trolling Motor Power: Okay, so I said power isn't equal to quality here, but you do need to choose a trolling motor that's sufficiently powerful to move your boat. A 36-lb thrust motor might be great for a little bass fishing boat, but it might hardly move a 24-foot pontoon boat with seven fishermen aboard.
The 5 Best Trolling Motors on the Market
We've arrived at the moment of truth! Assuming you've already measured your boat to determine the needed shaft length, mounting clip size and all that good stuff, it's time to choose your trolling motor.
Here are a few that I highly recommend.
1. Minn Kota Endura C2 40
The Minn Kota Endura C2 40 is a great value for a compact and capable trolling motor. It features five forward speeds and three reverse speeds, giving you lots of control and letting you set the ideal pace for luring in various types of fish.
Its telescoping handle offers deft steering when you need it and tucks out of the way when you don't.
2. Newport Vessels 62-lb Thrust
The Newport Vessels 62-lb Thrust trolling motor is primarily composed of fiberglass and has a long 40-inch shaft.
This motor was designed for use in salt water, and that fact, combined with its long shaft, makes it a good choice for use on mid-size boats that ply the waters of the bay or ocean, such as a deck boat or pontoon vessel.
3. Cloud Mountain 36-lb Thrust
The Cloud Mountain 36-lb Thrust electric trolling motor is one of the most affordable options out there, starting off at just a little more than 100 bucks.
It features LED lights that indicate the unit's battery power level, so you know when it's almost time to head back to the dock or to get ready to start paddling.
The company also makes larger, more powerful options.
4. Outsunny 12V Transom Mount
The Outsunny 12V Transom Mount trolling motor's mounting bracket can be locked in 10 different positions.
With all of these positions, you can angle the motor as needed for trolling and then quickly and easily lift it out of the water either for still fishing or when it's time to fire up a larger outboard and head on home.
5. Sky 4-Stroke
Almost all high-quality trolling motors are powered by a battery, but there are compact gasoline-powered outboards that approximate the design and use of a trolling motor. The Sky 4-Stroke is one such motor.
A gas engine is louder than an electric motor and probably offers more power than you even need for trolling, but it has the advantage of its energy source. You can carry multiple containers of fuel along with you to ensure hours of use as needed. 
How to Use Your New Trolling Motor
Owning a trolling motor is all well and good, but knowing how to use a trolling motor is great.
Fortunately, unless you opted for a trolling motor with foot-operated controls, this is pretty basic stuff once you have the motor mounted and in the water.
You set the speed you want by twisting the motor's throttle. There are usually numbered settings indicating different power output levels.
When you turn the handle of your trolling motor to the left/port, it's going to point the boat's bow to the right/starboard.This is true whether the motor is bow-mounted or placed on the transom, but note that the boat may react differently depending on where the motor is mounted.
Try to keep the trolling motor propeller fully submerged with a few inches of water above its blades, and make sure the propeller is trimmed properly to be level with the surface of the water. This will minimize the chop produced on the surface or the disturbance created below, both of which can spook fish.
Featured Boat Care Product
Check Price on Amazon - Better Boat's boat soap helps keep your boat clean and shiny from bow to stern and hull to flybridge. Rinse with a hose and nozzle for a residue-free finish. It's 100% biodegradable and safe for the marine environment.  
So, Can a Trolling Motor Change Your Life?
Well, your fishing life, yes. Hey, I never said choosing the best trolling motor would change your life all that much, did I?
But once you have a great trolling motor affixed to your trusty boat, you'll enjoy fishing and general boating even more than you already do.
That's a life change for the better. After all, it's the little things that matter in life, as they say.