2015 SunCatcher V22RF Pontoon Boat (Unbiased Review)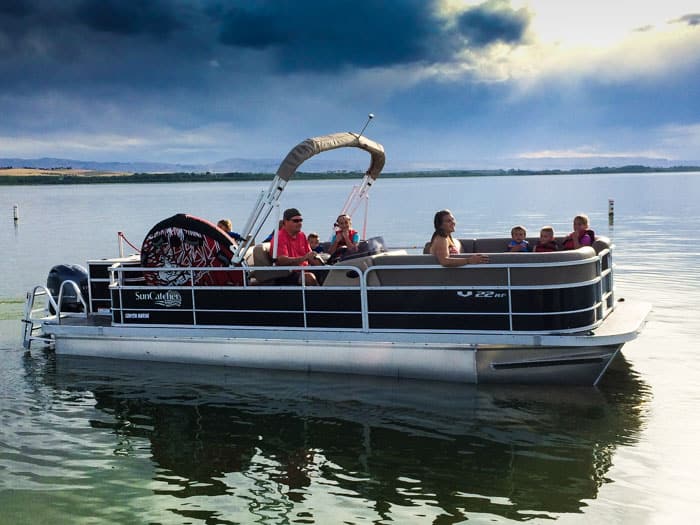 There are so few real unbiased pontoon boat reviews on the internet that it's quite difficult to make a choice on a pontoon boat.  
I own a 2015 G3 SunCatcher V22RF, so I'm quite confident that I can give you a quality and unbiased review.
This is the information that I wish I knew before purchase. 
The quick take: The G3 SunCatcher Pontoon boat is probably the most versatile and family-friendly boat on the water. It has well thought-out seating for a variety of uses, as well as the features you'd expect to see when you want to spend an entire day on the water.  
Fishing is incredibly convenient, and towing riders behind the boat is a breeze. With room for everyone to sit comfortably and at a reasonable price point, the SunCatcher Pontoon is terrific.  
While we did notice a few very minor imperfections and durability concerns, there isn't a whole lot not to like. I don't regret my purchase even slightly.
Speed
What I've found with the stock prop is that the boat is more than capable of towing skiers, kneeboarders, wakeboarders and a tube.  To me, that's all I'm really concerned with. As long as I can go that fast, I'm good.
The boat that I purchased had a 90hp motor on it at the boat store, but I negotiated with the salesman and got him to put on a 115hp Yamaha outboard for an additional $900.  
The speed difference between a 90hp and a 115hp on this boat is only about 3mph (4.8kph), but I really wanted to be able to ski behind the boat even when it's loaded with people, so I'm glad I sprung for the slight increase in speed.
Under ideal conditions with only me in the boat, a low fuel tank, not much gear or heavy anchors and the bimini down, I can go 29 miles per hour (46.6 kph).  
With the boat loaded pretty full with people (11 people) and gear, I can go around 21 mph (34 kph).  
The good news? The optimal average speed for watersports (waterskiing, tubing, kneeboarding, etc) is around 20 mph, so it's PERFECT!  Even with the boat loaded to capacity with 11 people, I can ski with no problem (well, no problem as far as boat capacity is concerned). 
| | |
| --- | --- |
|     |  Interior Cleaning Kit |
Check Price on Amazon - Better Boat's interior boat cleaning kit makes it easy to keep your boat clean from bow to stern. It comes with a bottle of vinyl cleaner, a bottle of vinyl protectant, boat cleaning wipes and two microfiber cloths.   
Cost
I paid $32,500 for the boat but then paid $900 to move up to the 115hp motor. Then I paid an additional $200 for the ski tow bar (essential in my opinion!).
 After tax, title, and fees, I was at $33,200 out the door. I feel like I got a really good price on my boat. Not a bad deal for a beautiful 22' pontoon boat.
Handling
Driving a pontoon boat is much more familiar to the newer boat owner than driving a traditional ski boat since the boat does not curve up on turns. Even a sudden turn taken at full speed is unlikely to make the boat feel unsteady on most pontoon boats such as this one.  
That's a big plus for convenience and safety for new boat owners. Not surprisingly, the turning radius is not great on this or any other pontoon boat.  
If you want to flip tight corners on a dime, a pontoon boat is not for you. This is significant for performance water sports athletes, but for those who like to kneeboard or tube occasionally, it's not a problem at all.
The model I purchased doesn't have power steering, so it's difficult to pull the steering wheel.
 As I mentioned in my post about average pontoon boat costs, taking the power steering out of a boat can dramatically cut the cost. I was more concerned about this before purchase but found that it's really not that big of a deal. I let my 5-year-old sit on my lap and drive, and he can pull the steering wheel when he puts his back into it.
One feature I really like is that the gas tank is centered under the deck on a mini pontoon. As I mentioned in my average pontoon boat weight post, a full tank of gas can weigh about 75 pounds, so this really helps to make the boat feel balanced.
Flooring
I got a gray padded vinyl flooring in my pontoon boat and I love it. In fact, it's one of the first things that people mention when they get in the boat. It looks modern, clean and attractive. Best of all, it's easy to take care of.  
I can't imagine why anyone would get a pontoon boat with carpet anymore. This vinyl flooring is soft because of the thin pad underneath, and I have not found it to get hot in the sun.  
If you decide that you do want carpet, you can simply have a snap-in rug installed in the main playpen area and you're set to go. For me, I wouldn't even consider the carpet. The vinyl is really nice on this model.
Sound System
My pontoon boat came with an Alpine stereo pre-installed. I'm not exactly one to pump out loud music, but I do enjoy listening to some soft music while on the water.  
My favorite feature of the stereo is Bluetooth. Since I have all my music on my phone or on Pandora, I can just press play on my phone and it's instantly played on the boat's speakers. Works great and requires only a 30-second one-time setup for the Bluetooth (much better than the Bluetooth in my Honda). The speakers are a little weak for my preference.  
Again, I don't blast music at all, but the sound is a little hollow. It's certainly not bad and most people probably like it just fine, but I do like a full sound so I'd probably prefer to upgrade to a better speaker at some point. The music sounds just as good as most car speakers do, so it'll be fine for most people.
Seating
The layout and seating in this boat is the defining feature. I would have chosen a ski boat, but I wanted to fish as well. I would have chosen a fishing boat, but I want to ski and hold 11 people.  
So for me, this model is the ultimate family play boat. When I have the guys on the boat to fish in the morning, we can bring the little ones with us and they can run around and jump off the seats like wild kids.  
We fish in style on comfortable rear-facing seats with a livewell and an aftermarket fish finder. When we ski, everyone can fit comfortably and someone always ends up falling asleep lying down on the remarkably comfortable front-facing loungers. The kids play with playdough on the table and eat snacks.
No boat can compare with a pontoon boat, and for my preference, no pontoon boat can compete with this seating layout. It's perfect!  
The boat is rated for 11 passengers or 1,560 pounds. We've had the boat filled to capacity a few times now and found that we can go fast enough to get a skier up (but I wouldn't mind it going 2 or 3 miles per hour faster), and everyone has a comfy seat without being crowded. It's remarkable.
Storage
Pontoon boats generally do very well with storage because of the ample seating arrangements on most pontoon boats. That being said, I'm especially fond of the storage on this model.
All of the under-seat storage bins have vents so that wet items left in them do not mold as easily. There's a cupped upper lip to prevent rain or other wetness on the seats from seeping down into the bin.
One negative is the hinge under two of the front loungers. The hinge swings out 90 degrees but not quite to the point that the cushion hits the floor, so if you open the seat up and let the cushion flop onto the hinge, it pulls on it too much, which looks like it would break the hinge over time. But all of the other hinges look good.
Another negative is that the G3 SunCatcher does not include a door on the side of the captain's console for a cooler to be slid underneath. Without the door, it's difficult to fit a cooler through the foot hole because of the placement of the captain's chair.  
This makes the rather large space under the console less useful and cuts down on the storage room in the boat. Another cool thing that I'd love to see in terms of storage is a dedicated "dry box" near the captain's console. A good place for everyone to put their cell phones and wallets as you take off would be really handy.  
Right now I just stick my phone in the cup holder of the captain's chair. Works okay but then five other people stick their wallet there to stay high and dry, so it gets messy.
Captain's Chair and Console
The captain's chair is comfortable and swivels side-to-side so you can turn and talk to those at the table when the anchor's out, and it scoots forward and back so that my wife can comfortably reach the steering wheel. I do wish the captain's chair had a full head rest, though. It looks wimpier than models I've seen from other manufacturers.
One knock for me is that the console doesn't include an engine hour monitor. I know it's easy enough to take in and have checked, but I want to make sure I'm maintaining my engine properly, so I'd love to see that incorporated in the console with a simple gauge. It's also missing a battery power gauge.
The captain's console doesn't have nearly the space that I'd like to see for mounting a fish finder or depth finder. I spent about half an hour trying to figure out how to mount my larger 7" fish finder on the dash without covering things up.
If you're curious how I finally did it, check out my step-by-step tutorial on mounting a fish finder on a pontoon boat. I used this model as the example.
I found the speedometer to be off by about 2 or 3 miles per hour, but that's not surprising for any boat. Boat speedometers are rarely correct, which is a safety issue when pulling riders.  
I use the gps on my fish finder to get a correct speed reading. Overall, the console and captain's area looks really high end. The gauges, steering wheel and throttle level all look top notch.  
One note is that the large metal surface on the steering wheel frequently blinds the driver when hit by the sun.  A more rounded steering wheel could fix that, but so could a piece of redneck duct tape.
Fishing on the V22RF
I fish in spurts. Sometimes fishing is about all I can think of during the week until the weekend finally comes around again, and other times I'm not excited about it at all.  
Since getting my pontoon boat, fishing has been a lot more fun. I catch 10 times more fish than I did from the bank. Being able to target certain areas of the lake has produced significantly larger trout and salmon in the Idaho lakes where I fish.
Fishermen are welcomed on this model with a large 12 gallon livewell. It's huge! The button from the captain's console fills the livewell with a drain in case you get overzealous.  
Unfortunately, full drain plug is located at the bottom of the livewell, which means you have to reach into the fishy water to drain it. Also, the plug at the bottom of the livewell does not have a retention chain, so you have to be careful not to leave it on the side while draining the livewell and losing it.  
It would also be nice to see a livewell water switch, so that if non-water is drawn from the livewell pump, it would prevent the pump from running and burning up.
I've bumped or had the kids bump the button a few times already when turning on the radio and other electronics before getting in the water.
| | |
| --- | --- |
|     |  Cutting Board |
Check Price on Amazon - Better Boat's cutting board fits into a rod holder for an easy, safe and efficient way to slice up the day's catch. It has slots for knives and trays for pliers, hooks and other items. 
On top of the livewell is a premium fishing station. It has spots for five rods stored vertically, a huge cutting board surface, a spot for two filet knives to be stored (though I wouldn't use it because it's too dangerous with kids on the boat), cup holders for your drinks and an integrated ruler to measure your catch. Fantastic! It's tough to beat that convenience for fishing.
You can catch a fish and chuck it in the livewell without even leaving your seat. Most pontoon boats store the livewell under the seats in the front of the boat, which is a pain.
My complaint on the fishing station is the rod holder. I usually have four or five rods out when we're fishing, and the rod holder doesn't hold the rods well enough. They inevitably end up falling out when I take out another rod, which causes tangles.  
This is another area that I'd love to see an engineer make a simple but much better solution. Shouldn't really be that hard...
Another thing I'm not fond of on the fishing station is the top surface. It's extremely durable and designed to be a cutting board, but I wouldn't want to get cuts and nicks on this surface even though it's made to be a cutting board.  
I'd rather see an inlay where a removable cutting board could be placed in the boat. Serious fishermen almost always want the trolling motor to be installed on the front of the boat. After all, it's easier to pull a rope than to push it, right?
Many pontoon boats don't have any space where the deck sticks out in front of the railing, so you have to cut and weld your front gate to get the trolling motor to fit, which makes the boat not look as nice and requires a fair amount of work.
That doesn't appear to be necessary with this model. There's a generous deck space in front of the railing so you can put on a trolling motor. Very nice!
When trolling and sitting in the rear area for fishing, you'll be quite comfortable with ample leg room. In fact, it's a bit too much leg room.
The rear-facing swivel fishing seats are scooted so far back that it blocks easy walking room to get to the port-side fishing seat. This is the one area on the boat that I feel is a little cramped. It's great when you're fishing, but when you're walking around at the back of the boat to rig things up for skiing, it's a bit tight.
All-in-all, it's tough to beat the comfort and convenience of fishing on this pontoon boat. It has everything  a fisherman could want to fish in style and in a far more convenient way than other comparable fish/ski pontoon boats.
 Really nice console design, but it's missing a couple key gauges and doesn't have much room to install a fish finder. 
Trailer
I'm pretty happy with the trailer. Unlike most pontoon boat manufacturers who use black carpeting on the skids, G3 uses plastic runners, which make it very easy for the boat to slide on the trailer. It's easy to load and launch - much easier than I thought it would be. 
I do wish that the skids came up higher. Since they are only at a slight "v" shape and only come up a couple inches to the side of the pontoon, I have seen the boat slipping on the skids between getting it on the trailer and when we pull up the ramp to strap down the transom straps and trailer straps. If the skids were taller, I think this would be eliminated.
While I think the trailer for this boat is nicely built, it does make me wonder why no manufacturers are building in more convenient ways to load boats like the easy loader.  
Seems like the cost would be minimal compared to a $30,000 boat, and the differentiation would make it a nice advertising point for the manufacturers. I'm sure this is available as an add-on, but another point is that my boat didn't come with a spare tire. Bummer.
Under the Deck
One major consideration for me was the underskinning on the boat. Some of the boat manufacturers I looked at such as the Bennington had underskinning on the entire underside of the boat. This is a nice feature to protect the boat and to prevent water from splashing up under the boat and reducing performance.
This boat has underskinning only at the rear of the boat, for about 1/3 of the underside of the deck. When the wind and chop is just right, you can really feel the waves hitting the supports because there's no underskinning. Big deal? Not at all.  
Would I have paid $300 additional to get it?  Probably. But there is one really good thing happening below the deck on the SunCatcher - a centered fuel tank. Fuel tanks can be extremely heavy, so having it centered makes it that much easier to balance the boat.
Engine
You can order your SunCatcher with several different motors up to the max of 115hp.  Personally, I chose the 115hp because I wanted to be able to pull skiers and tubers even when the boat is filled to capacity.  
The new Yamaha 115hp engine is untested and brand new, so it only comes with a three-year warranty instead of the typical five-year warranty. This was definitely a point of concern for me, but it wasn't enough to convince me to chose something less powerful.
When I had the motor switched from the 90hp engine that was installed up to the 115hp, I gained about three miles per hour in top speed.
Interestingly, there's no significant size difference between the Yamaha 115hp motor and the 90hp motor. On the Mercury engines, the size difference is significant.  
Somehow, Yamaha has managed to create their new 115 in a powerful yet lightweight and compact package, with the entire engine weighing only 377 pounds.
| | |
| --- | --- |
|   |  Waterproof Spray |
Check Price on Amazon - Better Boat's waterproof spray adds a water-repellent barrier to cushions, boat covers, umbrellas, luggage and shoes. Water beads up and wicks away. It's safe for canvas, polyester, nylon, leather and more.
Canvas
I love my SunCatcher.  Knowing what I know now, I definitely would have still purchased it. No regrets at all. However, the boat isn't perfect. None are. My biggest complaint is the bimini top.
It's good to have a nice tight bimini, but no matter how hard I pull, I can't get it up without unbuttoning the corners to give a little more room on the canvas. Even with four people trying to get the bimini top up, we were unable to do so without unbuttoning the corners and leaving them flapping (very slightly) in the wind.  
It actually works just fine, and the flapping is very minimal, but it left me puzzling over why in the world they would make the bimini fit so tight that it was extremely difficult to put up.
Also, I'd love to see a different design for the bimini boot (the cover that goes over the bimini for storage and trailering). It always takes a minute (or several) to go on with the zipper. A little engineering effort could certainly create a design that could be put on in 15 seconds or less.
On the bright side, the cover is pretty good. It's made of very high quality material (as is the bimini) and fits easily over the boat.
My only complaints with the cover are (1) it won't fit over the ski tow bar that G3 sells because there's no slit/Velcro in the cover on that spot, and (2) it doesn't cover the vinyl floor on the aft-starboard side of the boat. This area is left to bake in the sun every day while in storage while the rest of the boat is covered. Weird.
Changing Room
The changing room is convenient for long days on the boat when people want to change in or out of a swimsuit. It's easy to put up and down in only a few seconds, but sometimes I wonder if it would have been better to not have the changing room and to instead just have that cabinet for storage for cleaning products, gear and whatnot. Personal preference, but my wife says she likes it ... so end of argument.
Durability
I'll keep this section updated with information as I own the boat over the years, but so far I haven't had any real issues with durability or anything breaking.  t has been great so far!
The only very minor thing that has broken is one of the snaps on the side fencing. It broke when I loaded slightly crooked and the snap hit the white plastic on the trailer. It broke off when the boat shifted.
Very minor and it was my own fault for loading a bit crooked. In a perfect world, I wouldn't mind seeing those snaps a little further out from the white bars on the trailer to prevent this problem. Again, very minor.
One thing I really like about the G3 Suncatcher is that they double-reinforce the splash guard on the front of the pontoons. I haven't seen any pontoon boats from other companies with this type of reinforcement. Most companies only have a single bent piece of metal to form the splash guard, which is easily broken if the boat bumps up against the dock. 
Another unique, and significant, benefit of the pontoon boats from G3 is that they fill their logs with styrofoam. This is obviously a significant safety feature so that in the unlikely event of a pontoon puncture, you don't fill it with water and capsize.  
This also improves the performance of the boat because the logs are reinforced on the inside to prevent bending when underway. Foam-filled logs are a significant addition to the value, and G3 is one of the few manufacturers that does it.
I have not had any issues with the hinges on the gates, but this is a common spot where pontoon boats break. The gates are only held by two small hinges, which works fine for normal use, but when you invite Uncle Norman and he sits on the gate not knowing that it can't support weight, you'll surely have a repair to be made.
Some of the other pontoon boat manufacturers use a full-length piano-style hinge on the gates, which would surely do better at preventing this problem.
| | |
| --- | --- |
|      |  Vinyl Protectant |
Check Price on Amazon - Better Boat's vinyl protectant prevents fading and cracking on vinyl, leather, rubber and plastic. It adds a protective barrier to guard against dirt, grime, saltwater and UV rays. 
Another thing I noticed is that the pontoons are scuffed up quite a bit in about 10 spots from where the rope on the white vinyl cover that was used to ship the boat rubbed on the pontoons during shipping. Big deal? Not really, but when you buy a brand-new boat, you want it to look perfect. I'm guessing those scuffs will buff out, but I haven't yet tried.
The first time I had the boat out on the water, the cords coming out of the engine and sitting in the metal tray in front of it came loose and one of them extended so far back that it caught the prop. Fortunately, the cable was not cut all the way through and was remedied with some electrical tape.  
I secured the large cords with a few zip ties to prevent this from happening. This is worth mentioning so that you remember to check this on your boat before taking it out, but it's probably the fault of the local shop that sold me the boat and switched out the engine.
Specs
Cost: About $30,000 new
Max HP: 115
Top speed under ideal conditions: 29mph
Package weight with trailer and motor: 3,630lbs
Length: 22'
Disclaimer: While I do my best to provide accurate and complete information in all my posts, I don't claim that they are without issues either. Always do your own research to verify pricing, availability, specs and features on your own.