How to Drive a Jet Ski: A Step-by-step Guide for First-timers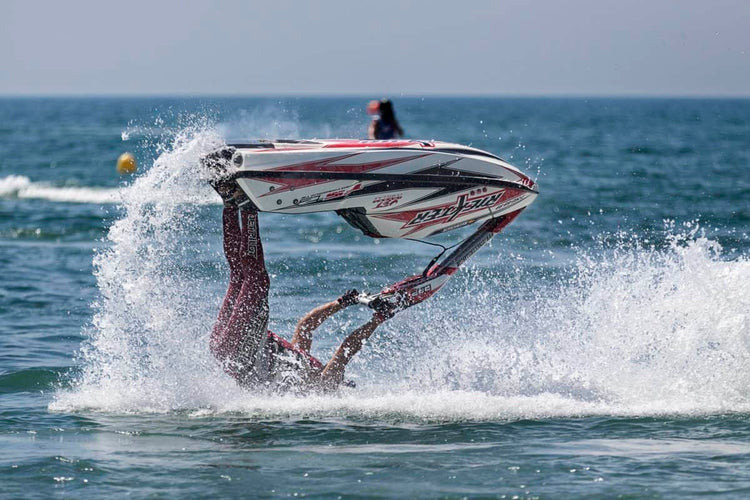 With the wind in your hair and the rush of adrenaline as you punch the throttle, nothing says "summer's here" like a jet ski ride. My first ride on a jet ski was amazing! It opened my eyes to a whole new world and I never looked back.
Jet skis allow freedom to ride anywhere on a lake or bay. You can carry only a few essentials without having to check off an entire launch list and deal with tangled dock lines, heavy anchor sets and outboard motors. 
If you're new to the sport and feeling apprehensive, or you just have a few questions, here's a guide with tips on how to drive a jet ski before you throttle up.
What Are Jet Skis?
You've seen them around, but what is this magical machine we call "jet ski"? Well, if recreational boats are the cars of the water, then jet skis are the motorcycles.
The technical term for jet skis is personal watercraft or PWC, but they're also often referred to by the trademarked brand names Jet Ski (Kawasaki), Wave Runner (Yamaha) and Sea-Doo.
Jet Ski Styles: Stand-Ups VS Sit Downs
There are two types of jet skis: Stand-ups and sit-downs. Both styles have an inboard engine that uses water to create thrust for propulsion and steering. In other words, you can only control the watercraft when the throttle is on (it's important to note some of the newer models can maintain their steering without the application of the throttle).
Stand-up jet skis are almost like scooters on water and require a great deal of balance to ride. I don't recommend your first-ever jet ski ride being on a stand-up. When I rode a stand-up for the first time, I don't even think I was able to stand up! It's much tougher than it looks.
Personally, I like sit-down jet skis the best. You have greater control, they're comfortable to ride, and, if maneuvered correctly, you don't even have to get wet.
Before You Head Out for a Jet Ski Ride
Less experienced jet ski riders are more prone to injuries, which makes it even more important to familiarize yourself with the specific watercraft you'll be riding.
Always make safety the main priority while riding a jet ski. Know your machine's controls and capabilities. Different jet skis have different controls, so make sure to know what's the throttle and what's the emergency shut off. 
In addition, some jet skis have braking systems, so make sure to locate that too. Another important task is to inspect general maintenance issues before you ride to avoid a breakdown on the water.
What to Bring for Your First Jet Ski Ride
Jet skis are considered
Class A vessels
by the U.S. Coast Guard, so all rules and regulations for boats under 16 feet apply. Before you take a jet ski out for the first time, make sure it has all the required safety equipment (not only for its Class A certification but for your safety).
Wear Coast Guard-approved life jackets/PFDs. It's the law that you and passengers wear them at all times.
Dress appropriately with a wetsuit, feet protection and eye protection while riding jet skis.
Check if your state requires a license while operating a PWC. If so, you're going to need to take a jet ski safety course to familiarize yourself with how a jet ski works and handles in a safe space. Plus, the course may help you qualify for a PWC insurance discount.
Carry proper documentation such as vessel registration with properly displayed decals.
Secure a Coast Guard-approved fire extinguisher onboard.
Carry a functioning backfire flame arrestor and ventilation system.
Carry a signaling device, such as a whistle or air horn. In fact, it's smart to carry a GPS device (or map, at the very least) in case you get lost.
You'll want to keep dock lines, anchor lines and boat fenders in the storage compartment. Everything you can do on a boat, you can do on a jet ski. You may want to anchor out or tie up with other skis and boats. A sand anchor spike is an excellent idea for jet skis. Always be prepared!
Don't forget to check your fuel gauge so that you don't become stranded!
A mini telescoping paddle is a great safety measure if you do happen to become stranded.
Whoever is operating the jet ski must wear a cord or lanyard around their wrist, which is attached to the key in the ignition. This is also known as a kill switch cord. This turns off the engine in case the driver falls overboard.
Don't forget to remove the cord when you dock the jet ski. This stops any unauthorized use such as theft or daring young teenage riders.
How to Drive a Jet Ski
1. To get started, find a comfortable sitting position. Next, place hands on the handlebars and feet firmly in the footrests.
2. Turn the jet ski ignition switch (with the key attached to the lanyard that's attached to your wrist).
3. Slowly begin to push the throttle.
4. Cruise around about 5 to 10 mph until you're away from the shoreline. Some people find it helpful to stay close to shore until they're comfortable with the throttle's sensitivity.
5. After cruising a safe distance from the shoreline, heavy boat traffic and other obstacles, increase speed gradually (but within your comfort zone).
6. Next, maintain this steady, slow speed and lean toward the direction you wish to turn (have any passengers do the same).
7. Keep in mind that most jet skis require acceleration to turn, which is when most riders tend to capsize. To avoid capsizing a jet ski, keep the load balanced and centered.
Just remember to take things slow and always drive defensively. It's so easy to lose control of a jet ski so make sure you and others around are safe.
Jumping a wake is extremely thrilling, but the first few jumps can be intimidating. One great tip: Remember to always cross a wake or large waves at a 90° angle to maintain lateral stability.
Also, jump the waves rather than speeding through them at high speeds. Speeding on the water will only make jet skis push through waves.
Featured Jet Ski Care Product
| | |
| --- | --- |
|     |  Boat Soap keeps your prized jet ski looking crisp and clean. It's 100% biodegradable and safe for the marine environment. The fish will thank you. |
Check Price on Amazon - Better Boat's premium boat soap is safe and effective for cleaning dirt, grease, grime and algae off the hull, vinyl seat and other surfaces of your jet ski. It cleans quickly and rinses off residue-free. Use with microfiber sponges and a boat hose nozzle for great results.  
If You Fall Off
You will inevitably fall off, no question about it. There's no need to worry if you fall off a jet ski. Reboarding is a breeze if you follow these 4 steps!
1. If it's capsized, turn your jet-ski upwards in one direction.
2. Swim to the stern (back) for re-boarding. Never re-board from the side because your watercraft could flip over onto you.
3. Grab the handle(s) on the back of the seat and hoist yourself up onto the boarding platform.
4. Move to the seat and reattach the safety lanyard.
Riding Jet Skis with Passengers
It's no surprise family and friends will want to jump on for a spin. Here are some extra steps to follow with extra passengers: 
Carry no more passengers than the jet ski permits. Even if your jet ski's passenger limit is three passengers, you must follow the weight limit.
Sit all passengers behind the driver.
Make sure passengers never place their feet in the water during operation.
Demonstrate to passengers the basics of driving a jet ski. Should the driver become injured, it could come in handy.
Maintain a proper lookout while turning and beware of blind spots.
Stick with It!
Riding jet skis is one of the summer's greatest pastimes. Doing so properly and safely takes practice. The next time you get the chance, you'll be fully prepared.
Be safe but have fun. Get out there and ride!