Feet Forward: Kayak Fishing Shoes for Adults and Kids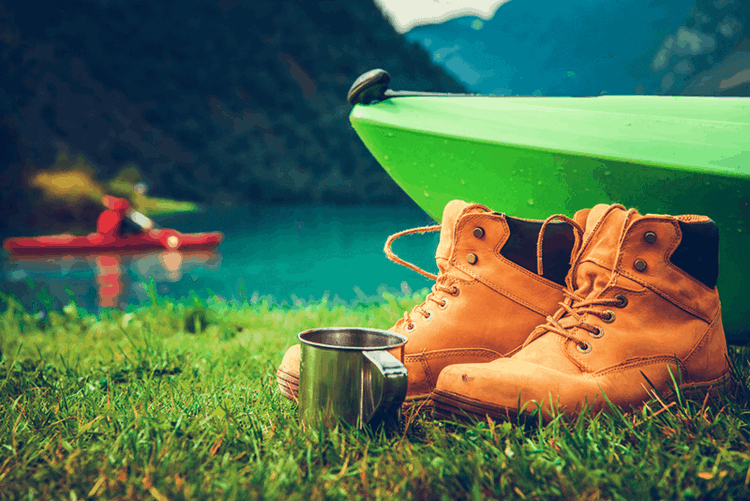 Tired of stubbing your toes, slipping on rocks and getting cold feet (literally) while out kayak fishing? Then maybe you need to upgrade to a new pair of kayak fishing shoes.
I know I've kept water shoes past their prime. They were just so darn comfortable. But it's time to move on, feet forward into finding the best kayak fishing shoes.
Alas, the outdoor and water lifestyle has its setbacks. Kayaking gear and apparel like water shoes eventually succumb to the elements of saltwater, sun and rocky surfaces no matter how well-made they are.
It's necessary to invest in a new pair every so often (especially if you use them a lot). You'll probably want to pick up a new pair before your next kayak fishing trip comes around.
If you don't currently have a favorite water shoe, read on to check out some of my recommendations for comfort, stability and warmth on the water.
Featured Boating Product
 Check Price on Amazon - Better Boat's fabric waterproofing spray adds a water-repellent barrier to canvas, nylon, leather, polyester and more. Use on Bimini tops, shoes, umbrellas, tents, boat covers and much more.
Why Wear Kayak Fishing Shoes?
Kayak fishing shoes are designed to provide safety, comfort and warmth for water and on the land. I don't know about you, but dragging a kayak to the shoreline in bare feet "across gravel, hot pavement, burning sand or sandbur-infested grass " is not my idea of a good time.
Safety
Traction and stability are important when you're out on the water. Who knows when you might have to step out of the kayak onto rocks or other slippery surfaces? You also don't want to go getting hooks in your feet or step on an anchor.
Comfort
Kayak fishing shoes allow water to drain away. This keeps them light and your feet don't get that waterlogged feeling. Many kayak fishing shoes are made out of neoprene, like wetsuits but lighter, that conforms nicely to your feet.
Warmth
Summer isn't such a big deal; you could get by with your bare feet if you wanted. Cold water kayaking, however, is a different story. Your whole day will be much more comfortable (and you'll be able to stay out longer) if your feet are warm and cozy.
What NOT to Wear While Kayak Fishing
I could go on and on about what not to wear on the water (don't worry, I won't). However, here are just a couple of footwear faux pas to avoid while out in your kayak.
Flip flops: Really, do flip flops ever stay on your feet? Can you say fish hook?
Strappy leather sandals: While cute and fashionable, the leather is going to get waterlogged. Thin straps are not comfortable when wet. And again with the hook in the foot.
Sneakers: Maybe fine if you never step in the water, but how often does that ever happen?
Features of the Best Kayak Fishing Shoes
Fabric: You'll want to look for a lightweight and breathable fabric that's sturdy and waterproof. Think of things like neoprene, rubber soles and mesh inserts for drainage and airflow to prevent mold and mildew.
Bungee Cord Laces: This looks like what it sounds like. That same type of cord you use to tie down your kayak on the roof of your car makes a great set of laces. No tying required!
Toggle Cinch: A toggle cinch is that little piece of plastic that's attached to the laces. You squeeze it together to make the fit tighter or looser. Toggle cinches give a quick and adjustable fit without having to rely on tying laces.
Drain Holes: You'll want lots of drainage. Find something with small drain holes along the sides or on the bottom of the shoe. Mesh inserts deserve an award when it comes to kayak fishing shoe construction.
Non-Marking Outsoles: Boaters know to never step foot on a boat with dark soles. You'll want to make sure the shoes won't scuff up your kayak. This is also a great feature for multi-use purposes if you also plan to use them on a power boat or sailboat.
Traction: Extra grippy bottoms are a necessity. You'll stay secure and upright while walking on slippery docks and rocks.
Quick-Dry: Nobody wants to spend the day with wet feet, especially when you're still wearing the shoe. Neoprene and mesh dry quickly, which allows you to stay out longer.
Closed-Toe Construction: Keep your tootsies safe with closed-toe kayak fishing shoes. You could get away with open-toe styles if you're just out paddling around in warm weather, but if you're fishing, I highly recommend closed toes. You remember how we talked about hooks earlier, right?
Kayak Fishing Shoes for Adults and Kids
Best Kayak Fishing Shoes for Women
Atika Women's Sport Water Shoes
The Atika Women's Sport Water Shoes have a rugged outlook in a comfortable and protective design. They have a sturdy rubber sole with multi-direction lug patterns on the tread. Openings along the side of the shoe allow ventilation and water drainage.
The best thing about this water shoe is the 3-layer toe protection. There's an inner layer for comfort and protection. Next is a mid-hybrid shell that gives more protection. Finally, there's an outer rubber guard. You won't have to worry about kicking rocks or anchors while wearing this shoe.
An EVA midsole and unique 3D foot profile conforms to your foot for cushioning and arch support. My biggest problem with water shoes (or any shoe, for that matter) is the heel. I always manage to pick out a pair that rubs my heel. This shoe has a padded elastic lining at the back heel to prevent this type of thing from happening.
Material: EVA foam midsole, synthetic leather toe cap, rubber
Lacing: Bungee laces, toggle cinch
Teva Women's EVO Water Shoe
Teva Women's EVO Water Shoes have a rubber sole and mesh upper in a sneaker-type design. The non-marking outsole is textured for stability on slippery surfaces.
Drain holes at the toe keep your feet from getting waterlogged. They do double duty on land and in the water for hiking, fishing or kayaking.
Material: Rubber, mesh
Lacing: Bungee
Cudas Women's Rapidan Water Shoe
I've been wanting the chance to praise the design of this water shoe for quite a while. They have a unique dual sole with a separate forefoot and heel with a mesh-like material at the arch of the foot. This gives natural foot movement for flexible walking and traction (kinda like being barefoot but not).
Mesh and stretch neoprene are comfortable on your feet. They have a protective rubber toe and heel bumper.
The padded EVA insole is perforated for quick draining, and there are eyelet-style drain holes at the sides.
Cushioned arch support keeps you comfy and prevents foot fatigue. A pull tag at the heel makes it easy to hang for drying or storage.
Sizes for men are also available.
Material: Mesh, neoprene, rubber
Lacing: Bungee w/ toggle cinch
Body Glove Women's 3T Barefoot Cinch Water Shoe
I've never been one for five finger-style shoes. Designed to replicate natural barefoot action and toe movement, they have a separate space for each toe (there's a men's water shoe version below).
Some people swear by them for running. I have strong opinions on toe comfort (I don't like sandals with toe posts, either - give me a slide and I'm happy), so this is not a style I would enjoy. But you might, so that's why I've included it in my list.
This Body Glove water shoe is a variation on the five-finger style. With three openings, they have separate spaces for the big toe, second toe and with the rest of the toes together.
If you're been intrigued with FiveFingers, you may want to give these a try. They're way easier to get on than the five-toe version.
This three-toe design promotes natural balance and movement without having all five toes apart.They have a thick rubber sole, a stretchy neoprene upper and an adjustable shock lace at the heel.
The traction tread has mesh holes for waterflow and ventilation. A low-profile outsole makes them a good choice for being inside a kayak or canoe.
Material: Neoprene, mesh, rubber
Lacing: Pull-on/off with shock lace at the heel
Mares Neoprene 2mm Dive Boots
When you're looking for a water shoe, take some advice from divers, who truly need foot protection in a flexible shoe. These low-profile dive ankle boots make a great choice for kayak fishing shoes.
They have soft soles with textured rubber grips for traction. Made of neoprene, they're super lightweight and easy to put on and take off.
They make a great multi-use water shoe, as they can be used for diving, snorkeling or kayak fishing, as well as with diving/snorkeling fins. These water boots are also available in men's sizes.
Material: Neoprene, rubber
Lacing: None (pull on/off)
Best Kayak Fishing Shoes for Men
Speedo Men's Seaside Lace 4.0 Water Shoe
I've owned several pairs of Speedo water shoes and I very highly recommend the brand.They're lightweight, breathable and quick-drying for all kinds of water activities.
The Men's Seaside Lace 4.0 is made of breathable mesh for airflow and water drainage. The outsole also has a rubber S-trac that keeps water flowing. 
Bungee straps with a toggle cinch closure make them easy to adjust and put on/take off. They have rugged heel and toe bumpers to keep your feet protected while walking around and encountering rocks that you might not know are there.
Material: Mesh, rubber
Lacing: Bungee straps w/ toggle cinch
Aleader Men's Quick Drying Aqua Water Shoes
The Aleader Men's Quick Drying Water Shoes have the look of a sporty pair of shoes with the performance of water shoes.
Made of breathable mesh, this slip-on shoe has a rubber sole with rubber pods on the bottom. These rubber "pods" provide excellent traction whether you're hiking, kayaking or scrambling over rocks at the shoreline.
There are also convenient water drainage holes in the sole. The Hydrophobic Engineered Mesh upper is breathable and dries quickly.
There's a pull loop on the back for easy on/off and hanging to dry.
A ComforDry sock liner and insole arch support provide comfort and reduce foot fatigue.
Material: Mesh, rubber
Lacing: Bungee laces, toggle cinch
Huk Marolina Outdoor Performance Fishing Attack Shoes
Leave it to a fishing brand to come up with a great water shoe. Huk Marolina Fishing Attack Shoes have a GripX Wet Traction outsole with lugs that grip in all directions. Small channels run between to whisk water away.
Your feet stay extra dry with 360-degree drainage in the outsoles. Unlike most water shoes, these actually have laces that you tie. The laces have molded eyelets that equal less stretch and a more secure hold.
Available in camo patterns, they just look rugged. Despite the tough appearance, they're designed to be lightweight and flexible with stability and soft comfort.
Material: Dual-density EVA midsole, polymers
Lacing: Tie laces w/ molded eyelets
NRS Boundary Dry Boots
The NRS Boundary is a knee-length boot in the style of traditional waders. If you plan to walk around or fly-fish in chilly water, this is the shoe to choose.
They're made out of seam-taped neoprene, for extra water-tightness, and have thick 7mm rubber soles with traction for slippery rocks.
There's a buckle strap at the top and Velcro straps at top of the foot for an adjustable fit.
The biggest downside of this boot is the bulky size. If you're in a restricted space, like a slim kayak or canoe, they could be too bulky. But they will definitely keep your feet warm and dry.
Material: Neoprene, rubber
Lacing: Buckle and velcro straps
Vibram Men's Five Finger V-Aqua Water Shoes
If you want the barefoot feel with the protection of a water shoe, these are the shoes for you. Vibram Men's Five Finger Water Shoes have a Megagrip Vibram rubber sole with textured grips. Even the toes have textured grips.
The mesh upper and bottom drain holes allow water to flow out. There's a pull tag on the back to help get them off. They're also available in women's sizes.
Material: Mesh upper and rubber
Lacing: Pull on/off with Velcro strap
Best Kayak Fishing Shoes for Kids
Sea Kidz Water Sneaker Shoes
This is a great looking sneaker-style for toddlers, little kids and big kids. The allover mesh upper keeps water flowing out. There are also drainage holes on the bottom.
They're lightweight and durable with thick soles. Easy to slip on and off, they have a pull tag at the back heel.
Material: Neoprene and mesh
Lacing: None (pull on/off)
Carter's Kids Girl's Floatie Water Shoe
Carter's Kids Floatie Water Shoe is 100% synthetic with thick soles for extra protection. There's still a great amount of flexibility in the outsole for a range of motion.
A pull tag on the back and an elastic upper make putting on/taking off an easy task for kiddie kayakers and little anglers.
Material: Neoprene and mesh w/ elastic upper
Lacing: None (pull on/off)
Crocs Kids' Boys and Girls Swiftwater Sandal
Normally I wouldn't recommend Crocs as a kayak fishing shoe (mainly because of those famous holes). But I really like the design and ease of this model. The sturdy toe protection and traction on the bottom won me over.
There's a slingback with a hook-and-loop (a.k.a. Velcro) closure, which is so very helpful when it comes to kids trying to put them on and take them off.
Openings along the side let the water flow out. Lightweight neoprene fits comfortably across their feet.
Material: Neoprene
Lacing: Velcro closure
How to Care for Kayak Fishing Shoes and Other Water Shoes
Since rubber and neoprene don't breathe like natural fabrics, water shoes tend to get stinky downright foul. To keep your kayak fishing shoes looking bright and smelling fresh, there are just a few simple steps to follow.
Always rinse well with clean warm water. This is doubly important if you kayak and walk around in saltwater and marshy areas. Rinsing your shoes keeps mold, mildew and odor from setting in. Let them soak for a while and then hang to dry in the sun if possible.
There are special cleaners designed for neoprene (surfers use them for neoprene wetsuits) that would be suitable for cleaning neoprene water shoes. Check out Jaws Slosh Wetsuit Shampoo. It doesn't have harmful chemicals and works on all watersports apparel.
If your kayak shoes happen to get dirt on them, mix up a small amount of baking soda (or the above-mentioned shampoo) and gently scrub with a sponge or brush. After scrubbing, let them soak and then hang to dry. Another benefit of the baking soda is that it helps to absorb odors.
Avoid storing your water shoes in a dark place while wet. This just encourages bacteria and stink to set in.  
Whether you're fishing in a sit-on-top, an inflatable or a folding kayak, having a great pair of water shoes will keep your feet protected, warm and comfortable.
Hopefully, this has helped you narrow down your shopping list for the best kayak fishing shoes. Now get out there and catch some fish!
---