Steady She Goes: The 5 Best Kayak Rudder Systems to Steer Straight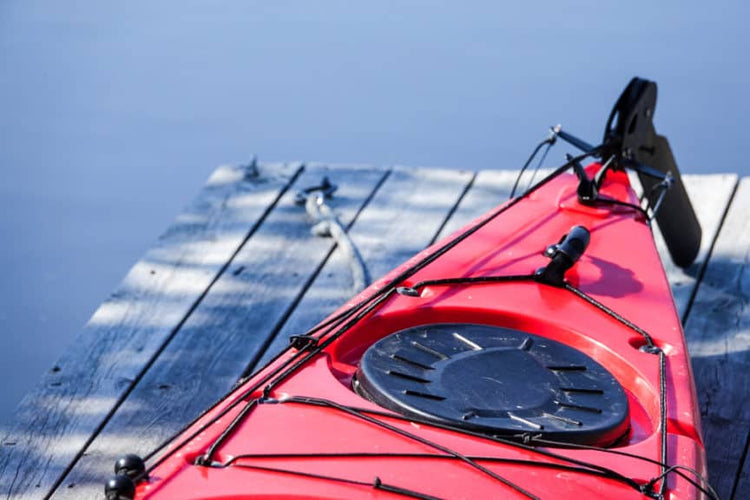 How do you keep your kayak on the straight and narrow? You invest in a kayak rudder system!
Right in between having a kayak cart or a great anchor system, kayak rudders help add another element of convenience. Most folks look to rudders to make paddling easier, adding a much-needed element of stability to your ride.
While it does make things more streamlined, it also challenges you to work on your kayaking abilities. Personally, that's why I love mine, because I feel like it makes me a better kayaker overall!
Thankfully, a rudder is easy to buy, easy enough to install and can help you whenever the situation calls for it. In this post, we'll discuss rudders, how they work and how you can find some of the best kayak rudder systems on the market.
How Kayak Rudder Systems Assist Paddlers
So, basically, a rudder can help in a variety of situations, but where do you start? How do you know if you need a kayak rudder system? A couple of factors are at play here:
Kayak Quality: If you have a longer or shorter kayak, chances are a rudder will help stabilize and prevent tipping.
Experience: Rudders are best for more experienced kayakers who enjoy long-haul rides or who love to fish.
Location: If you're out on open waters, like oceans, lakes or bays, a rudder is good for keeping steady in choppy waters.
A rudder is a blade installed at the kayak's stern, which can pivot (as needed) using foot pedals in the cockpit. One variant of this is a skeg, which doesn't offer quite the same resistance as a rudder as it essentially only goes up and down, not side to side.
Rudders increase the amount of drag on the opposite side of your kayak. The other side maintains the same rate of speed, taking advantage of your momentum to ensure that you can steer in the right direction.
Yaw and Weather cocking
While you might have to put a little bit more power into your strokes, rudders help mitigate the yaw (essentially side-to-side momentum). When you do this, you start moving forward at a much faster pace. It's seamless, and it makes your life so much easier on long trips.
This is especially relevant when it comes to weather cocking when the wind pushes your kayak into a turn, which can be incredibly annoying. Rudders effectively redirect the flow of the water, and push back against the wind so that you can stay straight.
Featured Boating Product
| | |
| --- | --- |
|   |  Mini Paddles are portable, durable, compact and lightweight.  |
Check Price on Amazon - It's always a good idea to have extra gear on board a kayak or canoe. Better Boat's mini paddles are compact and easy to stow on a boat, kayak or jet ski. Paddles telescope from 13.75" to 35". Paddles have a T-grip handle, a durable aluminum shaft, sturdy locking joints and a high-impact plastic blade. 
Main Parts of a Kayak Rudder System
Your typical kayak rudder system is going to include the following elements:
Rudder blade
Pedals for your cockpit
Metal cords to connect blade to pedals
One of the best parts is that you only need your feet! Imagine leading friends around on a tour, holding a rod to fish or reaching into your trusty kayak cooler.
Having a rudder basically allows you to focus only on one side of the kayak (while the rudder does the rest of the work). Typically, your best bet for installation is a through-hull rudder.
The most important thing to note is that it will always be submerged, so it may risk hitting things in the water and is best served for long periods of time out on deep waters.
Truly, a rudder finds its true use when it's out on open waters. If you find you experience a lot of weather cocking, or simply strong current and winds where you typically head out to paddle, installing a kayak rudder system is a fantastic idea.
I've profiled some of the best kayak rudder models and systems below that I trust to help ease the strain on your ride in the near future.
The 5 Best Kayak Rudder Systems
Let's break it down! Here are the five best kayak rudder systems you should consider:
1. Feel Free Beaver Tail Kayak Rudder System
Check price on Amazon
This is one of my favorite options when it comes to kayak rudders! I love the style and think the additional toe controls are a nice touch.
While it might be on the more expensive side, I think you're getting a lot of bang for your buck with this option. I especially recommend it for hard-core kayakers who really love traveling on open waters like the ocean.
Weight: 2.6 lbs
Lift Feature: Yes
2. Borogo Kayak Rudder System
Check price on Amazon
One of the best things you can have with a kayak rudder system is a lift feature. A great "break glass in case of emergency" option when winds pick up or your feeling a little less stable on your kayak, this utilitarian model is not only great value for the price, but is a more suitable option for everyday kayakers.
My only concern would be how sturdy it is in large, open waters, but I will say that the stainless steel construction offers good peace of mind. I would consider this option more for a quiet bay or a smaller lake, but not large choppy bodies of water.
Weight: 1.9 lbs
Lift Feature: Yes
3. Crack of Dawn Kayak Rudder System
Check price on Amazon
When you look for a kayak rudder system, you'll want to make sure you're getting all of the relevant parts to make installation a breeze. This product has that and then some!
What I really appreciate here is that this rudder is universally compatible with most brands, so it's a safe option at a fair price.
This is likely a better option for those who want to use their rudder for kayak fishing, specifically based on construction, and less necessary for action-packed kayaking.
Weight: 3.9 lbs
Lift Feature: Yes
4. Jili Online Kayak Rudder System
This is a strong option for those who want a trustworthy rudder without breaking the bank. While it might lack a lift feature, this is a user-friendly option because it's easy to install and even comes with rotating pedals to make moving your rudder a breeze.
It offers a level of customization and convenience that will be able to make kayaking a breeze.
Weight: N/A
Lift Feature: No
5. Walmeck Kayak Rudder System
For the price, I'm very impressed with this model. The flexible design here is key, as it's just as relevant for those who either want to fish or want to go on an adventure.
It's a robust option, and the rubber blade means that even if you do end up hitting something, it won't take as much damage as other models.
Overall, I also appreciate that this rudder comes with all the relevant accessories, making installation and use super easy for anyone. 
Weight: 2.6 lbs
Lift Feature: Yes
Stay Stable With a Rudder Today
Now that you know more about kayak rudders and their advantages and benefits, why not give them a shot for yourself?
Personally, I'm a big fan of retractable kayak rudders when they're able to be lifted and secured in a raised position. After spending all that money, the last thing I want is to have my kayak rudder damaged.
If I was going to give you any advice on which to go for, that feature alone seals the deal for me. And installing a kayak rudder system is easy, so long as you watch a few tutorials and have patience. 
Enjoy a much smoother ride with your new rudder!