The Liveaboard Trawler: Is It the Best Boat for Your Nautical Life?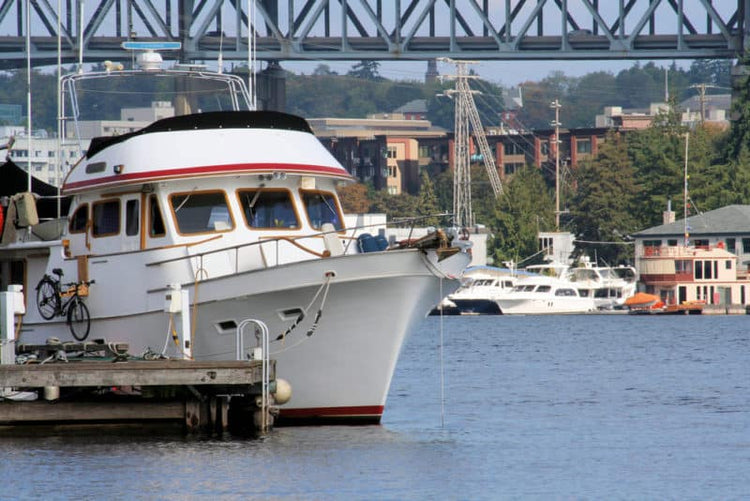 Have you ever considered living aboard a boat? Those marine biologists, undercover detectives and private investigators of movies and '80s TV make it look so cool.
Whether you're in San Diego, Seattle, Vancouver, Miami or some other place, deciding to live aboard your boat can be confusing, stressful and exciting all at the same time. We've all imagined what it would be like to live aboard those luxury sailboats, houseboats and mega yachts (come on, you can admit it).
But what is it really like?
Should you dive into the liveaboard life?
And is a trawler—a popular liveaboard boat choice—the right boat for you?
Maybe you're planning an extended trip like the Great Loop, a partial ICW excursion or a cruise through the Caribbean. Or maybe you're considering a permanent move.
Either way, check out some of the pros and cons to consider when deciding to make the jump into a liveaboard trawler.
The Liveaboard Trawler: Is It the Best Boat for Your Nautical Life?
What Is a Liveaboard Trawler?
First of all, what exactly is a trawler? A trawler is a rugged motor boat that's built for long-distance traveling and deep sea conditions. They usually have wide beams and displacement hulls with single or twin engines. They're often used as fishing boats.
Advantages of a Liveaboard Trawler
For the purpose of this discussion, and your time, I'll be comparing the liveaboard trawler to a liveaboard sailboat. I can get kind of wordy, and I'm sure you don't want to read a novel right now. Save that for the back deck of the boat on a cool breezy evening.
Wider hulls allow for roomier interiors.
The wider hulls of a trawler make for roomy interiors, bigger kitchens, more spacious sleeping quarters and just more room all around for the boat's gear, anchors, fenders, your gear and gadgets and yourself (and maybe a pet or two).
If you're going to be living aboard this boat with other people, you probably don't want to be bumping into each other all the time. On the other hand, maybe you do. To each his own.
More headroom and space add comfort.
The comfort factor goes along with the space factor. Trawlers have more headroom below deck and lots of space on deck for entertaining. They usually have two bathrooms, which can be a major blessing when traveling with kids or teenagers. Especially teenagers.
Trawlers have easy accessibility
Getting in and out of the boat is much easier on a trawler.
Trawlers are more stable than some boats.
The hard chines of trawlers make them more stable to sleep on than the rounded chines of a sailboat. While a little bit of rocking isn't so bad, you might not get any sleep if the conditions are rough.
You also won't have to deal with your plates and drinks sliding off of the table. Stable tables are the best kind when it comes to that plate of seafood or frosty beverage. Cup holders and rod holder cutting boards come in handy on these occasions. 
Less draft is better for shallow waters.
Trawlers have less draft than other boats, especially sailboats, which gives more variety for anchorages and navigating shallow water. The waterways in the Florida Keys can turn shallow before you even realize it.
Enjoy worry-free bridge clearance.
Depending on the height of the sails and the bridge, sailboats either have to wait for drawbridges to open or they have to find another way around. There are many bridges along the ICW that trawlers can sail under with no problem.
Better for time management purposes.
As mentioned above, waiting for a drawbridge can significantly cut down on your time frame. If you need to be somewhere at a certain time, trawlers are more reliable for planning purposes than sailboats.
Also, sailboats have that tricky little thing about needing wind. You can't really make a reservation for wind. But if you can, I would love to know your secrets and contact information.
Featured Boat Care Product
Check Price on Amazon - Better Boat's boat soap breaks up and washes away dirt, dust, grease and grime to keep your boat clean and shiny. It's 100% biodegradable and safe for the marine environment. Use a garden hose and nozzle to swiftly wash away suds.   
Disadvantages of a Liveaboard Trawler
As with anything, when there are advantages, there will also be disadvantages. Things like speed, noise and maintenance may not be a big deal to some, but they may be to others. It's always good to consider both sides of the subject. 
Trawlers are slow.
Most trawlers go about six to seven knots as opposed to a sailboat that has the wind on its side.
Engines are noisy.
When underway, the boat engines are always running (otherwise you're on a sailboat or you need maintenance).
Trawlers consume lots of fuel.
Trawlers obviously burn more fuel than sailboats. Even if the sailboat has an engine, wind power is free for the taking when you so choose.
Trawlers need more maintenance.
There are more things that can go wrong or break on a trawler, such as electronics, propellers and engines. The physical size of a trawler necessitates more boat soap, cleaning products and routine maintenance than a sailboat.
Trawlers are harder to handle in bad weather.
Surprisingly, trawlers are harder to handle in rough conditions. Where sailboats can swiftly cut through the water, trawlers can get bogged down.
Sailboats have the advantage of having both sails and an engine, whereas the trawler has just the one mode of motion (the engine).
Types of Liveaboard Trawlers
From Albin and Beneteau to Ocean Alexander and Sabre, you'll find a wide range of trawler manufacturers. I've compiled a short trawler wish list to give you an idea of different sizes and appearances.
Ways to Test the Liveaboard Trawler Waters
Wrangle an invitation from a trawler-owning friend. You bring the beer, and I bet they'll agree in a heartbeat.
If you already own a trawler or other boat equipped for overnight stays, spend a weekend on it.
Book a Boatsetter boat rental. You usually can't take the boat out, but it's a way to gauge your interest. I recently did this exact thing and spent a couple of nights aboard a 35-foot Chris Craft Catalina. While I enjoyed the stay, I came to the conclusion that this particular boat's layout wouldn't work for more than one or two people for an extended time.
Peek Into the Liveaboard Trawler Life
Want to see how real live boaters are experiencing the liveaboard life? Blogs, vlogs and websites are great outlets to get tips on living aboard a trawler.
Check out some of these social channels to see and read about how others are faring. It's also a nice way to get tips and recommendations on marine products. And you thought the internet was only good for cat videos and cute baby pictures.
Blue Turtle Trawler is the adventure blog of Kim, Randy and Corey aboard their 40-foot trawler. They call southwest Florida their home. You can read all about their voyages to the Dry Tortugas, Sanibel Island, the Florida Keys and many others as well as posts on moving to new marinas, replacing marine air conditioners and teak doors, painting hulls and performing annual maintenance.
Drift Away covers Pam and Dave's journey aboard their 46-foot Cheoy Lee (named Drift Away). They started cruising in 2011. They aren't currently cruising, and have actually sold Drift Away, but the stories are still there and Dave posts occasionally about writing books and boating blogs. Past posts have included bilge issues, problems with buzzards and boating on the St. John's River, the ICW and Kerr Lake.
PassageMaker offers a cruising lifestyle section written by boaters for boaters. Real boaters share their experiences of the cruising and liveaboard life with posts on maintenance, diving advice, boat reviews, events and destinations.  
Tula's Endless Summer on YouTube is the chronicle of two boaters who decided they didn't want to wait until they were 60 to retire. With a motto of "Work Hard, Play Hard," they travel and live aboard their trawler while working and managing their careers.
Boat Fam on YouTube is about a family of four that lived aboard a 43-foot trawler—though they've recently sold the boat and stopped making new videos. Both parents worked from home, which was their boat in this case. Videos and blog posts include boat product recommendations, engine and generator issues, homeschooling aboard a boat and neat nature experiences.
Has any of this convinced you that the liveaboard life is for you? With all of this information, you're nearly an expert on the liveaboard lifestyle. Or, you're at least you're fully capable of making an informed decision about whether or not to embark on the liveaboard life!