Stay Toasty Warm! The Beginner's Guide to Living on a Boat in Winter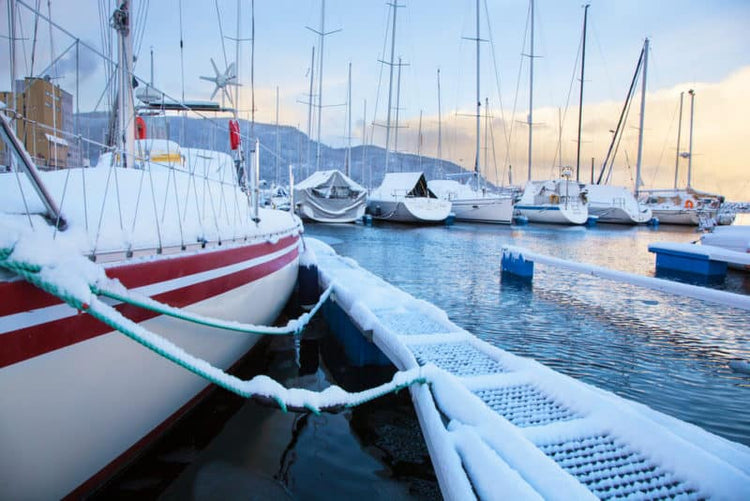 "Boats and winter ... go together like salt and pepper," said few people ever. For most boaters, winter means the end of boating season. Time to put the boat into storage and go back to real life activities on dry land. 
For some boaters, though, pulling out hats and mittens doesn't necessarily mean putting away dock lines, anchors and life jackets. Winter's still a perfectly viable season for boating. Even more living on a boat in winter is a conscious decision some live aboards make.
Advantages of Living on a Boat in Winter
The community of boaters
Ever notice when times are tough, people seem to gather and build a wonderful community? The Association for Psychological Science actually tells us it's a common condition: "Researchers found that shared pain not only increases a sense of solidarity, it can also boost actual group cooperation."
Well, living on a boat in winter isn't always a piece of cake. Some hardships that come with it help to foster a close-knit community, especially when living on a boat in a marina. You meet many like-minded boaters and marina liveaboards.
Waterfront views at a fraction of the cost
From oceans, lakes and rivers, people pay big bucks for waterfront views. Homes with windows that overlook the water can be expensive. Living on a boat all year round (even during the winter) however, offers spectacular views at a much more affordable price. Winter water views are stunning!
Without the humidity of summer, it's easier to see longer distances. If you're on a body of water that freezes, the ice formations can be majestic. Imagine sipping your morning cup of coffee with the reflection of snow-covered trees in crystal-clear waters. There's something quite special about it.
Appreciation for little things
As I mentioned earlier, living on a boat in winter is not a piece of cake, nor is it for everyone. One disadvantage is that boats present smaller living quarters than an average house. Having less, and possibly even downsizing, helps you appreciate what you do have.
Featured Boat Care Product
| | |
| --- | --- |
|      |  Exterior Cleaning Kit |
Check Price on Amazon - Better Boat's exterior cleaning kit comes with everything you need to keep your boat clean from top to bottom. It includes boat soap, a foam sprayer gun, two microfiber cloths, one sponge and one boat eraser. 
Special Equipment and Gear for Living on a Boat in Winter
If you like the idea of living on a boat in winter, good for you! Now that we've talked about amazing advantages, it's important to go over what type of equipment you'll need for winter boat living. Spoiler alert: It's a little different than what's required for the typical summer boating season.
Shrinkwrap
Many boats pulled from the water for winter are shrink wrapped. This is an excellent option for an extra protective layer. When living aboard a boat in winter, using shrink wrap helps protect the boat's hull, deck and upholstery from the elements while also keeping the interior cabins nice and toasty.
Unless you plan to hibernate like a bear all winter, liveaboards need to take additional steps. To make the boat liveable with shrinkwrap, you'll need to create a frame and a doorway.
Here are some step by step directions. When you're ready to get wrapping and need supplies, here are some great shrinkwrap options: Pro-Tect Plastics (check price on Amazon) TRM Manufacturing 620C Plastic Sheeting (check price on Amazon)
Insulation
For those of us used to living on land during winter, the concept of insulation as cold weather preparation is probably not too foreign. Just as our home's insulation keeps cold air out and warm air in, insulating a boat's hull does the same. 
The insulation will also reduce condensation inside the boat. Nobody wants to sleep in a damp wet berth, especially during wintertime! This can also cause mold and mildew. For this issue, a dehumidifier may be an option. 
De-icing device
If you'll be a liveaboard boater far enough north for the waters to freeze, you'll need a de-icing system. A de-icing device keeps water from freezing around your vessel.
Known as bubblers or Ice Eaters, these devices agitate the water to keep it moving and pull up warmer water from the bottom, which helps melt and prevent ice from forming.
Some marinas provide bubblers, so check if this service is provided or if you'll need to handle it on your own. If your marina does not have this option, I highly recommend the Kasco Marine De-Icer, which clears an approximate 50-foot diameter around your boat.
Electric heaters
If you're not as lucky to, say, live on a narrowboat with its own stove, you'll need to find warmth in other ways. One way to stay warm and toasty inside in below-freezing temperatures is to use a portable electric heater.
Here are my recommendations:
The Caframo Limited True North Heater (check price on Amazon) takes up minimal space but still provides a lot of heat. It's perfect for boat living where every inch counts!
The Caframo Pali Engine Compartment Heater (check price on Amazon) is also an excellent option. It can also prevent any engine damage from cold winter temperatures.
Carbon monoxide detectors
Carbon monoxide's a dangerous concern, especially when using electric and portable heaters. Carbon monoxide is a colorless and odorless gas. The effects of inhaling it result in sickness or even death.
When using any type of combustion heating, it's important to have a carbon monoxide detector installed in the boat's cabin. It should be a part of your boat's essential safety equipment.
Each year, hundreds of deaths are caused by using broken heating devices or improperly-used heaters. This Safe T Alert (check price on Amazon) makes a good carbon monoxide detector choice for any boat.
Appropriate winter clothing
There's no such thing as bad weather, only bad clothes! A key element to ensuring you survive and thrive while living on a boat in winter is by dressing appropriately.
Owning a decent collection of foul-weather gear's a great place to start to stay dry and blocked from the wind. In addition, you'll also need to add insulating layers underneath.
Wool and fleece, as well as waterproof boots, will make winters aboard much more comfortable, especially if you need to venture out from the docks to take a warm shower at the marina.
Don't forget your feet! Wool socks, such as these from SmartWool (check price on Amazon) will keep your toesies warm. Keep in mind to find moisture-wicking socks once you're onboard and toasty, you'll avoid sweat build-up.
Where to Live on a Boat in Winter
Say you decide to give living on a boat in winter a try. You've got all of the gear, but now it's time to figure out where to live. Not all marinas allow liveaboards, so that's the first check when searching for a place to dock your boat this winter.
Next, when you do locate a liveaboard marina, ask the following questions:
What is the slip rate per month?
What electricity will be available and how much will it cost?
What kind of fresh water will be available?
Does the marina offer any showers or laundry?
Does the marina offer any bubbler or de-icing?
Here are some specific liveaboard marina suggestions from the SailNet online sailing community:
Is Living on a Boat in Winter Right for You?
Whether you choose to live on a boat in winter is entirely up to you! Solo boaters, couples and families all live on boats year-round and make it work.
If the water beckons you year-round, then give it a try! So, maybe boats and winter do go together ... perhaps like peanut butter and chocolate, though?
And don't fret if winter boating just isn't your style. Your boat's still waiting and will be glad to see you come spring.