Set Sail: How to Enjoy Living on a Sailboat to the Fullest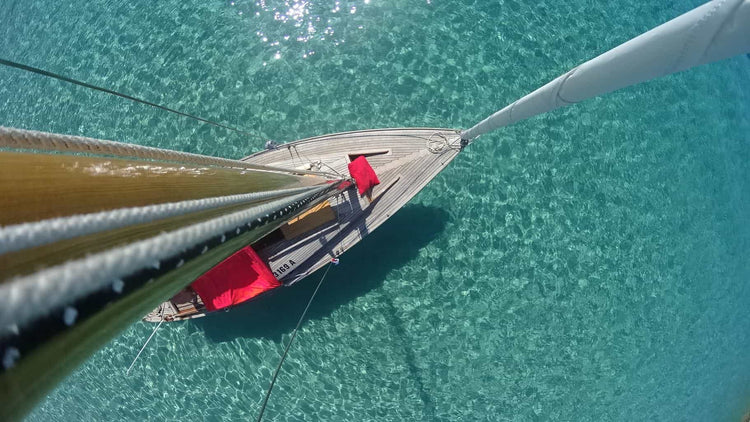 Whether it's your dream for retirement or your wish for tomorrow, living on a sailboat can be a dream come true. And, believe it or not, this liveaboard life can work out well for families, couples or singles who are living on a variety of budgets.
All you need is the will to make the jump to a liveaboard life and the energy to get your sailboat setup to accommodate your needs.
And of course, you'll need a sailboat. There are other types of boats that people live on, like trawlers, but sailboats have plenty of advantages.
Why Live on a Sailboat?
There are many reasons you might want to spend your days living on a sailboat. First of all, every day can be an adventure when you live aboard a sailboat. All you need to do is raise the anchor and lines and hoist the sails and you can set off to make memories.
If you're looking for more downtime, living on a sailboat can also be wonderfully relaxing. Sailing on calm days or lounging about as you rest at anchor or in the harbor is just about the right speed of life for many people.
Contrary to popular misconception, liveaboard life can actually be quite affordable. You just need to budget accordingly with an eye toward routine costs, unforeseen repairs and for covering the rare but catastrophic issues that can arise, such as a fire or even a sinking.
Before you commit to living on a sailboat, know that the lifestyle does come with more inherent danger (remember when we talked about sinking a few seconds ago?) and responsibility than life on land.
But your house or condo is never going to carry you out over the shimmering waters at sunset or let you haul in a prize-winning marlin or bass. When your sailboat is your home, you can live out these dreams and so many more.
Set Sail: How to Enjoy Living on a Sailboat to the Fullest
The way to enjoy liveaboard life? Be prepared for it.
A Quick Look at the Cost of Living on a Sailboat
If you're still actively working and earning income, it'll be important that you balance the cost of liveaboard life with your earnings and other expenses.
Many people live on a sailboat in retirement, and this requires even more careful planning. This is true first because your net worth is likely fixed or at least largely static (stock dividends and bonds might keep making you money, for example) but also because you probably won't spend the rest of your life on a boat.
Dodging the jib might be fine in your sixties and even your seventies, but it's probably not ideal much after that. Unless it is, and that's great.
Insurance Costs
While boat insurance isn't mandated in all parts of the United States, when your sailboat is your home, you're going to want to have it insured.
Sailboat insurance is generally calculated as around 1.5% of the boat's value, so a sailboat that's worth $40,000 will cost you around $600 to insure each year, and that's a small price to pay in the scheme of things.
Marina Costs
The fee a marina charges you to use a slip varies widely around the country (and the world) so there's no good range of costs to use.
In San Diego, you'll pay around $1,000 per month in many marinas.
In Baytown, Texas you'll pay only around $250 per month for a boat between 35 and 40 feet in length.
Do the research based on your area, and watch out for additional liveaboard fees, which are common.
Scraping, Painting and Other Maintenance
Every few years, you need to get a sailboat entirely out of the water and have it thoroughly cleaned, scraped of barnacles, repainted and generally repaired and maintained. This can cost several thousand dollars, so assume $1,000 per year is a safe bet, even though it's not an annual expense.
Storage
Unless you're able to live a very stripped-down lifestyle indeed, chances are good that you'll want to own more worldly possessions than you can store on your boat.
If you don't have friends or family around who are willing to let you stash boxes and bins of sundry goods at their homes, then you'll need to rent some storage space on land. This usually costs only between $50 to $100 per month, but everything adds up.
Water, Electricity, Fuel, Etc.
You need water to drink, bathe and cook, electricity for lights and radios and various types of fuel for heaters, stoves and (for most sailboats, anyway) for the backup engine.
Some marinas include power and water in their fees, but many don't. Do the research ahead of time and, if need be, do the math, too.
Setting Up Your Sailboat as Your Home
A sailboat offers freedom and adventure and often an affordable lifestyle, but one thing it doesn't offer is a plethora of free space. You'll be confined to a few hundred square feet of living area, with about 300 square feet serving as a decent average.
Many sailboats come with cabins that are hard to move or reconfigure, but you can still choose how you use the space.
Bedding Down
Your bedroom on a sailboat is probably not going to serve only for sleeping. It will likely also be your office, your den and your closet.
Choose the smallest bed you can comfortably sleep in and consider a setup that allows the bed to fold out of the way or also be used as a seat.
Make sure to maximize storage space underneath the bed.
Bathroom (AKA Head)
A boat's bathroom is going to be small and cramped. Just accept that. The head is also a frequent location for the growth of mold and mildew, as it's often moist and usually closed off. 
One good way to combat these issues is to rig up the door to stay open when the bathroom isn't in use. Also consider adding a fan, a dehumidifier and dehumidifier refill bags.
Speaking of boat bathrooms, you'll want to be sure to use marine and RV toilet paper, which is specifically designed to break down so that it doesn't clog marine septic systems. 
Featured Boat Care Product
Check Price on Amazon - Better Boat's mildew stain remover is perfect for use on boat covers, seats and tops as well as tents, outdoor furniture and other items. It removes stubborn stains to make upholstery look new. Use on vinyl, fiberglass, plastic, tile, grout and canvas. 
Kitchen (AKA Galley)
Your boat's kitchen is probably not going to be suitable for preparing a five-course banquet for 15 people. Oh well. What you can do to maximize its useful space is get creative.
That sink need not be wasted counter space, for example. Buy or fashion a cutting board that neatly covers it for when you're prepping a large meal.
And use your fridge wisely. Any food that doesn't need cold storage can be kept in cabinets or even in another room entirely, say under the bed, for example.
Furniture
Folding furniture is key when you live aboard a sailboat. It's good to have at least one or two comfortable chairs and/or a couch, but as much as possible, use furniture that folds down for storage and for easy movement.
You can use a folding chair as extra seating in the cabin, on deck or on the dock, which will become your new front yard.
Three Great Places to Live Aboard a Sailboat
Your sailboat is your home, but where you have that home tied up matters too. You already know to look for costs associate with the marinas of various areas, but here are three reasons to consider these three locations other than money.
Boston
When you live aboard a sailboat in Boston, you're right beside the downtown area. You can even walk from several marina locations to centers of business, commerce and culture.
So, if you want great professional opportunities or you want to enjoy an urban lifestyle while still living on a boat, Boston is a great place to consider.
San Diego
If you prize consistently warm, mild weather and you don't want to deal with the hurricanes that often swirl their way across Florida, then Southern California, and specifically San Diego, is a great place to live aboard a sailboat. The days are hot in the summer but the nights are cool all year round.  
Great Lakes
Living aboard a sailboat in any of the Great Lakes of North America means getting to enjoy all four of the year's seasons. Yes, it gets cold in the winter, but the fall and spring are both mild and lovely. During the warm summers, you can always take a dip.
Is Living on a Sailboat a Good Idea?
In short, yes. Yes it is. It just takes extra planning ahead, being ready for a contingency place to spend some time if there's a bad storm or if your boat needs repairs, and other such long-term thinking.
In taking the very long view, just know that if you plan to retire onto your boat, you'll almost surely have to move at least once more in your life, but hopefully not for a good many years.