Line In the Sand: 6 Amazing Slide Anchor Shore Spikes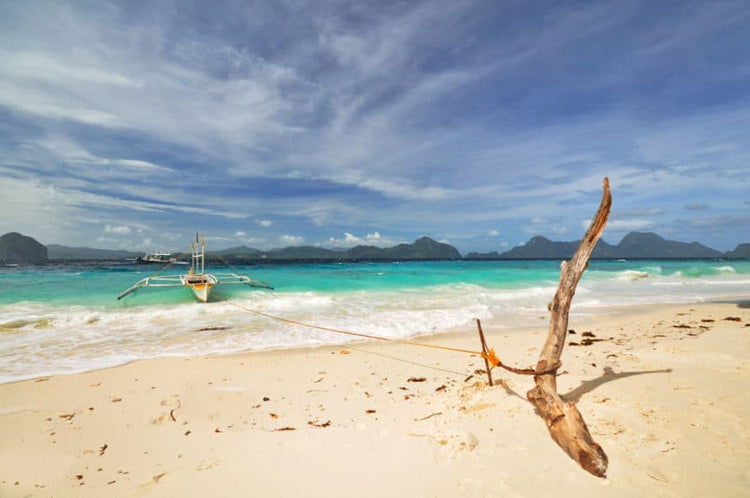 When you arrive at the shore, you need to secure your boat. But if there are no docks or even a single branch to tie a dock line to, what do you do?
The answer is to deploy a slide anchor shore spike. That way, you can relax knowing your boat is secure, no matter where you are.
If you own a tender or inflatable dinghy, you especially need a slide anchor spike in your life. Slide anchor shore spikes are ingenious little devices that make wild mooring or beach mooring possible.
I decided to look into more detail at six of the best slide anchor shore spikes and give you the lowdown on the merits and types available.
What Is a Slide Anchor Shore Spike?
A slide anchor shore spike is the simplest bit of kit you could think of, but also one of the most effective. It typically consists of a long straight spike, either with a T-bar handle or a grip on the top. They're used to secure your boat to land, sort of a "land-anchor," if you will. 
Pull into the bay and insert the slide anchor spike into the ground to give you somewhere to secure your boat. They're also inexpensive, lightweight and easy to store, making them the ideal sailing companion when landing ashore.
The Best Use of Slide Anchor Shore Spikes
It's worth noting that a slide anchor spike is only worth using in the absence of a more secure means of tying your boat. However, if no other means exist, a slide anchor spike is designed to be easy to deploy and effective in shallow waters. They're also great for jet ski anchorage.
All you need do is insert the spike into the sandy shore and push or twist it into position. The spike will work well in sandy, as well as shingle beaches, and even in grass or mud should you wish to wild-moor.
The best advice is to only deploy the slide anchor spike in light winds and fair weather. A sandy beach will hold your spike and boat in place, but if you allow too much strain on the line, it may work loose as the shallow sea bed moves with the lapping tide.
Similarly, shingle, soil and grass may not hold the weight of your slide anchor spike and boat if the strain on the ropes gets too much.
The other thing to remember is that slide anchor spikes are really only intended for shore use or in shallow waters. You'll struggle to use one in six feet of water unless you want to dive down to the sea bed to deploy it.
Ideally, a slide anchor spike does its work most efficiently in 12 to 24 inches of water.
The Advantages of Slide Anchor Shore Spikes
Every piece of marine equipment has a use and a place on your vessel, but a slide anchor spike is one of those essential items because it gives you peace of mind while ashore.
So, what are the advantages?
Lightweight: We all like lightweight equipment, right? "I'd like my slide anchor spike to be really heavy," said no one ever!
Easy to Deploy: Either hammer, push or twist them into position. It really is that simple.
Secures Your Boat Anywhere: As long as there's a bank or a beach, the slide anchor spike will secure your boat.
Gives Peace of Mind: You won't have to worry that your boat is floating away on the tide. Similarly, it means you can relax and enjoy the day safe in the knowledge that your boat is secure.
Cheap to Purchase: Some slide anchor spikes are as little as $40 or $50.
Easy to Store Away: Because they're long thin spikes, they store in a locker or slide under bench seats in the dinghy.
Features of Slide Anchor Shore Spikes
Shore Spike Materials
Plastic Resin: Plastic resin is hard-wearing, robust and doesn't suffer from the ravages of saltwater. It'll last forever. The only disadvantage of a plastic spike is that it's intended for smaller or lightweight boats.
Powder-coated: Powder-coated anchor spikes are designed to be protected from the weather and the water. Often, when steel or other metal frames get exposed to the elements, they start to corrode. By powder coating them, you reduce that risk and increase the lifespan.
Galvanized Metal: Galvanized metal, typically steel, has a coating of Zinc to protect it from rusting.
Shore Spike Styles
Spike: Typically, these slide anchors are long thin tubes of steel or resin with a rubber handle to make them easy to deploy. They are arrow-like in shape and push into the ground.
T-Bar: These anchor spikes are twist-in-the-ground types and have a crossbar along the top that acts as a handle. The spike end has a corkscrew-effect tip. When twisted, it grips the sand or soil to make a secure purchase in the ground.
Corkscrew: These operate on the same principle as the T-bar varieties, but the entire shaft of the spike is spiral (like a long corkscrew) and twists into the ground.
What Size of Slide Anchor Spike?
Small Anchor Spike: Typically, a small anchor spike will take the weight of a boat up to approximately 21 ft in length. This does vary on the weight of the vessel and what kit you're carrying, but they're ideal for use with an inflatable dinghy or a kayak. A small anchor spike is roughly two to three feet in length.
Medium Anchor Spikes: Intended for use with boats up to 35 feet in length, a medium spike is about three to four feet long.
Large Anchor Spikes: These are designed to hold the weight of vessels roughly 36 ft or above, and can be any size, depending on the requirements.
6 Amazing Slide Anchor Shore Spikes
Editors Choice
| | |
| --- | --- |
|    |  Sand Spike Anchor |
Check Price on Amazon - Better Boat's sand spike anchor securely holds a canoe, kayak, jet ski or boat in shallow water, a beach or a sandbar. It's made of hot-dipped galvanized steel with a non-slip grip handle. 
This slide anchor spike comes in two sizes: small or large. It's constructed from galvanized steel, so it should stand up to the rigors of boating life and be protected against all elements.
This spike is easy to use because it employs kinetic energy to drive it into the ground and retrieve it. This product grips really well, so if like me, you want peace of mind, this anchor would be an excellent choice.
Material: Galvanized Steel
Style: Spike
What sets this anchor apart from the other shore spikes featured is that it comes in three sections to allow you to decide how long you want it.
The T-bar design and corkscrew tip allow you to gain extra purchase in the ground. It's simple to operate, and with a few twists, your boat will be secure.
Made of plastic resin, this spike is lightweight, easy to use and inexpensive compared to some, which I like. The other advantage of a resin spike is it's anticorrosive and won't rust.
Material: Plastic Resin
Style: T-bar
This is another T-bar design, but unlike the Sand Shark, the bar is removable. It means that once you have anchored your boat, it's harder for someone to try and remove the anchor spike.
The powder coating protects that steel against the water and the elements, increasing the longevity of the anchor.
It also comes with a handy storage bag. From a security point of view, I would choose this anchor spike.
Material: Powder-Coated Steel
Style: T-bar
Okay, so this anchor is pretty expensive, but it's a good quality item. It has a folding T-bar handle that slides into place. It's lightweight and easy to use and is the second Sand Shark product to feature. 
This Sand Shark uses an auger system that creates suction and grip by allowing the anchor to fill with sand. It's adjustable and extends in three sections with adjustment pins.
All in all, this anchor is well-made and super-effective.
Material: Aluminum
Style: T-bar
Like the Ironwood spike, this is powder-coated. Greenfields has tried to make using this shore spike as straightforward as possible by developing a self-driving hammer action to secure it in the soil.
For comfort, there's a PVC grip handle. Greenfields has even added a steel cleat to make it easier to attach your line. Like me, you'll love the price, which this anchor a quality budget option.
Material: Powder-Coated Steel
Style: Spike
This Seachoice beach spike is self-hammering and has a rubber-coated handle for comfort. It weighs just one pound, so it's super-lightweight, but it'll take the strain of a 30 ft boat.
The only downside is that the steel construction is likely to weather with use, meaning you might need to replace it sooner than some of the slide anchor spikes featured in this list.
The price point is competitive, but it's more expensive than the Greenfields or resin Sand Shark anchors.
Material: Steel
Style: Spike
| | |
| --- | --- |
|     |  Anchor Line |
Check Price on Amazon - Better Boat's anchor line is made of marine-grade double-braided nylon. It's abrasion-resistant, rust-proof and has a reflective safety strip for nighttime use.
Final Thoughts
Hopefully, after reading this, you'll see the value of a slide anchor spike. For a relatively small sum, you can ensure your vessel is secure, which means you can relax on the beach or go for a stroll to explore your new surroundings. And when you return, your boat will still be there.
Whichever slide anchor spike you choose, remember that it'll be exposed to harsh conditions, so try and invest in a spike that has been galvanized or powder-coated. The other alternative is to go for a resin spike because it won't corrode.
---