Soak up the Sun: The 5 Best Solar Battery Chargers for Boats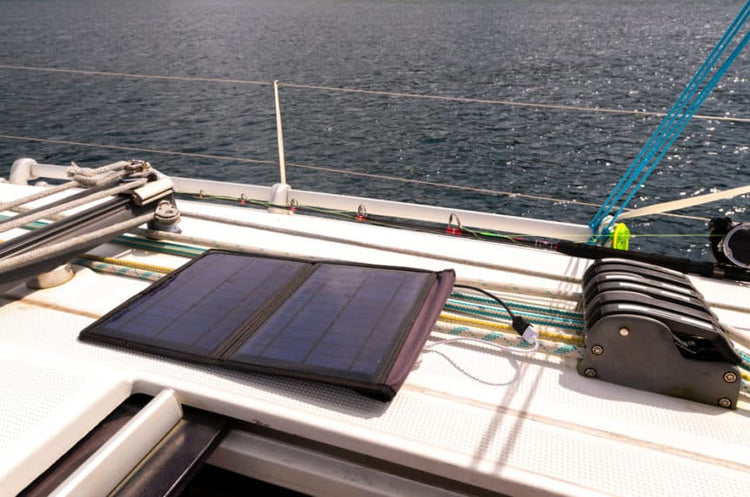 It's a tale as old as (modern) time. You're in the middle of a favorite show and you get that low-battery warning. We've all been there. 
It's no fun when your electronic devices lose power. It's bad enough when you're at home and have to stay attached to the wall. It's a different story when you're off-the-grid and anchored out on your boat. 
From chartplotters, GPS, VHF radios and cell phones to fish finders, stereos and blenders (can't leave out the blender), you need electronic devices on a boat for safety, information, entertainment and what-not. And that means a power source of some sort.
This is where solar panels and solar battery chargers for boats come into play.
Charging everything up at home or in the marina is always a great idea. But what if you're out on the high seas? Or high lake, for that matter.
Read on to find out how handy and efficient boat solar battery chargers can be. 
What Is a Solar Battery Charger for a Boat?
A solar battery charger for a boat has two basic parts that work together. The solar panel collects energy from the sun. This energy then goes to the charge controller, which regulates, stores and distributes it.
All of that collected energy is then deposited into your battery bank (think of it as your very own bank teller, of sorts). Then, when you need it, you simply attach it to your electronic device.
If the battery is completely empty, the charge controller puts as much energy as possible into it until it reaches a full charge. At this point, it goes into float mode, which maintains the power level automatically.
The charge controller is a great piece of gear as it improves the charge quality and prevents the battery from overcharging and from loose connections.
From wind generators and solar panels to boat solar battery chargers, renewable energy is a free (after the initial purchase of the capturing equipment) and a smart way to go about boating.
Let's discuss more about solar battery chargers and how they can provide power and peace of mind for days (and nights) out on the sailboat, liveaboard trawler, pontoon boat or sport fishing boat. Even kayakers can benefit from small solar panel battery chargers.
Featured Boat Care Product
Check Price on Amazon - Better Boat's deck cleaner is a non-slip formula designed to quickly and efficiently break down dirt and grime on fiberglass and painted decks. Pair it with deck brush heads and extension poles for an easy application.
Features of Solar Battery Charger Systems
Charge Controller
Also known as a regulator, the charge controller is what puts the energy into your battery. It's very possible to have a solar panel without one. But you'll want to make sure you choose a panel that comes with a charge controller.
Charge controllers are necessary if the panel is more than five watts. The best thing about the charge controller is that it can store the energy for later use. A solar panel alone needs sunlight to work.
Solar Panels
The solar panel is the part that collects the energy from the sun. You've likely seen them on house rooftops. They're becoming more and more prevalent on boats.
Pulse Width Modulation
Pulse width modulation (PWM) is the temperature compensation that protects the battery from things like overcharging and frequent charging. This is a must-have safety and efficiency feature. You don't want to have to go out and buy new batteries every Monday.
Self-regulation
Self-regulating boat solar battery chargers don't have a built-in controller. Every boater is different, of course, but anything built-in is a positive feature in my opinion.
Plastic and Aluminum Construction
Plastic and aluminum mean less breakage and more weather resistance. Wind, sun and saltwater (and water in general) can be rough on any piece of boating gear as well as anchors, ratchet straps and dock lines.
Types of Solar Battery Chargers for Boats
Depending upon your electronic needs, you have a couple of types of boat solar battery chargers to choose from.
Boost Charging provides a high current for a short time to fully charge the battery
Trickle Chargers provide a very low level of output by continuously releasing a small amount of power to charge the battery as you use it
Float Chargers are similar to the trickle charger, but they prevent overcharging (this type is my pick for the best all-around solar battery charger)
The 5 Best Solar Battery Chargers for Boats
So, we've come to the conclusion that solar battery chargers are a great investment for liveaboards, recreational boat and even fishing kayaks and jet skis.
Let's take a look at some examples for purchasing options.
1. Eco Worthy Portable Folding Solar Charger and Panel
Check price on Amazon
The Eco Worthy Folding Solar Panel comes pre-wired and pre-installed with a 15 Amp PWM solar charge controller that protects from overcharging and reverse connections. The high-efficiency monocrystalline solar cell is made of lightweight aluminum.
Its suitcase-style design makes it easy to transport. When you get where you're going, just unfold and set it up.
The charge controller has waterproof integrated junction boxes, and there's a corrosion-resistant frame on the panel.
This is a nice mid-sized panel and solar battery charger. Best part? All that pre-wiring and pre-installing makes it ready to use right out of the box.
Size: 30.7" x 22.1" x 5.1"
Charger Type: Float Charger
Panel Type: Monocrystalline
2. HQST Solar Battery Charger and Panel
Check price on Amazon
The HQST provides quiet power production for 12 and 24-volts in marine and other outdoor and off-the-grid environments. It has a 30A PWM LCD charge controller with LCD display, 20-foot adapter cables and a set of Z-brackets for mounting.
It can charge a 50Ah battery from 50% in three hours (depending on the sunlight, of course). Pre-drilled holes make the panel easy to install. You can expand your solar system by connecting other panels for even more energy output.
Size: 40" x 27" x 1.5"
Charger Type: Trickle Charger
Panel Type: Polycrystalline
3. POWISER Solar Battery Charger and Panel
The POWISER 3.3W is an easy-to-connect and use trickle charger. It has polycrystalline high-efficiency solar cells with thin amorphous panels that allow it to be used in any weather.
Compact in size, it's perfect for jet skis and small boats. It even comes with suction cups to attach to your boat's window. I really like the compact size and shape of this solar panel and battery charger.
Size: 14" x 8.5" x 0.8"
Charger Type: Trickle Charger
Panel Type: Polycrystalline
4. SOLPERK 12V Solar Battery Charger and Panel
The SOLPERK 12V Solar Panel is a trickle charger. It charges and maintains 12V batteries like Wet, Gel, MF and many more. The automatic charging and maintenance controller provides protection against short circuits, open circuits, reverse and overcharging.
It's lightweight and easy to install on jet skis and small boats. The best thing about the SOLPERK? It has thin film amorphous solar cells that allow it to work on cloudy days. Win/Win!
Size: 21.3" x 18.2" x 1.2"
Charger Type: Trickle Charger
Panel Type: Amorphous solar cells
5. Sunway Solar Solar Battery Charger
Check price on Amazon
Small and compact, the Sunway Solar Battery Trickle Charger slowly charges and maintains battery power levels in Wet, Gel, Deep Cycle and AGM batteries. A built-in diode protects against reverse charging.
Crystalline panels have clear PV glass and ABS plastic housing for efficiency and durability. The long rectangular shape of the Sunway makes it a good choice for mounting on a dash or bow of the boat.
The charger maintainer has a cigarette lighter adapter and alligator battery terminal clips.
Size: 13.9" x 0.5" x 5"
Charger Type: Trickle Charger
Panel Type: Crystalline
Cleaning Solar Panels
As with any boating accessory, cleaning and general maintenance are needed for solar panels. Luckily, it's not too hard. Rainfall is a handy thing to have in this case. For more in-depth cleaning, here are a few tips. 
As you can see, you have a lot of choices when it comes to keeping batteries charged out on the water. Hopefully, this has shed some light (pun intended) on your boat solar battery charger questions.
May the wind be at your back and your batteries always be full.
---