Stake Your Claim: The Best Stake Out Poles for Kayaks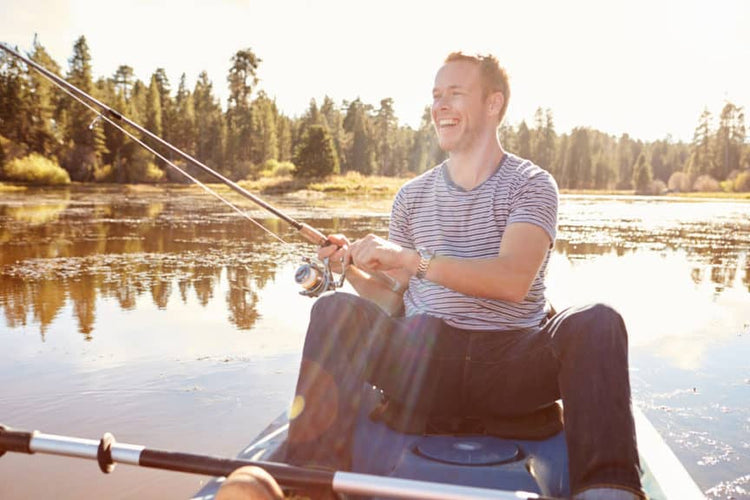 It's time for a stake out. I don't mean spying for a sting operation. I mean the handy stake out poles designed for fishing.
I'll be honest, nothing gives me more anxiety than kayak fishing with traditional kayak anchors and line. In what should be a peaceful time, I instead find myself navigating currents and untangling lines. I'm sure you've been there before, too.
And once you've found your ideal fishing spot, you'll want to be able to post up without the worry of drifting away. Not only because you don't want to lose your honey hole, but you don't want to scare your catch-of-the-day away in the process.
Stake out poles, also known as anchor poles, can be used for many paddling activities, but are very useful and commonly used for kayak fishing.
So, let's chat a bit about why you need one, how to use it and some of the best stake out poles out there today.
Featured Kayaking Product
| | |
| --- | --- |
|       |  Sand Anchor Spike |
Check Price on Amazon - Better Boat's sand anchor spike is the perfect tool to anchor your kayak, canoe or jet ski. It's compact and lightweight and works in sand or mud. Use on sandbars, at the beach or in shallow water.
Benefits of Stake Out Poles
First, it helps to know how to use a stake out pole. Instead of being plopped into the water to sit on the lake or river's floor, a stake out pole is inserted into the ground beneath the water.
Above the water is a visible handle so you can easily remove it or shift it around. Most folks simply tether it to their kayak or insert through the scupper holes.
Although it's best to tether it, as the scupper holes are less likely to keep a kayak grounded. Both work, but ultimately, the ideal placement of your stake out pole is beside your kayak.
Whether you have a cheap fishing kayak or an inflatable kayak, most are compatible with a stake out pole. Here's some of the main benefits:
Easy to use: Stick them into the ground and that's it! In shallow waters, this is super simple, as all it takes is a bit of force and you're ready to go (or, rather, ready to stay put).
Tangle-free: As I mentioned before, I absolutely can't stand when my moment of zen is disturbed by my anchor line getting tangled with my fishing line. A stake out pole eliminates that worry completely.
Ideal for shallow waters: Stake out poles are made specifically for fishing. Allowing you to stay completely still in shallow waters, especially where the current might be strong and taking you away (think of bays or rivers).
Muddy waters: Tossing an anchor into potentially muddy water is a recipe for disaster, especially on a kayak where space is already limited. Your anchor is a mess, you're covered in dirt and not only that but you're still not standing still! Instead, stake out poles keep you from moving in muddy terrain, you just have to make sure it's in deep enough.
Easy maintenance: A stake out pole is a handy kayak accessory. They're often collapsible, are easy to clean and are UV-resistant, meaning those hours in the sun do little damage to them. When you're storing them, they're also easy to put away. Heck, you could simply keep it in your car so you never forget it before you hit the road.
Acts as a boat hook: One benefit of having a stake out pole is it can act as a boat hook pole. Use it to push off terrain as you're kayaking near close boulders or banks. And if you're not reeling in any big ones, simply push off from the ground beneath you to seek out another spot.
The Best Stake Out Poles for Kayaks
Which stake out poles do I recommend? In my opinion, these are the heavy hitters truly worth your time.
Yak Gear Stick Mud Anchor Stake Out Pole
Check price on Amazon
This Yak Gear stake out pole is perfect for any kayak. Up to 6 feet long, it's got a solid amount of length.
The T-handle configuration offers good grip for anchoring for pushing off. I'm also excited by the fact that this model is solid, and not hollow, so that it would work much better on harder surfaces (such as oyster shell or gravel).
It's a heartier option, and it even comes with pole clips so you don't have to worry about hooking your kayak up to it.
Materials: Fiberglass
Length: 6 ft
Clips Included: Yes
YakStick Floating Stake Out Pole
Check price on Amazon
An alternative to the more traditional mud anchor, this version is perfect for shallow and muddy terrain. It doesn't come with any additional hardware, but the anchor rope attachment still makes it easy to cozy up to your kayak.
Best of all? It floats so you'll never lose sight of your stake out pole. I also like the oversized foam grip for your hands, which simply adds a bit more comfort and makes this model feel like the luxe version of your standard stake out pole.
It doesn't come with clips, but you can always grab your own. Here are some universal clips (check price on Amazon) that I trust to do the job.
Materials: Fiberglass
Length: 6 ft
Clips Included: No
Shallow Water Anchor Stake Out Pole
Check price on Amazon
This model is more utilitarian for those who don't want to break the bank but still want a solid stake out pole that they can trust their fishing adventure with.
Featuring a clinching lanyard and recommended specifically for kayaks, this model even comes with storage clips to help ensure your kayak doesn't go anywhere.
While it does have proven experience holding bigger boats, I would still only focus on this stake out pole for smaller kayaks.
Materials: Fiberglass
Length: 7 ft
Clips Included: Yes
Hobie Stake Out Pole
Check price on Amazon
A bit on the smaller side, this trusted brand name stake out pole is great if you're primarily fishing in much shallower waters.
It features really durable construction, and I was most impressed by the metal tip, the grip handle and the attachment line system. It's all here, and there's little doubt this pole can hold up in both sandy or muddy terrain.
Materials: Fiberglass
Length: 5 ft
Clips Included: Yes
Power Pole Ultra-Lite Spike Stake Out Pole
Check price on Amazon
Even though I'm not typically a fan of hollow stake out poles, this model's Lightweight HollowCore Technology does seem fairly impressive.
I would think it's best used in weaker waters but would still serve as a great accompaniment for anyone looking to stay still while fishing. 
It also has a comfort handle, allowing it to double as a great push pole. Plus, it can hold up to 1,500 pounds within 7 1/2 feet of water. It comes with 6 feet of lanyard so that you don't have to worry about anything else.
Materials: Fiberglass
Length: 8 ft
Clips Included: Yes
Stake Your Stake Out Pole Today
Stake out poles are one of the most underrated tools you can bring along on the water. In fact, these days I can't imagine my life without one. It's as important as the rod I cast off with.
If you need a stake out pole, I recommend starting with one that features a solid material and a comfort grip. This way, it can fill both needs as a stake out pole for fishing and a push-off point for your next adventure.